How to Recover Text Messages from OnePlus Devices
by Gen.s | Lasted Updated 2018-03-14 03:42:22
"I deleted an important text message on my OnePlus by accident. How can I restore it? Yesterday, I flashed my OnePlus, I backup all the contacts with Google account, but I forgot to backup text messages to computer. Now all messages on my OnePlus have been deleted. Any one who can help me recover the deleted messages from OnePlus? Thanks in advance!"
Last April 2014, OnePlus mobile devices launches its first device to the public, it is founded by some Chinese businessmen, Pete Lau and Carl Lee. It made a huge success that it even had a revenue of 300 million dollars. OnePlus launches one new product every year that and people never fail to buy their products. A fascinating feature about OnePlus mobile devices is their unlocking feature, it could save up to 5 fingerprints to unlock the device.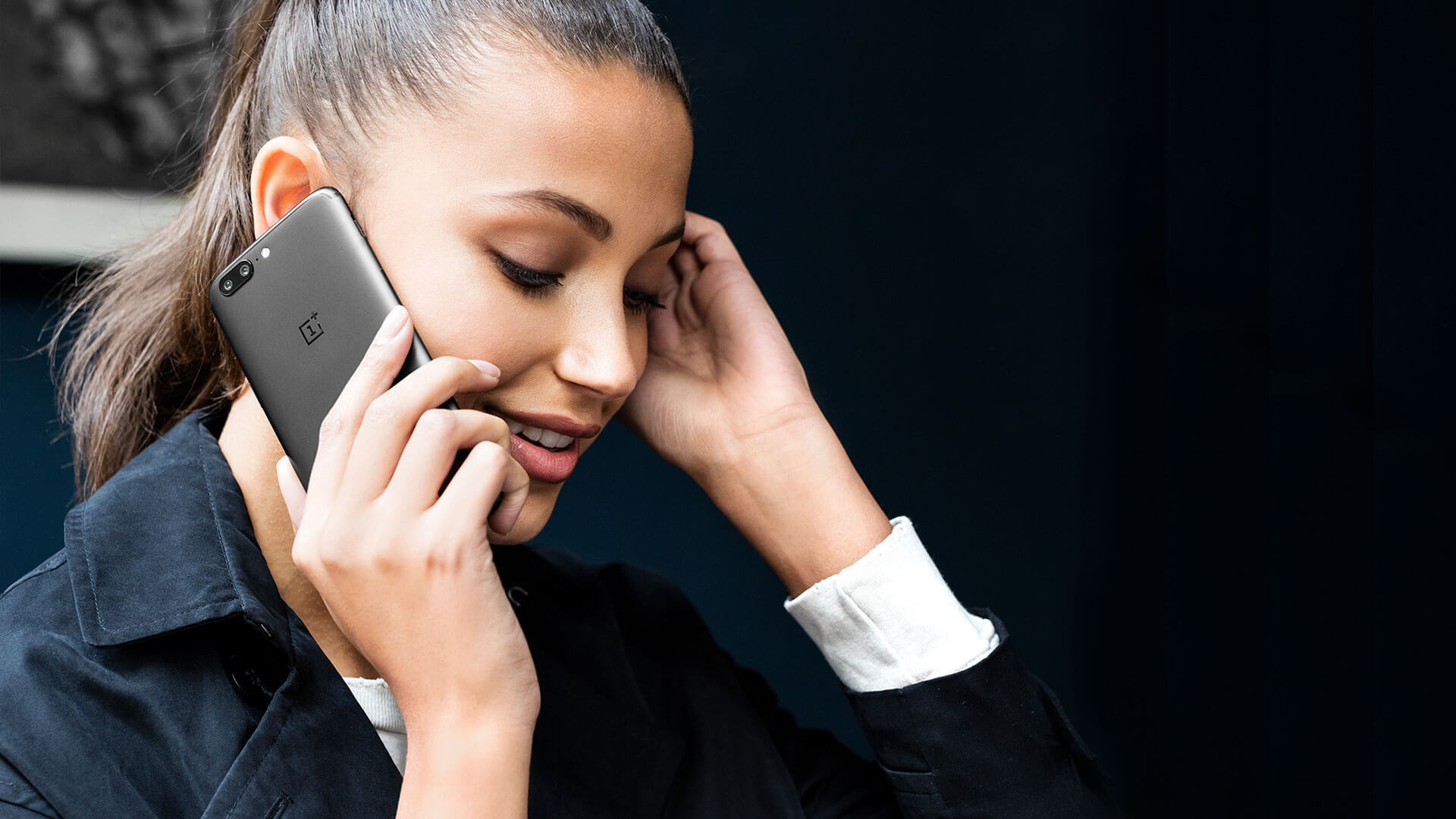 Recover Text Messages from OnePlus Phone
Part 1.Why We Usually Delete Important Text Messages
In our day to day life, we always use our mobile devices like our world revolves around it. OnePlus Mobile device's messaging App is not the same with other android devices that if you're sending out a text message the reply wouldn't be on that same thread.So it would make your Message Inbox is full with threads and new messages cannot be received because it does not have enough space, we would normally delete all of the threads inside the Message Inbox right? And you didn't notice you included the important messages you have. This is similar to other smartphone users, there are a lot of possible problems that can occur, particularly losing important messages that people prefer to save. After you realized the messages were gone and you don't know what to do, not a single clue on how to retrieve it. You start looking up on the internet, luckily you found results but as soon as you read the reviews it didn't work.Most of the people who experience this kind of dilemma are that they would try to figure out on their own. Not knowing that the more you use your mobile devices the higher the chances it will be hard to retrieve.
You tried to search again then you stumble upon this article and you made the right decision in clicking this though. This article is made to solve your problem in recovering those messages you deleted.
Part 2. Solutions for OnePlus Devices to Restore Deleted Text Messages
First Option: Back Up Text Messages or Files
There is one option you can do to prevent your important messages from deleting, all you have to do is to backup your messages with SMS Backup+. It copies your text messages even MMS to your Google account linked to the device. You just have to follow this simple procedure:
Settings > Privacy > Privacy Guard > Advanced > Messaging > SMS Backup+ > Write SMS DB > Set to "Allowed.
Second Option: Messages Recovery Using FoneDog Toolkit – Android Data Recovery
In order to recover the lost messages you have to install a Data Recovery Software and FoneDog toolkit – Android Data Recovery ranks number 1 with a user-friendly interface and easy steps to follow. It is a multifunctional data recovery software, whether your text messages are deleted/wiped or cleared on purpose of by accident. FoneDog toolkit – Android Data Recovery can recover all data like any lost or deleted photos, documents, messages, videos and much more without being pressured. This software is capable of recovering text messages from OnePlus mobile devices and about 6000+ other Android devices. This may cost you a little bit of money but it is proven and tested to do its job. FoneDog toolkit – Android Data Recovery is reviewed by many satisfied clients and rated with a 5-star rating. You can download the software on their official website and with this article to guide you through the steps you can retrieve your text messages in no time.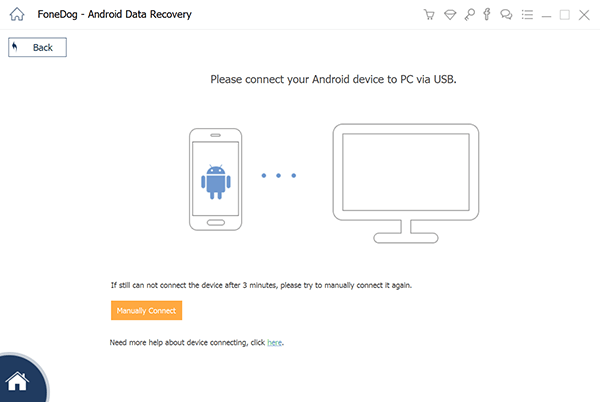 Step 1. Set up FoneDog Toolkit – Android Data Recovery and Run it
Click "Download" button on their official website and then set up the software. When it is successfully installed, just run it!
Step 2. Connect Your OnePlus to PC
Connect your OnePlus 2 to your computer via USB cable. But you need to consider the several factors below:
Download the latest program. You may have installed this software before, but we would upgrade and improve it if necessary. So for better use, please download the latest one.
Make sure the USB cable is matched to your device.
Enable the USB Debugging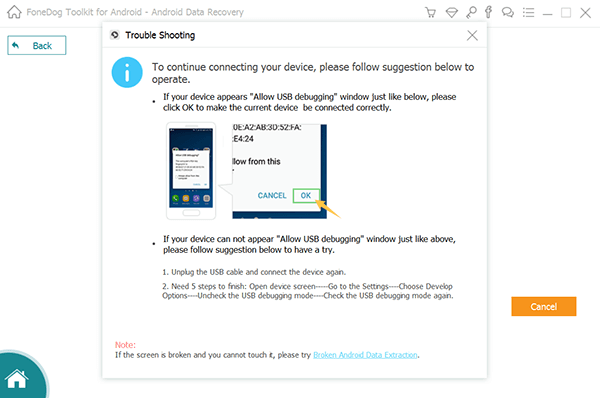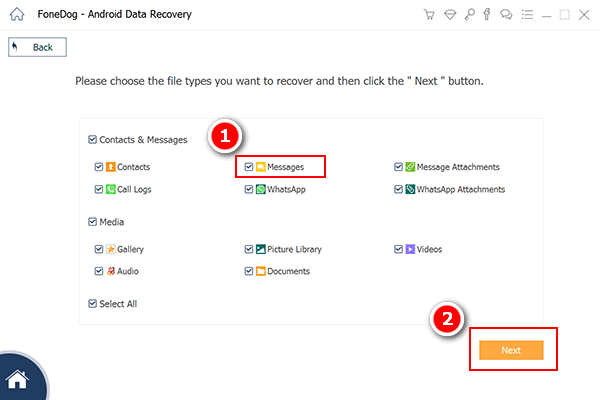 Step 3. Select and Scan
After your device is detected by your computer, choose "Messages" and "Messages Attachments" if you want your text messages back. Then click "Next" and the software will scan all your messages including the deleted ones.Be patient and wait for a few minutes.
Step 4. Give the Program Privilege to Scan
FoneDog toolkit – Android Data Recovery needs to get the privilege to scan more deleted files. If you can see a pop-up window of Super User on your device, please click "Allow". If there are not, please click "Retry" button to try again. But if it is still failed, you need to install Super SU or Kinguser to your device.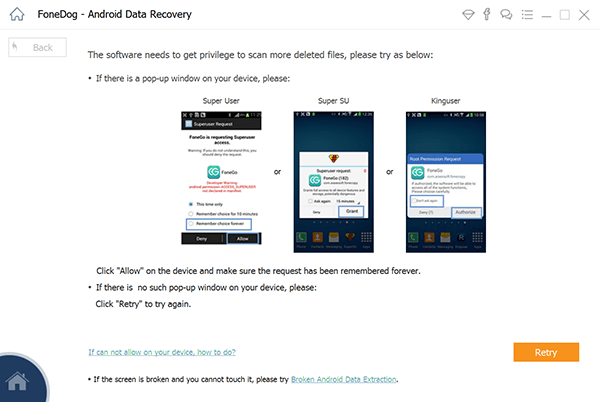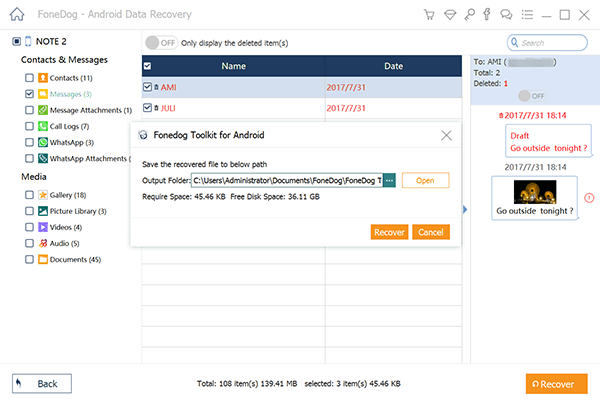 Step 5. Extract Deleted Messages from OnePlus
It may take you some time to scan, please wait patiently. Make sure your OnePlus phone can be detected by a computer, and the battery > 20% to avoid interruption. When the scanning is over, please click "Messages" at the left pane and you can see all the text messages. If there are too many messages for you to check, please click the "ON" icon on the page, and you can check the deleted ones only. Choose the ones you want to recover, then click "Recover" button. The messages will be retrieved and stored on your computer.
And there you have it. Your text messages are successfully recovered. Easy right?
Part 3.Video Guide: How to Retrieve Deleted Text Messages from OnePlus
Part 4.Suggestion: How do I Make Sure My Text Messages don't Get Deleted Next Time?
Plain and simple—BACK UP! Backup your phone's data so you don't need to worry about losing text messages, as well as other data! Doing regular backups is key and you may want to think about doing a backup on a daily, weekly or monthly basis instead of the usual "annual" basis or the more common "never" basis. Save your data and save yourself a whole lot of trouble next time!
How to Recover Text Messages from OnePlus Devices