"How does Samsung Data Recovery work? I don't know what happened however, I must not have locked my phone but when I got it out of my pocket, I lost a number of messages, contacts, and pictures. Why did that happen? I know it was in my pocket awhile and I may have forgotten to lock it, but this is really making things a little difficult. Is there any way I can get them back?"

If you are in a problem of a data loss on Samsung devices mentioned above, You may need Samsung data recovery.
Part 1. What is Samsung Data Recovery?Part 2. In These Five Situations, You Need Samsung Data RecoveryPart 3. How Samsung Data Recovery Works through Exchange AccountPart 4. What is the Best Recommended Samsung Data RecoveryPart 5: Video Guide: How to Use Samsung Data Recovery Software
Part 1. What is Samsung Data Recovery?
Before we introduce "What is Samsung data recovery?", we need to know something about Samsung.
Samsung is a very well-known and popular brand of Android phone, in fact, one would say it is one of the leaders in smartphones in the market today. The demand for Samsung units continues to soar, as technology advances more and more, Samsung smartphones keep getting more and more advanced as well. Samsung is an undisputed leader in the current smartphone category and doesn't seem like it plans to slow down either.
Of course, the application development for Samsung mobile phones also continues to progressively improve alongside the technology. From the time we started off with just simple text messaging and calls, we can now take photos, send photos, email, go on the internet, take videos, watch and even work on our mobile phones and Samsung can do all of that and more.
As the easier way Samsung brings in our life and work, the fewer possibilities we could live without it. However, we would not escape from unexpected data loss. Thus, solutions to recover the deleted data on Samsung devices occur, and they are regarded as Samsung data recovery. Samsung data recovery is necessary and it is a must.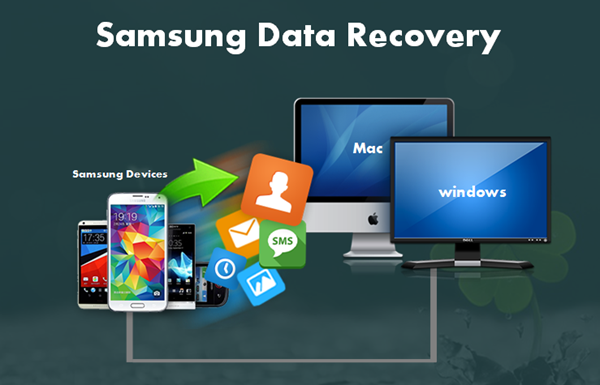 Part 2. In These Five Situations, You Need Samsung Data Recovery
As great as most Samsung units are, it is still not without its own problems. There are times when we lose data such as messages that we've been saving for a few months, maybe years in some cases or a photo or two that carry great importance suddenly vanishing from our phones. Why does this happen? Unfortunately, there could be a number of reasons, and they could be any of the following causes:

User mistake - Even with smartphones, it isn't immune to our mistakes as users. Sometimes we tend to delete or remove several files instead of moving it to another location or edit it, whatever. Sadly, as we press that little trash can symbol, and we lose the message, photo or file, we know we made the mistake and now we have to live with. Or do we?

Reformatting woes - There are times when we need to reformat our phones, whatever the reasons, we may need to do this. We try our best to back everything up, but sometimes, a few things here and there escape our attention, and we are left searching for them as we go through our phone, knowing that it won't be there.

Corrupted data - This reason can really just creep up on a lot of us, sometimes we are just minding our own business when all of a sudden our phones inform us that we are now missing files and that we have corrupted data. It can be caused by a number of reasons and affect pretty much any file available on the phone. As of now, the best defense is to be prepared, maybe by backing up or...
Stolen phone - We've heard our friends' stories, we've seen it on TV and the movies, but you'd never imagine it happening to you. Your phone was stolen. Your entire life revolved around that little device that could be safely placed in your pocket or purse, but now someone has taken it and not only have that person ruined your day, but the thief may also have taken some very irreplaceable data and memories too.

Broken phone - Another event that just really puts a grimace on our faces. Sometimes you can just be placing it in your pocket or purse and you slightly miss, you watch helplessly as the Samsung smartphone slowly crashes onto the floor and the gutwrenching crunch echoes in your ear. You pick it up as quickly as you can, hoping it will help, but it's too late. The phone is indeed busted.
These are the most well-known causes of loss of data, of course, there are other reasons, however, whatever the case may be, you need to somehow get that information back. How will you do that? Well, you have a couple of options as of now.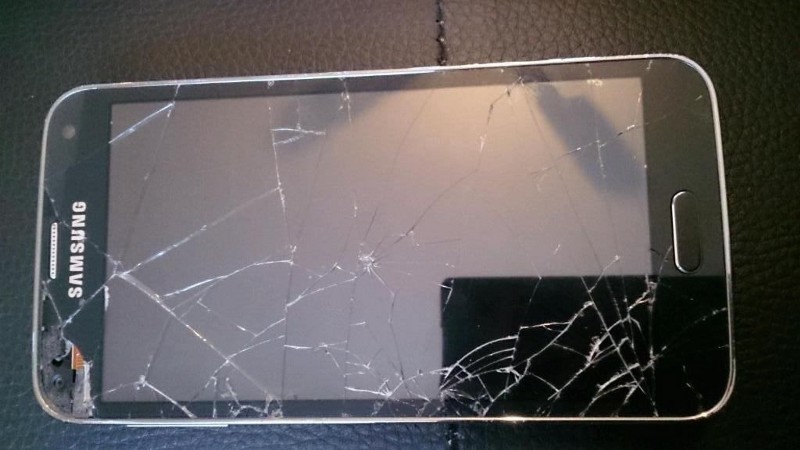 Recover Data from Samsung
Part 3. How Samsung Data Recovery Works through Exchange Account
Most Samsung users, in fact, most Android users, are asked to link their phones to their Google account. Assuming they are some of the rare few without a Google account, they are asked to create an account and use it to back up their data. Hopefully, you were able to follow these instructions and you did exactly that. Now all you have to do is follow these instructions in order to recover the information to realize Samsung data recovery:
Step 1: Access your "Settings" and look for your "Account Settings".
Step 2: Simply choose the right exchange account.
Step 3: Find the right tick box for you, such as "Messages," "Contact," or whatever you are missing.
Step 4: Tick the data type to sync and proceed Samsung data recovery.
That's pretty much it. It's fairly simple and rather easy to get your backup file using this method. The challenge, however, is how much information was backed up and when it was last updated. Here's to hoping that you updated that quite a bit or you at least the auto backup feature is going well, assuming there is one. Otherwise, the next option might be your best bet.
Part 4. What is the Best Recommended Samsung Data Recovery
FoneDog Android Data Recovery is a program that can recover your data assuming it hasn't been completely removed. How does this work? When something gets deleted from your phone, it isn't completely out of your phone, you just lose access to it and it ends up floating in the background until either a program forcibly deletes it or the memory space it is occupying is needed. FoneDog Android Data Recovery helps you access the floating data and to do that, just follow these simple steps in order to recover the information:
Android Data Recovery Recover deleted messages, photos, contacts, videos, WhatsApp and so on. Quickly Find Lost and deleted data on Android with or without root. Compatible with 6000+ Android devices. Free Download Free Download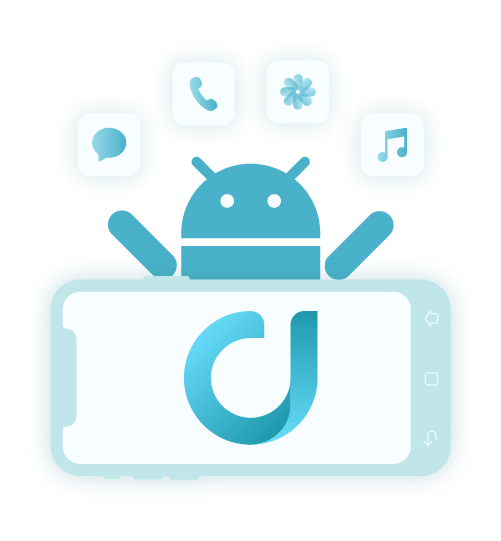 Step 1. Download FoneDog Android Data Recovery
Download Fonedog Android Data Recovery to a computer or laptop, make sure it is a computer that has been connected to your Samsung mobile phone before, it will help avoid any connection problems if any arise.
Connect the Samsung unit to the computer or laptop using a USB plug, run Fonedog Android Data Recovery as soon as you do.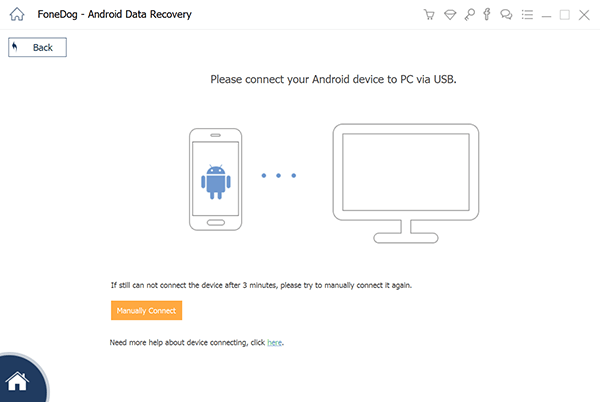 Step 2. Allow USB Debugging on Samsung
You will be prompted to place the Samsung unit into "Debugging Mode," this is part of the standard procedure, nothing to be alarmed about. This allows FoneDog Android Data Recovery to find the floating data and without setting it to "Debugging Mode" the program cannot properly do that. Kindly follow the steps in order to activate the "Debugging Mode" but if you do not receive the notification, it likely means that you have done this before and you will not need to do this process anymore.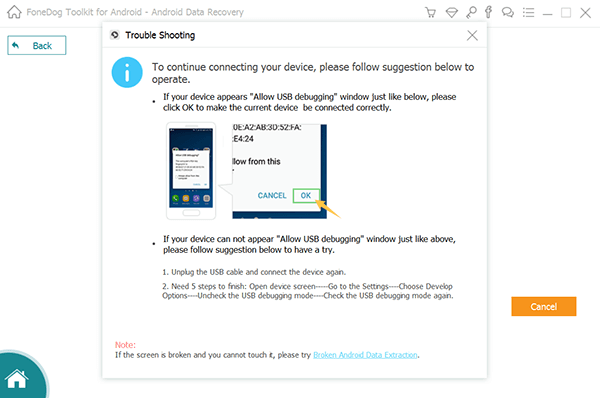 Allow USB Debugging on Samsung -- Step2
Step 3. Select Files to Scan on Samsung
After setting the phone to "Debugging Mode" please choose the data you want to recover. At this point in time, you may have multiple options such as contacts, messages, call logs, photos and much more. For now, let's focus on "Contacts" to make it easier to follow these steps. Tick the "Contacts" box and press the "Next" button to proceed.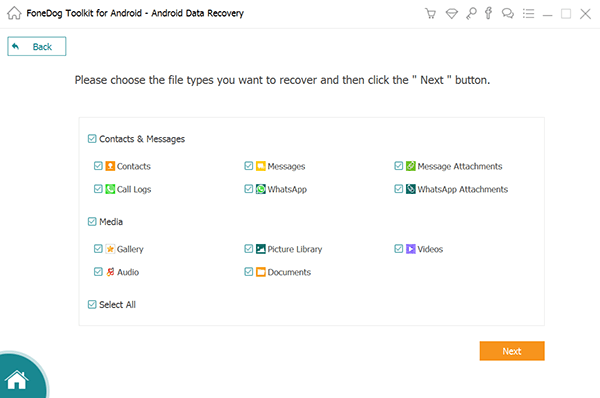 Choose File Type to Scan on Samsung -- Step3
Step 4. Start Scanning Samsung Phone
The scanning process may take time, this part highly depends on the amount of data that FoneDog Android Data Recovery will need to read through, the more data you have on your Samsung mobile phone, the longer this may take. Please make absolutely sure that you do not suddenly remove the Samsung mobile phone from the computer or laptop during this process as it could result in some errors that may prove a headache later on.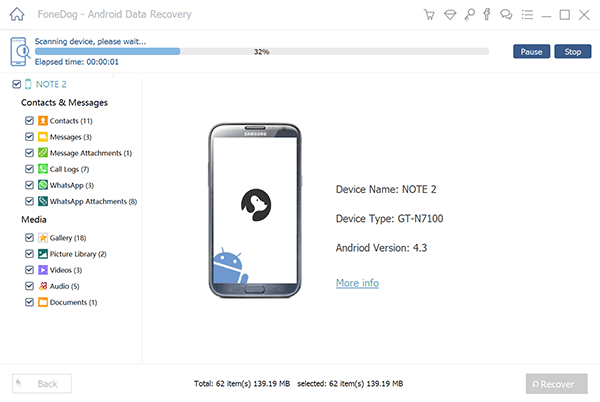 Scanning Samsung Device -- Step4
Step 5. Recover Deleted Data from Samsung Phone
After the scanning process finishes, you will be brought to a new screen where all the recovered data can be found. You can preview each entry as a separate entry and review each one accordingly. You can then highlight or tick the right boxes and you can then press the "Recover" button to get to the final step of this process.
Please make sure to disconnect the Samsung mobile phone from the laptop or computer in order to avoid any data loss or problems that may arise from not going through the proper method.
Also Read:
How to Recover Lost Contacts from Android
How to Recover WhatsApp Messages After Deleting Account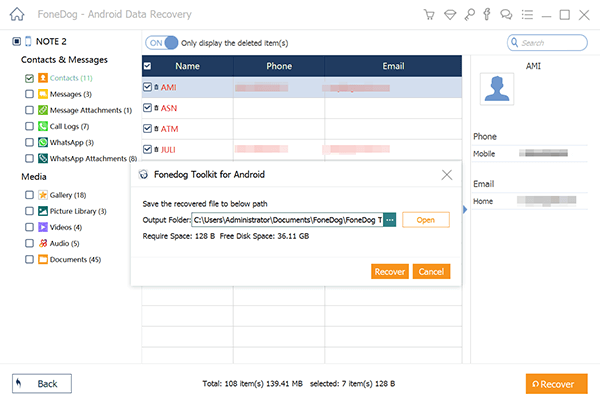 Complete Samsung Data Recovery -- Step5
Note:

Since the process may take a few minutes, please make sure that your Samsung mobile phone is at 20% or above, this is the bare minimum but ideally, you can keep it near 100% or such in order to avoid sudden disconnection.
Part 5: Video Guide: How to Use Samsung Data Recovery Software
Now you have your information back despite not having an active backup available to get everything back, thanks to FoneDog Android Data Recovery. Of course, this can be used for other units outside of Samsung and the program boasts of being able to connect to over 6000+ Android models, so if you use Android phones and use several of them at a time. You can now safely and confidently use any Android phone as long as you have FoneDog Android Data Recovery ready on a computer or laptop, to help you retrieve any information that might be missing.