"My iPhone notes disappeared and how do I get my notes back on my iPhone?"
One of the most common claims of several iPhone users along with many more problems. Notes app in iPhone and any other android phones serve as a daily reminder for work or school related, and or simply just a diary of everything that happened to a person.
With technology taking over the new generation, note taking has become paperless as almost everything is now based on technology. With just a simple tap from the screen, you can immediately save and carry the notes with you wherever you go.
However, the downside of this is that unlike paper note taking, it can be removed/deleted accidentally from the system. Sometimes, when there is a software malfunction, it can cause deletion of data as well.
Part 1. Possible Causes of Lost Data on iPhone DevicePart 2. How to Fix iPhone Notes Disappeared Issue?Part 3. iPhone Notes Retrieving Via Backup and FoneDog Toolkit
Part 1. Possible Causes of iPhone Notes Disappeared
Know that iPhone stores data and files from your phone to the cloud server. The email that you connected to your device will store the data to the server. Here is some possible cause of iphone notes disappeared in your iPhone.
Removed the Email
One of the reasons that iPhone notes disappeared is probably because you signed out/removed the email you connected which stored the data to the could server. If you have done this, try logging in that account again and see if the notes are back.
System Failure.
Another reason is that you unknowingly deleted the note. This happens sometimes, and this is absolutely frustrating.One more reason is a system failure. In several cases, during a system update, it is likely inevitable that it causes malfunctions especially when the update is interrupted or unfinished. Most of the time crashes are credited to this.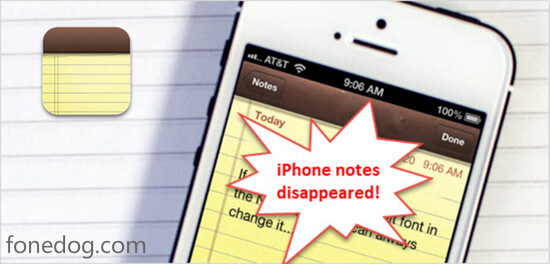 You are on the right page!
In case you are currently in trouble of lost files and are trying to find a solution on how to fix iPhone notes disappeared, at first you might lose hope because some methods are not working for you. You have nothing to worry anymore because you are on the right page!
We will show you several ways on how to retrieve your notes like a pro without any technical and programming knowledge. Read the tutorial, and detailed instructions below to recover iPhone notes that have been deleted.
Part 2. How to Fix iPhone Notes Disappeared Issue?
Basic Way of Retrieving iPhone Notes- Check Recently Deleted Folder
If you happen to accidentally deleted your notes or your iPhone notes disappeared accidentally chances are it can easily be found in the Recently Deleted folder. It is like a Recycle Bin on computers where it stores all deleted files, and then restore them back to its original places when you decided to have them again.
To find where the Recently Deleted folder is, read the following steps below:
Go to your Notes.
Find the arrow on the left top corner of the interface, and click it.
Then, select Recently Deleted.
Tap on the Edit.
Select the notes you want to recover by tapping on the circle beside them.
Click Move To... on the bottom left corner. Select Notes to save the notes inside that folder. If you wish to create a new folder, then you may tap on New Folder.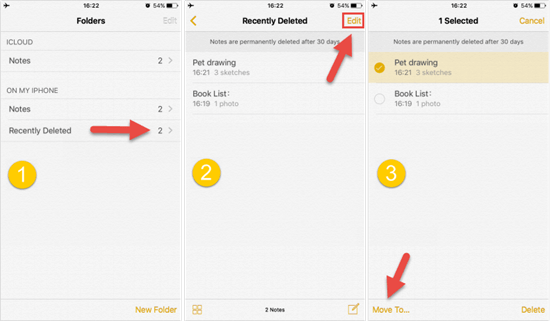 Note: That items stored in the Recently Deleted folder only lasts for 30 days. If you see that the Note that items stored in the Recently Deleted folder only lasts for 30 days. If you see that the folder is empty, it is probably because the items stored there exceeded its time limit.
People Also Ask in 2021:

How to Restore Lost Data from iPhone without Backup
Best Way to Recover Data on iPhone
Part 3. Fix iPhone Notes Disappeared by FoneDog Toolkit
Option 1. Restore Disappeared Notes from iCloud Backup

Here is provided you a Free Version to restore disappeared note on your iPhone devices, why not download and recover notes for yourself. Get started by Click the Download Button.
Step 1. Download and Install the FoneDog Toolkit for iOS on the PC
Download and install the Fonedog Toolkit for iOS to your computer, then launch it.On the interface, at the left sidebar, there are 4 options to choose from.
Select the third option "Recover from iCloud Backup File", you will be asked to sign in to your iCloud account. Enter your log in credentials to begin.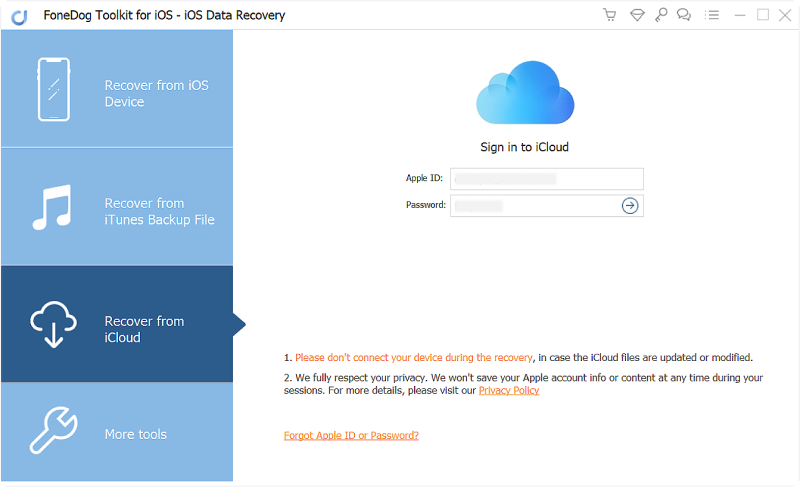 Step 2. Select to Scan the Disappeared Note on PC
The program will show a list containing all the backup files that have been stored with their respective dates of backup, and device name.
Then select the option where you think the notes are stored. Tap download and the pop will appear.
Select notes as you are only retrieving notes, and to lessen the time to scan all the files. Then, click Next.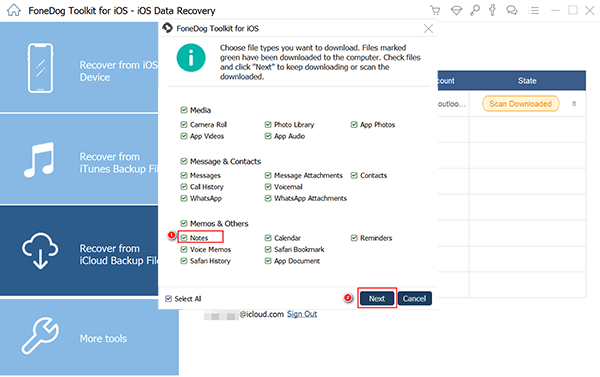 Step 3. Restore Desired Notes on Your iPhone Device or PC
The program will now show all the notes that have been scanned. Choose the notes you want to be retrieved then simply click Recover.You will immediately see the recovered files after the process.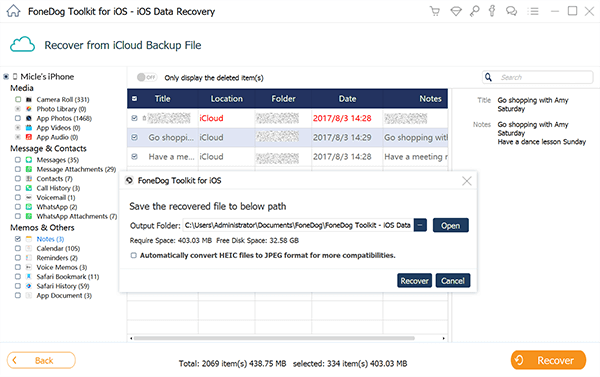 Option 2. Get Your Disappeared Notes Back Using iTunes Backup File
#1. Run the FoneDog and Select Recover from iTunes Backup
Run the program after installing. Among the choices from the left sidebar, choose the second option Recover From iTunes Backup File. Select your iTunes backup file, then Scan it.
# 2.Scan and Restore Notes from iTunes Backup
The same with the process from iCloud Backup File method, the program will show the list of file types. At left sidebar, look for the Memos and Orders.
Under this option, click on Notes to just simply show the backup files for this file type.Then, click on Recover, and wait for the process to be done.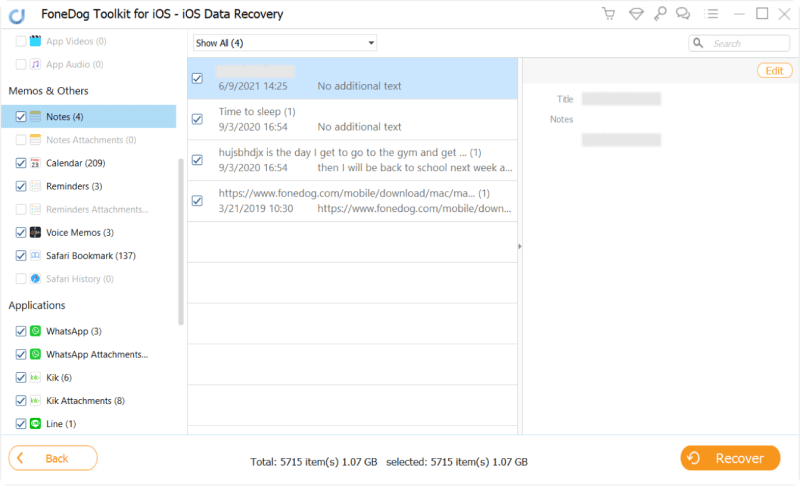 Option 3. Recover Notes Directly from Your iPhone Device
Note: This method is for users who are not able to sync their device to iCloud or iTunes backup file.
Select the first option from the program Recover from iOS Device and click Scan.
The same with all the process above, the program will show all the files available for recovery. Choose Notes under the 'Memos and Other' category to only recover notes that you need. After clicking Notes, a list of backup files will be shown with their dates and names.
Make sure to choose the right backup file to scan where you think the Notes you want to recover are placed.Again, click Recover immediately after the scan and wait for the file to appear on your computer.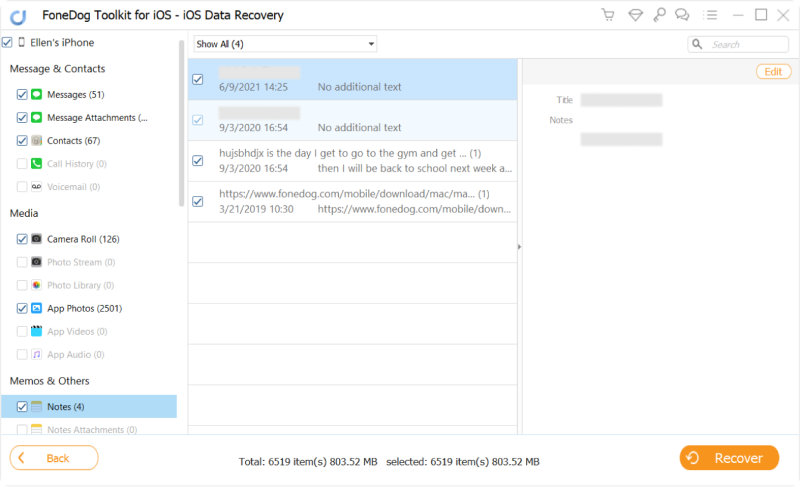 Recover disappeared notes from iPhone directly
Losing any important data is too frustrating. iPhone users who encounter a problem are not rare. Actually, they don't have to worry about how to retrieve notes from iCloud as long as they have the right tool and knowledge for it. Luckily, iOS Notes Recovery by FoneDog is always to the rescue! Use this tool for any problems you have with your iPhone now. You can Download the Free Version for a Try.