By Nathan E. Malpass, Last updated: August 25, 2021
How can I see someones deleted Instagram photos ?

Today we will learn solutions to see deleted instagram photos.
Have you met such a situation?
"I was cleaning my Instagram profile and deleting old photos with only a few likes. I accidentally deleted one with around a hundred likes that I personally like too. I feel really bad since I've already deleted that photo from my phone. I use an iPhone 8. I will very much appreciate it if I get my hands on that picture again. Thanks!"

Is It Possible to Retrieve Deleted Instagram Photos?
Instagram has proven that pictures indeed speak a thousand words. It is one of the most widely used social media sites, with users racing to gain as many followers as they can. Same goes for the number of likes on their posts. With the pressure to create an attractive profile, users sometimes delete old posts to make way for newer and better photos.
What if you deleted your photos without meaning to? Can you still get them back? The answer is yes. Accidentally deleting your Instagram photos is no cause of panic. That's because you can easily recover them. This post will discuss 5 simple ways to view and retrieve your special Instagram pictures.
Solution 1. Check Deleted Instagram Pictures on Your PhoneSolution 2. Check Instagram Archive Feature to Retrieve ImagesSolution 3. View and Recover Instagram Photos Using Your Google AccountSolution 4. Look at Your Instagram Pictures by Using Internet ArchiveSolution 5. See and Recover Deleted Instagram Photos with Instagram Recovery ToolVideo Guide: How to See and Restore Instagram Pictures from iPhone DevicesBonus Tip: Make a Backup Copy to Avoid Lose Instagram Images AgainThe Last Part: Summary About Instagram Deleted Photos
Solution 1. Check Deleted Instagram Pictures on Your Phone
You don't need to go far to look for your deleted Instagram photos. You just need to open the Photos app on your device to check deleted Instagram photos on your phone. There are three albums that you should check out.
Check Instagram Album on iPhone
Every time you take a photo with your iPhone or iPad, it is saved to the Camera Roll album in your Photos App. That's why if you've deleted a picture from Instagram, the first thing that you must do is to look for it in this album.
Open Photos app on iPhone, navigate to the "Instagram" album and see if you can find the deleted photos. Once you find the photos, you may re-upload them to Instagram. You can use the way to check Instagram album on your iPhone device.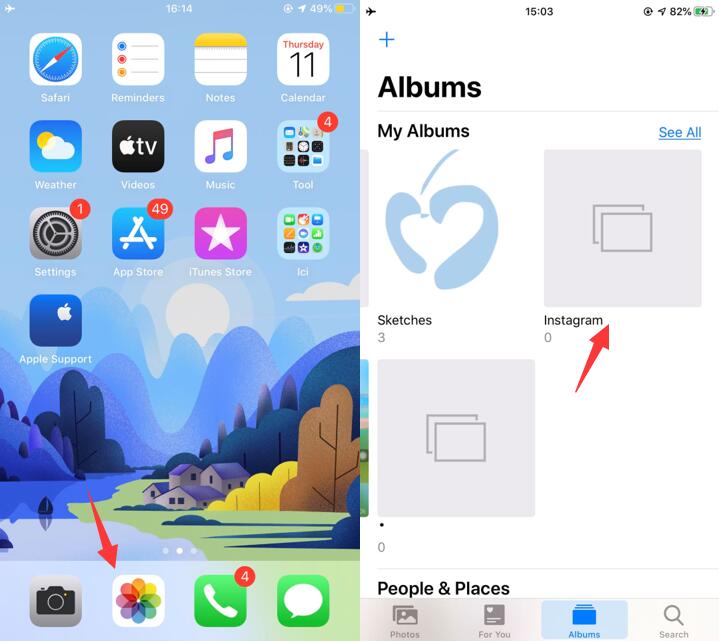 Check Instagram Album from Recently Deleted
If you don't see the picture in Camera Roll, you must have deleted it from your device already. Deleted photos make their way to the Recently Deleted album.
Here's the catch: these pictures remain for up to 30 days only. If that period has already passed, you will no longer see the picture here. If you're lucky and you did see the desired photo, simply select it and tap Recover. It will be restored back to the album where it was previously saved to.
Solution 2. Check Instagram Archive Feature to Retrieve Images
In 2017, a new feature was integrated into the Instagram social networking site, you can check Instagram archive feature to restore images. The Archive Posts plugin. This is great because:
You can hide any photo or story that anyone sees. Any 'removed' photos can be retrieved as soon as they are clicked twice.
Basically, Instagram's archive function is equivalent to Recycle Bin - the location of temporary storage files. Until you empty it, your photos will be available for quick recovery and sharing. Later, if you delete photos from your Instagram archive, you will lose your choice of content recovery.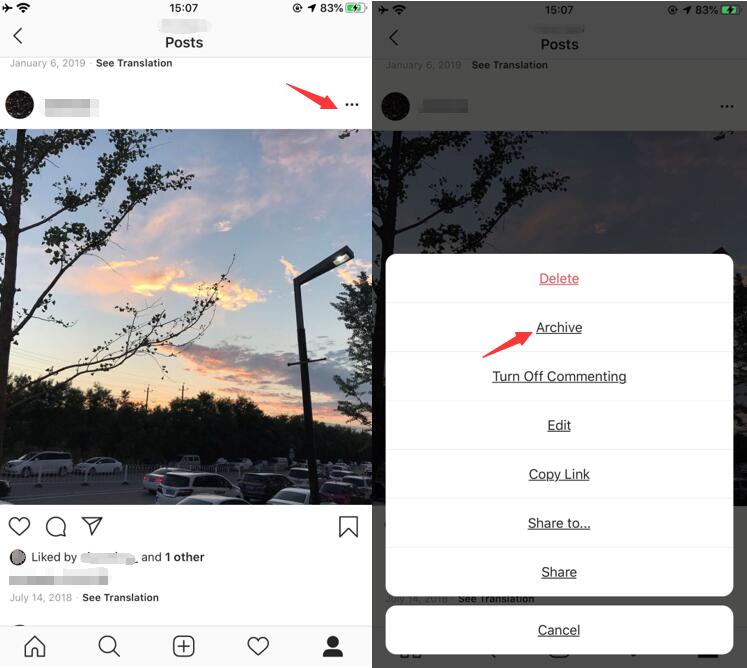 Tips:
Other Ways to Retrieve Instagram images from iCloud and iTunes
If you perform backups, you can try restoring your backup file. You can also check out iCloud or iTunes if you sync your device with the said services. However, take note that restoring your backup will wipe off all existing files on your device. Consider this as your last resort. Instead, try using a data recovery tool first. Read on to learn more about it.
Solution 3. View and Recover Instagram Photos Using Your Google Account
Many iOS users use Google Photo Services to store their photos but are not aware of this. Therefore, you can restore Instagram pictures using your Google account, it makes sense to check if there is a backup copy in the cloud.
To do this, you can do this:
Navigate to Google Photos from your account
Check the content of all published albums (if any)
Check if your trash includes any photos you share on Instagram.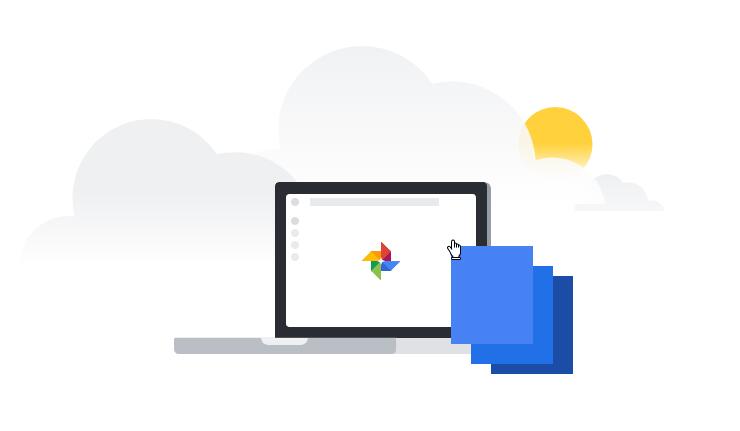 Solution 4. Look at Your Instagram Pictures by Using Internet Archive
Look at Instagram via Internet Archive
The Internet Archive service will be useful when you need to view previous versions of your site and want to restore "save" content there. This method should also work with Instagram.
Go to the homepage of Instagram
Enter text box in your Instagram account
Select the date of the snapshot to view in the calendar

There have been more than 300 billion pages of Internet archives. However, this machine is not suitable for any Instagram account. In most cases, you will only see blank pages instead of deleted photos.
So, so far, this service has not been perfected. This is a way to check Instagram photos via Internet archive, good luck to retrieve them.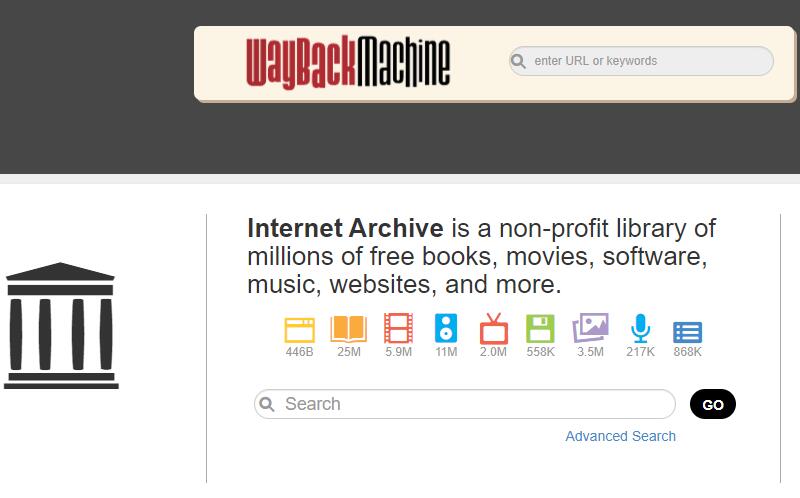 Solution 5. Recover and See Deleted Instagram Photos with Instagram Recovery Tool
If you were not able to find your photos on any of the 3 albums, you can use a data recovery software to retrieve them. One excellent example is FoneDog iOS Data Recovery. This program conveniently restores deleted files for you. Don't worry. It is safe to use.
The software won't overwrite your files. Whether you're using a Mac or a Windows computer, FoneDog has a version for you. The software supports earlier and the latest iPhone, iPad, and iPod Touch. It comes with a 30-day free trial too! If you want to get going, download iOS Data Recovery Toolkit from FoneDog now. Refer to our guide below on how to use it to see deleted Instagram photos.
iOS Data Recovery Recover photos, videos, contacts, messages, call logs, WhatsApp data, and more. Recover data from iPhone, iTunes and iCloud. Compatible with latest iPhone 11, iPhone 11 pro and the latest iOS 13. Free Download Free Download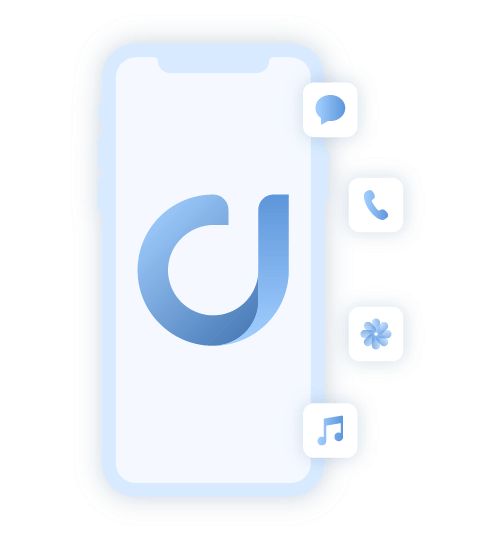 Step 1. Connect iOS Device to the Computer.
Run FoneDog iOS Data Recovery. Using a USB cable, plug in your iPhone, iPad or iPod Touch to the PC.
You are lucky enough have a chance to Download a free version of FoneDog - iOS Data Recovery. Just Click Download Button.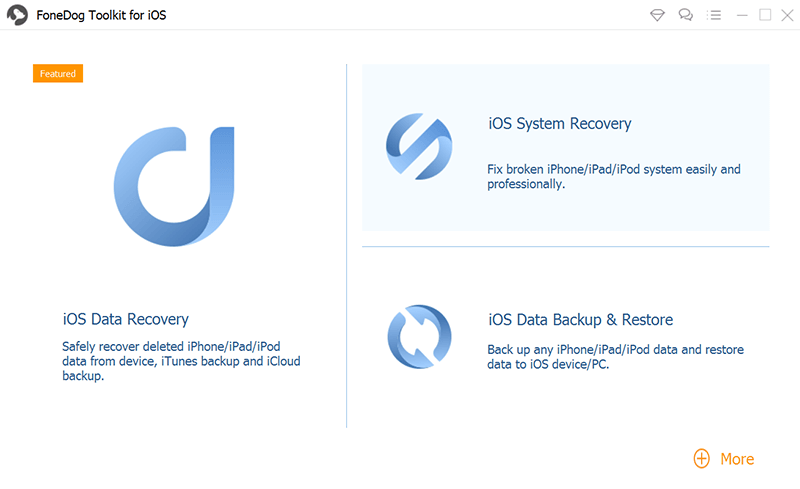 Step 2. Allow Software to Scan Your Device.
From the available options, select Recover from iOS Device. To retrieve your Instagram photos, the software must scan your phone or tablet and look for your files. Hit Start Scan to continue. The scan will automatically start.
People Also Read:

3 Ways to Recover Deleted iMessages on iPhone
6 Ways to Export Contacts from iPhone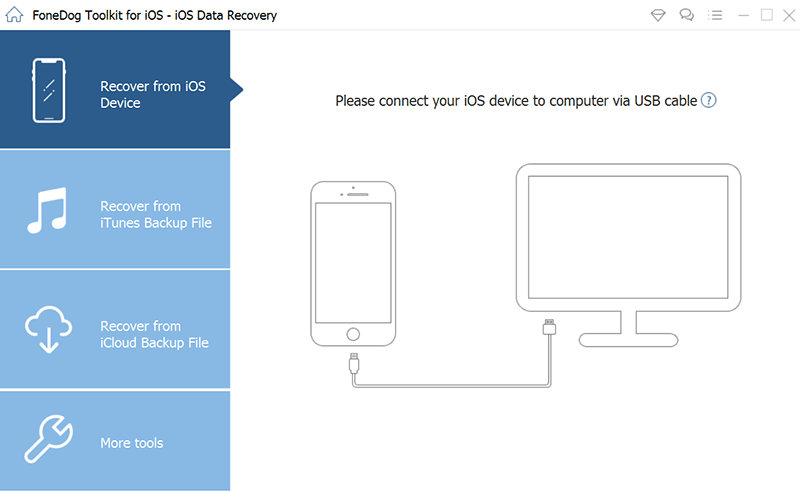 Step 3. Recover and See Deleted Instagram Photos.
Once the scan ends, you will see a list of file types on the left tab. Click on App Photos. Various folders will appear. Open the Instagram folder to view the photos. If you see the photo that you need, simply tick the box beside it and click Recover.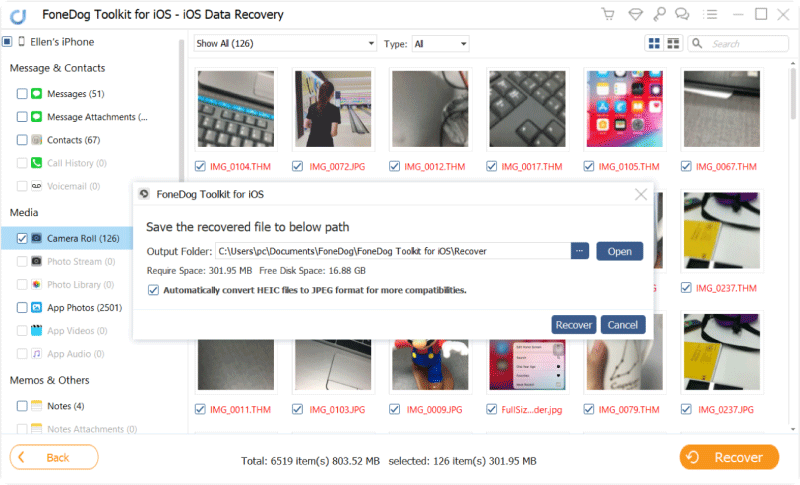 In this video, you can learn how to restore removed Instagram photos to the computer or your iPhone devices with few seconds.
Video Guide: How to Restore and See Deleted Instagram Photos from iPhone Devices
Bonus Tip: Make a Backup Copy to Avoid Lose Instagram Images Again
Based on the Instagram policy:
Instagram encourages you to maintain your own copy of your content to avoid losing Instagram photos again, here is the step-by-step tutorial for you.
Although this may sound like a bad excuse, this suggestion is worth trying. Back up the most valuable documents or data at any time, including Instagram photos, videos, and other files. There are two choices of backup lenses:

Install backup and synchronization applications
Enable photo gallery synchronization using Google Photos services.
It only takes you 10 minutes to set up a backup and make sure that you don't have problems. In the future, even if you cannot access Instagram, Camera and other applications, you will not face any difficulty in recovering files.
Or if you have previous data backups on your PC...
You can also have another alternative that you can transfer your data from the backups you save on your PC to your iOS devices to recover your deleted Instagram data. Here, the helpful tool for data transfer is FoneDog Phone Transfer. More information, for instance, how to do the data transfer, please directly click the user guide or download it for a free trial.
Phone Transfer Transfer files among iOS, Android and Windows PC. Transfer and backup text messages, contacts, photos, video, music on computer easily. Fully compatible with iOS 13 and Android 9.0. Free Download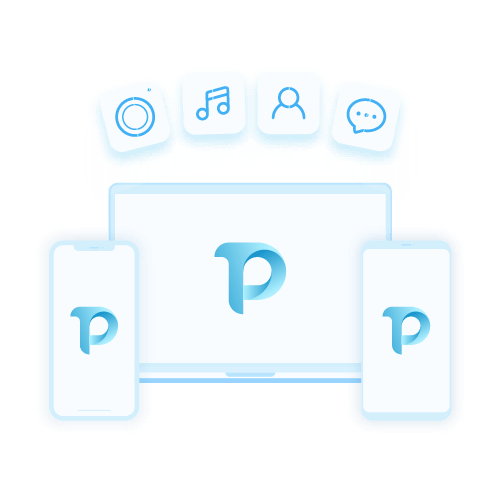 The Last Part: Summary About Instagram Deleted Photos
The next time you take a photo using the Instagram camera, make sure to tap on the Save Original Photo button. That way, you know for certain that you have a copy of that picture on your device. It is highly recommended that you sync your device via iCloud or iTunes too. If it suits you better, you can use a backup software instead. FoneDog iOS Data Backup and Restore is a good option.
In case you failed to save a copy of your picture, you can always use FoneDog iOS Data Recovery to retrieve it. Now, you can up your Instagram game like never before. Did you know that the software restores more than just photos? It can also recover data from other apps like Notes, Calendar, and Safari.
People Also ReadHow to Solve Instagram could not Refresh FeedHow to Save Instagram Photos on iPhone