You May Ask: "How to export contacts from iPhone?" Today, I wrote the full solution to these issues here. Welcome everyone to feedback.
Tips:
Part 1. Why Export Contacts from iPhone
Your contacts are the backbone of daily communication. Unless you keep a written directory of contact numbers, you cannot send a message or call someone. That is why it's crucial that you always have your contacts with you. One thing you can do that is to export your contacts from iPhone.
Once exported, they usually come in vCard file format or VCF for short. These files contain contact information, including a person's title, phone numbers, and e-mail addresses.
One file may contain only one person's details or even your whole contacts list. This format makes it easier for users to import and export their contacts.
Here are why you may need to export your contacts:
You're switching to a new phone, and you want your contacts from your old phone transferred to the new one.
Your device is damaged or non-functional, and you need to get your contacts.
You want to share your contacts list with another person.
You think your iPhone can fall victim to data loss, so you want to create a backup of your contacts.
Whichever your goal is, exporting your contacts is a great way to achieve that. Lucky for you, this post will provide you 6 simple ways to do that.
Part 2. Most Recommended: Export Contacts from iPhone
If you're aiming to export your contacts safely and easily, FoneDog iOS Data Recovery is the software you must use. It can help you export your contacts with the following features:
With a high data recovery success rate, the software can find all of your contacts, even deleted ones, and restore them for you.
The software is safe to use and will not overwrite your existing files. By saving your contacts on your computer, your contacts stay secure.
The preview feature allows you to view your contacts and select those that you need before exporting them.
There are 3 tools that you can use, the best of which will depend on where you keep your contacts.
All these features work even in broken iPhones.
Option 1: Export Contacts Directly from your iPhone
Step 1. Connect Your iPhone to the Computer
Run FoneDog iOS Data Recovery and connect your iPhone. From the options, choose Recover from iOS Device. Press Start Scan.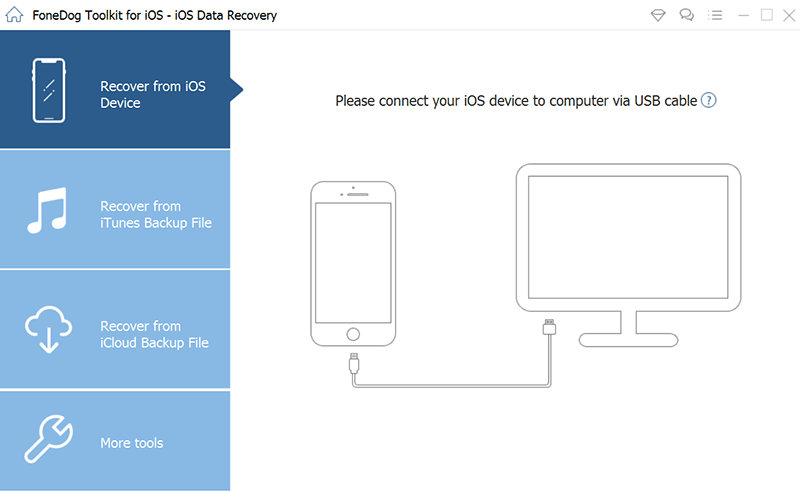 Connect Your iPhone Device to the Computer--Step1
Step 2. Select Contacts to Export
The scan may take a few minutes to finish as it will cover all your files.
Once done, click Contacts from the left tab. You will see a list of your contacts.
Tick the boxes of those that you want to export. To proceed, click Recover.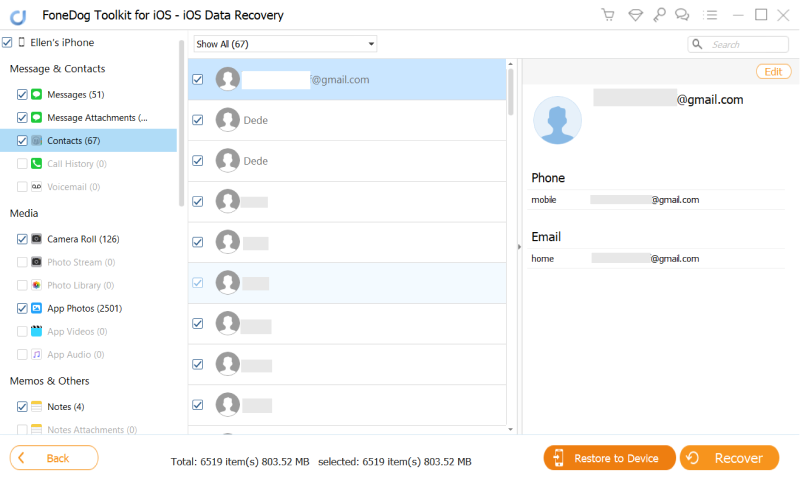 Select Deleted Contacts to Export--Step2
Option 2: Export Contacts from iCloud Backup
1. Log in to Your iCloud Account
Launch the software. 3 tools will be presented. Select Recover from iCloud Backup File.
The window will display an iCloud login screen. Type in your Apple ID and password to proceed.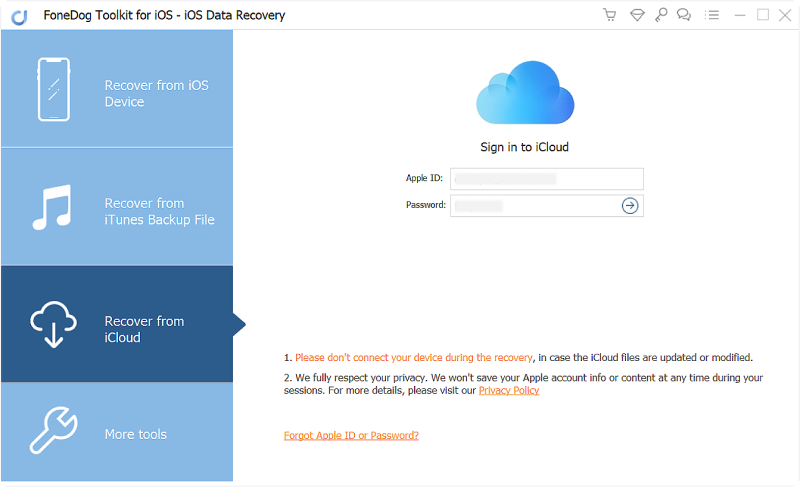 Access to your iCloud Account--1
2. Select Backup File to Scan
Now that the software has access to your iCloud account, it will show you your existing backup files.
Select one by pressing the Download button beside your desired backup.
A small window will appear. From the choices, tick Contacts and click Next.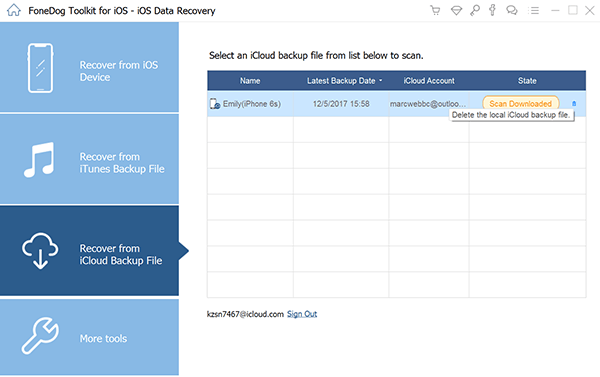 Choose Backup File to Scan--2
3. Choose Contacts to Restore
You will see your contacts on the interface once the scan is complete.
Review them and mark the contacts that you want to export. When you're done, hit Recover.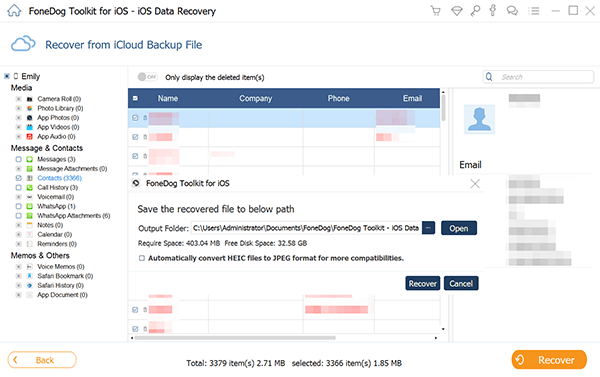 Choose Contacts to Recover--3
Option 3: Export Contacts from iTunes Backup
#1. Allow Scanning of iTunes Backup File
Run the program and choose Recover from iTunes Backup File as your recovery tool.
The available iTunes backup files will be presented to you. Click on one and hit Start Scan>.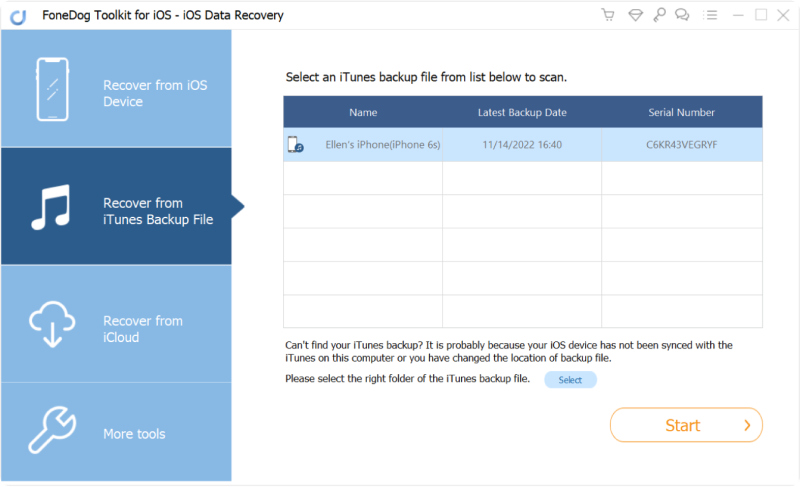 Scanning of iTunes Backup File--#1
#2. Select Contacts to Retrieve
The software will scan for all files in the selected backup.
Once the scan stops, click Contacts on the left side of the interface. Your contacts will appear.
Go through them and tick the box beside the contacts that you wish to export. Click Recover when you're done.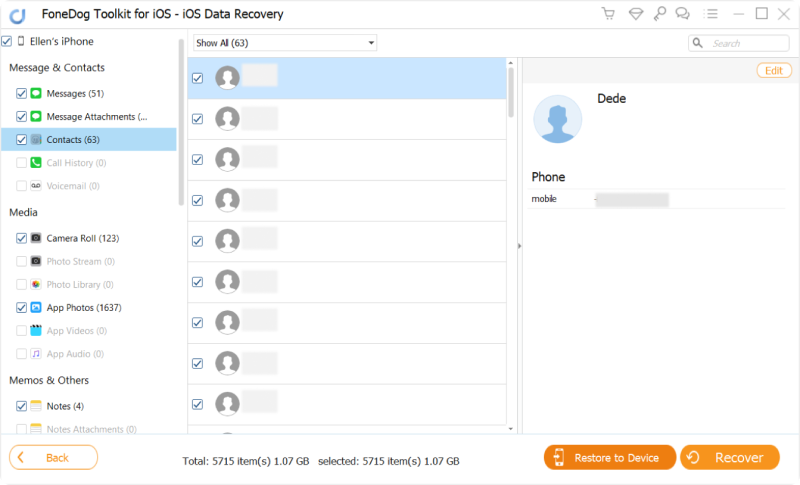 Choose Contacts to Retrieve from iPhone--#2
Part 3. Export iPhone Contacts to E-mail, iCloud, and iTunes
Option 1. Export Contacts to E-mail.
You can export your iPhone contacts to different e-mail providers. You can create a copy of Exchange, Google, Yahoo!, AOL, or Outlook.
Head to your iPhone's Settings > Mail, Contacts, Calendars
Tap Add Account.
A list of various e-mail providers will be displayed. Click on the logo of the provider where you maintain an e-mail account. Enter your account details.
Select Save and Export.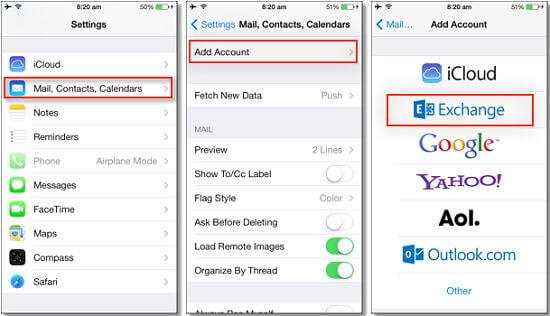 Option 2. Export Contacts to iCloud
iCloud is also helpful in exporting your contacts from iPhone. However, you must enable syncing first to create a backup on the cloud.
Connect your iPhone to the internet. Go to Settings > iCloud.
Enter your iCloud account details.
From the choices, slide the toggle for Contacts to turn it on.
Scroll down and tap Storage & Backup.
Slide the toggle on for iCloud Backup > Back Up Now.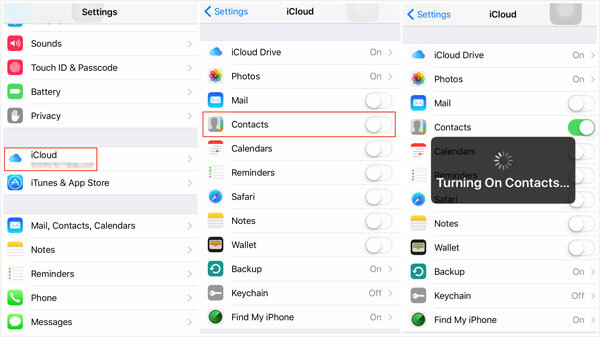 After that, you may access your contacts on iCloud and even convert it to vCard. That way, you can easily save a copy on your computer. You can subsequently transfer the vCard to another phone. Here's how.
Download the vCard to Your PC
On your computer, access icloud.com via a browser. Log in with your Apple ID and password.
Click Contacts. You will now see all contacts that have been backed up to iCloud.
Select which contacts you want to export. For multiple selections, you may press Ctrl + Shift keys. If you want to select all contacts, press Ctrl + A.
Click the cogwheel icon, which you will find in the bottom left-hand corner of the window. Select Export vCard. This will download the vCard to your computer.

Option 3. Export Contacts to iTunes.
In the case of iTunes, you cannot export your contacts alone. It automatically backs up all data on your iPhone.
Launch iTunes on your computer and connect your iPhone.
Once your phone is detected by iTunes, click your device's name under the DEVICES tab.
Click Summary and select Back Up Now.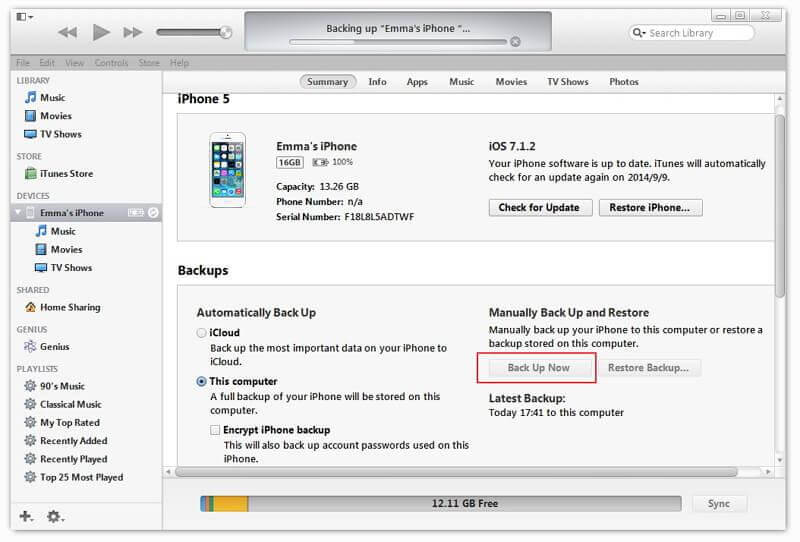 Although the above suggestions can get the job done, they are subject to several limitations.
First, your e-mail and iCloud can be accessed by hackers. They can steal or even disclose your contacts. Second, for iTunes, you are forced to export all files. These include your photos, messages, and documents.
Therefore, it is smart to use a tool that allows local transfer and gives you the flexibility to export what you want. FoneDog iOS Data Recovery does exactly that.
Part 4. Video Guide: Selectively Export Contacts from iPhone
Exporting your contacts doesn't have to be difficult. With FoneDog iOS Data Recovery, you'll make the task at hand a breeze to do. If along the way you've realized that you want to export other files on your iPhone, you can still use the same software. Isn't that great?