Android Phone Data Recovery Software Free Download in 2018
by JV Suarez | Lasted Updated 2018-03-14 02:48:06
" Where have Android Phone data recovery software free download? My Android phone and I have been working together for a long time, in fact, my Android phone's previous predecessor was a good Android phone as well which I used for years, the next one which I will get in a few years, will likely also be an Android phone. Just goes to show you, how much I really like my Android unit. I was going through it because I was bored the other day and realized that I am missing some data. Not exactly sure what the extent of the error is or what not but as far as I can tell, I'm missing some contacts, a few older messages, and a few other things. While this is annoying, I'm wondering if there's a solution to this? Maybe a free solution too? I like those things but it's not like I can't live without them."
Android phones are definitely a must-have when you are using smartphones and a number of brands can attest to that, plus a sea of users can't possibly be wrong. With so many choices available in the market today, it's hard to wonder why Android phones are still a dominating entity in the mobile phone industry.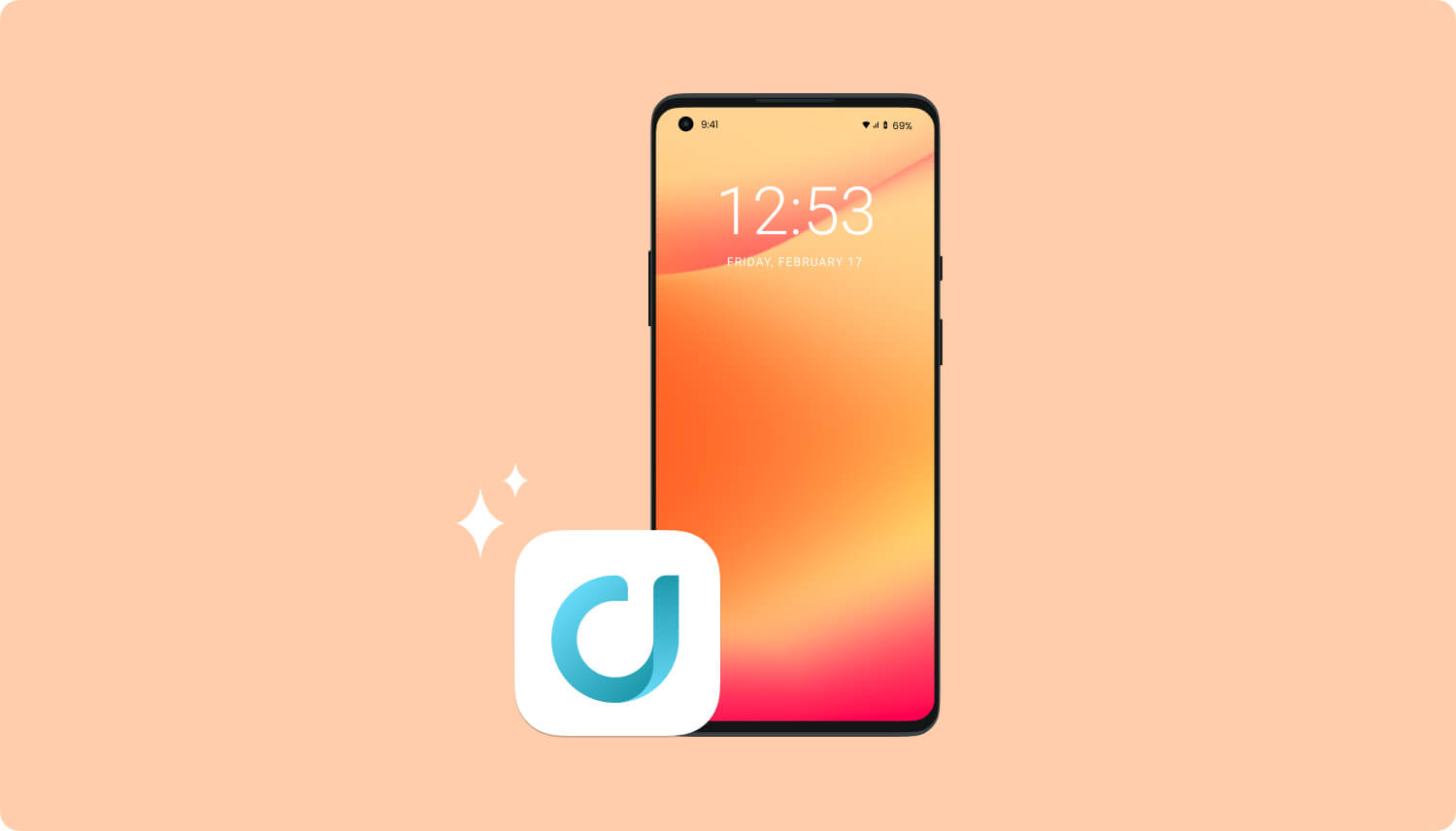 Android Data Recovery Software
Part1. The Reason Why You Lost Data from Android Phone
We could discuss the many positive things of an Android for more than a week and we wouldn't be even halfway done, however, despite the many great things that come with Android phones, it isn't without some problems here and there. Among the problems are missing data and such, the causes of these can range from any of the following:

Deleted by accident or on purpose - As useful as mobile phones are, we tend to use them while we are busy doing other things and we end up doing one thing carelessly. We may delete a message thinking it's something else or even on purpose, only to realize we needed some information from that message.

Random error - It happens, who knows why or how, but sometimes it just does. A missing message here and there, finally some pictures and then some more. All we can prepare for is that we have a backup or another way to recover the information.

Corrupted data - This can happen about the same way a random error can occur, but this one usually is stemmed from an action or such. Maybe you were transferred to an SD card or something and then as you opened it, there was an error and you end up with a corrupted file. Yikes.

Broken phone - Damage on phones can really depend on the user, but some are just superficial and can be ignored for the most part, especially if you have a protective case not only protecting it from any more damage but hiding those unsavory blemishes. Other damage, on the other hand, is data crushing events. Sometimes it can even get so bad that you can't even switch on the mobile phone anymore. Now, what do you do?
There are still other reasons as to why you could be missing data but let's face it, the main reason you are here is to find a free way to recover the data. Thankfully, you have a couple of options available to you.
Part2. RecoverAndroid Data from Google
Assuming you just started using an Android phone, you were likely invited to backup your data using a Google account. Most people will create one for that reason or access other apps such as social media apps or even game apps. Either way, if you have a Google account or created one just for your Android phone, this might be the best option for you. Since there are a ton of data that you can back up on your Android phone, just follow the various instructions to retrieve the data. Hopefully, it will still be there and everything will be alright. This is a free option unless you need to expand the memory space of your Google account, that is an entirely different story altogether.


Recover Android Data from Google
Of course, if you did not do this step you aren't left with a lot of other options and can proceed to the next one.
Part3. Use Fonedog Android Data Recovery to Restore Lost Data from Android
While Fonedog Android Data Recovery is a paid app and is dedicated to recovering information from various Android phones, in fact, Fonedog Android Data Recovery is compatible with over 6000+ Android models, likely your current Android phone is among the list of compatible units. Anyways, Fonedog Android Data Recovery does have a free trial and scan version, you can find it on the site and simply download it. However, if you really want to recover data, it is more than likely that you will need to get a purchased copy and have it on your computer or laptop.
How does Fonedog Android Data Recovery work, you may ask? Well, once we delete some information on our mobile phones, we lose access and cannot see or touch the information. However, it doesn't mean that the data is completely gone, in fact, it is just aimlessly floating around in a virtual space that we have no means of reaching out to, that is until Fonedog Android Data Recovery. Fonedog Android Data Recovery can help you recover that information and give you back the access to it.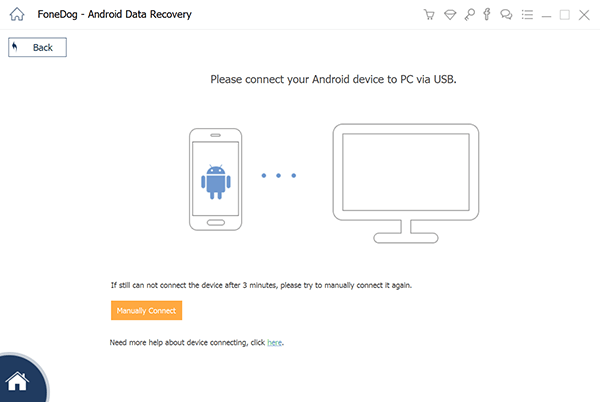 Download and Launch Fonedog Toolkit--Step1
Step1: Download and Launch Fonedog Tooljit
Download and Run Fonedog Android Data Recovery, and then connect to your device by enabling USB Debugging.
Step2: Select Type of Files to Scan
After your device connects to the computer successfully.You can choose your desired files to scan and click "Next" button.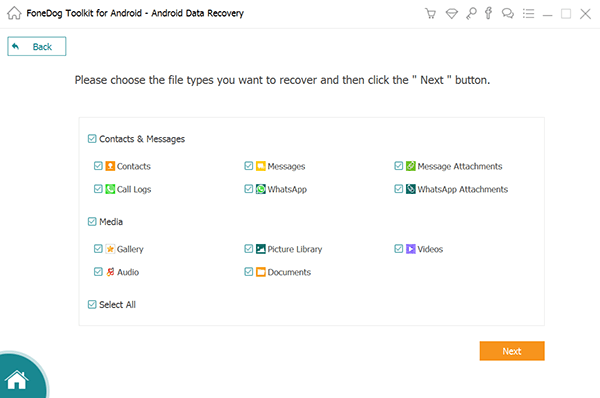 Select Files to Scan-- Step2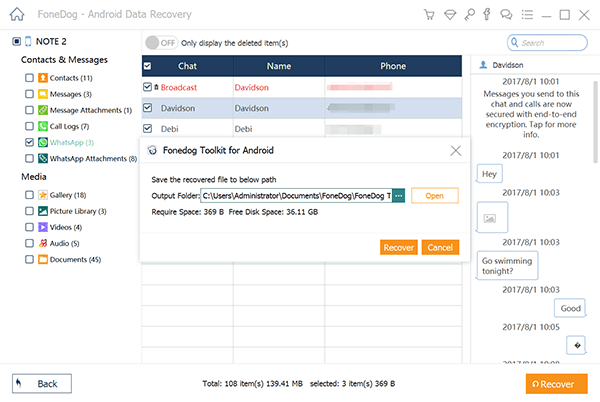 Use Android Data Recovery Software to Restore Data--Step3
Step3: Restore Lost Data by Fonedog Android Data Recovery from Android Phone
After scanning completed, you can click on "Recover" Button to recover Lost data from Android Phone.
Video Guide: How to Use Android Phone Data Recovery Software
With Fonedog Android Data Recovery waiting on your computer or laptop, you can easily recover information and data from your phone despite not having a backup available to you. You have a number of options to get back such as your contacts, photos, messages, Whatsapp messages, documents, files, attachments, audio files and so much more. Assuming you lost a lot of data due to a reason or another, purchasing a copy of Fonedog Android Data Recovery might be your best bet, especially if you weren't able to back anything up, which can be the case. However, please feel free to download the trial version and see how compatible it is with your current Android phone. You can scan through your phone and see what you may have lost, that way if you aren't 100% sure you need them back just yet, the trial version could be the option for you.
Android Phone Data Recovery Software Free Download in 2018