"How to recover deleted WhatsApp messages from blackberry phone? I uninstalled WhatsApp on my Blackberry without realizing that doing so would delete all my messages. I need those back ASAP. Is it possible to recover them?"
TIPS:
Part 1. The Importance of WhatsApp MessagesPart 2. Recover Deleted WhatsApp Messages from Blackberry with BackupsPart 3. Here's the Easiest Way to Recover Deleted WhatsApp Messages from BlackberryVideo Guide: How to Recover Deleted WhatsApp Messages from BlackBerryPart 4. Recommendations
Part 1. The Importance of WhatsApp Messages
Blackberry is sometimes referred to as the businessman's phone – and it's not surprising. With its topnotch encryption and productivity apps, it is handy for a person who is constantly busy and on-the-go.
And if you use WhatsApp for daily business communication, losing your chat history is a big predicament. It may be because you have uninstalled the app, or it unexpectedly crashed. Another possibility is that you mistakenly tapped on the Remove Conversation button. Whatever the scenario, recovering your messages is a must.
Conversations aren't the only thing that you lose if you have uninstalled your app. Attachments such as audio, images, and documents get deleted too. Nevertheless, do not panic. Luckily, WhatsApp messages can still be recovered thanks to backups and data recovery software. Read on to see how you can do just that.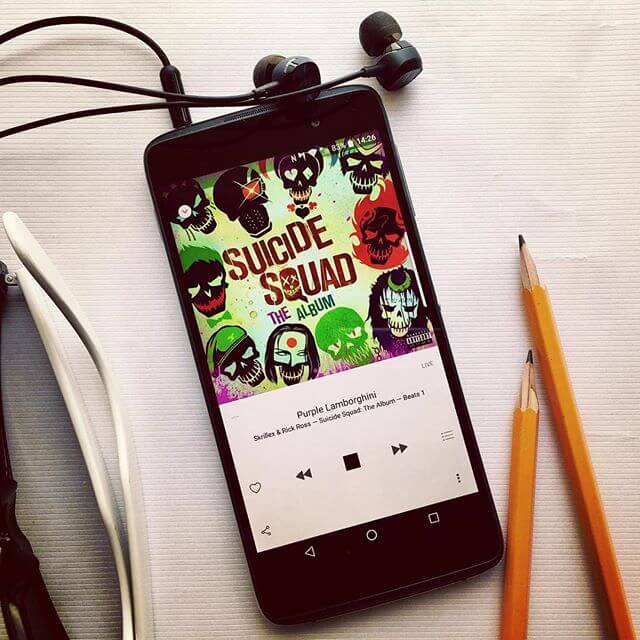 Recover Deleted WhatsApp Messages from BlackBerry Phone
Part 2. Recover Deleted WhatsApp Messages from Blackberry with Backups
Backups are available to address your problem and retrieve your WhatsApp messages. However, restoring them involves uninstalling and reinstalling the app. Some may think that it is inconvenient to do so. Moreover, it requires you to use the same phone number as when you last used WhatsApp. If you are no longer using the same SIM card, then accessing your backups is impossible.
Option 1. Restore WhatsApp Messages from Local Backups
As long as you have WhatsApp installed on your phone, the app creates daily backups at 2 am. By default, they are saved on the phone's internal memory. Note that backups up to 7 days are saved. Beyond that period, they are automatically deleted.
Here's how to access them.
Uninstall WhatsApp from your Blackberry phone.
Reinstall the app.
When asked to restore, click Restore.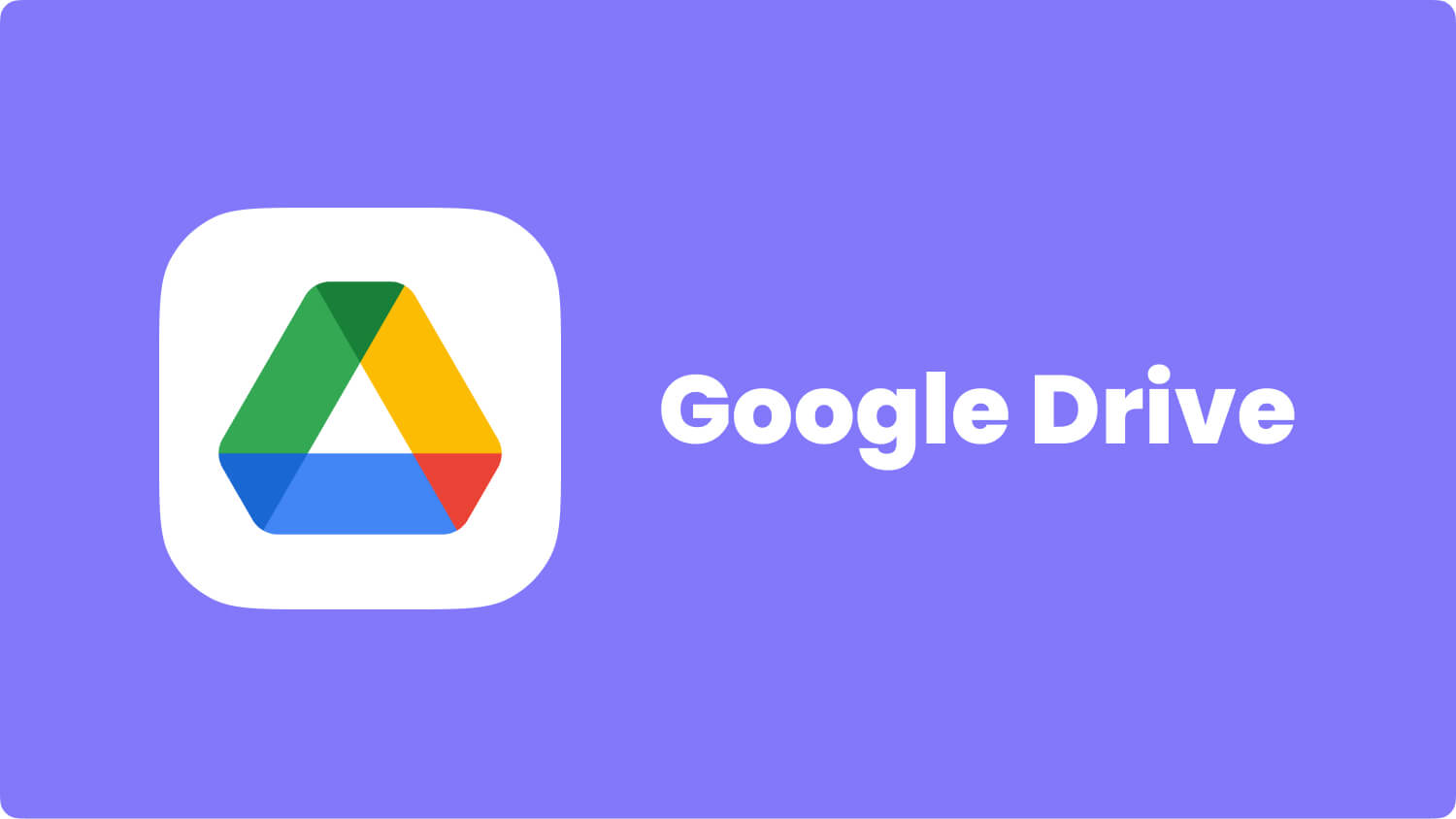 Recover Deleted WhatsApp Messages from Google Drive
Option 2. Retrieve Deleted WhatsApp Messages from Google Drive
WhatsApp also allows users to back up their chat history to Google Drive. You can set scheduled backups with the frequency of your choice. It's only a matter of making some tweaks to the app's settings. However, only one backup can be saved to Google Drive. This means that once you create a new backup, this will overwrite the old one.
Uninstall and reinstall WhatsApp.
Verify your number. Make sure that you are using the same number as before.
You will then be asked to restore your Google Drive backup. Tap Restore to proceed.
Part 3. Here's the Easiest Way to Recover Deleted WhatsApp Messages from Blackberry
If you can't get to your backups because you just recently changed your phone number, then a data recovery software is perfect for you. The same goes for users who no longer want to install WhatsApp again.
One of the best in the market, Android data recovery software, FoneDog Android Data Recovery, would do the trick. It can quickly restore deleted WhatsApp messages and attachments in several minutes. Plus, if you happen to have other files that you need back, then you can recover them too. This software can also recover images, videos, documents, messages, contacts, and call logs.
What will follow is a detailed guide on how to use the software to recover deleted WhatsApp messages from your Blackberry phone.
Step 1. Download FoneDog Android Data Recovery and connect your phone.
Download the software and wait for complete installation. Run the program and connect your Blackberry phone with a USB cable.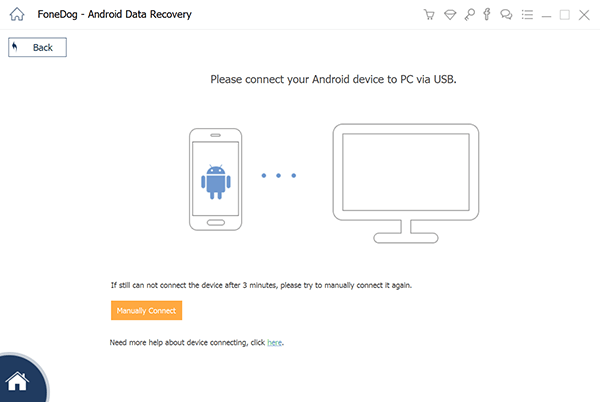 Connect Blackberry to Computer -- Step1
Step 2. Enable USB debugging.
Now, you will be asked to authorize USB debugging. If a prompt comes out on your phone, tap Allow. If none appears, follow the steps below.
Select Settings
Choose About Phone
Tap Build Number seven times until your phone is in developer mode.
Go back to Settings
Select Developer options
Tap USB debugging
Click OK. A prompt will appear on the software as well. Select OK.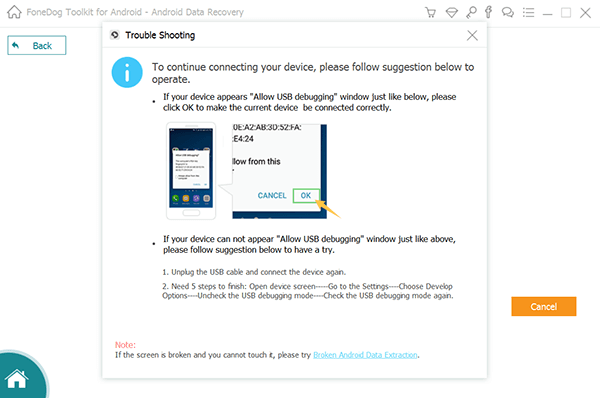 Enable USB Debugging on BlackBerry -- Step2
Step 3. Select your desired file types.
Once the software detects your phone, it will display a list of file types. Since you want to recover deleted WhatsApp messages, tick WhatsApp and WhatsApp Attachments. This is under the Contact & Messages section. To start the scan, select Next.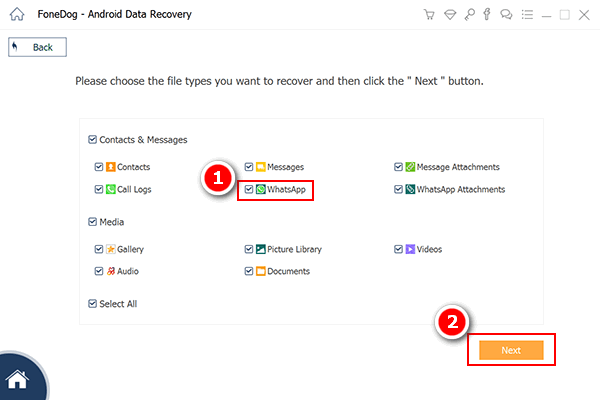 Select WhatsApp to Scan -- Step3
Step 4. Choose WhatsApp messages for recovery.
When the scan ends, the interface will show you the list of found WhatsApp messages and attachments. You may review them and select those that you want to restore. Tick those items as you go.
To download them, hit Recover.
Also Read:
How to View Deleted Text Messages Free on Android
How to Recover Lost Contacts from Android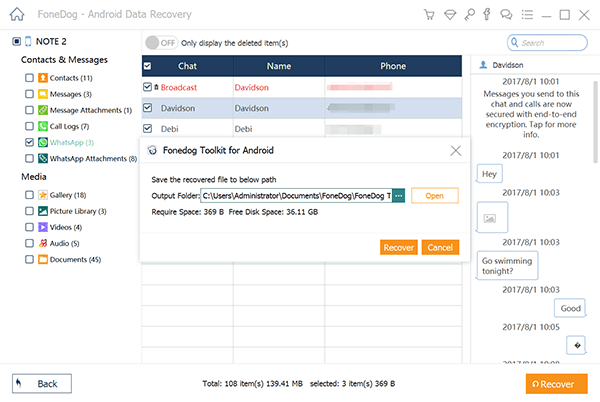 Recover Deleted WhatsApp Messages from BlackBerry -- Step4
Video Guide: How to Recover Deleted WhatsApp Messages from BlackBerry
Part 4. Recommendations
If you don't back up your WhatsApp messages, then maybe it's high time to start. It's not enough to rely on the local backups. If your phone got damaged, then your local backup would go down the drain as well. With Google Drive, all you need is your e-mail and password.
Here is how you can start backing up to the cloud.
Open WhatsApp on your Blackberry phone.
On the app's Menu, tap Settings > Chats > Chat backup
Choose Back up to Google Drive. Set the frequency by which you want backups to be made.
Select your Google account where your Google Drive is linked to. The app will now start to create a copy of your chat history and save it to the cloud.
The backup process may take a while, but remember that it is worth the wait. The next time you accidentally hit delete on your WhatsApp messages, you will no longer feel anxious.
But if you want the easier way out, then using FoneDog Android Data Recovery is the way to go. If you have suffered the same problems from other apps on Adriod, you can as well as use this software made by FoneDog to recover your deleted messages on Android. The software is not only simple to use, but it is also guaranteed to restore all lost files. It also keeps your existing files secured. With the 30-day free trial, you don't even have to spend a dime on data recovery. But if you're really pleased, you can opt to grab the full version and unlock advanced features that you will surely be happy about.