How to Recover Deleted Contacts from OnePlus 5
by Juan | Lasted Updated 2018-03-14 06:12:31
"How can I recover deleted contacts from OnePlus 5? I was going through my OnePlus 5 unit but realized that I lost some contacts… what happened? I don't understand, I didn't delete it but I really need that number and contact back! I don't know how to recover the information, can anyone help me? I'm in desperate need of help!"
The OnePlus 5 unit is a great Android phone, with a monster processor unit and a wonderful camera, the features of this phone goes on and on. However, just like any other phone or brand, you experienced an error or a problem and all of a sudden, you lost some contacts and need to get that information back. How did this happen? Well, there are a number of reasons to lose contact information or other details that you need on your phone. Truth is there are a number of ways this happens and to make sure you know what you are dealing with, we listed down the most common reasons below:
Part 1: What May Cause Deleted Contacts from OnePlus 5
Accidental delete – You are going through your contact list to see if you can clean it up by deleting some older contacts, but you accidentally deleted the contact information of someone you need to call within the next few days. It was an accident but now what?
The update – While it isn't guaranteed to happen, there have been some cases of updating the OnePlus 5 and then returning to a phone without any contacts saved in it. Please note that this doesn't happen to everyone, it could occur and when that happens don't panic, there is a way to recover the contact information.
The unknown error – This random error can strike at any time and anywhere, it is something most of us dread and there really is no defense against it, unfortunately.
Broken phone – Let's face it, we've all experienced a busted phone one way or another, it could have fallen by accident, the OnePlus 5 could have gone for a random swim but whatever the reason – you need your contacts back!
There are likely more ways to lose the data, but so far these are the predominant reasons. It can happen to anyone and truth be told and it isn't exactly reserved for OnePlus 5 units only. Thankfully despite this problem, there are always ways to retrieve the data and as always each one has its own merits and demerits.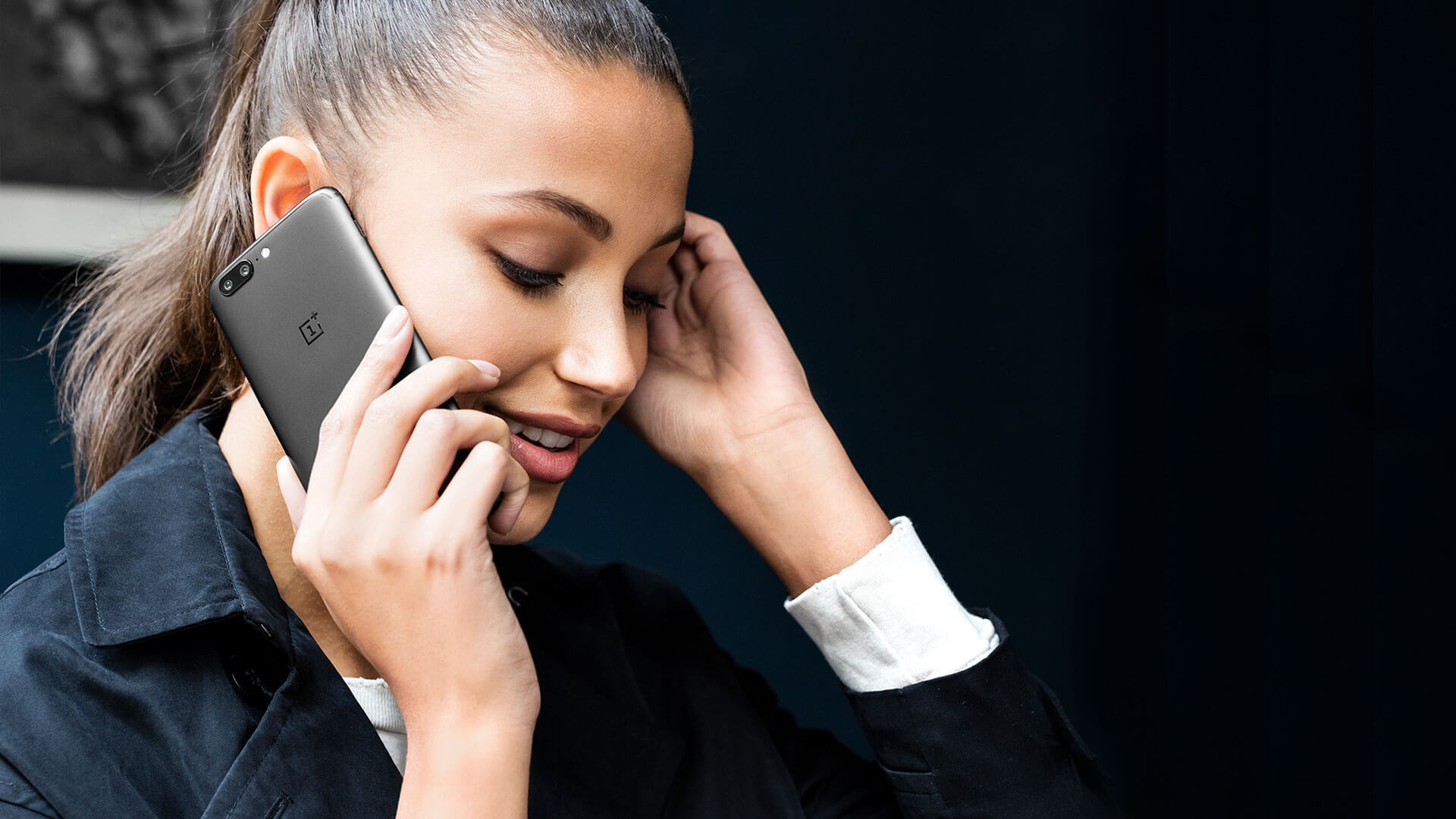 Recover Deleted Contacts from OnePlus 5
Part 2: Using Google Account to Recover Deleted Contacts from OnePlus 5
Using Google to retrieve the data - Chances are you created a Google account when you got your OnePlus 5 unit, in fact, this is likely the event for most Android phones. Usually, you would create one to access email or even play games, either way, here is an option to back up your contacts, images and much more on Google and Exchange.
Now assuming you did sync your contacts to Google, it will likely have the backup data filed online. All you have to do is follow these steps:
Step 1: Go to settings on your OnePlus 5, choose the right Google account and proceed to the next step.
Step 2: You'll have some options to choose from but at this point, you want to focus on "Contacts" for now, simply tick the box and it will sync with Google and you can easily access it through your OnePlus 5 at this point.
While this is a simple and free option, it is dependent on how often you back up, if by some chance you are like most people and only back up your files once you open the account, you'll still lose a number of contacts and other information that you might need. However, if you do back up your data rather often, well then this option might be the best for you.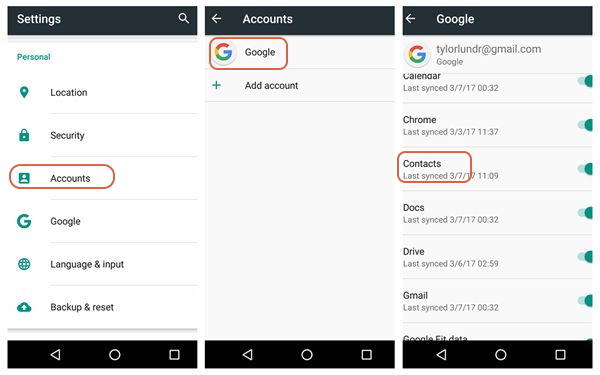 Recover Deleted Contacts from OnePlus 5 by Google Account
Part 3: Use FoneDog to Recover Deleted Contacts from OnePlus 5
Now if you didn't really back up on Google and you still need the latest contacts on your phone, getting the FoneDog Android Data Recovery program might be the best option for you after all. With this program or app, even if you didn't back up your information, as long as it was on your phone, you'll be able to recover it. Just follow these simple steps to get that contact back into your phone.
Step1. Download and Install Android Data Recovery
Download Fonedog Android Data Recovery on the computer that best connects to your OnePlus 5 unit.
Connect the OnePlus 5 to the computer using a USB cable. Make sure that Fonedog Android Data Recovery is running as you do this.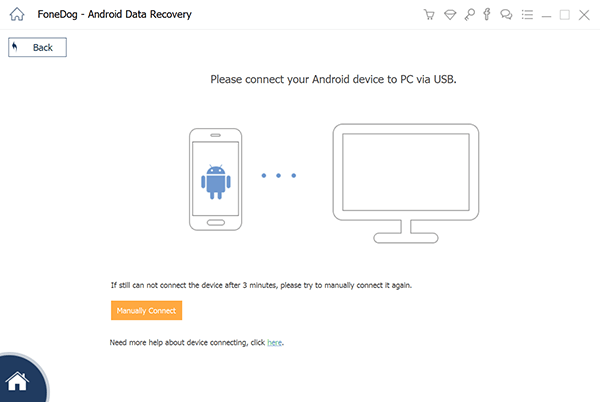 Connect OnePlus 5 to Computer -- Step1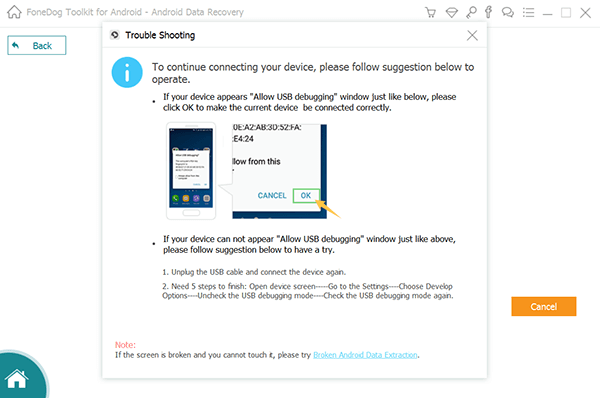 Allow USB Debugging on OnePlus 5 -- Step2
Step2. Enabled USB Debugging on OnePlus 5
If you've enabled "Debugging Mode" prior to connecting the OnePlus 5 unit, you can skip this step altogether. Otherwise, you will be prompted and asked if you will allow the phone to be placed into "Debugging Mode" so that the Fonedog Android Data Recovery program can successfully scan through the mobile phone, finding the necessary data that you want to return, which in this case is the missing contact details.
Step3. Choose Contacts Type to Scan on OnePlus 5
Choose the files you want to scan, with Fonedog Android Data Recovery, not only can you recover the missing contact details, you can even return missing text messages, photos, phone logs and more if the need arises. Click on the "Contacts" option, for now, is the box you want to tick. Click on the "Next" button and proceed to the next step.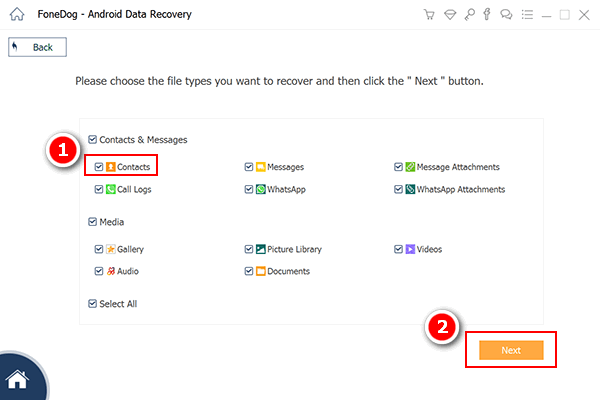 Select Contacts Type to Scan on OnePlus 5 -- Step3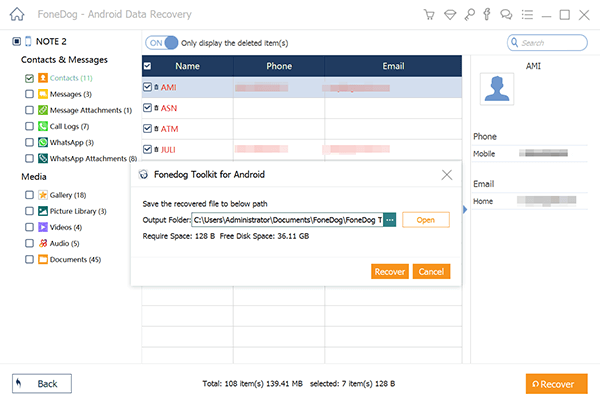 Recover Deleted Contacts from OnePlus 5 -- Step4
Video Guide: How to Recover Deleted Contacts from OnePlus 5
There you have it, the options are quite easy and again there are pluses and negatives for both options, but you'll have to choose which one is more ideal for you and your OnePlus 5 unit. Ideally however if you get the Fonedog Android Data Recovery program, you will not have to fear any missing data from your current OnePlus 5 unit or most other Android units available in the market to this day. You can confidently delete or use your mobile phone in any way you want and not have to worry that you can never get the information that you casually removed.
How to Recover Deleted Contacts from OnePlus 5