"Are you tired of always mistakenly deleting videos and other files on Android? Find out which Android video recovery program is best for you! It is extremely easy for you to recover deleted video from Android."
One of the most common issues is data loss. Data loss varies from slight to extreme cases that some people often leave the issue like that but some issues involving important files needed a professional way to recover these files.
However, according to the experiments made by mobile experts, files are either saved on the internal or external memory of the Android and based from this, you can choose what kind of data recovery you can perform, like deleted video files.
The best way to keep deleted video files inside the Android device is to stop using them just when you discovered that the videos were gone. Search and find the most professional Android video recovery program and begin the quest!
Part 1. How to Recover Deleted Video from Android DevicesPart 2. How to Backup and Sync Videos on AndroidPart 3. Steps to Transfer Videos from Android to PCPart 4. Steps to Upload Videos to Google Drive
Part 1. How to Recover Deleted Video from Android Devices
One of the biggest challenges in owning and using Android phones and tablets is the fear of deleting important files like videos. This can be caused by the touch screen sensors that are too sensitive or could be a failure of the software and could also be caused by user mistake. Whatever the reasons you have that you got your videos deleted then this is the article for you.
In this post, we will discuss the most professional Android video recovery software that can easily restore any phone data without any difficult steps. Presenting FoneDog Toolkit- Android Data Recovery.
At provides a convenient recovery method for all files on any Android smartphones and tablets. FoneDog Toolkit- Android Data Recovery has the following features:
Trusted and approved by millions of Android users worldwide
Safe and easy to use with 100% recovery rate
Compatible with any Android phones and tablets with over 6000+ devices
Easily recovers data with or without Android root
With these qualities, you are confident that whatever data loss you encounter, you are definitely sure that you got higher chances of recovery when you use FoneDog Toolkit- Android Data Recovery.
Find out how to use the best Android video recovery software. It also provides Free Trial version for both Windows and Mac users to download!
Step 1. Download, install and launch FoneDog Toolkit- Android Data Recovery
The first thing you need to do is to download, install and launch the program FoneDog Toolkit- Android Data Recovery on the computer.
Follow all the onscreen instructions on how to complete the download and install.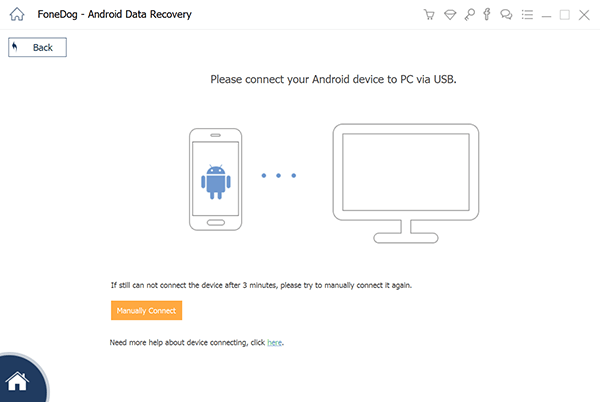 Tip:if this is the first time your Android got connected to the PC then you need to install certain drivers to continue. Refer to the guides onscreen.
Step 2. Plug in Android Phone/Tablet
The next step is to connect the Android phone/tablet using a USB cable to the computer and then wait until the program recognizes the device.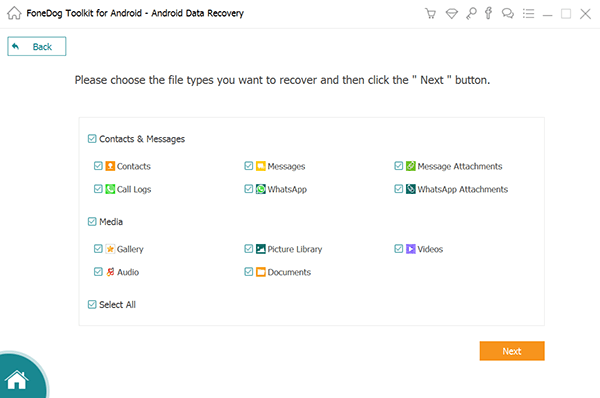 Step 3. Allow USB Debugging on Android
The program will now ask you to enable the USB debugging on the Android phone/tablet to establish a connection between the two devices.
This does not cause any harm to any connected device. USB debugging is just a mode connection.
To enable the USB debugging mode on your Android, follow these:
For Android 4.2 and up
Launch Settings on the Android
Go to About Phone
Tap Build Number 7 times or until you see the message "You are under developer mode"
Go back to Settings
Tap Developer Options
Enable USB debugging
Click OK on the Android device and click OK on the program screen to continue on the next steps.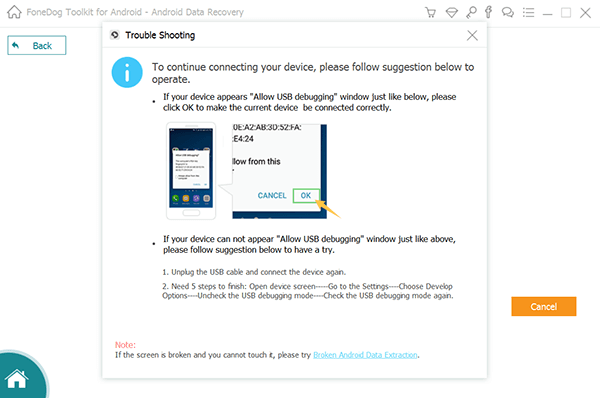 Step 4. Select files for recovery
The next window will let you choose the files you can recover from the Android device such as contacts, messages, photos, videos, documents, and more.
From this screen, you can perform selective recovery by choosing only all the files under the Media category where the video files are and then click "Next" to continue.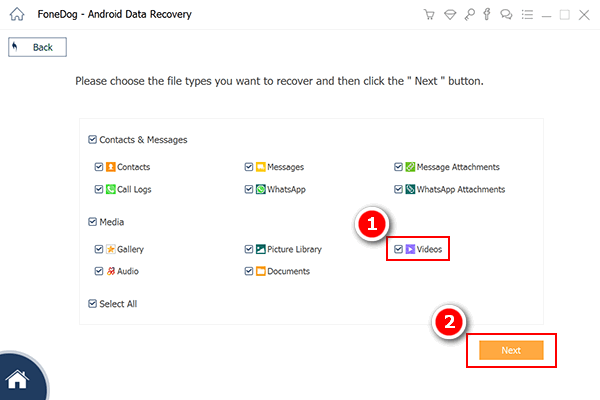 Step 5. Preview and Recover videos
FoneDog Toolkit- Android Data Recovery will now scan the Android phone/tablet for the selected files from Step4. This process may take some time depending on the file size being recovered but you can see its progress onscreen.
Once the scanning stops, you are now able to preview the videos recovered on the right side of the program screen.
Find the deleted videos you need and then choose the desired ones and mark them selectively and then save them to a folder on the computer.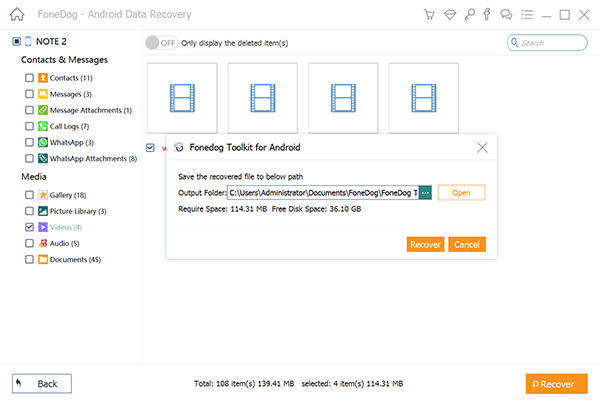 Video Guide: The Best Way to Do Deleted Video Recovery from Android
This Android video recovery program has just recovered all the deleted video from smartphones and tablets. FoneDog Toolkit- Android Data Recovery made the recovery faster and easier. No more fear of data loss when you have this program besides you.
Part 2. How to Backup and Sync Videos on Android
Because media files often accumulate a big amount of space on the device, you might sometimes find yourself deleting them to free some storage. However, some of these files are important that might get you into trouble when you delete them.
To avoid getting your videos deleted in the future, you can backup your data at regular. For instance, you can back up data using the Google account. Make use of this service since Android is powered by Google, you can easily use the default apps and services on the device. This kind of backup service will let you sync all the media contents to the Google Photos Library.
To turn on the backup & sync on Android follow these:
Make sure you have a registered Google account otherwise create or register a new one
Find the Google Photos default app on the Android
Sign in with Google
Tap the Menu key
Find Backup & Sync
Tap on or off
To verify if the videos and photos are synced and backed up:
Launch Google Photos
Sign in to Google
Tap Photos
You will see all the contents being backed up or have been synced already on the top side
You can take advantage of this service for a total space of 15GB for capturing and syncing original contents however if the upload size was set to high quality then you will be getting unlimited storage.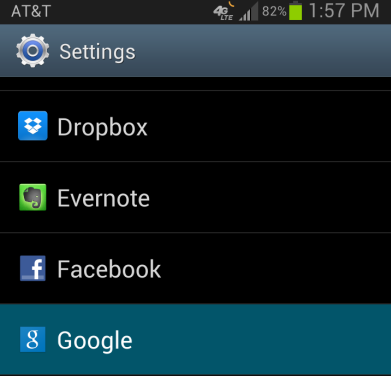 Part 3. Steps to Transfer Videos from Android to PC
Since videos take up too much space on the Android, you have another option to manually transfer or copy them to the computer. You can also do this method for most of the files on the Android phone/tablet.
How to transfer videos from Android to PC please follow these steps below:
Connect Android phone/tablet to the computer using a USB cable
Open File Explorer and go the Android device and open Media files
Choose all the videos you want to transfer/copy to the computer by either CTRL+C or dragging the file to the new folder created on the desktop
However, this process should be done manually or every time you have loads of videos taken from the Android device and needed to be transferred. This may be a little hassle especially if you are always on the go.
Tip: You can set a schedule if you want for all the transfer/copy activities from the Android to the computer so you can back them up.
Part 4. Steps to Upload Videos to Google Drive
Another convenient way to backup videos is by uploading them to Google Drive. Like Google Photos, Google Drive is also a default app on the Android phone/tablet wherein you can store documents, media files, and more.
To upload videos to Google Drive, follow these:
Launch Google Drive on the Android
Find and tap the plus button and then tap the arrow up or Upload icon
Choose the videos you want to upload
The 15GB space given by Google is distributed to all its other apps like Google Photos, Gmail, and more.
Videos are one of the best ways to capture moments whether for personal or business purposes. Taking videos have become so easy because of the rise of smartphones and tablets.
Since Android is the leading mobile operating systems, it has developed many types of devices with special and stand out camera features for taking videos and photos. This feature has captured the hearts of many users and due to this the demand for Android devices increased tremendously but has faced a lot of challenges.
You can check your own Android settings for the video file storage. Files are not permanently deleted on the Android device once we erase them but rather stay inside a virtual space and are hidden and unreadable.
In this article, you have just learned the different backup and sync options for videos on the Android phone/tablet as well as the best way of how to recover deleted video from Android devices. FoneDog Toolkit- Android Data Recovery makes recovery even faster and better especially for beginners.
This Android video recovery does not have any complicated methods that can cause other issues. The program has developed steps that are actually click-through and user-friendly.
So the next time you accidentally deleted videos on your Android, use FoneDog Toolkit- Android Data Recovery. You will never go wrong with this program and face data loss confidently. Try and download the free version today!