"Ok, ok, I need to recover data because of my Samsung broken screen. this is a bit of a long story, but I need as much help as possible. I have a Samsung unit, you know and it's pretty amazing. Well, it was, until I was an idiot and slipped on the stairs. My phone went a short flight against the wall. Apparently, they did not have an agreement and my phone came out the loser. Now the screen is busted to kingdom come and I have no idea what to do! I know I'll likely have to buy a new one, and it will still definitely be a Samsung unit because I was beyond happy with what I had. My only problem now is that I still need the information that was on my older phone. I can roughly tell that it still works as I can receive messages and calls, can't answer or reply to any of them due to the broken screen but at the very least it still works. Anyhow, please tell me how I can recover data from my Samsung broken screen. I need them back!"
Part 1. Why the Samsung Broken ScreenPart 2. How to Recover data When Samsung Broken ScreenPart 3. Restore Data from Samsung Broken Screen Using Fonedog Toolkit
People Also ReadWhatsApp Extractor: Get Chat History from A Damaged SamsungHow to Recover Contacts from Android Device with Broken Screen
Part 1. Why the Samsung Broken Screen
Samsung units are amazing smartphone devices and it's fairly easy to see why they are one of the most popular brands out on the market today.
Samsung continues to provide some of the most cutting-edge technology on the market, it continues to progress through the competition and has a strong standing today.
Many of the models of Samsung are some of the most favored Android phones and as Samsung keeps revealing newer and newer technology, it is likely that they will not be a brand that will easily be forgotten.Now, as great as Samsung Android mobile phones are, they are still not unbreakable. It can take all kinds of falls to damage a Samsung unit.
It isn't unheard of a smartphone to fall from a sitting position and come back with a broken screen but at the same time, it isn't impossible for a mobile phone to fall from a higher height and come out unscathed. Sometimes it is just down to luck and some days you have good luck and other... not so good luck.Despite that, a lot of people are still able to get newer smartphones as soon as they come out even though their units are without damage.
For those who are unfortunate owner of a Samsung Android mobile phone with a busted screen, among other damage of course, well it's still not impossible to get a replacement as quickly as you broke your phone. The tricky part of this transaction is the information in your previous unit.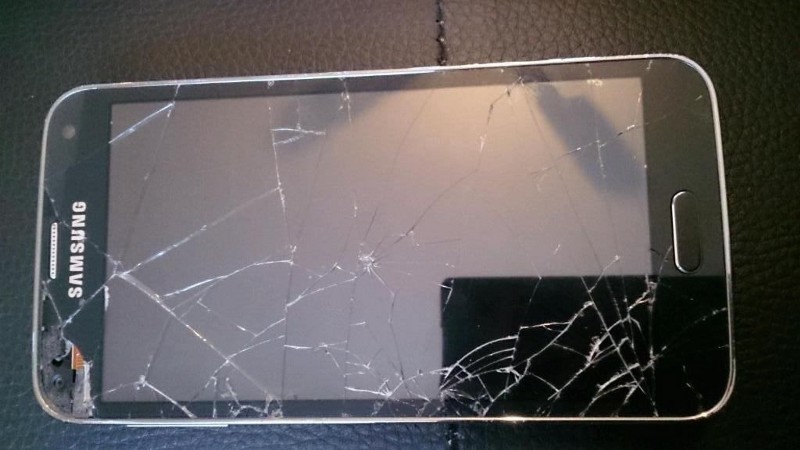 Part 2. How to Recover data When Samsung Broken Screen
There are a number of us who have backups for rainy days just like this and a broken phone is not only a rainy day, it's a stormy one.
Assuming your backup is up to date and ready to be restored to any phone, you shouldn't have any problems at all getting a newer unit and moving everything along.
That is assuming once more that you have all your files backed up and that includes the contacts, messages, pictures and so much more.
Again there are a lot of backup options out there, but if you haven't been preparing for it and the backup files are not up to date, you may want to explore another option.
Part 3. Restore Data from Samsung Broken Screen Using Fonedog Toolkit
Another option for a busted Samsung with a broken screen is Fonedog Toolkit. FoneDog Toolkit is a program that can help you get the data from your broken Samsung unit using a computer or laptop. Follow these steps in order to get your information backed up despite having a busted screen.
Step 1: Download and Launch Fonedog Toolkit
Download and install Fonedog Toolkit to a computer or laptop. Please make sure that the computer and laptop that you installed Fonedog Toolkit to have no problems connecting to your Samsung unit. Ideally, you have connected your Samsung unit to the computer or laptop before without any issues and if you did, you will likely have no problems this time around either. It is strongly suggested to use the same cable that the Samsung unit arrived with or at the very least, please make sure to use a cable that has been approved by Samsung to avoid any issues. Upon successfully installing, please choose the "Broken Android Data Extraction" to proceed.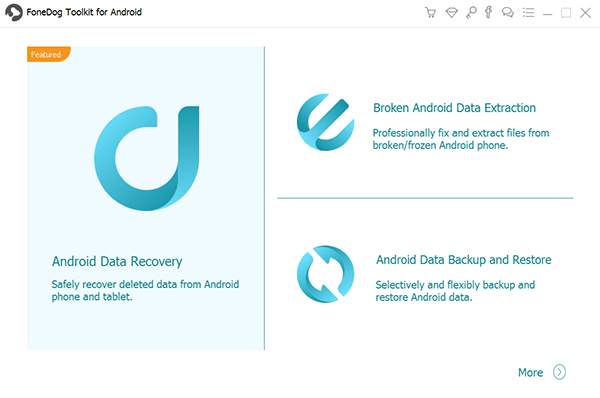 Step 2: Select the Types that Conform to Your Situation
You will be asked what type of damage your Samsung unit, you will be given a few options to choose from and as of now you'll know which one you will likely choose, but a quick description of the choices are as follows:Black screen - No display and does not react to touch
Cannot touch - Display is available but does not react to touch
Broken - Likely a cracked screen with little to no display, touch is perhaps not reacting or has minor capability of touch function
More - If your current problems are not in any of the items above this might be the option you likePlease note that there is one more option that might be of interest for people who are having problems with their operating system. The likely option you will use is "Broken" and proceed to the next step.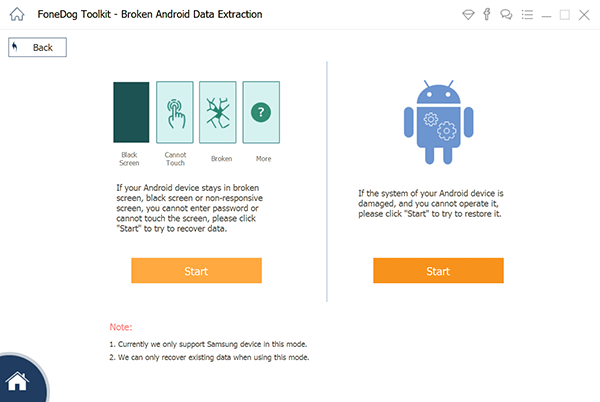 Step 3: Select the Equipment and Model.
Next thing you need to do is to choose the make and model number of your broken Android phone. Please make sure that you input the correct as it will help Fonedog Toolkit download the proper software to extract your data from your Android.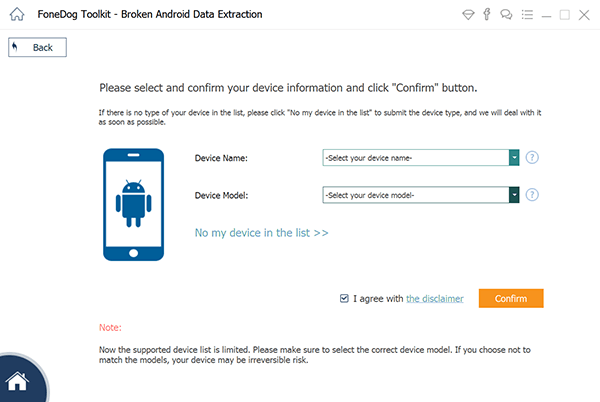 Step 4: Go to Download Mode
After inputting the right information, please place your phone into "Download" mode, all you have to do is power off your unit. Press the volume button "-" and the power button as well. Finally, press the volume button "+" and you are done.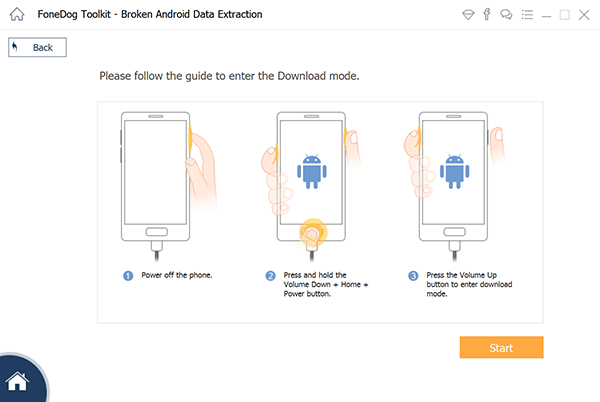 Step 5: Download Recovery Package
FoneDog Toolkit will now download the proper program and start downloading the information on your Samsung, to your computer or laptop. Please note that this may take some time but please do not disconnect your phone during the process as it might cause some problems or errors.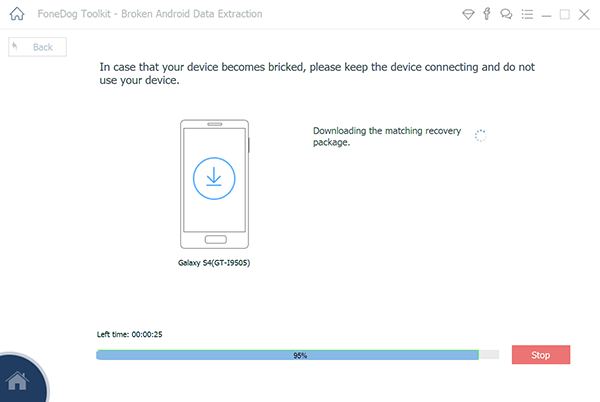 Step 6: Retrieve Data from Samsung Broken Screen
From this point, you should be able to scan through all the retrieved information and decide to keep them all or just pick which ones that you prefer to keep. Tick the right boxes and choose the items you want to recover, simply press "Recover" and you can now save the chosen information to your computer or laptop.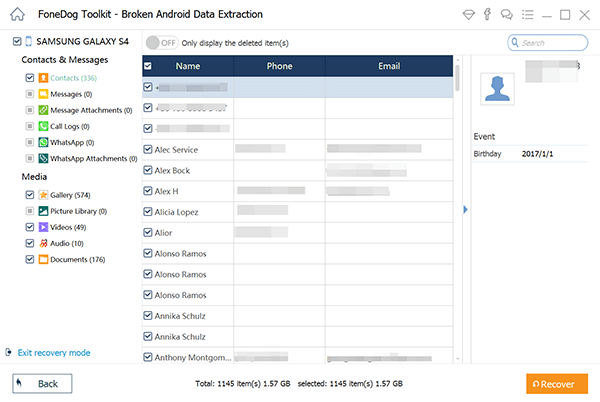 Video Guide: How to Recover Data from Samsung Broken Screen