That phone won't charge is a common problem that most Android users experience after a certain time or situation. This issue is caused by so many reasons which we will discuss on this article below.
Video Guide: How to Fix Android Phone Won't Charge Issue?
Although smartphones are made to keep up without the fast-paced work and lifestyle, at some point they will be tired and suddenly refuse to charge. This becomes more frustrating when you know you don't have anything else to rely on with your daily activities but your phone and it gave up on you.
Video Guide: How to Fix Android Phone Won't Charge Issue?Part 1. Assess the IssuePart 2. 10 Ways to Fix Android Phone that Won't ChargePart 3. How to Use FoneDog Toolkit- Broken Android Data Extraction
Part 1. Assess the Issue
Assess Problem!
Before we proceed with the 10 ways to fix the phone won't charge issue, we will first help you determine the real problem. There could be two potential reasons why this is happening to Android phones.One is due to hardware, cables, ports, etc… and the other is due to software which can be caused by the failed software update, and altered or broken operating system. Third-party apps may be to blame too.
Part 2. 10 Ways to Fix Android Phone that Won't Charge
Now that you have an idea of what seems to be happening on your Android phone, we will now introduce the 10 ways to possibly fix the phone that won't charge.
1.Use another cable and adaptor
If you notice that either the phone takes too slow to charge or you need to wiggle side to side before it takes in charging then you can replace the USB charging cable and adaptor to test if the issue lies really on the cable.
You can borrow a cable first to determine if it is really causing the issue. Once confirmed, then that is the time you need to purchase a new one.2.Try another Power Source
If you are charging or plugging into a wall adapter then try charging the Android phone to a computer, and or a power-bank.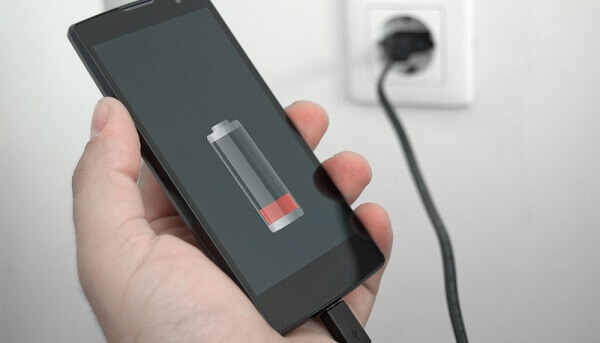 Use cable and adaptor and try power source
3.Check loose charger port
Unfortunately, the charger port also comes loose after several drops and knocks. This is why you also have to consider checking the charger port is there is any loose or debris inside.
Power off the phone
Remove the battery if possible
Use a toothpick and check the port for any debris
Using a flashlight, check if there are damages inside the port
Gently clean the charging port with a cotton and toothpick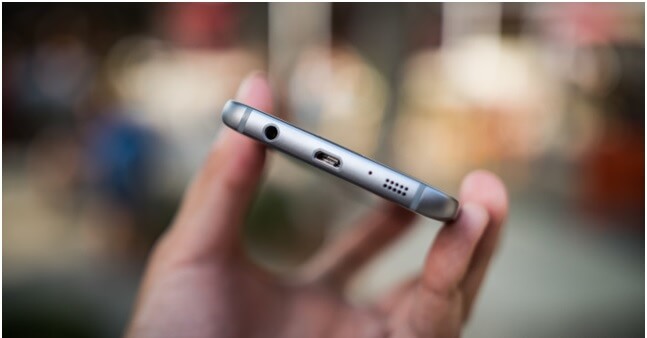 Check loose charger port for Android Phone
4.Reboot phone
You may have heard that the most basic troubleshooting is just a simple reboot, well it won't harm if you try it when your phone doesn't take any charge.
Leave it off for a while maybe about 2 minutes and power it back on.
Check if the issue is resolved; otherwise, proceed to the next steps.
5.Check for Software Update
Although it rarely affects the battery, it is still good to check for the latest software update on the device. Most updated versions resolve minor and major bugs including the battery.
To update the Android go to Settings>scroll and tap About Phone> tap Software Update. Download and install if there is an available version.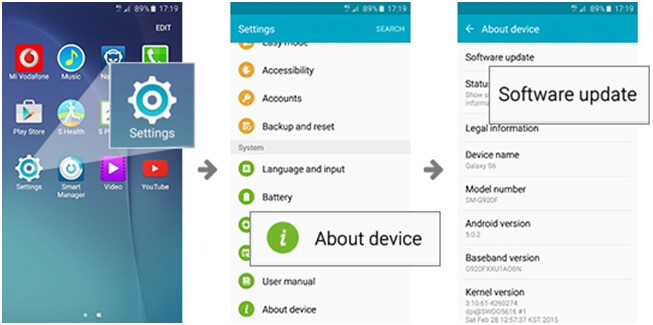 Reboot Android Phone
6.Clear Cached Data
Stored temporary files may also cause some battery or latency issues on the phone so you can try to clear the cached data from the storage device, here's how:
From the home screen tap Settings
Scroll and tap Storage
Under the Phone storage, tap Cached Data
Tap OK to confirm the deleting
Go to SD card and tap Cached Data
Confirm the action
Then after clearing all the cached data, try charging the Android device to see if the problem is resolved.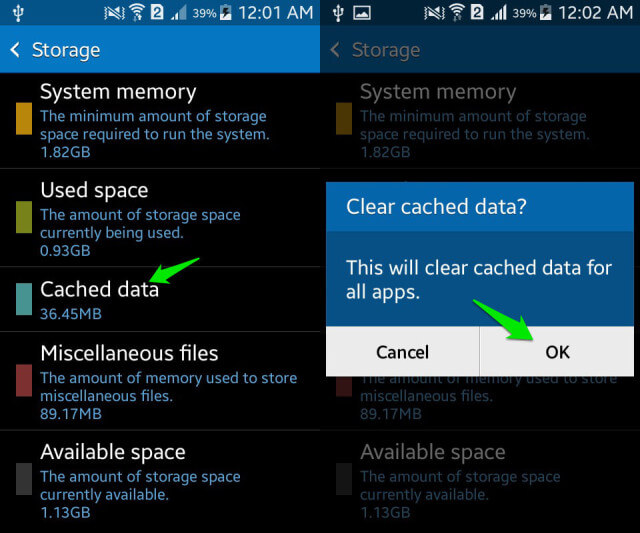 Clear Cached Data on Android
7.Install Ampere app
Ampere app is a third party app that checks the battery status for any android phone. It carefully analyzes and diagnoses the issue and let you know.
8.Replace Battery
If your phone won't charge for doing some of the steps above, consider changing the battery if it is possible. You may visit an affiliated store that is capable to replace the battery for you or you can search online for some DIY tutorials.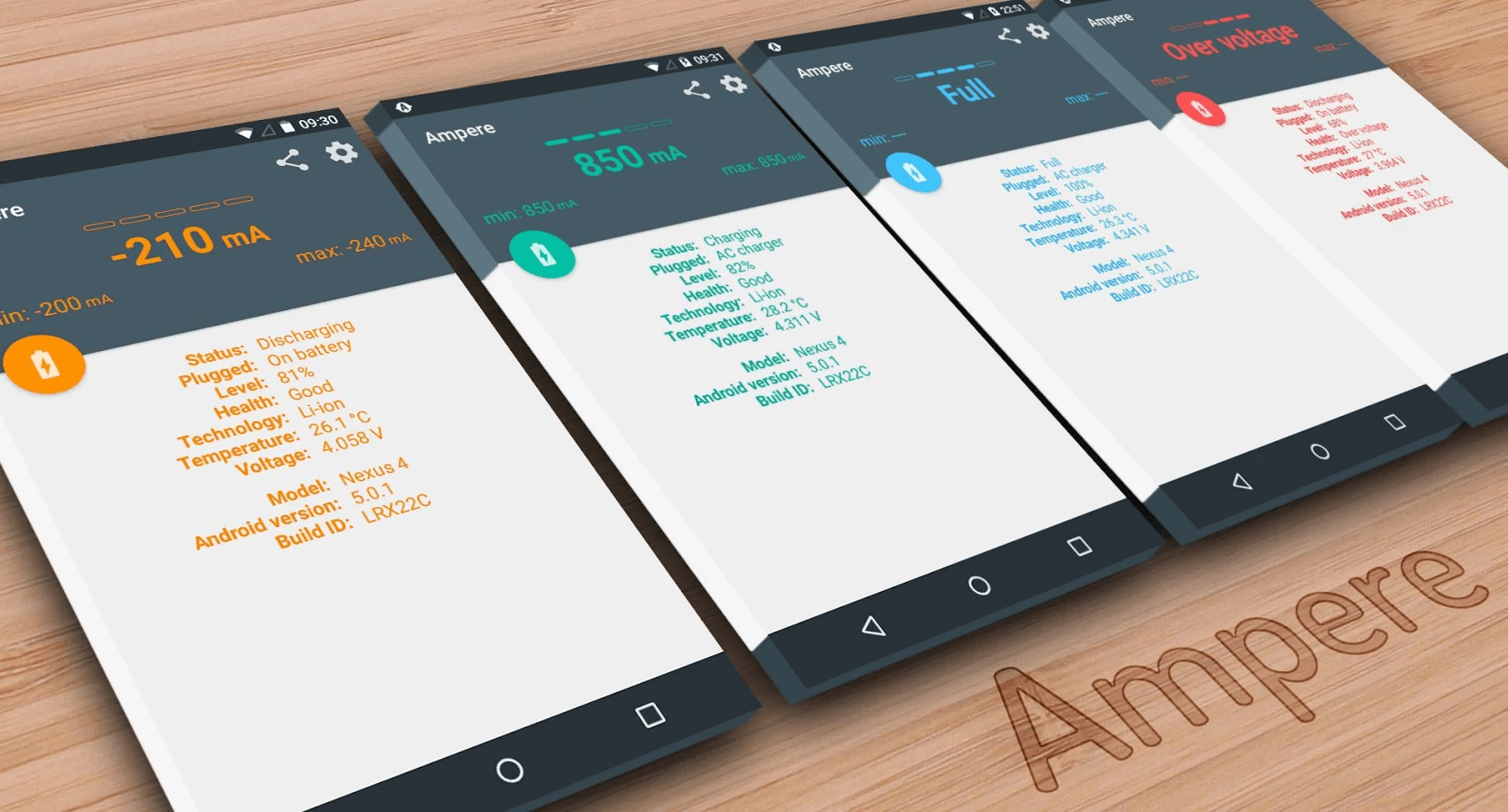 Install, Check and Replace Battery
9.Check for Water Damage
No one likes this but a number of users reported water damage that has caused serious charging or battery problems.
If your phone was recently dropped on water or any liquid then assess if it is really water damage by switching on the phone, if it still does, consider calling for help to the manufacturer. They will offer you other possible fixes for water damage issue.
10.Factory Reset
A factory reset will resolve all the possible issues your phone is experiencing including the charging or battery problems.
However, you need to understand that when you perform a factory reset, this will surely erase some of the important files such as photos, messages, contacts, call logs, and more.
To do a factory reset, follow these:
Open Settings from the home screen
Scroll and tap Backup & Reset
Tap Factory Data Reset and then tap Reset Device
Tap Erase Everything
Note: You need to back up the phone prior to doing a factory reset to avoid data loss.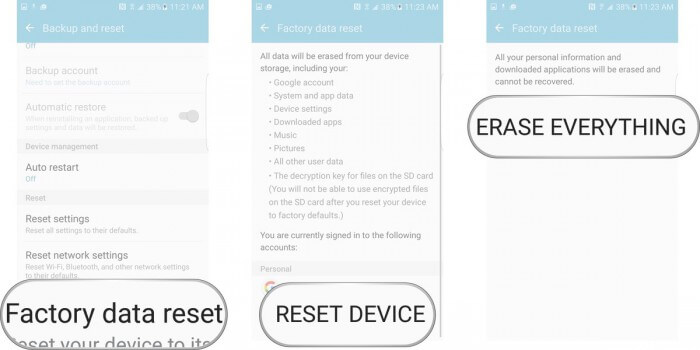 Check water damage and factory reset
If the phone does not turn on after charging it for hours then it might be broken already or the system might have crashed. If you didn't do any android root that could have to affect the battery then you can check for your warranty and claim for replacement.
Otherwise, you can head over to data recovery and get the files and save them on the computer until you have a new device.
There is one program called FoneDog Toolkit- Broken Android Data Extraction that simply recovers all types of phone files from broken Androids.
Part 3. How to Use FoneDog Toolkit- Broken Android Data Extraction
FoneDog Toolkit- Broken Android Data Extraction is a program that greatly helps us in getting back lost files from broken Android phones and tablets. This professional tool is able to do the following:
Recover contacts, messages, WhatsApp Messages & Attachments, call logs, photos, videos, and more
Recovers even when you forgot password on Android
Compatible with almost all android devices even the latest Samsung Galaxy Note 8
All you need to do is to download and install the software and follow the onscreen instructions. All the process is click-based so anyone even beginners can use FoneDog Toolkit- Broken Android Data Extraction.
Don't Miss:
Fix: "kernel is not seandroid enforcing"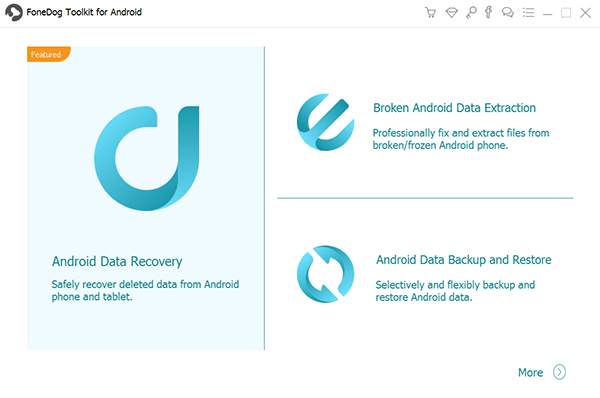 FoneDog Broken Android Data Extraction to Fix Phone Won't Charge
That's it! We have completed the 10 ways to fix a phone that won't charge. We hope that you were able to resolve the issue from any of the steps we have recommended.