"I had a bad experience recently wherein I accidentally formatted my 64GB flash drive full of important business files. I was advised to perform an exFAT data recovery. How do I go about it?"
exFat or Extended File Allocation Table is designed for flash drives as a lightweight file system better than FAT32 and without the extra functions of NTFS.
Like NTFS, exFAT allows you to store large files and partitions larger than what the FAT32 allow which is 4GB. Different devices also support exFAT such as Mac computers.
Macs provide a full read-write accessed for exFAT. exFAT drives are also accessible on Linux through the help of some software. So like most of your drives, you are also able to recover your lost or deleted files using recovery programs.
Today, we will learn how to recover data from an exFAT drive and using the most efficient recovery software in the online world.
Part 1. What Causes exFAT Drive Data Loss?Part 2. How to Recover Data from an exFAT Drive?Part 3. How to Format an External Drive to Make it Compatible on Windows and MacPart 4. Summary
Part 1. What Causes exFAT Drive Data Loss?
There are many possible causes of exFAT drive data loss since it is highly compatible with both Windows and macOS, you can enjoy file transfer within just a few seconds. One of the most common data loss causes is formatting exFAT drive.
Because exFAT drives do not have a journaling feature, a function that keeps records of your data alternation and helps recover files when the drive gets corrupted or damaged.
Other causes could be accidental deletion, virus attack, drive corruption, or file system error. However, as long as your files were not overwritten, you still have an excellent chance of recovering them.
Part 2. How to Recover Data from an exFAT Drive?
The very first thing you need to do upon discovering that you lost your files from your flash drive is to stop using the device to halt the overwriting of data.
Once the files are overwritten, they are permanently gone and no software can recover it. There are no other tools to do it but to use a recovery program. It's always a good idea to keep a recovery program handy inside your computer.
Instead of wasting time searching for the best recovery software, check out this program I found.
FoneDog Data Recovery is a complete software solution for any type of drive recovery. It recovers several file types like your documents of any formats, images, videos, emails, and archives.
Data Recovery Recover deleted image, document, audio and more files. Get deleted data back from computer (including Recycle Bin) and hard drives. Recover loss data caused by disk accident, operation system crushes and other reasons. Free Download Free Download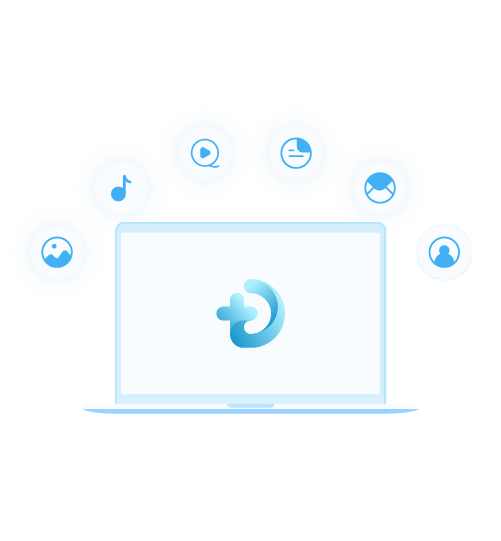 FoneDog Data Recovery is proven to be efficient and convenient in scanning hard drive, partitions, digital cameras, SD/memory cards, flash drives, and even recover from crashed computers and recycle bins.
What I like about FoneDog Data Recovery is that it has a user-friendly interface which makes it easier to use and understand how the software works. It's totally click-through based so you don't have to ask for technical experts. It's all self-help!
All it takes is just a 3-step recovery to get all your files back from your exFAT drive. If you want to know how FoneDog Data Recovery works, check this guide:
Step 1. Run FoneDog Data Recovery and Connect exFAT Drive
Download the software on your computer in order to begin the data recovery. Connect your exFAT drive and make sure it is detected by your computer.
Launch the program and select the file types you wish to recover and choose the exFAT drive under the drive location and click Scan.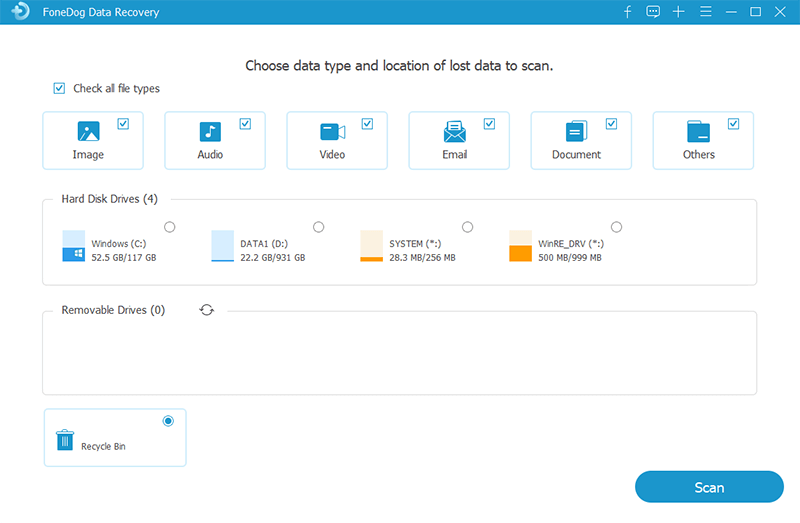 Step 2. Choose Your Scan Mode
Next is to select the type of data scanning you wish to use on how to recover data from your exFAT drive. You have a Quick Scan and a Deep Scan mode. Allow FoneDog Data Recovery to complete the scanning process to ensure that all your files are retrieved.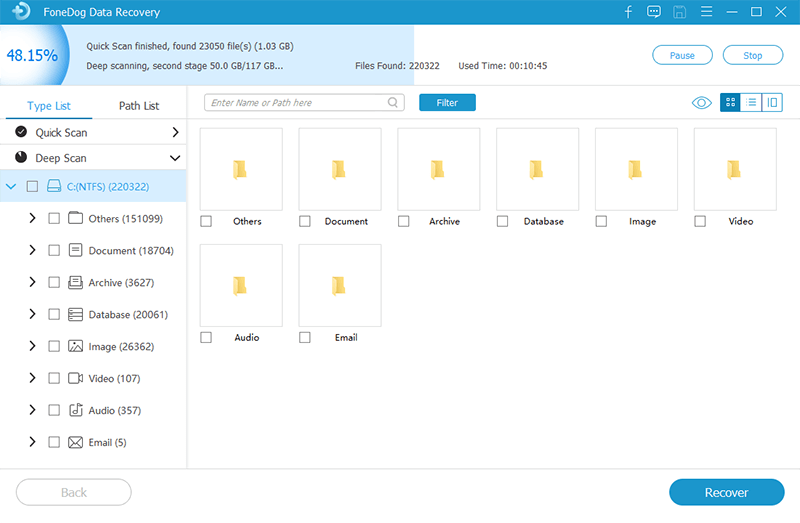 Step 3. Preview exFAT Drive Files and Recover
After the software has completed the scanning process, it will display all the files it has found on your screen. From here, you can preview the items and choose them one by one.
Mark those files you need and click the Recover button to download and save them.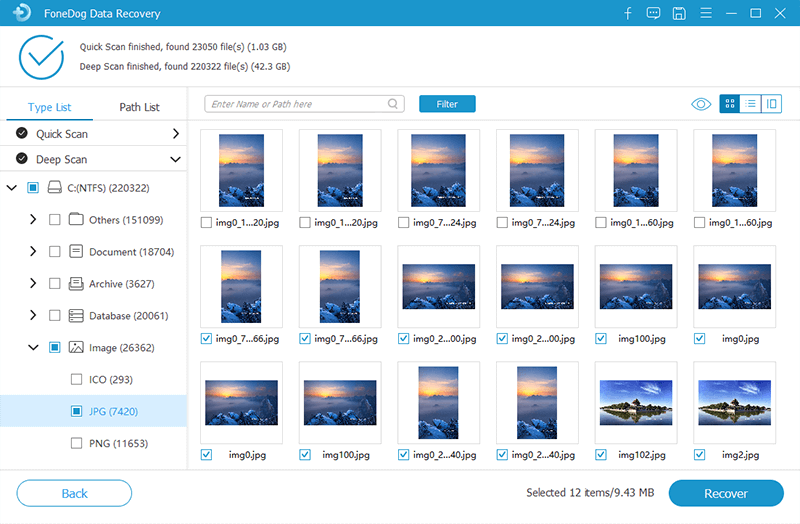 That's it! There are no complicated processes on how to recover data from an exFAT drive using FoneDog Data Recovery.
Part 3. How to Format an External Drive to Make it Compatible on Windows and Mac
If you own a Windows 10 computer then you most probably need to format your external drives into exFAT to make it work on multiple operating systems like macOS and Linux. Usually, Windows and Macs use NTFS and HFS+ file systems.
NTFS is readable on Macs while HFS+ comes in read-only function. To avoid the hassle, you need to format your external drives to make it work either way.
Here's the complete guide on how to format your drive into exFAT (Windows):
Note: It is important that you are fully aware that once you format your drive, everything stored inside it will be deleted.
Connect your external drive into the computer
Launch the file explorer and locate your drive
Right-click and find Format
Find and click File System, select exFAT
Click Start
Wait until the process is completed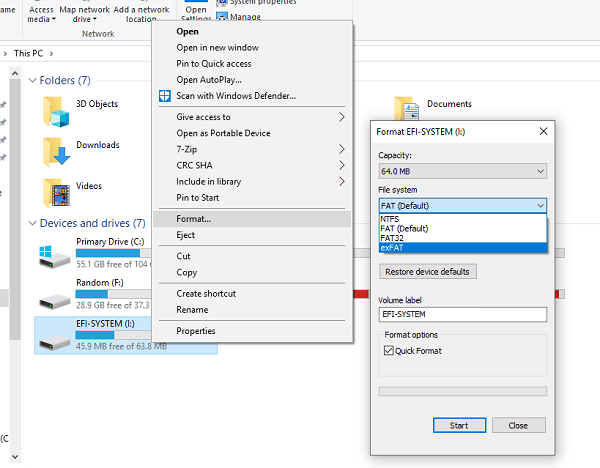 After formatting your drive, you are now able to plug it into different computer operating systems. The only downside of have and the exFAT file system is lacking the journaling feature which is why any changes you make on this drive are permanent.
You should also know that exFAT is not compatible with the older Windows operating system, so you must consider this before formatting your external drive.
Part 4. Summary
In this article guide, we learned how to recover data from an exFAT drive. Because of the missing journaling feature, all the things you do on this drive are permanent.
Luckily, if you accidentally deleted your files or it has been infected with viruses, you are still able to recover them using recovery programs.
I highly recommend FoneDog Data Recovery, an all-in-one software solution that covers any forms of recovery. It is compatible with flash drive recovery, hard drive recovery, memory card recovery, and many more.
It only takes 3-steps for you to get your files back without any technical expertise needed. Have you tried using recovery programs before?