Have you ever felt so helpless after accidentally deleting a photo? Well, most of us did and we froze for a few seconds. Feeling all cold and anxious, you begin to scroll through your Recycle Bin to check if the photo is still there.
Now, two things can happen here, either you will feel relieved because the photo is restored from Trash or you will become frustrated when you learn you also cleared it out from the bin and there's nowhere to find it.
Today, let's change this situation and help you on how to get recently deleted photos back with and without the recycle bin.
Part 1. How to Get Recently Deleted Photos Back via Recycle BinPart 2. Use Backup and Restore Utility to Recover Deleted PhotosPart 3. How to Get Recently Deleted Photos Back with SoftwarePart 4. How to Recently Deleted Photos Back on Mac via Trash FolderPart 5. Conclusion
Part 1. How to Get Recently Deleted Photos Back via Recycle Bin
You are wondering whether you can get your deleted photos back from the computer hard drive, then the very first place you will look for after deleting a photo is your Recycle Bin. Good thinking, because it is highly possible that your images are transferred in this folder unless you emptied the bin as well or it's been 30 days already and it lapsed the auto-delete timeframe.
Wait, did you turn on the auto-delete feature of your recycle bin? If you prefer to clean up the trash yourself, you can turn this feature off. Follow these:
Open System from your Windows Settings
Go to Storage
Locate Storage Sense and toggle the bar off
Under Temporary Files, change the frequency to Never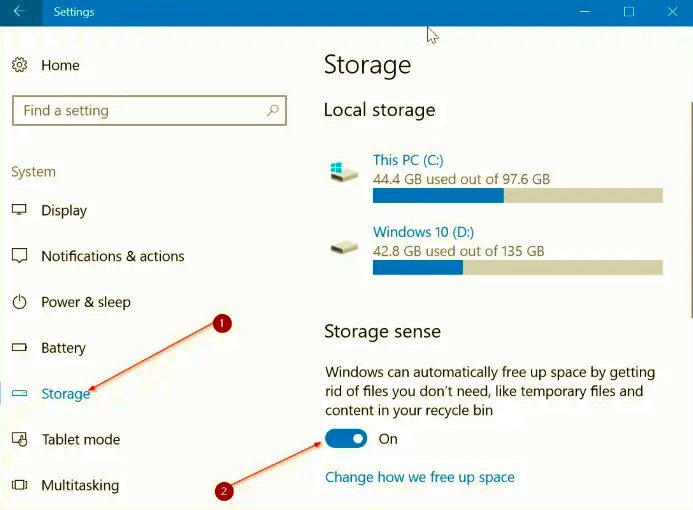 Next time, you can now delete the trash according to your time and need. Now, let's find out how to get recently deleted photos back from the Recycle Bin:
Navigate through your Desktop and find the Recycle Bin folder.
Scroll through all the deleted files and find your photos. Once found, right-click on the image and click Restore. The pictures will be restored back to their original folder before getting deleted.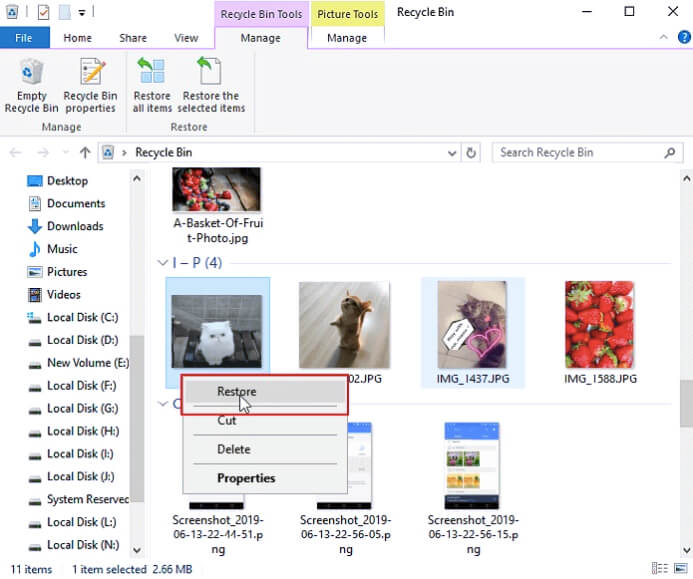 Restoring from your Recycle Bin is ideal for a few images and those that got recently erased. However, if you want to restore an older photo, then you can find it in your backup. That is if you have turned on the Backup and Restore utility. Find out in the next part.
Part 2. Use Backup and Restore Utility to Recover Deleted Photos
It always pays off when you regularly take backups. It can easily fix the problem of how to get recently deleted photos back. One of the tools that Microsoft offers is the Backup & Utility wherein you can get a copy of all your PC files.
Here is how you can backup your computer for the first time:
Go to your computer's Settings and find Control Panel
Select System and Maintenance and then click Backup and Restore.
Choose Set up backup
To restore the backup, let the Restore Wizard walk you through the needed actions to get your files back.
There is another option to backup and restore in Windows 10 that you can use too. Check this out:
Backup your computer with File History:
Open your Settings and select Update & Security
Click Backup from the left sidebar and select +Add a drive
From here, you can add an external drive for file backup or another network location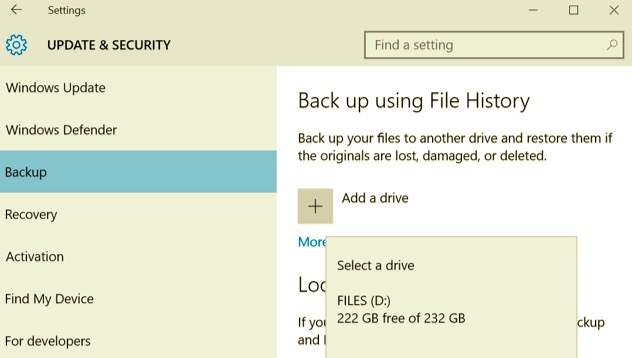 To restore files with File History:
Enter restore files from the search bar located on the taskbar
Choose the Restore files with File History
Find the file/s you need by using the arrow key to view its backup version
Select Restore once you have found the file from the current version. The files will be restored to their original folder. If you want to restore it to another folder, right-click on the file and select Restore, and choose your own folder.
This method works best if you have taken the backup prior to losing the photos. Otherwise, the only option left for you is to use recovery software that can run deeper into your system to get the recently deleted photos back.
Part 3. How to Get Recently Deleted Photos Back with Software
If you have exhausted the options above and still have not restored your photos, then it's time to use FoneDog- Data Recovery. This program enables you to retrieve different files like your photos, messages, videos, and more.
Plus, it offers a flexible storage recovery too. It can restore deleted files from the Recycle Bin, flash drive, memory cards, various partitions, and hard drives.
When it comes to convenience, this software is rated as user-friendly since the program gives you a complete visual walk-through of the steps you need to take. All you have to do is to install this on your computer and follow the onscreen prompts.
Do you want to know how it works? Check these 3-step processes:
Launch the program and select the files under File Types. For this example, you can tick on Images. Choose the file location, it can be your Recycle bin, Hard drive, or from a Removable Drive
Select the Scan Method. Choose between Quick or Deep scan
Preview and Recover. All the files found from the selected file types and locations are displayed on your screen. Scroll through the photos and select the items you want to restore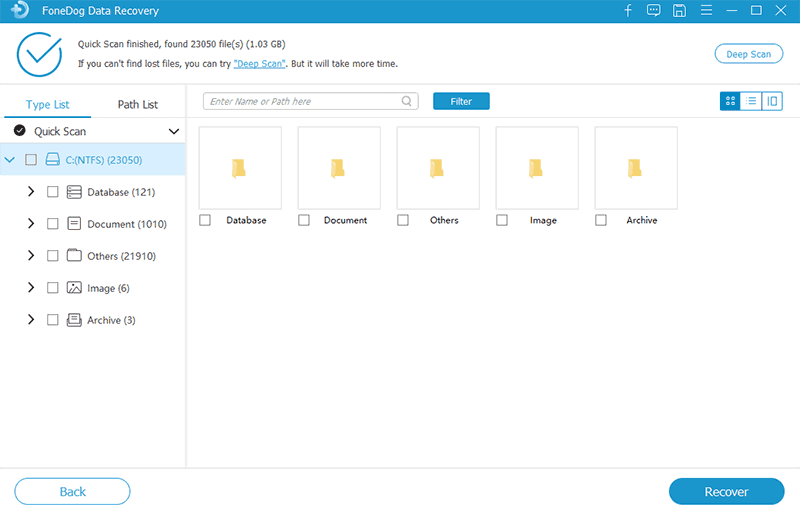 You can choose to restore all the files or individually restore photos only. Now that you have this software on your computer, there is no more fear of data loss. Simply run the program on your system and it will search the file/s for you.
Part 4. How to Recently Deleted Photos Back on Mac via Trash Folder
If you own a Mac computer and you are wondering how to get recently deleted photos back, read this along. Like the Windows computer, Mac has provided a restore option from its Trash folder. Here is how:
Locate and open the Trash folder
Find the photos you need to restore
Drag them to your desktop or right-click on the image and choose Put Back
The photos will be restored to their original location. This is the quickest way to retrieve recently deleted photos on Mac. Otherwise, you can also use the recovery software mentioned above.
People Also ReadA Quick And Easy Guide On How To Recover Photos SD CardGuide on How to Recover Deleted Photos on Mac
Part 5. Conclusion
How to get recently deleted photos back depends on the different scenarios. However, the only assurance here is that you can restore them using the various methods presented earlier.
Instinct will tell you to head over to your Trash folder and restore the photos from there. This is the quickest way to do it. But, if you have missed the 30-day timeframe then you can try to restore the images from your backup.
If this option fails or if you don't have any backup, then recovery software can save you from heartaches. The most convenient software to use is FoneDog-Data Recovery. It's filled with excellent features and is great to use for beginners.