Usually, we delete unnecessary files off our devices thinking that we no longer need them. However, there are times when these unimportant files become aggressively important but the thing is, you have already deleted them off your computer and in the recycle bin!
Just before you get too frustrated with this incident, first, you must learn that you can still retrieve these files and second, you need to go through this article on how to do it.
To give you a hint, you can restore data using the command prompt on your system. If you are unfamiliar with this environment, then better learn how to recover deleted files using cmd in this post.
Part 1. How to Recover Deleted Files Using CMDPart 2. How to Recover Deleted Files without Using CMDPart 3. Summary
Part 1. How to Recover Deleted Files Using CMD
The command prompt is one of the most powerful built-in tools in a Windows computer that is used to troubleshoot many issues including file recovery from different sources such as the internal system, recycle bin, external hard drive, memory cards, and other storage devices.
However, not everyone is comfortable in using the cmd prompt because it is very technical. If you are a beginner and wanted to learn how to recover deleted files using the CMD prompt, then follow these steps:
Open the CMD prompt by pressing the Windows key and the letter R
Type in the cmd in the search box and hit enter
A new window appears with a black screen, this is the cmd environment. In the Command window, type chkdsk (the corresponding drive letter)/f and hit Enter
Press the letter Y on your keyboard to restart the command lines
Type the drive letter and hit enter
To recover deleted files from the storage device, type in [you corresponding drive letter : \ >attrib -h -r -s /s /d *.*]
Change the file format if the files are in .CHK format, and save the files at your desired location
That's how to recover deleted files using the cmd prompt, however, there is another way to restore files within the cmd environment and it's using the attrib command. Check this out:
Recover Deleted Files Using the Attrib Command
Open the cmd prompt on your Windows computer. You can do the same steps as given above to access the cmd window
Once inside the cmd environment, type chkdsk F: /f and hit Enter
Type the letter Y and press Enter
Key in the letter F and hit Enter
Lastly, key in F:\>attrib -h -r -s /s /d *.* and hit Enter
You'll be able to restore the files from the storage device and save it in your preferred folder
The F in the steps above represents the letter of your corresponding drive.
Part 2. How to Recover Deleted Files without Using CMD
The cmd prompt requires technical skills for you to retrieve files and it's very difficult for beginners to follow the steps since they might be unfamiliar with these commands. If you find the cmd prompt a little bit too complicated to use in recovering deleted files, then there is another way to do it and it's perhaps the quickest method.
Data Recovery Recover deleted image, document, audio and more files. Get deleted data back from computer (including Recycle Bin) and hard drives. Recover loss data caused by disk accident, operation system crushes and other reasons. Free Download Free Download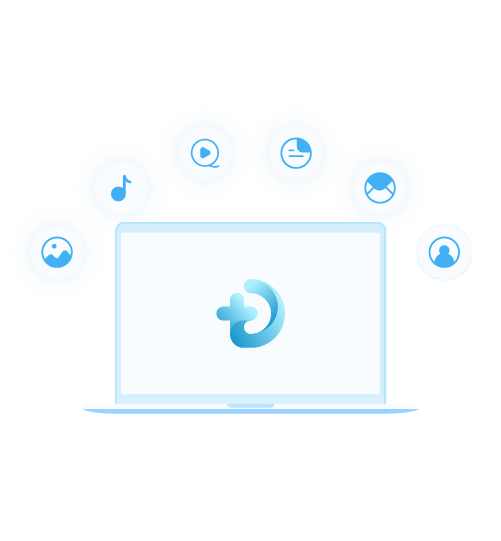 FoneDog Data Recovery got you covered! This program is a professional data recovery wizard that can easily recover files using the following features:
It can recover any data types like images, audios, videos, emails, documents and more
Retrieves data from various storage devices including the internal and external hard disk, phone memory, SD cards, USB, and more
User-friendly software with no technical skills required
How to use FoneDog Data Recovery to recover deleted files without using CMD?
Step 1. Open the Program and Select File Location
The first thing you have to do is to open the program FoneDog Data Recovery on your computer and on the main program screen, select the file location where you want to recover the deleted files.
If the storage device you are accessing is an external type then you can find it listed under removable drive. Click the Scan button to continue.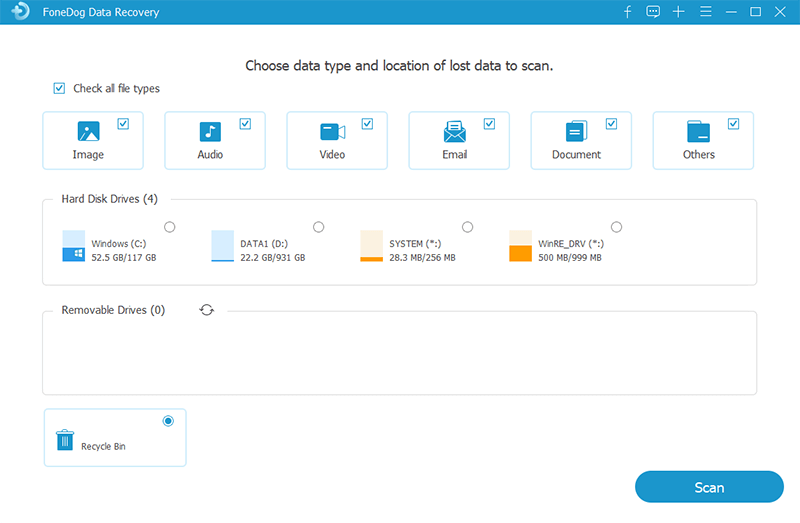 Step 2. Scan for Deleted Files
Next is to let the program scan for deleted files within the storage device you have submitted for scanning. There are two kinds of scanning you can choose from, the Quick scan and the Deep scan mode. If the first scanning process did not work, then you can select the deep scan version where it will deeply access the storage device, however, this option takes a while to finish.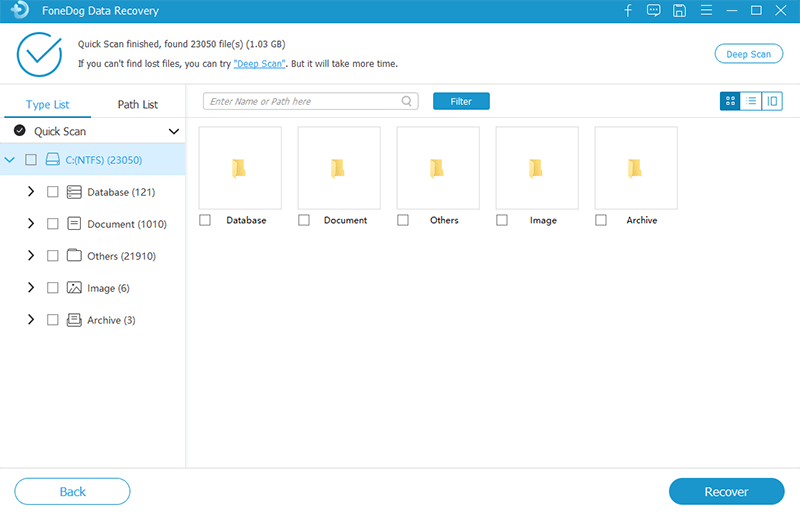 Step 3. Preview Files and Recover
Right after the scanning, all the recovered files will be displayed on your screen according to its file type, path, and location. You can also opt to pause or stop the scan in case you already found the deleted files.
From here, you can click on every item and preview to make sure you got the right files. Once you found them, mark the right items and click the Recover button to download and save the files.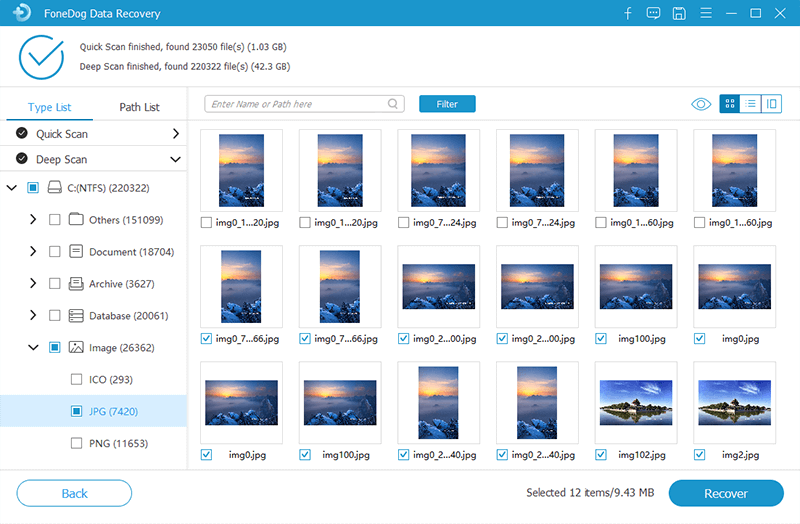 No need to enter confusing sets of letters just to get your deleted files back. With FoneDog Data Recovery, you are confident that the recovery is safe and effective!
Part 3. Summary
Files get deleted whether accidentally or in intent but the most important thing to note here is that you can always recover them as long as you know the process and the requirements.
Just like today's article, you have finally learned how to recover deleted files using the cmd prompt. Apart from manually recovering the files, you were also able to recover them quicker by using FoneDog Data Recovery software.
Whichever option you find suitable, it's always good to know that there are methods to recover files no matter the case. Have you used the cmd prompt before? What are your thoughts about this method? Let us know in the comments!