"I found out myself when I was using spotlight search to find something and noticed that some text conversations I made months ago were showing up! But I would rather not show these messages, how can I permanently delete the SMS from the iPhone?
If you search for "deleted text" or "deleted text in iPhone spotlight", you should see a lot of people talking about it. You think the text messages have gone after manually remove on the iPhone. In fact, they are still on your iPhone but become invisible.
Part 1. Why is having personal Privacy on smart phones important?Part 2. How to completely delete messages on iPhone permanently with FoneDog - iOS Data EraserVideo Guide: How to Delete Text Messages on iPhone PermanentlyPart 3. Complex way to delete messages permanently on iPhonePart 4. Remove all contacts permanently on iPhone device
Part 1. Why is having personal Privacy on smart phones important?
When friends and loved ones get hold of our phones, the first things they try to access are the messages and the gallery. It could be both sometimes fun because they will get to laugh out from your cheesy messages and annoying because they invade your privacy which is a big concern. But what does privacy really mean and do you really get to have real privacy on your iPhone? What if you will learn that iPhone doesn't erase all your messages and delete all contacts in their system even if you have removed all of them from your phone? It all sounds pretty awful, right? Privacy means having the state of real freedom where you get to enjoy being yourself and out from the eyes of everyone else. User privacy on smartphones is less of the definition itself because these devices were equipped with a lot of tracking technologies. Let us focus on the messages on iPhones where you have deleted both the message and the contact recipient but then if you run a search or use the "Spotlight" search on your device, you will see that they are still there. Sounds creepy? Not really. Before you decide to sell your iPhone and get a new one, always make privacy the first concern. You wouldn't want the next owner of your iPhone to get hold of some of your messages and blackmail you in the future. Learn how to delete all contacts and messages permanently and secured.
Part 2. How to completely delete messages on iPhone permanently with FoneDog - iOS Data Eraser
For fast, safe and permanent removal of private information on your iPhone, use FoneDog - iOS Data Eraser, the most trusted and highly recommended by millions of iPhone users worldwide. Don't look any further; this third party tool is confident that it will save you from all future heartaches and trouble. You can delete all contacts, messages and other private data from your iPhone devices. Follow the steps below on how to get this tool up and running:
Step 1. Launch the FoneDog - iOS Data Eraser on your Windows or Mac computer
First, you need to download, install and launch the FoneDog - iOS Data Eraser on your computer. After the complete installation, open the program and connect your iOS device properly. Make sure the connection is stable and will not be interrupted.


Step 2. Go to Private Data Eraser Tab on FoneDog - iOS Data Eraser
After the connection is established between the software and your iPhone, the next screen will let you choose which tool you need to navigate. Choose the "Private Data Eraser" and scan your device.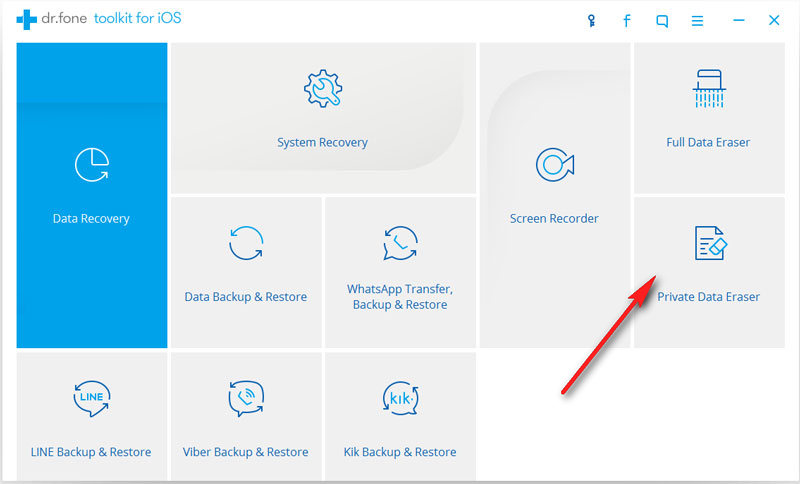 Step 3. Freedom to permanently delete messages on iPhone
The scanning may take time depending on a load of data on your iPhone so stay patient for you are just a step away from the freedom to delete all contacts and messages on your device. When the scanning is completed, you can see all the data on your device in a category list from the left-side panel. You can go through each category like messaging and attachments, messages, contact, call history, photos, calendars and much more. You can have the option to selectively choose the desired item to be deleted or you can select all. Before it will be permanently deleted, FoneDog - iOS Data Eraser will ask you to confirm the deletion by typing in the word "delete".
Finally, you have permanently removed all your private data on your iPhones. You can have that real peace of mind that your personal identity and privacy will be safe.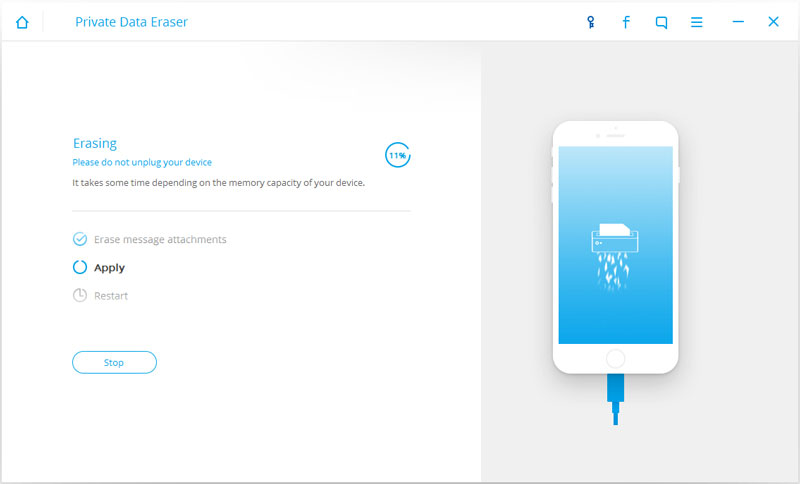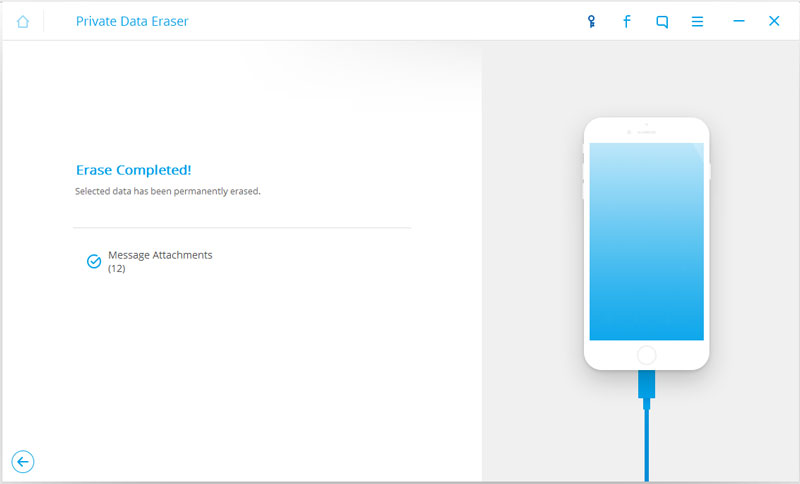 Video Guide: How to Delete Text Messages on iPhone Permanently
Part 3. Complex way to delete messages permanently on iPhone
It is a big hassle to have all the messages and contacts hiding inside your iPhone when you are sure that you have removed them already. So before they haunt you, practice these steps regularly:
Sync iTunes on a regular basis – Updated iTunes can erase all messages marked for deletion permanently so make it a habit of updating and syncing your iPhone and iTunes.
Clear Spotlight Cached Texts – Take over the Spotlight search and control how it caches your phone data. Go to your iPhone Settings, then tap on General, Spotlight search, scroll down to the bottom and uncheck Messages. This will make messages invisible to Spotlight searches.
Factory Reset your iPhone – Before selling your iPhone, always consider that all your needed information are backed up already using iCloud or iTunes. Then to make sure the entire phone's data are gone, you can wipe out the device back to factory set-up. Go to Settings, and then tap on General, tap on Reset and tap on Erase all Content and Settings.
Part 4. Remove all contacts permanently on iPhone device
There are a lot of cases where the contacts of previous owners of iPhone devices are still seen on the device and this can trigger a threat on privacy if not handled well. You can delete all contacts on iOS devices using these different methods:
Delete contacts using iCloud – Before removing your contacts; make sure you have iCloud Backup turned on and it matches the same account on both devices. To make sure, head on to iCloud from the iPhone Settings, Go to Backup, Turn on the iCloud Backup toggle to green. In order to delete all contacts, you can use a Windows or Mac computer and sign in with your iCloud account. Once signed in, go to Contacts, when you see the list of all contacts, click on each contact name and hold the Command button on Mac (CTRL on Windows) while clicking through all the contact list. Once all contacts are highlighted, you can click on the keyboard's "Delete" key or click on the wrench icon (Settings) at the bottom of the screen, and click on "Delete". All changes will be saved once the sync is completed.
Contacts App on iPhone – You can manually delete all contacts from the iPhone. Go to "Contacts' app on your iPhone, then tap on each contact name and you will see the details including all the linked accounts such as iCloud, Gmail, etc… Click on "Delete Contact" at the bottom but you might be prompted twice to delete the said contact. All contacts added through apps like Facebook can't be deleted here.
Above all the manual steps we have suggested, the best way to delete all contacts and other private data on your iPhone is using FoneDog - iOS Data Eraser. This program is so simple and easy to use with guaranteed results.