"Do you know how do I activate call forwarding on my iPhone? "

If you have the same question, keep reading. This is an article for you.
Part 1. What is Call Forwarding?Part 2. How to Setup Call Forwarding Feature on the iPhonePart 3. How to Use Third-Party Apps Forward Calls on iPhonePart 4. How to Recover Call Logs from iPhoneVideo Guide: How to Restore Deleted Call Logs from iPhonePart 5. Conclusion
Part 1. What is iPhone Call Forwarding?
The basic functions of a cellular phone are to send and receive SMS or text messages, make and receive calls, make conference calls, and set up call waiting. However, these phone features may behave differently depending on the network you are using.
If you have noticed this on your devices, you can see CDMA and GSM network. Both are actually radio frequency systems for mobiles. GSM stands for Global System for Mobiles and CDMA stands for Code Division Multiple Access.
The difference between these two is quite tricky but we'll take it slow so you'll get a clearer view. Phones under GSM networks are allowed to swap anytime because the user's information is stored in the SIM card. Those under CDMA use network-based system to save the user information.
This means that if you are on a CDMA, you need to contact your service provider for such features to be enabled. The fear with GSM is that your details are simply put on the SIM card and once it is lost, the fear grows more.
However, it gives you freedom as well to make the most out of your devices which is why more and more carriers use GSM network globally. Whatever cellular network you are using either GSM or CDMA, you can still use these basic functions smoothly.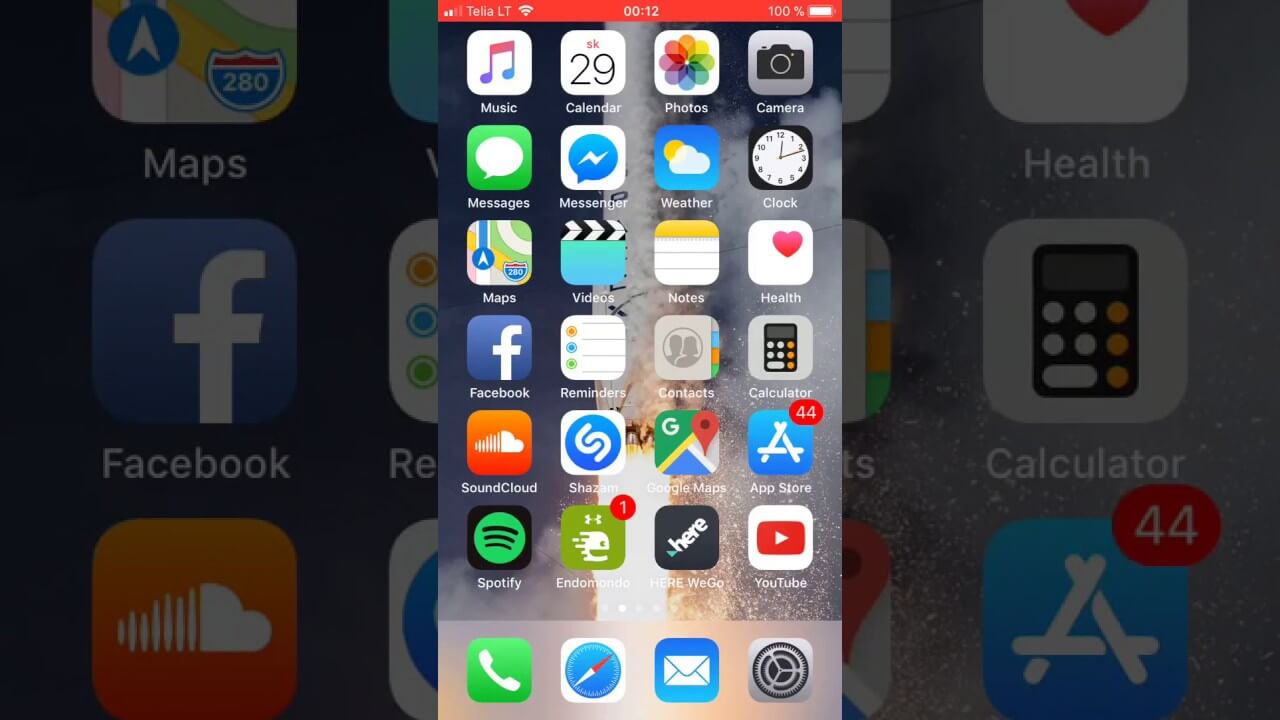 Where and when should you use iPhone Call Forwarding?
Call forwarding on iPhone is a very useful setting but rarely used unless of course for those people who are already familiar with this setup.
Sometimes we are too busy to answer the calls or even without a signal and no time to answer at all. This is where Call Forwarding does its work. It allows the caller to be diverted to another number to reach you. Just make sure that this forwarding number is working and is answering.
So the question is how to forward calls on iPhone? We got it covered. Take a look at some of the most effective ways to do this function.
Part 2. How to Forward Calls on iPhone Step by Step
Before you can enjoy the call forwarding on the iPhone first you need to make sure you have it enabled and setup. Follow these steps on how to set up the call forwarding service:
Go to Settings and tap Phone
Tap on Call Forwarding
Enable the Call Forwarding bar and enter the desired number
Wait until the number where the calls will be forwarded to will be displayed
Tip: If you are in the US and your network uses CDMA then you need to contact your service provider to set up Call Forwarding feature. Sprint and Verizon use CDMA while AT&T and T-Mobile use GSM network.
Most carriers use shortcodes to enable and disable call forwarding feature. To turn off the Call Forwarding feature, simply go back to the same screen and disable it.
The same steps go to Call waiting, Caller ID, Conference calls and more. You can simply enable and disable them through the Settings of the iPhone.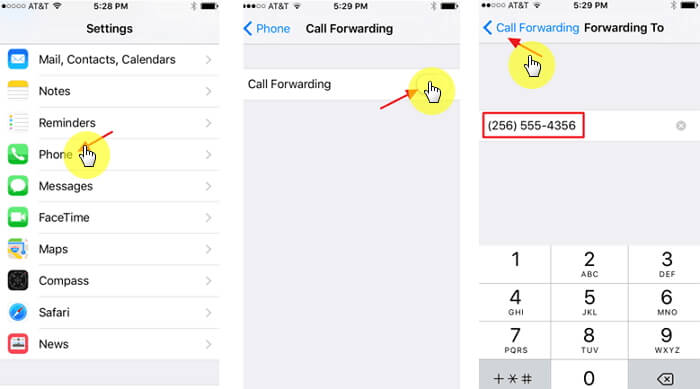 Part 3. How to Forward Calls on iPhone with Third-Party Apps
If you don't want the hassle of turning on the call forwarding feature on the iPhone then you can always use third-party apps to do this for you. There are free apps in the AppStore that offers the same call forwarding service on iPhones.
Here are some of the free and effective apps:
Line2
Call Forwarding Lite
Voipfone Mobile
Divert Calls
These free apps can help you set up call forwarding or redirecting calls when busy, no signal and no answer. Most of these apps are also compatible with the latest iOS version.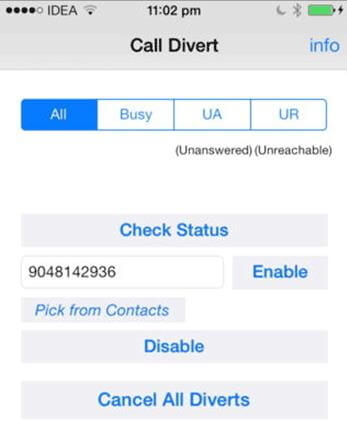 People also read:
[Solved] How to Recover Deleted Safari History on iPhone
Did iPhone Stick on Apple Logo? Solutions For You! (Update for 2018 )
Part 4. How to Recover Call Logs from iPhone
When things may fail and you have lost certain call logs on the iPhone during and after the call forwarding setup then don't worry. There are still greater chances that you can recover the call history from the iPhone even if you have accidentally deleted or lost them. A software upgrade is also one factor to consider but the worst part is if a virus may have overtaken the device.
We recommend that you use FoneDog Toolkit- iOS Data Recovery lets you get back any types of iPhone files such as contacts, messages, call logs, photos, and more. FoneDog Toolkit- iOS Data Recovery has 3 recovery methods to ensure that you won't be empty-handed after recovery.
FoneDog Toolkit- iOS Data Recovery has the following features:
Recovers from iOS Device, iTunes, and iCloud
Allows file Preview and Selective Recovery
Compatible with iPhone X and iPhone 8/ 8Plus
No Data Overwriting during and after recovery
With Free Download version
Compatible with both Windows and Mac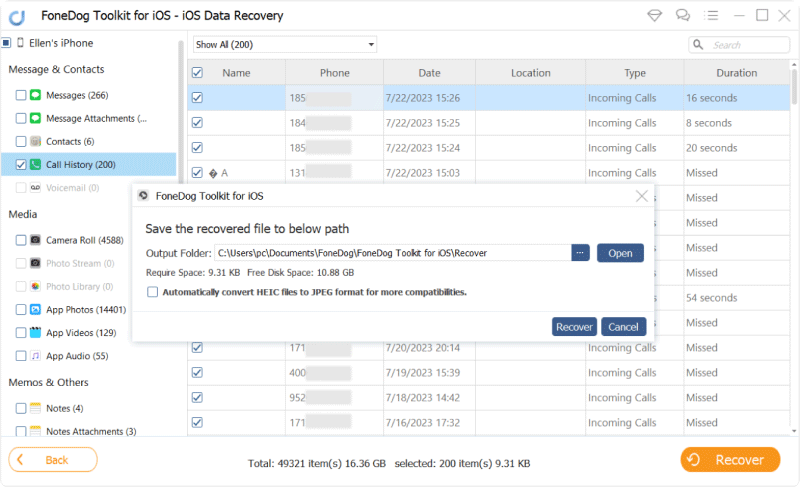 To better understand how this FoneDog Toolkit- iOS Data Recovery works we'll use the first option which is to 'Recover from iOS device'. First, you have to make sure you already downloaded FoneDog Toolkit- iOS Call Logs Recovery and installed on your computer.
Video Guide: How to Restore Deleted Call Logs from iPhone
Click this player below and watch how the FoneDog iOS Data Recovery work for you to recover removed call history from iPhone.
Part 5. Conclusion
There are no other valid reasons as to why you cannot answer a phone call unless of course, you don't like to. You can forward the calls to a different number in case you are expecting important phone calls from friends and loved ones.
In case you are caught up in data loss during the call forwarding service and you haven't taken backup yet, don't fret! FoneDog Toolkit- iOS Data Recovery will save the day. This program is trusted by most iOS users worldwide because of its safe and effective data recovery.