How to Recover Deleted Facebook Messages on iOS Devices?
by Wian LJ | Lasted Updated 2018-03-05 07:33:44
"How do I retrieve deleted messages on my Facebook?", You may have searched an answer for such a question. If my Facebook messages got deleted. How do I get my old messages back? Do me a favor if you have a solution to the question.
Part1. Deleted Facebook Messages Recovery on iPhone/iPad/iPod Touch
There are many reasons why Facebook messages get deleted and the most common of all is by accident. We usually delete Facebook messages by mistake because we were confident enough that we already memorize how Facebook looks like and even the Messenger.
However, due to recent app updates especially with Facebook Messenger, you realized you just tapped the wrong button. Boom! Conversation deleted, that was your top sales client you were just talking to.
Now you are freaking out digging the whole internet on how to recover those messages back. Relax, we got you covered.

There are possible ways on how to retrieve those deleted Facebook messages. In times like this, you need a professional program to help you get those important conversations back.
The easiest and fastest way to retrieve those deleted Facebook messages is through third-party software. FoneDog - iOS Data Recovery is the world's leading iOS recovery program that has helped millions of users around the globe.
It has the highest retrieval rate in the industry and works with all iOS devices such as iPhone, iPad and iPod Touch. To begin the deleted Facebook messages recovery, follow the simple steps below: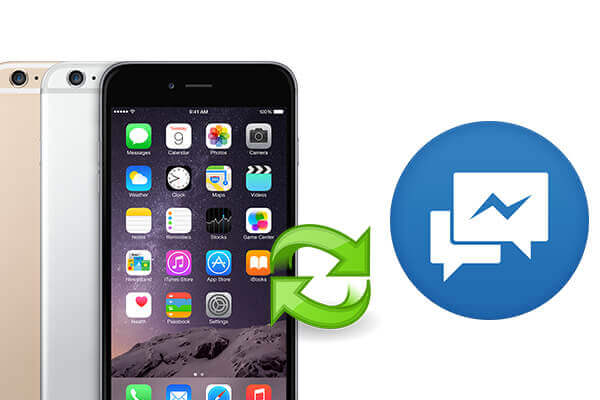 Recover Deleted Facebook Messages from iOS Devices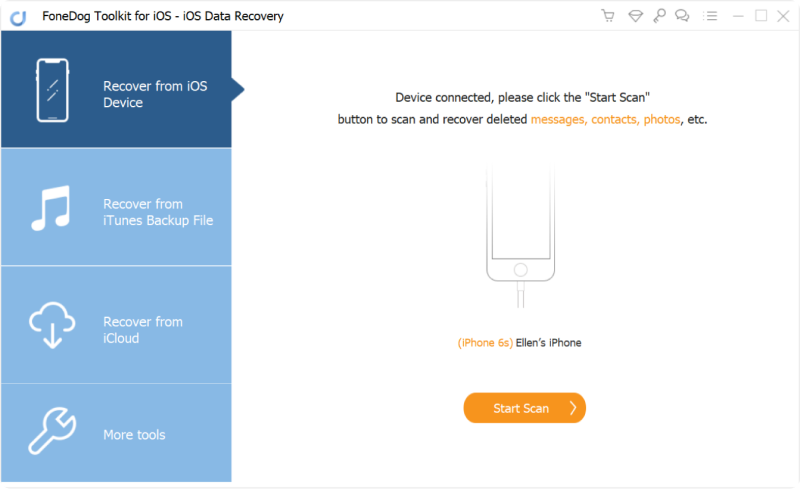 Step1. Run FoneDog - iOS Data Recovery after download and installation
FoneDog – iOS Data Recovery is compatible with both Windows and Mac so get your computers ready and start downloading this cool software. Install and launch the program after successful download.
Try It Free
Try It Free
Step2. Click "Recover from iOS Device" from the left-side panel tool options
During this time, you have to connect the iPhone, iPad or iPod touch to the computer using a USB cable. After clicking "Recover from iOS Device" you will on your screen all the data that can be recovered from your iPhone/iPad/iPad Touch.
Under the deleted data from the device tab, you can see the "Messenger and Attachments" options. You can select all the boxes or selectively tick those boxes needed and then click on "Start Scan"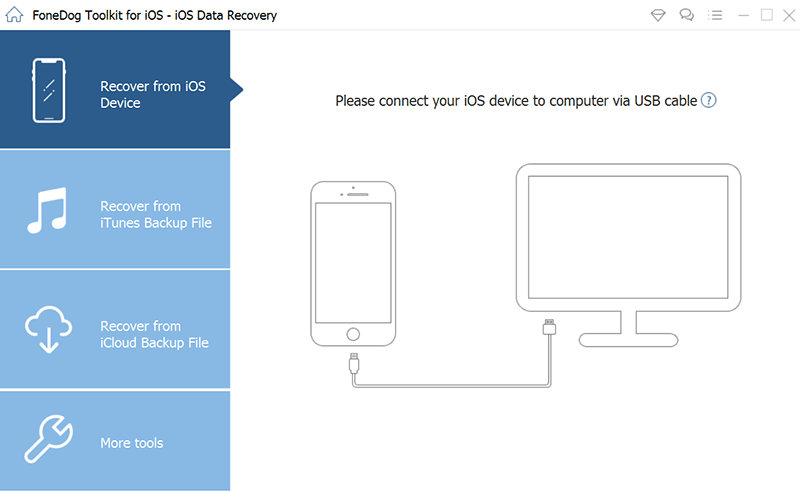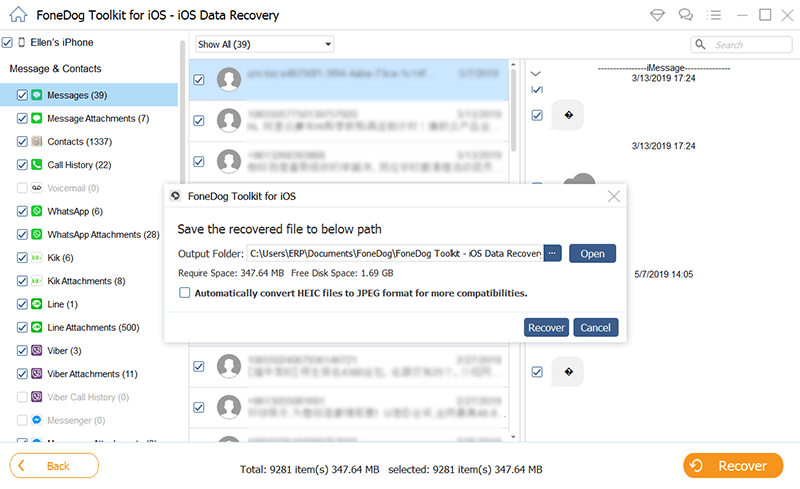 Step3. Scan and Recover Completed
The scanning may take a while depending on the total amount of data stored in the device. Your device's screen may turn black but this is normal so don't scream for help.
Once the scan is finished you will see on the screen's left side corner that all the recovered data are there including your deleted Facebook messages. From here you can select the desired messages that you want to recover. Problem Solved.
Part2. Downloading a Copy of Your Facebook Data to Recover Deleted Messages
Another option is to simply download a copy of your Facebook data in order to recover deleted Facebook messages. This copy includes the following information: Facebook posts, videos, and photos you've shared, your Facebook messages and chats conversations, information from the "About" section of your Facebook profile. To do this simply observe and follow the steps given below: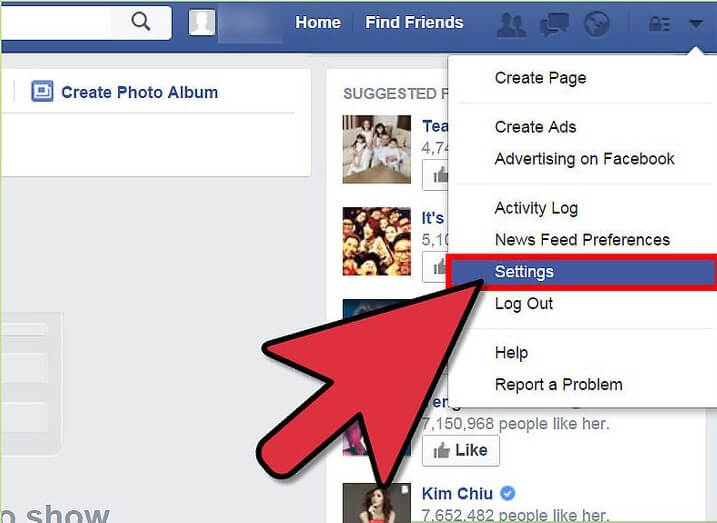 Step1. Log in to your Facebook account using a browser
You need to log in from a computer to fully get hold of the right settings.

Step2. Access General Account Settings to download the copy of Facebook data
On your Facebook account, navigate to Settings then go to General Account Settings and at the very bottom of the options, there is a hyperlinked text "Download a copy", click on it.
Step3. Open email to access the download link
After clicking on "Download a copy" it will go to another page where you will have to start an archive of your Facebook account, reconfirm the archive if necessary. The archive file will be sent via email, that same email you are using your Facebook login.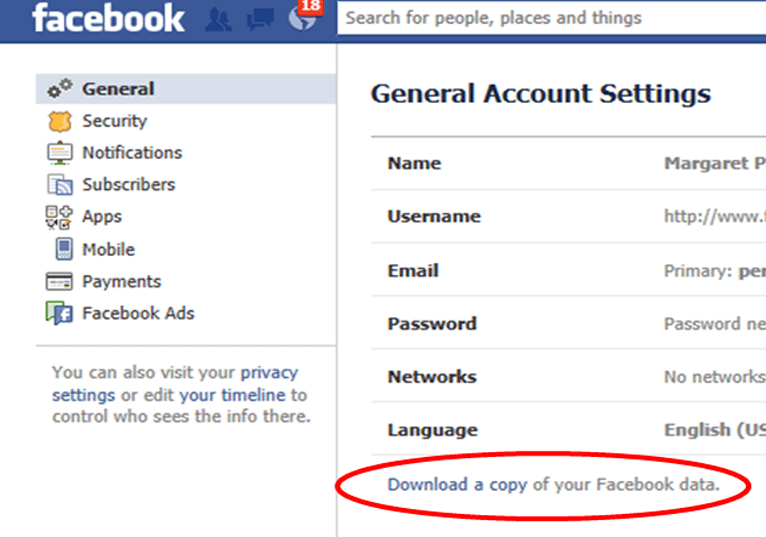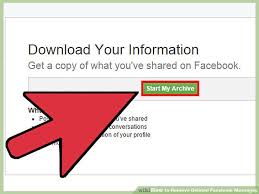 Step4. Extract the archived file and recover deleted Facebook messages
On your email, you will receive an archived copy of your Facebook data. You need to unzip the files and extract it to a folder.
After extracting, you will see the index folder, usually with a logo of your browser (if using Google Chrome, you will see Chrome logo with the name index), this is an HTML copy of all the Facebook information you have inside your account.
Click on the index and search for the deleted Facebook messages.
Part3. Tips on How to Archive Facebook messages
The best way to avoid further issues with message deletion is to use the Archive option. If you go to your Facebook Messenger app or chat, you will see all the people or friends you have been chatting with even for a long time.
All you need is to simply long press on the friend's name and look for "Archive" and tap on it. In this way, you will no longer see the old messages on your Facebook Messenger but rather it will be routed to another folder.
By archiving, all the messages will still be intact and not deleted; you can always go back to those conversations and reminisce or find the missing chats. Archiving your old Facebook messages does not require any recovery software to retrieve it you just simply need to un-archive them.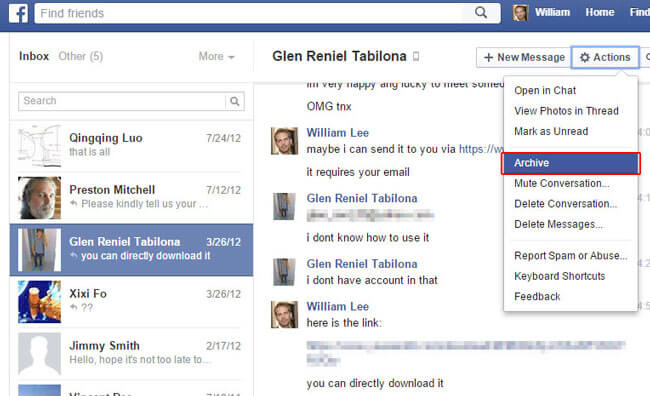 Part4. Tips on How to Un-archive Facebook Messages
To simply return the conversation on your current chat list, you can go to "Messages" and tap on "More". Select "Archived" from the options and look for your friend's name, open the conversation and go to "Actions" tab or the wrench icon on the top right corner then tap on "Unarchive".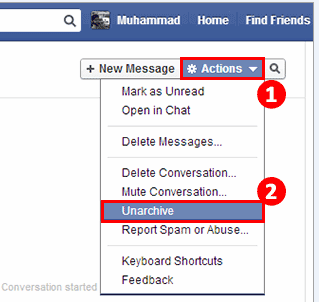 Part5.Distinction Guide:How to Distinct Delete & Archive?
There are only two ways to get rid of Facebook messages, one is to "Delete" and the other is to "Archive". Most of the time, the first option is where the majority of the accidents happen. An archive is just a way of putting the messages in a separate folder that can still be accessed for future references; it is not erasing the conversations.
So now you have a better understanding of how to use the "Delete" and "Archive" buttons in your Facebook messenger, there will be lesser chances of deleting those important messages.
In any case, you have deleted those messages; you can always rely on FoneDog - iOS Data Recovery, it will surely retrieve lost or deleted Facebook messages in a short period of time.
Part6.Video Guide: Recover Lost or Deleted Data from iPhone, iTunes, iCloud.
How to Recover Deleted Facebook Messages on iOS Devices?