Problem: "I need to recover deleted Audio from my iPhone.I'm really into my audio files. I play a lot of covers and check to hear what I can improve on and what not.

The iPhone is my phone of choice for this task, as I like to keep it pretty simple and I enjoy listening to my iPhone. I did, however, delete some of my older audio files, as I needed some space.

I was thinking, 'I have this somewhere on my laptop anyway' and just deleting indiscriminately. Later, when I got home, I was apparently wrong and don't have those files anymore.

No one else has them and they are definitely not on my laptop anymore. Please tell me there's a way to get them back. I need to listen to those files again!"
Answer: Today I will share some solutions to recover delete Audio file on iPhone. Read Along!
iPhones are pretty amazing devices, the stuff we can do on these smartphones continue to grow and it doesn't look like it'll be slowing down anytime soon. Everyone has different uses for these mobile phone leaders, a lot of us use it to stay in touch with our friends and family, even business as well.
Others use it to play games and use social media applications like there's no tomorrow. Still, many others use it to watch their shows, maybe even listen to music, much like the user above.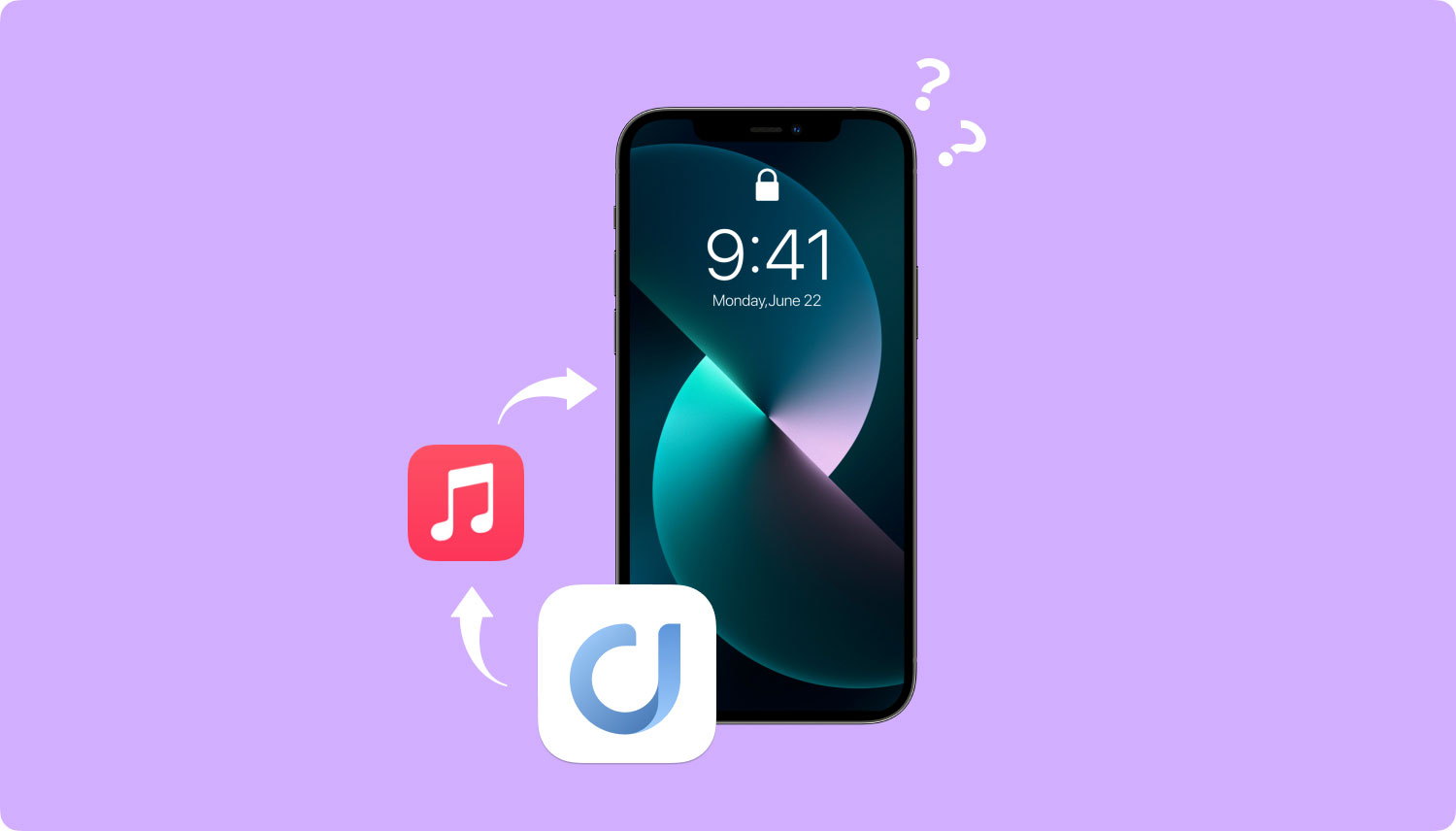 Part 1. Why Have Deleted Audio from iPhone?
Either way, you use an iPhone, it works for your personal preference. That's why it can really throw a wrench on our plans if something like an audio file is missing from our phones.
That can throw your entire day off, and nobody wants to star cramming his or her head, thinking how in the world did this happen? Well, there are a few reasons as to why you could be missing some audio messages, any of the following could be the culprit:

1. Deleted by accident - Maybe you had the iPhone in your pocket, maybe you didn't lock it as you're listening to some music and unwittingly deleted a few files. Sadly, you'll likely not notice it until you're looking for the song and can't seem to find it.

2. Corrupted data - You might have been in a hurry, transferring the song from a laptop or computer to your iPhone, as it was uploading you were in such a rush and you yanked it off before it finished. As you sit in your morning commute, you brace for a long ride but look forward to the new song, only to be greeted by nothing.

3. Update on iOS - There are some major updates on the operating system, some of them are pretty groundbreaking. Unfortunately, you could be one of those unlucky few who experienced data loss after the update in the system. It rarely happens but it's not impossible.

4. Broken phone - Nobody wants to be an owner of a broken phone, but sometimes you have no other choice but to use a busted unit. Not everyone can keep buying a new smartphone despite having minor damage on his or her phone, that's understandable. It's unfortunate though, that your current iPhone is damaged so much that you started to lose audio files and who knows what else?
There are even more reasons and causes that can find your audio file list empty, it could be a mixture of the reasons above or something brand new. Either or, if much like the person above, you have no other way to recover the song but your phone, here are some options that can help you out.
Part 2. How to Recover Deleted Audio Files from iCloud?
iCloud is a pretty nifty backup, where it stores your data and information virtually using the internet and it hides all this information behind a username and password. Assuming you followed the usual protocol for iPhone users, you likely have or linked your current iCloud with the phone.
Otherwise, you may have created an account that is dedicated to your iPhone. It shouldn't be too much of a problem to recover the audio files by using iCloud but there is a slight risk for older iOS systems or units, that to recover it you'll need to reinstate the full backup of your iCloud file.
So whatever else you added after you lose the song, will be gone. The newer versions can update certain systems, like full contact list, full messages, and more. You cannot choose exactly which audio file you can recover at this point though.
This becomes inconvenient for those who deleted in bulk and accidentally added one audio file that was not meant to be there, by switching the backup iCloud file, you get everything back.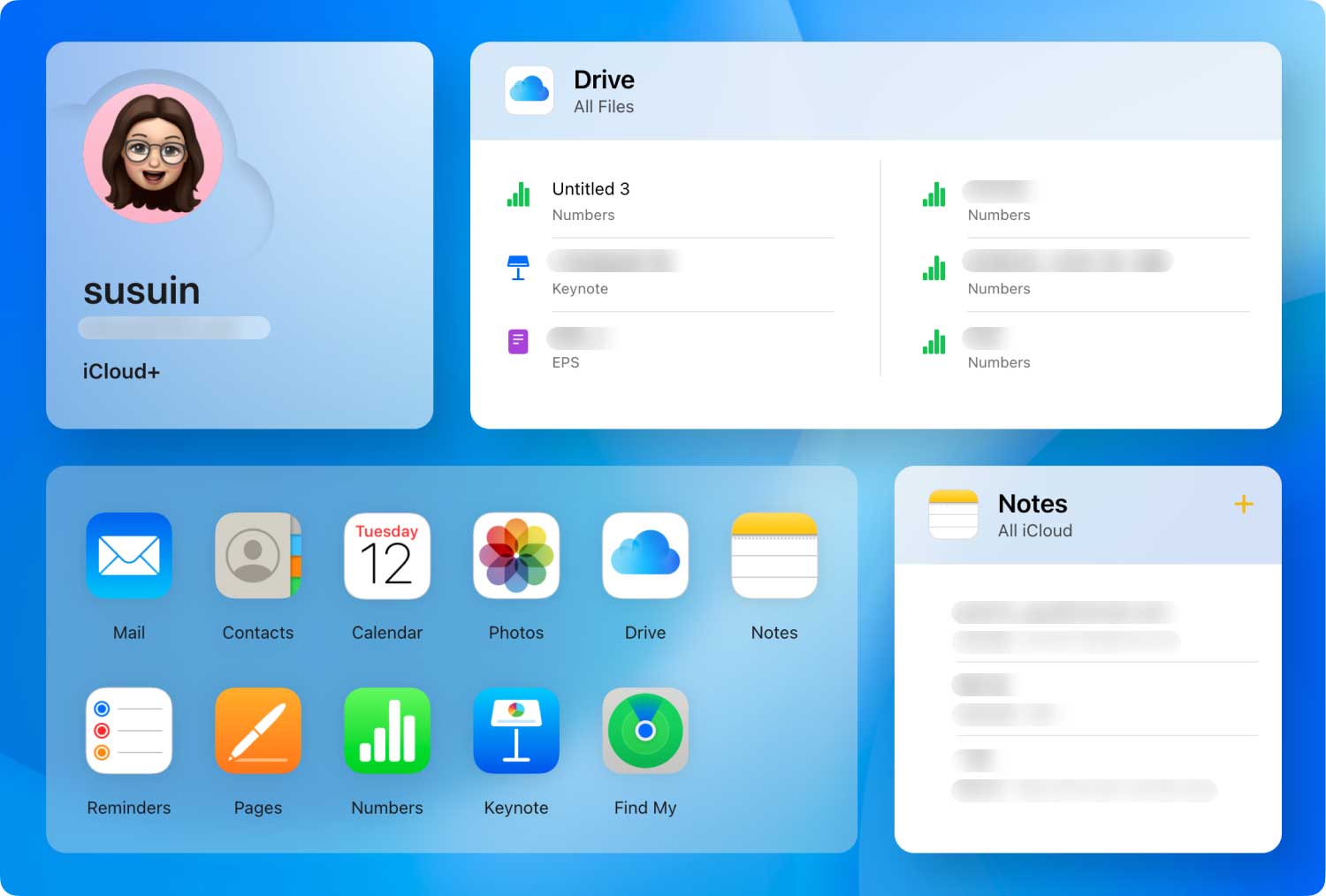 Recover Deleted Audio from iCloud
Part 3. How to Quickly Restore Deleted Audio Messages on iPhone?
The Fonedog iOS Data Recovery program is just what you need at this moment. It is a program that goes through your phone's memory to find recently removed or deleted audio and returns it to you. How? When we delete audio file, it doesn't completely get removed from our phone.
It's stored in the background until a program forcibly erases it or the virtual memory is needed to store something else, otherwise, it's just left floating around without any way to access it unless you have a program like Fonedog iOS Data Recovery to recover it. Follow these steps in order to use Fonedog iOS Data Recovery:
Step 1: Download and Launch Fonedog Toolkit
Download Fonedog iOS Data Recovery to your computer or laptop, ideally,
it's the same laptop or computer that has connected to the iPhone before, this will make sure you do not have any connectivity issues.
Run the program after installing.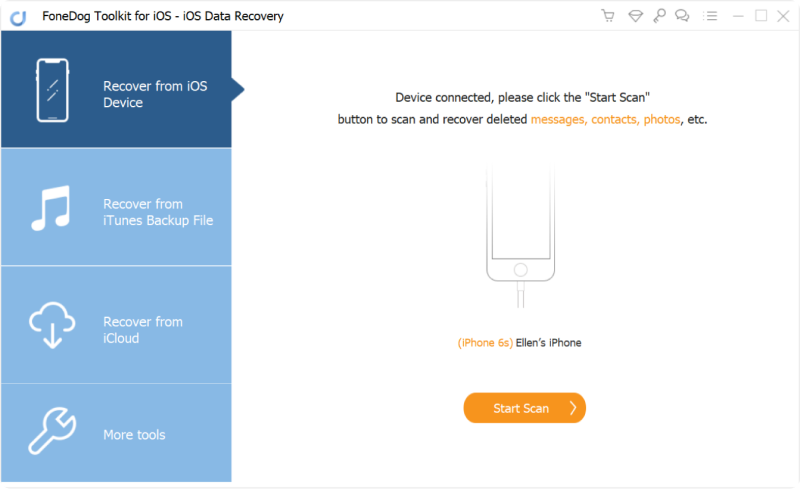 Step 2: Connect to Your iPhone Device and Start Scan
Connect the iPhone to the computer or laptop, it is ideal to connect it using the original USB cable that came with it, this will also help you avoid any connectivity errors.
Upon connecting, Fonedog iOS Data Recovery will recognize the iPhone and offer you the option to "Start Scan" press that and wait for the process to end.
This may take a few minutes depending on the amount of data you have accumulated on your iPhone.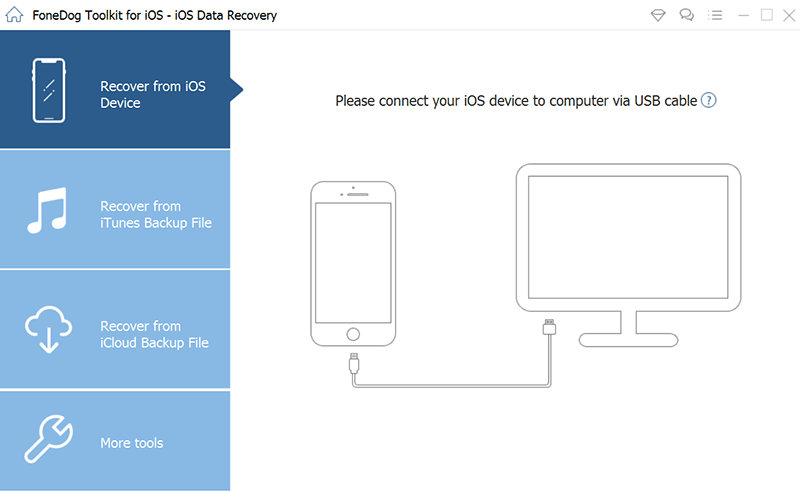 Tips: It is strongly suggested not to disconnect the phone while this scanning process is ongoing, you may experience some errors otherwise.
Step 3: Preview and Restore Deleted Audio Messages from iPhone
You will be brought to a new screen, where you can choose from a number of data options such as messages, contacts, call logs, Whatsapp and more.
For now, choose "Voice Memos" as this is what you are looking for. You will be brought to a new screen, where you can preview the various files of the option you chose.
You should be able to highlight each one and inspect it, from there just click on "Recover" and move on to the final step.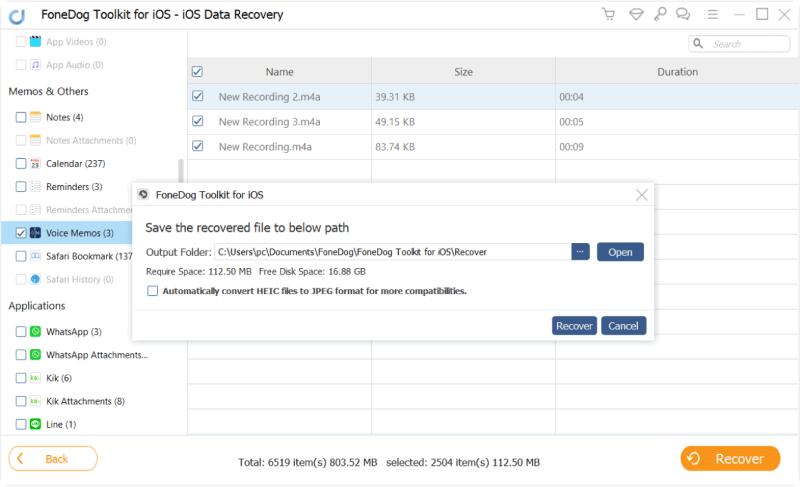 At this point, despite not having any backup, you should be able to recover all of the missing audio files that somehow got removed from your iPhone. On the other hand, now that you have Fonedog iOS Data Recovery, you still have two possible options to find the information.
Part 4. How to Retrieve Delete Audio in iTunes?
Assuming the computer or laptop you installed Fonedog iOS Data Recovery also has your iTunes and you've connected the iPhone to it a few times, you now have a third option. Follow these steps and you'll be able to access that automatic backup:
Step #1: Run Fonedog Toolkit
Run Fonedog iOS Data Recovery and connect the iPhone via USB cable.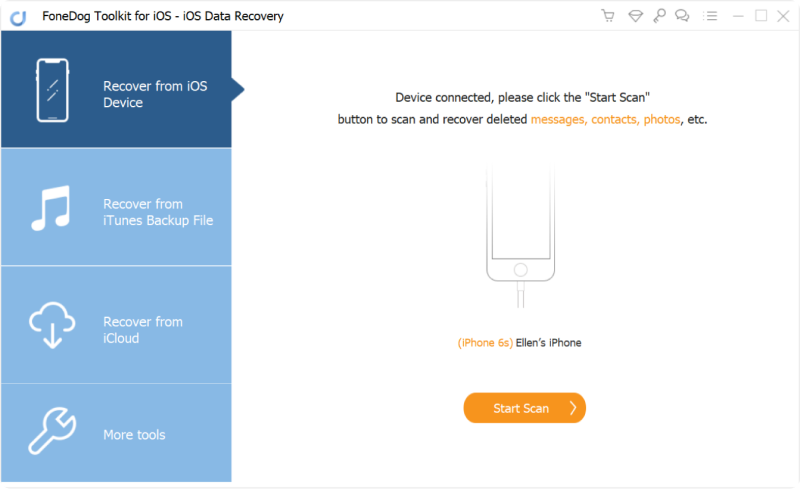 Step #2: Select Backup Files to Scan
Choose the second option, "Restore from iTunes Backup File" and you should see some of the backup options you can scan, usually, the latest backup should be your ideal choice.
Pick one and click "Start Scan." This may take a few minutes but when it's done please proceed.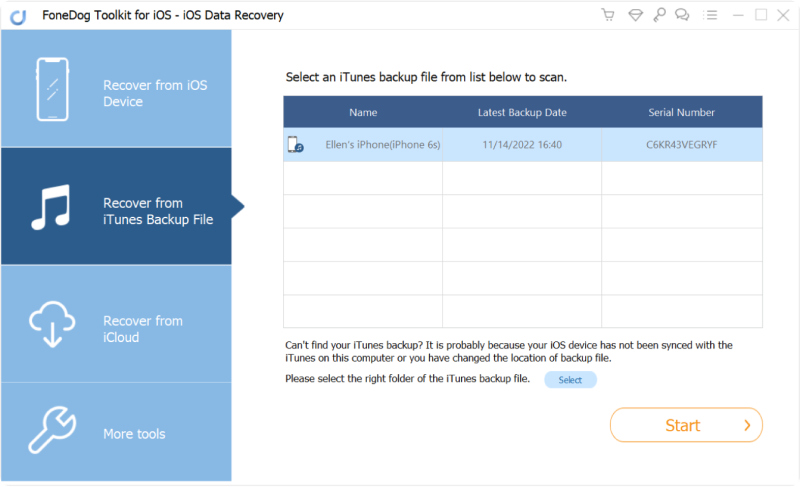 Step #3: Recover Lost Audio on iPhone
You will now be able to choose which data you want to see, again choose the "Voice Memos" and you'll be lead to the window where you can sift through the retrieved information.
You simply have to click on the ones you want to recover and click on "Recover" and you are done. Just disconnect properly and enjoy.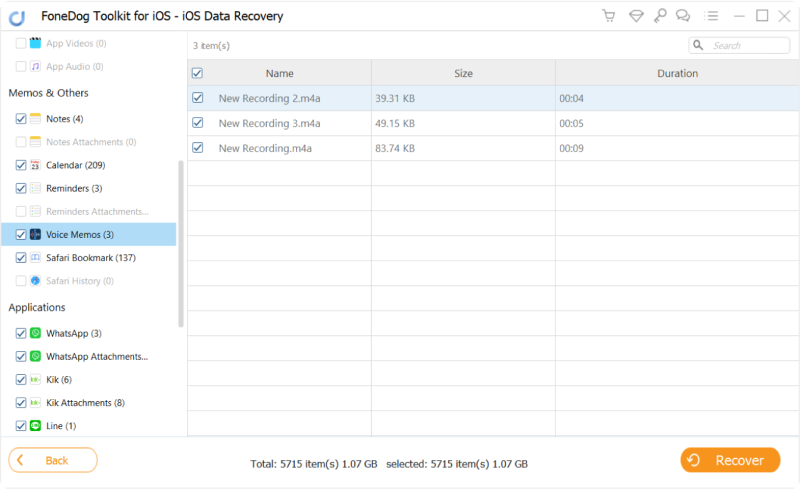 Now, this is ideal for when you do connect your iPhone quite a bit to iTunes, but if not and you only use an iCloud but still don't want to recover and overwrite everything, just some few files, well this might be the ideal option for you.
Part 5. How to Automatically Fix Lost Audio in iCloud?
With Fonedog iOS Data Recovery you can actually choose which files you want to recover, this might be your best option. Follow these instructions to recover those audio files:
1. Launch Fonedog and Log in iCloud Account
Run the Fonedog iOS Data Recovery program and connect your iPhone. Select the third option, "Recover from iCloud Backup File."
After you will be brought to another screen where you can input your username and password. Kindly input it to proceed.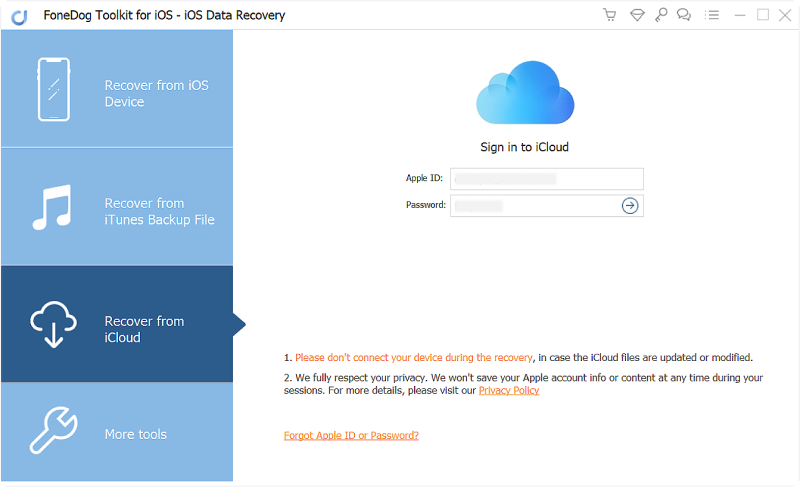 2. Select iCloud Backup Files to Download
Choose which of the information you may want to recover, again "App Audio" is still the one we will want to use.
And click the 'Download ' button beside so the program.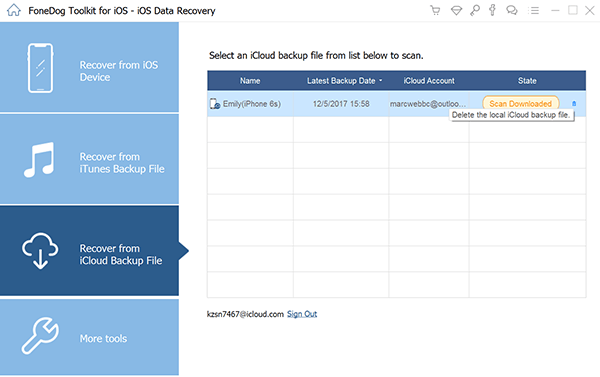 3. Preview and Fix Deleted Audio
Look through the items that might be of interest, highlight the ones you may want to regain and then click on "Recover."
And you are pretty much done, all that's left to do is to disconnect and you are golden.

You may like:
3 Ways to Recover Deleted Videos from iPhone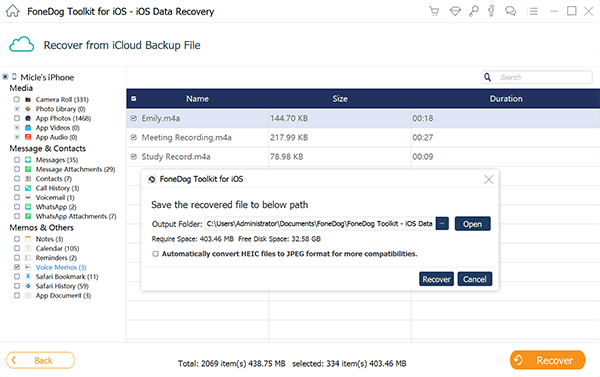 That is pretty much the best options you have to recover your audio and maybe, even more, assuming you need it.
Video Guide: How to Selectively Recover Deleted or Lost Audio from iPhone.