How to Fix iPad is Disabled Connect to iTunes
by victoria | Lasted Updated 2018-05-02 05:43:29
Recently, many people ask how to fix iPad is disabled connect to iTunes. Next, I will give the solution as follow.
We always tend to make sure that our gadgets stay secure, hence the idea of setting up a passcode. There will be instances though that we forget this or someone else tried to use our iPad without our knowledge and entered the wrong passcode several times.
And in the case that several incorrect passcodes have been entered, It is this built-in security system of Apple products that lock it down after several suspicious attempts have been done.
This is actually a good thing if let's say for example someone stole your iPad, you wouldn't need to worry about that person getting access to all your private and important data.
Although keep in mind that there are hackers out there that can easily break through it using good software, if this happens Apple erases all data on your iPad when they get the chance to unlock it, thus preventing identity theft. Given that you have reported it stolen.
Part1. Why iPad is Disabled Connect to iTunes
Your iPad won't get locked out with just a few tries, It actually follows a series of incorrect attempts, which are as follows; if you have made 6 failed attempts, iPad is disabled, you can Try again in 1 minute, 7 failed attempts you try again in 5 minutes, 8 failed attempts try after 15 minutes, 9 failed attempts try in 60 minutes and lastly if you have not patiently waited and did 10 failed attempts this will now prompt you that "iPad is disabled, Connect to iTunes".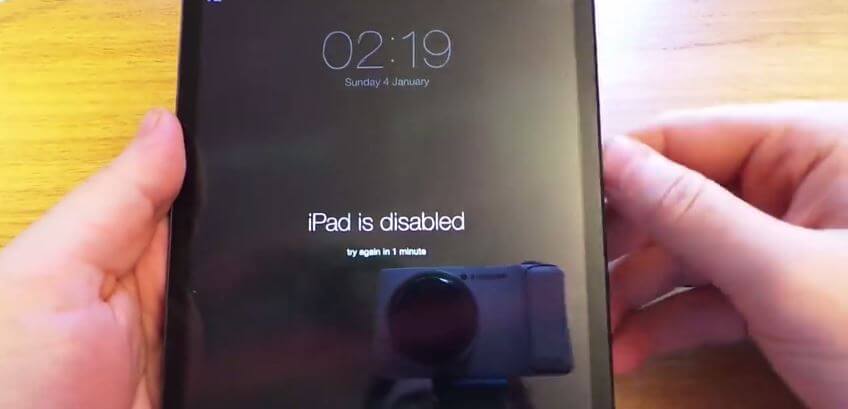 iPad is Disabled Connect to iTunes
But what if by an unforeseen circumstance you just can't remember your passcode or you accidentally mixed it up and failed several attempts to enter the right one and it led you to disable your iPad.
You will be left with no choice but to put it in recovery mode which will wipe out everything on it. It would be no problem at all if you have backed up everything on it, but what if you didn't? This would be a horrible situation for you then and would make you worry if you'll ever find a workaround for it.
In this article though we have a solution for you that won't force you to wipe out everything on your iPad when you connect it to iTunes and set it to recovery mode. But for informative purposes and for reference included the initial steps taken to attempt to fix iPad is disabled connect to iTunes wherein some will require you to erase existing data on your device, not what one would want but definitely solves the problem.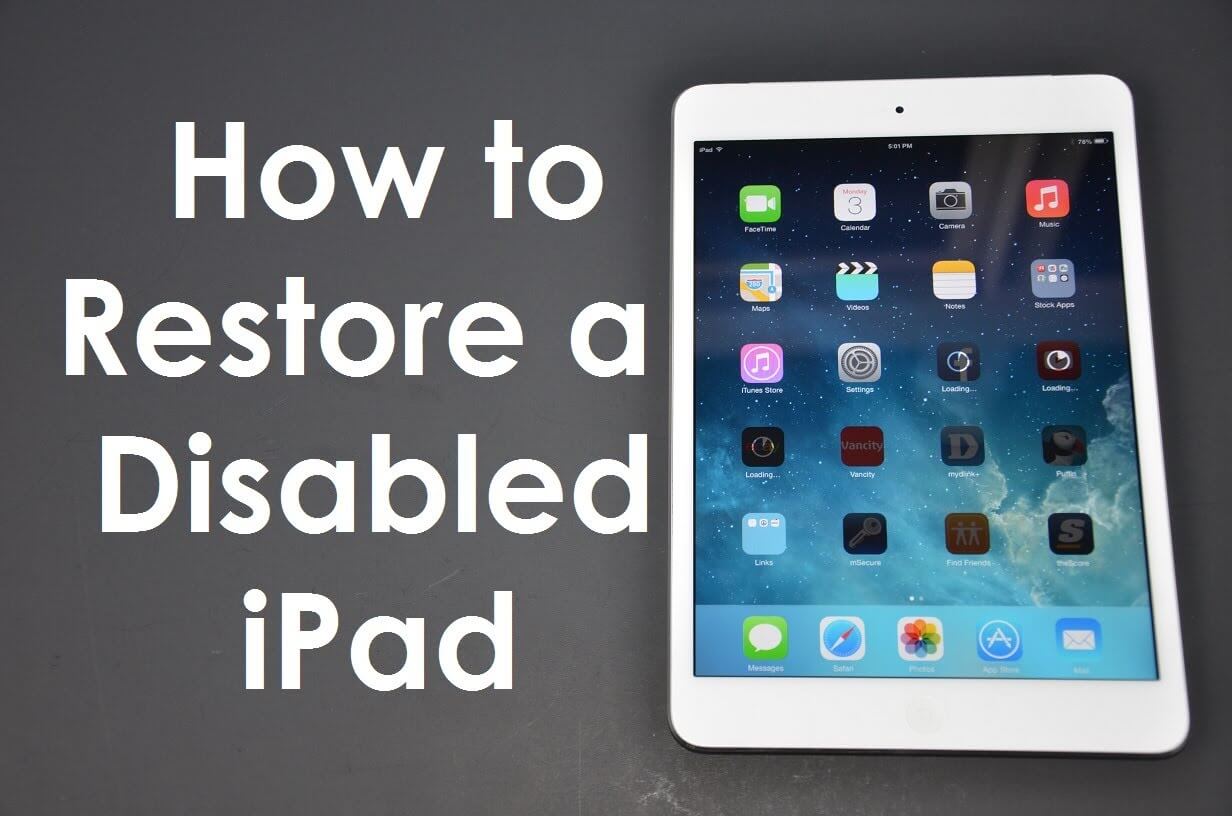 Fix iPad Disabled Connect to iTunes
Part2. The Solution of Fixing iPad is Disabled Connect to iTunes
Solution 1: Wait for Try to Unlock Your iPad
We tend to panic when we are unable to unlock our iPad or any other gadget we have set up a security passcode for. We have mentioned the sequence above on how many attempts it would take before anything else happens, or alas you finally lock yourself out. It is best to keep in mind the series of attempts and follow the wait time needed before proceeding to try again.
Don't let yourself lose it and get to the point that you have no other way out which will just make your situation worse.
Solution 2: Use iTunes Backup to Fix iPad is Disabled Connect to iPad
For you not to lose any of your data completing this step would require that you back up your iPad and sync it to iTunes. Below are the steps to complete the process:
1.Connect your iPad to your computer
2.Launch iTunes and start the process of syncing and backing up your iPad (if asked for a passcode use another computer with the same synced iTunes, or proceed to Fix 3 to use Recovery Mode)
3.Once the sync and backup is completed, click on "restore iPad"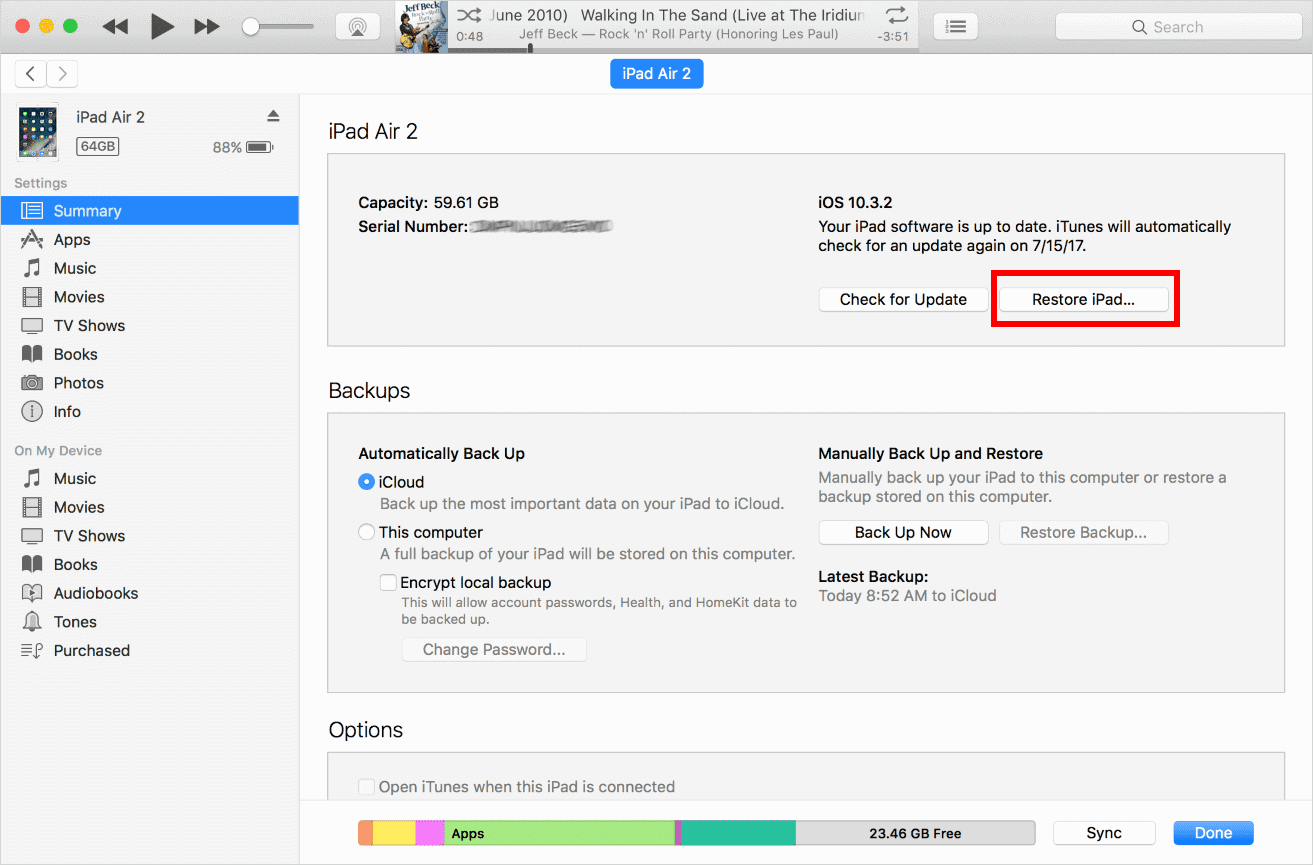 4.Then the iOS setup assistant will ask to set up your device and choose to restore from the iTunes backup.
5.Select your iPad and select the latest iPad backup.
6.Now, your disable iPad will be restored.
Solution 3: Fix iPad is Disabled Connect to iTunes Using iCloud "Find My Phone"
Another way is setting up the "find my iPad" in iCloud be reminded that everything on your device will be wiped out. When your iPad is stolen or lost, you usually use this option to prevent anyone from using your personal data. However, if you can't use any method to restore iPad, try using this method.

#1. go to the website of icloud.com, then click to find my iPhone.

#2. Select your iPad from the device list.

IPad of -FIND-MY-iPhone- erased by iCloud

#4. Click to erase iPad.

#4. This will clear the data on the iPad.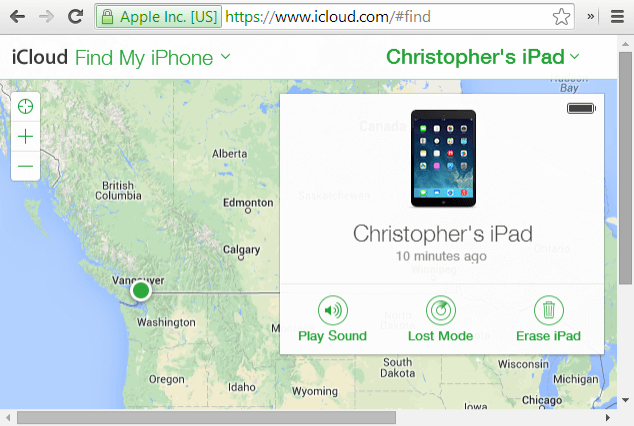 Solution 4: Enter the device into Recovery Mode to Fix Disabled iPad
The best fix for the error "iPad is disabled, connect to iTunes" is to enter recovery mode
Here are the steps to enter recovery mode.
*1: Connect your iPad to the computer and press home button
*2: Launch iTunes, you will see the connection to the iTunes screen.
*3: Then click determine and restore your iPad.
*4: click on setting up your device, then select Cloud backup to restore your iPad.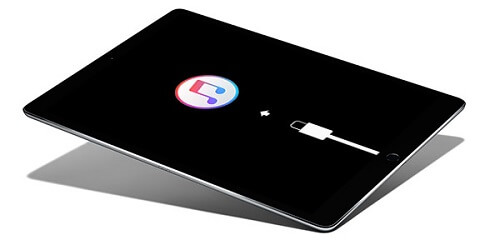 Part3. The Ultimate Fix for "iPad is disabled, Connect to iTunes" screen (Recommended)
Going into recovery mode is just not that ideal for everyone, especially to those who have not backed up their files. This will just mean a tremendous loss of important data once everything has been wiped out. But all hope is not lost for there is a recommended solution that will not let you lose all those data from your iPad just like that.
The FoneDog- iOS System Recovery (Repair) allows you to fix 'iPad is disabled, Connect to iTunes' error in just a few minutes and without erasing the contents of your device.
The FoneDog- iOS System Recovery can also be used for other issues such as DFU mode, white screen looing on start or even recovery mode and a whole lot more.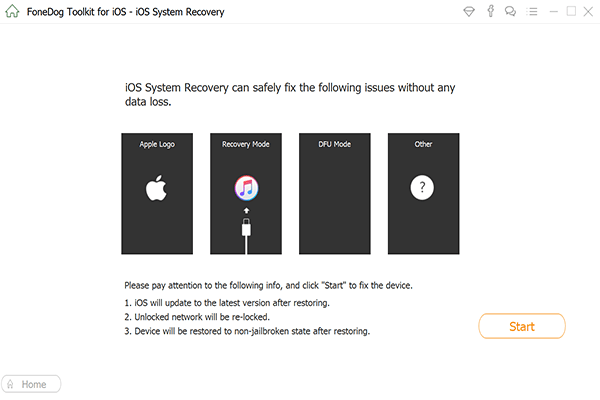 Detect Your Device--Step1
Step1: Download and LaundhFoneDog Toolkit- iOS System Recovery
After completing the download of the software you just follow the prompts on how to install it and then once finished, launch the program.
Once you have connected your device wait for the program to scan and recognize and detect it before you proceed.
Step2: Download the iOS firmware package
All you have to do is to download and install the correct iOS firmware package of the iPad.
Make sure that the information requested from you that you provide is accurate, these will include the model number and software version of the iPad.
After double checking that you have entered the correct details, click "Download" to continue.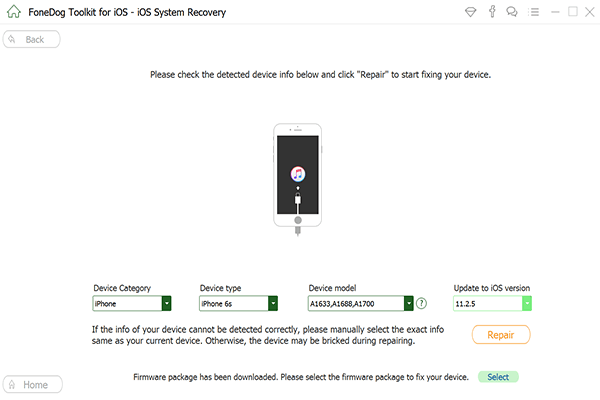 Download Firmware--Step2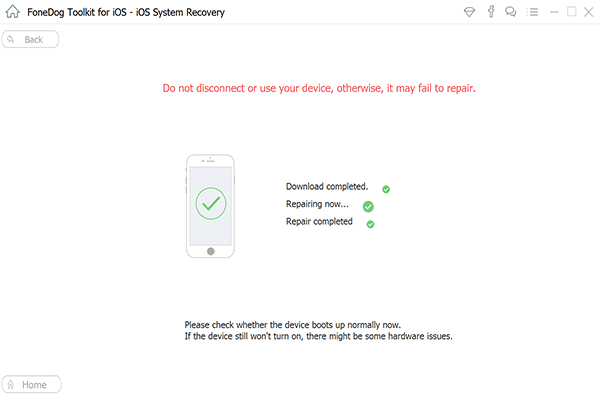 Wait for Completed--Step3
Step3: Wait for the process to complete
The system recovery will be initiated by the FoneDog Toolkit- iOS System Recovery and it will take a few minutes to complete. You will get a notification once it is done then the device will restart automatically and go through the reboot as per normal.
Voila you have fixed the error 'iPad is disabled, Connect to iTunes' without losing anything important to you, and this couldn't have been a success without the aid of the FoneDog Toolkit- iOS System Recovery.
Video Guide: Easily Fix iPad is Disabled Connect to iPad
We as users just have to be mindful of making sure we don't forget important details such as our passcode, and as equally important we should always be vigilant in making sure we back up our files from our devices.
We can never tell what may happen, but even if you feel like you're backed up into a corner not knowing if you'll find a way out of an issue with your device the FoneDog Toolkit- iOS System Recovery will be your go-to saviour to get you out of your predicament and make sure that you get the help you need in saving your device, well in this case you too.
How to Fix iPad is Disabled Connect to iTunes
Tips & Trick to Fix Your iOS System