How to Fix iTunes Error 3600
by Wian LJ | Lasted Updated 2018-03-27 03:45:44
"My iPhone 8 Plus has iTunes Error 3600 upon restoration. Help, please! My screen is stuck on 'Connect to iTunes' I don't know what to do"~ Jade
It is really so annoying to encounter iTunes error 3600(iPhone error3600) or any other iTunes error codes every time you try to restore or update your iPhone. What makes this worse is that you end up with a brick phone or severe data loss if you are not familiar with its troubleshooting measures.
You will learn how to manage and resolve this iTunes error 3600(iPhone error3600) in this article in fun and easy methods.
Part 1. What is iTunes Error 3600
iTunes has a lot of possible issues that could arise during the update or restore process. Just like other error codes, there could be various reasons why iTunes error 3600(iPhone errror3600) is happening. Usually, this error occurs whenever you update to a newer iOS software version or restoring your iPhone from iTunes backup.
This could be normally caused by network settings like for example your computer has an administrator access. You need to log in as the administrator before you can complete the restore or update process.
If you are logged in as a guest or another user then you need to gain access as administrator before you can continue to restore the iPhone. Other causes could be firewalls, proxies, anti-virus software, and other network securities.
If this error happens during your restore process while using a work computer then try doing the same process by using your own personal or another computer. iTunes error 3600(iPhone error3600) is easy to fix if you follow the troubleshooting guides. Several iTunes error codes are usually caused by any of the following:
Upgrading iOS
Jailbreaking iOS device
Restore from iCloud or iTunes
Interrupted Update or Restore

What is the iTunes Error 3600
Part 2. What to do When You 're Stuck with 'Connect to iTunes' Screen
The most annoying part when you experience these kinds of issues is being not able to use the phone. It totally leaves you with a useless device until it will be fixed. Thus, your personal and work life will be much affected.
Before panicking, brace yourself first with basic troubleshooting whenever you are faced with iTunes Error 3600. The most common thing that you will experience is being stuck at 'Connect to iTunes' screen. Here's what you can do in case you might encounter this:
Restart the iPhone by pressing and holding down both the Sleep/Wake and Volume Down buttons for about ten seconds or until you see the Apple logo. For iPhone 6s and earlier: use Sleep/Wake and Home buttons.
If after the restart you are still stuck on 'Connect to iTunes' screen then you need to reinstall the iOS.
Launch iTunes on your computer. Make sure you are using the latest version or you may update iTunes first.
Connect iPhone 8 plus/8/7/6s to the computer using the original USB cable. Upon connection, you will see a pop-up: "There's a problem with the iPhone [your device name] that requires it to be updated or restored."
Click on Update to reinstall the iOS only and keeping your data safe.
Part 3. Quick Fix to Resolve iTunes Error 3600
If after you have updated iTunes to its latest software version but still the iTunes error 3600 appears, you can do the following:
Option1. Update the computer's operating system
For Windows Update
The best way to update your Windows computer is to turn on automatic updates.
Win10
Click Start or the Microsoft Windows icon
Click Settings and then click on Update and Security
Click on Windows update. For manual update click on Check for Updates.
Select Advanced Options and click on Choose how updates are installed
Click on Automatic (recommended)
For Mac OS Update
Go to the App Store on your Mac to check for available software updates
Click on Updates from the toolbar
Click Update button when it is available and continue to download and install them
Win8.1
Swipe the screen from the right corner or point the mouse to the lower-right portion of the screen and move the pointer up.
Click Settings
Go to Change PC Settings
Click Update and Recovery
Click Windows Update. For the manual update, click Check Now.
Click on Choose how updates are installed and go to Important Updates
Click Install Updates Automatically (Recommended)
Click Give me recommended updates the same way I receive important updates under Recommended Updates
Choose to Give me updates for other Microsoft products when I update Windows under Microsoft Update
Click Apply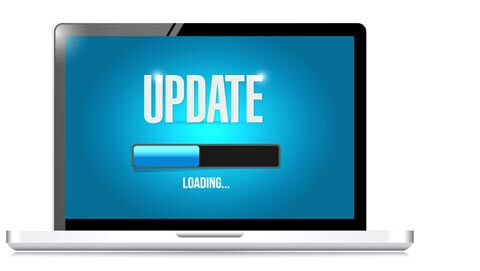 Option2. Have a good restart on both computer and iPhone
Restart both your iPhone and the computer to refresh the systems. Once they have booted retry the restore process on iTunes.
Option3. Check Computer Settings and Security software
If in case you are unable to open iTunes because of the iTunes error 3600(iPhone error3600), then try to resolve third-party security software installed on the computer.
Verify if the computer date, time, time zone are set correctly
Login in as Administrator, not as user or guest
Make sure you only have single security software running on the computer to avoid any conflicts such as iTunes error 3600

(iPhone error3600)

For the meantime, temporarily turn off the firewall to continue the restore process. Other security software might be needed to be removed temporarily.
Part 4. Fix iTunes Error 3600 with FoneDog Toolkit- iOS System Recovery
If the above all methods fail to resolve iTunes error 3600(iPhone error3600), then you might need to fix this issue using third party tools. One of the most effective systems recovery programs is FoneDog Toolkit- iOS System Recovery.
This professional program aims to repair all kinds of iTunes error codes, freezing or crashing devices, looping on start, stuck on Apple logo and much more. FoneDog Toolkit- iOS System Recovery provides recovery without causing any data loss that is why it is trusted by millions of iOS users worldwide.
It is compatible with all iOS devices including the latest iPhone 8 and 8 plus. To use this program you may refer to the guides below:
Video Guide: How Can We Fix iTunes Error 3600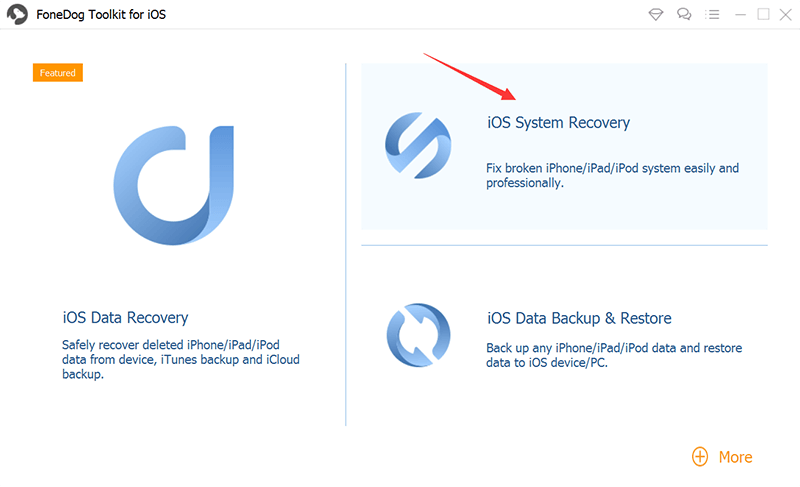 Install FoneDog Toolkit- iOS System Recovery --Step1
Step1. Install FoneDog Toolkit- iOS System Recovery on the Computer
First, you need to download FoneDog Toolkit- iOS System Recovery and install it on your computer.
Follow the installation procedures and when done, launch it and go to More Tools and click on iOS System Recovery.
Click on the desired system issues on the screen options provided.
Step2. Plug in iPhone
After the program has launched, connect the iPhone to the computer using an original USB cable and wait until FoneDog Toolkit recognizes the device. Click Start to continue.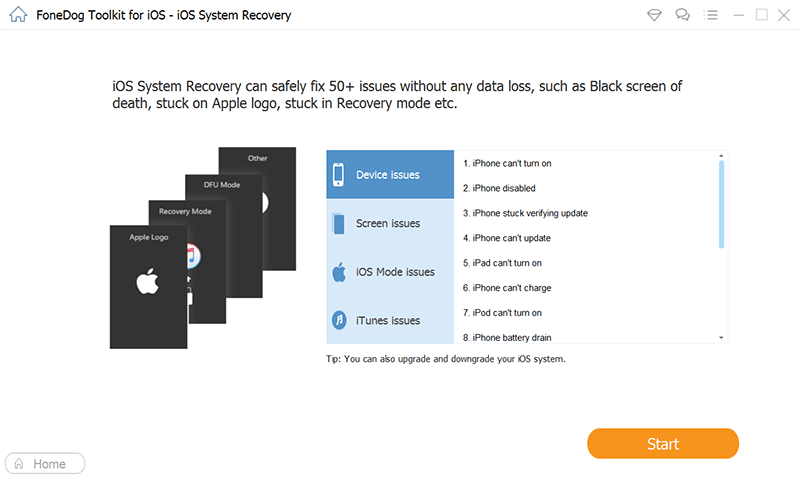 Connect Computer to iPhone with Original USB--Step2
Note: During this stage, you need to remember the following:
If the iPhone has been jailbroken then it will be returned to its non-jailbroken status
If the iPhone was unlocked it will be locked
Your iPhone will be updated to its newest iOS version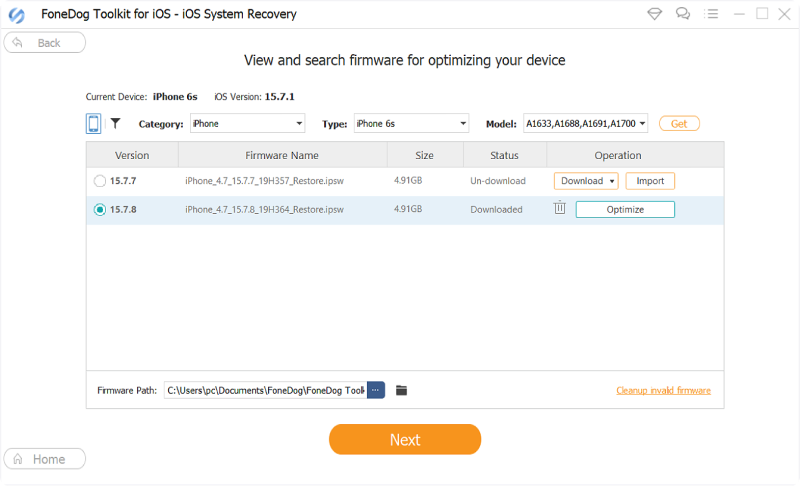 Download Firmware Package on the PC--Step3
Step3. Download Firmware Package
The next part will be to download and extract the correct firmware package to the iPhone device wherein you need to enter the correct make and model number. You may refer at the back of the iPhone for the details.
Make sure you are supplying the correct information otherwise it may permanently brick your device. If you are unsure then you can go online and check on Apple's website for the complete and correct details. Click Repair to continue.
Step4. Repair, Download, and iTunes Error 3600 Resolved
The repair status will take a while but you can see the notification through the progress bar. FoneDog Toolkit- iOS System Recovery will download and extract the firmware and then fix all the errors found.
At this point, you need to make sure that you have a stable internet connection and at this point, avoid interrupting the connection between the iPhone and the computer. After a while, you will see a notification display that your iPhone is fixed and back to its normal status. It will reboot like the usual and everything will be fine.

No data were removed during the repair process. You will now have the latest iOS version running on your iPhone device with all data intact. If the device fails to reboot that you might need to restart the process.
If the iPhone completely did not start then there could be a potential hardware issue that you can report to Apple's customer support.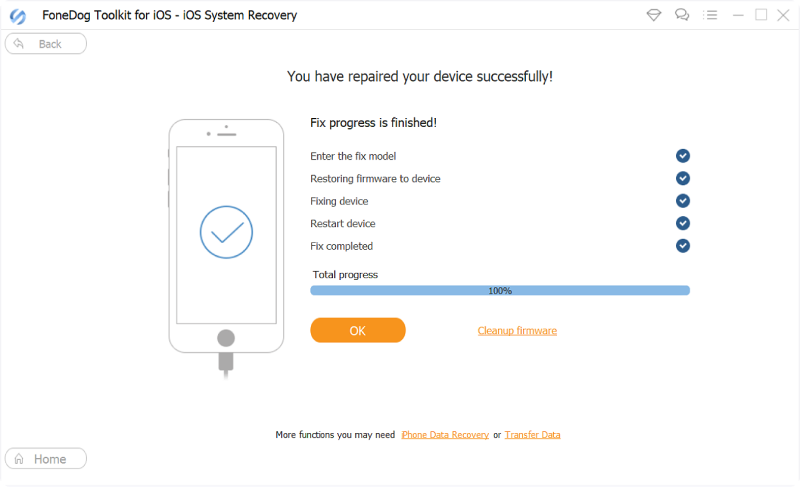 Repair, Download, and iTunes Error 3600--Step4
Tips:
Sometimes you may lose your iPhone data or mistakenly deleted an important data. Don't worry anymore! FoneDog provides you a tool to recover deleted data in just several steps!
Read More:
iPhone Data Recovery software Free Download
FoneDog Toolkit- iOS System Recovery makes your mobile experience complete. It is a great partner for any types of complicated situations and issues just like iTunes error 3600. FoneDog Toolkit- iOS System Recovery also repairs other kinds of system issues like DFU mode, and looping on start, etc that hinder you from making the most of your iPhone usage.
FoneDog iOS System Recovery also unfreezes your iPhone, iPad, iPod touch and resolves white screen, recovery mode, black screen and red screen of death. FoneDog Toolkit- iOS System Recovery only fixes error while keeping all your data safe. Share this good news with your friends!
How to Fix iTunes Error 3600
Tips & Trick to Fix Your iOS System