By Nathan E. Malpass, Last updated: August 26, 2019
"iPhones, I love them. I have a multitude of them. Whenever a new version comes up, I buy a new one. The one thing I love about iPhones is that it allows you to backup your files on a multitude of platforms. I have multiple backups on me and I surely want to see what's contained within these backups. How can I View iPhone Backup Files on Mac?"
Let's start to view iPhone backup file on the Mac.
Part 1. Why should I back up the iPhone?Part 2. How To View Backup Files On Mac Computers And Windows PCVideo Guide : Use FoneDog Toolkit to view iPhone backup on MacPart 3. Conclusion
People Also ReadHow to Delete iPhone Backup on Mac?Top 5 Solutions to iCloud Backup that Time Keeps Increasing
Part 1. Why should I back up the iPhone?
Backing up your files is a great way to keep them safe and secure. If you have deleted these files by mistake, you can simply restore it through the backup. It saves you a lot of hassle especially when you really need the files you have deleted. Apple is very special. It allows you to create a backup of your iOS devices and the files contained within it through various platforms. You can back up through iCloud. iTunes also creates a backup for you. It's a great feature of Apple that saves you a lot of frustration.

When iPhone is connected on your Mac device, it automatically creates an iTunes backup within the latter device. A lot of people ask the question, "Can your iTunes backup be viewed in a Mac device or a Windows PC?" Well, the iTunes backup is actually an SQLite database file.

Because of this, and because of Apple's privacy policy, this file is not actually readable. You cannot access it using your computer and you cannot actually read it on your personal computer as well.

For you to solve this problem, we'll actually tell you how to view your iPhone's backup files and the data contained within it using a tool. Let's get to it with iPhones first.
Part 2. How To View Backup Files On Mac Computers And Windows PC
To view your iPhone's backup files you can use a tool called FoneDog's iOS Data Backup & Restore. This tool is very helpful in backing up your data and restoring it to an iOS device (or your computer). Moreover, it can be used to preview the backup files. Here are the advantages and features of the said tool:
01 - You only need a few clicks to restore your backup to your iOS device.
02 - It gives you the power to review any data or file you have from the backup.
03 - It allows you to export files from the back up towards your own computer.
04 - It is 100% secure. Viruses and malware (or anything that may harm your device) are not contained inside the software. Only you have the access to the data you have.
05 - Data won't be lost during the restore process. It will always be safe.
06 - The software will not overwrite your data.
07 - You are provided with a 30-day free trial. This means you get to experience the advantages of the tool without having to cash out money for it first.
08 - You have one-on-one support and you can also get support through email.
Here's how to use this tool step-by-step:
Step 1: Connect iPhone to Mac and Install FoneDog
Connect your iPhone to your Mac and install the FoneDog Toolkit.
Open the FoneDog Toolkit.
Select iOS Data Backup & Restore located on the main interface of the software.
Select iOS Data Backup.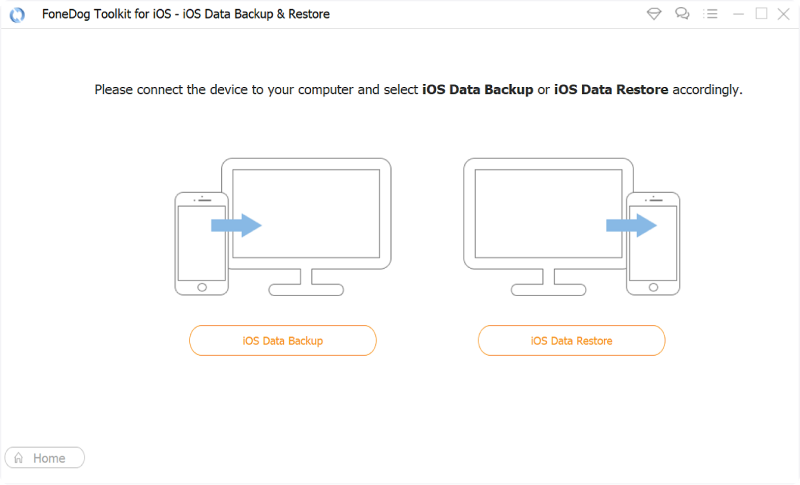 Step 2. Select Data Backup Mode
Choose the backup mode that you wish. There are two options, Standard Backup, and Encrypted Backup. The latter gives you the ability to put a password on your backup file in order to protect sensitive information.
Press the button labeled Start. The software will show you a list of data types that you may wish to backup. These include Photos, Messages, Contacts, Applications, and Messages, etc.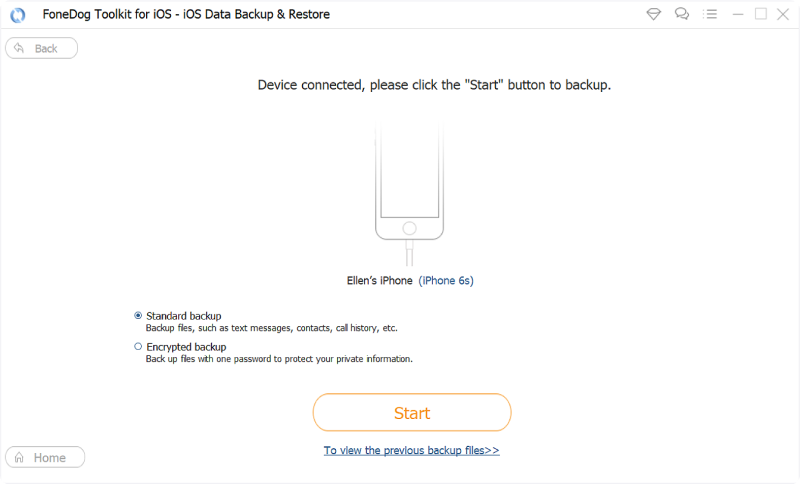 Step 3: Select Type of Data you want to Backup
Select the type of data you may wish to back up.
Press Next.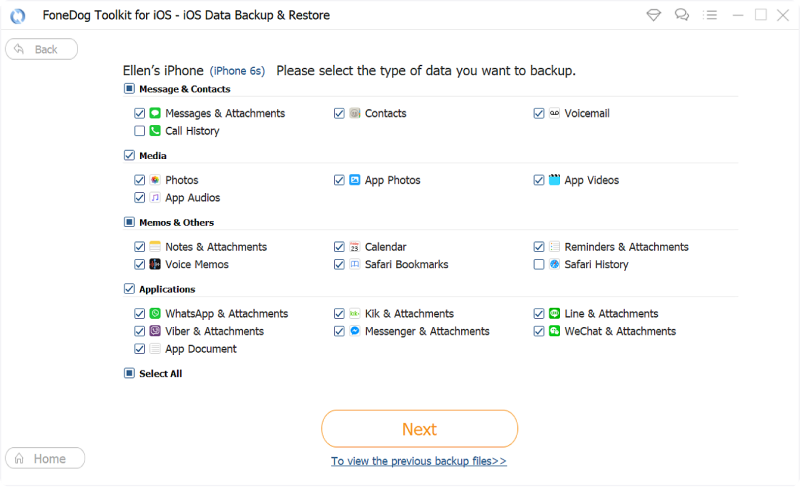 Step 4: Wait For FoneDog Toolkit to Finish Backup your Data.
Wait for the software to backup your data.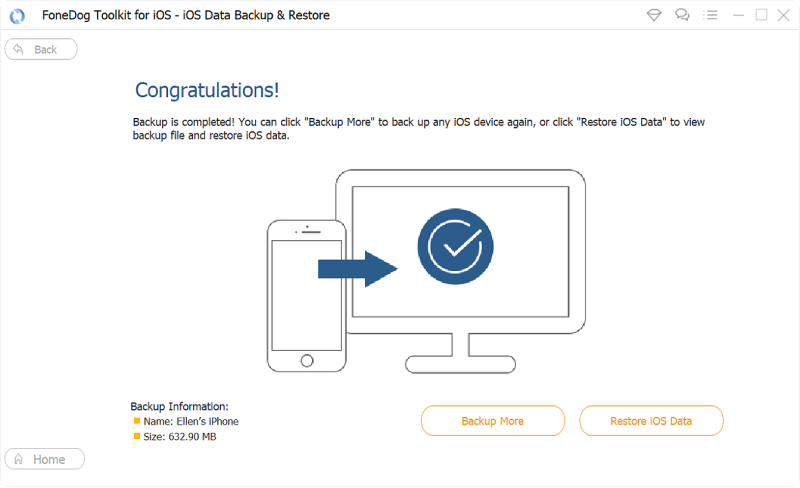 After which, you have to restore your data to the device you wish to restore it to. Here's the next steps:
#1. Move to iOS Data Restore
Ensure that your iPhone or your iOS device is connected to your Mac computer.
Select iOS Data Backup & Restore.
Press iOS Data Restore.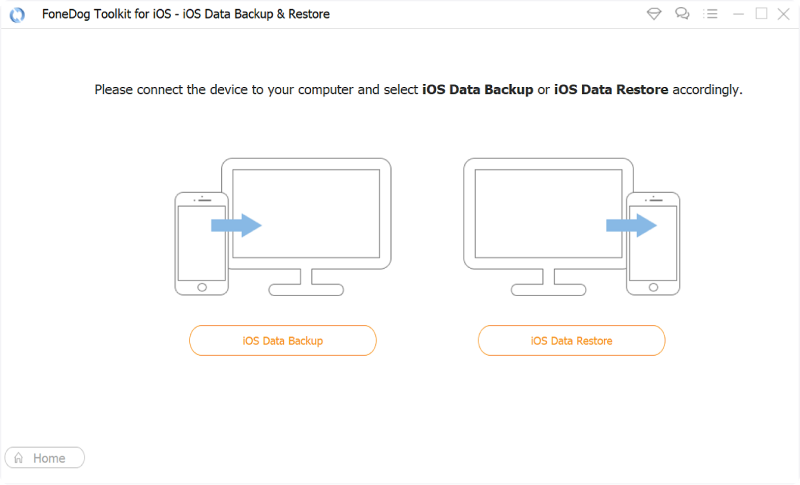 #2. Select Your Backup File
FoneDog toolkit will now display all the backups that you have. Select the backup file you want.
Select View Now button.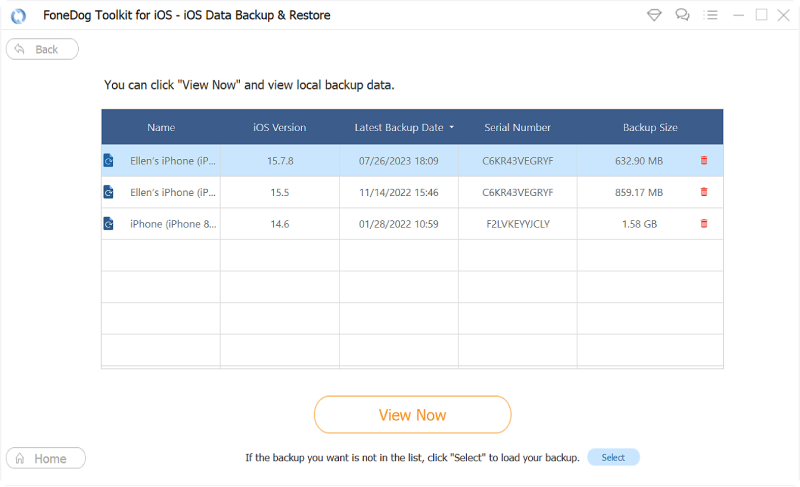 #3. Scanning Backup Files.
FoneDog Toolkit will start to scan the backup file you have just selected.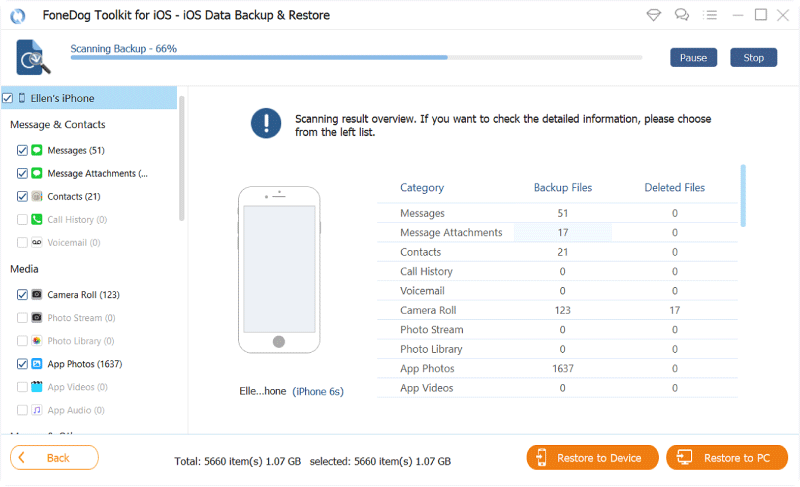 #4. Restore Your Files to iDevice or PC
Once the process of scanning is done, you will be able to preview the data on the backup. Select which files you want to restore to your device.
Select Restore to Device OR you can select Restore to PC.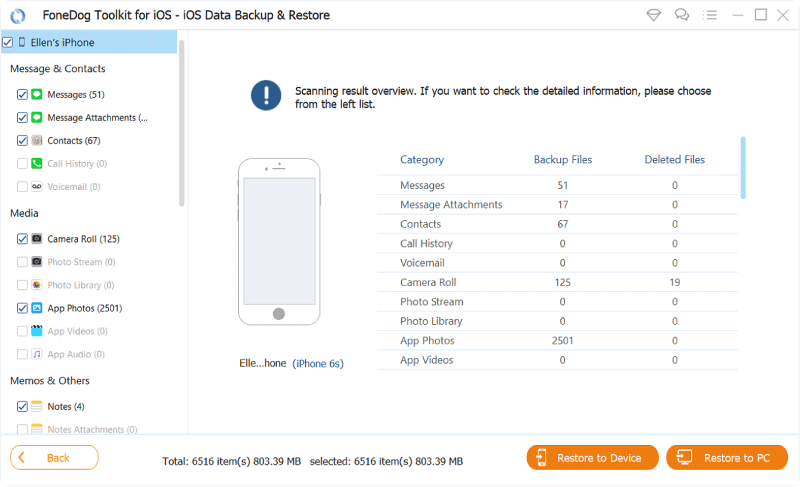 That's it! That's how you use the FoneDog's iOS Data Backup & Restore tool to back up your files, preview your data (contained within the backup), and restore the data towards the device you want to give it to.
Video Guide : Use FoneDog Toolkit to view iPhone backup on Mac
Part 3. Conclusion
Backing up your files is a good idea. That's why Apple gives you a feature that allows you to back up your files instantly. You have iCloud and you even have iTunes. The great thing about backups is that they are secured. What do you mean by that? Well, it cannot be accessed by anyone else except you. Plus, you yourself cannot view the files contained within the backup file.

That's a big problem for most people. A lot of people wants to see what's inside the backup files simply for a variety of reasons. Of course, some people might want to save time before they actually restore a specific backup. When you are able to preview the backup, you save time by not restoring all files in a lengthy restore process.

What you can actually do to preview files in a backup "file" is to use FoneDog's iOS Data Backup & Restore tool. This tool is used to backup files, preview the backup file (and the data contained within it), and restore these files to a particular device.