"Can I still view deleted photos from iTunes Backup? I have been traveling for the last two weeks and had tons of photos stored on my iPhone which I was so excited to share with friends. Apparently, when I was scrolling through my gallery, I deleted most of the photos when my phone got frozen the other day. I badly need to recover those photos soonest!"
~Tanya
Stories are better told with pictures and with today's technology we can easily snap fun memories using our mobile phones and even share it socially with friends. iPhone has made picture taking from a camera phone more fun and professional. It has better slow motion shots and time-lapse features as well, as faster autofocus and Full HD resolution. Capturing special moments was made easy with iPhone wherever you are.

However, there are times when our handsets fail and what makes it worse is that, it deleted photos just like that. There are different reasons for deleted photos like purposely deleting, accidental deleting, freezing or crashing software, jailbreaking, and even viruses. It could be a dreading idea to think that all those fun you had were gone so easily. If you are asking the same concern "how do I find my backed up photos on iTunes?". Well, the answer is yes. At the same time, we can also help you recover those deleted photos from your iTunes backup.
Part 1. Recover Deleted Photos from iTunes Backup With FoneDog iOS Data RecoveryPart 2. Extract Deleted Photos from iPhone Without BackupVideo Guide: Use FoneDog Toolkit - iOS Data Recovery restore deleted Photos from iTunes BackupPart 3. View and Recover Deleted Photos from iTunes Backup DirectlyPart 4. FoneDog iOS Data Recovery Is A Better Choice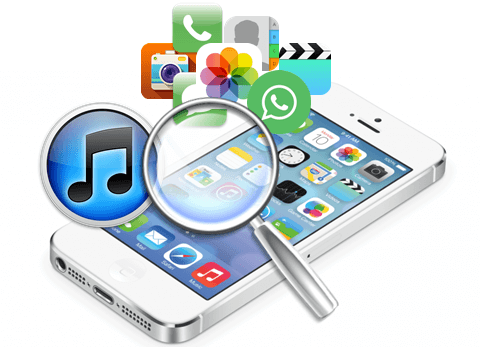 Part 1. Recover and View Deleted Photos from iTunes Backup With FoneDog iOS Data Recovery
FoneDog iOS Data Recovery is the most effective software when it comes to iOS device recovery. It has been proven reliable, safe, and easy to use that is why it is trusted by millions of users worldwide. Anyone can easily manage the software even those without technical backgrounds. It was specially developed to support the needs of most iPhone owners who are not technical persons.

Inside FoneDog iOS Data Recovery, there are three effective options to recover deleted photos based on your kind of issue: Recover from an iOS device, iTunes backup, and iCloud backups. In any of these methods, you can make sure that the recovery rate is higher compared to others. To see how effective FoneDog iOS Data Recovery can be, refer to the steps below:
Step 1. Download FoneDog iOS Data Recovery and Launch the Program
On your computer (Win or Mac, both are supported), download the FoneDog iOS Data Recovery online then run and launch the program until you reach the main menu. You may follow the instructions on how to install the software successfully.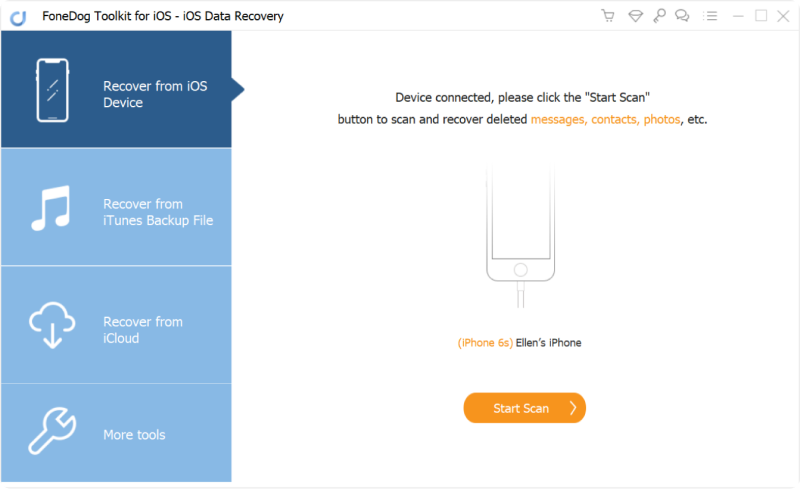 Step 2. Connect iOS Device to the Computer
Once you reached the main menu, click "Recover from iTunes backup" then connect the iOS device to the computer with the USB cable. Secure the connection in between the devices so that nothing interrupts the recovery.
Automatically all the backup files will show as lists according to their dates and device models or names. If you are using iTunes for all your iOS devices (iPhone, iPad, and iPod Touch), you will see more devices on the lists but if you only had one device, click on the latest backup then click "Start Scan".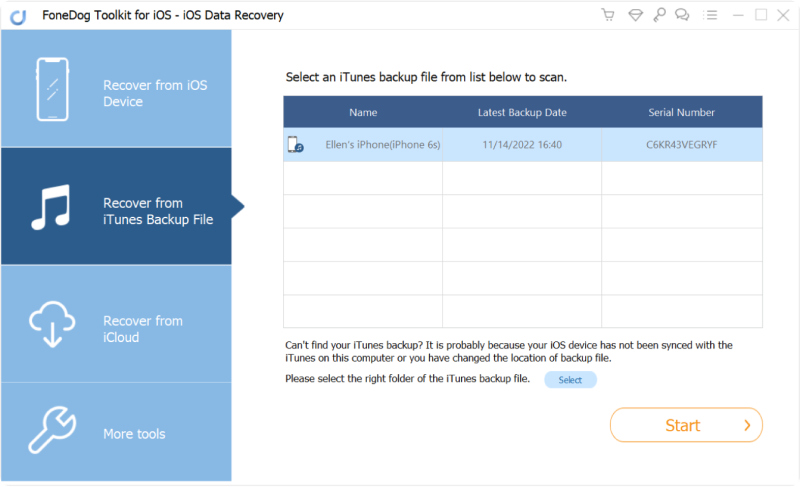 Step 3. FoneDog iOS Data Recovery will Scan the iPhone
Scanning may take some time depending on the amount of data stored as well as the network connection. It may take a couple of minutes to complete the whole scanning process before it will display all the files taken from the iTunes backups.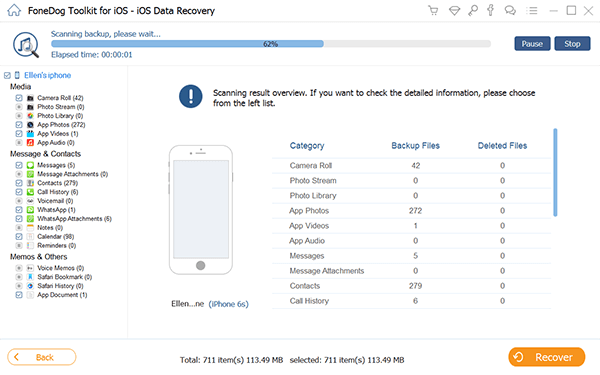 Step 4. View and Recover Deleted Photos from iTunes Backup
Once the entire files are shown categorically, search for the Photos folder and preview all the photos that were recovered. Each item has a tiny box beside them so you can selectively choose only those you wish to restore. Simply tick on those boxes based on the photos you only require.
In this way, you can choose multiple or select all items according to your own choice. When you have all the needed photos, click "Recover to computer". All files that were restored will be saved in a folder for easier navigation and transfer. You can set the file location based on your choice.
So there you have it, you have recovered all the deleted photos from iTunes backup files using FoneDog iOS Data Recovery without too much work.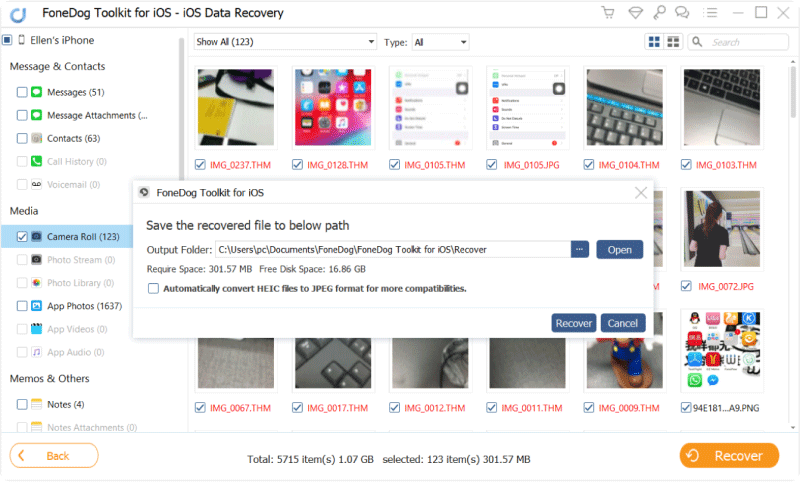 People Also Read3 Easy Ways to View and Extract Photos from iCloudHow to Recover Lost or Missing Media Files in iOS Devices
Part 2. Extract Deleted Photos from iPhone Without Backup
When worst case scenario happens like you lost those memorable photos in an instance, the best that you can do now is to recover them thru the help of FoneDog iOS Data Recovery. In fact, you can also directly restore deleted photos directly from your iOS device. Inside this program, there are three recovery tools you can choose from, 2 types of recovery thru backups and one for without any backup.

If you are experiencing data loss or have accidentally deleted photos and you have forgotten to use any backup, you may recover deleted photos by following the steps below:
Step 1. Run FoneDog iOS Data Recovery
If you have already downloaded FoneDog iOS Data Recovery, start and launch the program otherwise, download it online and follow the onscreen procedure to install the software.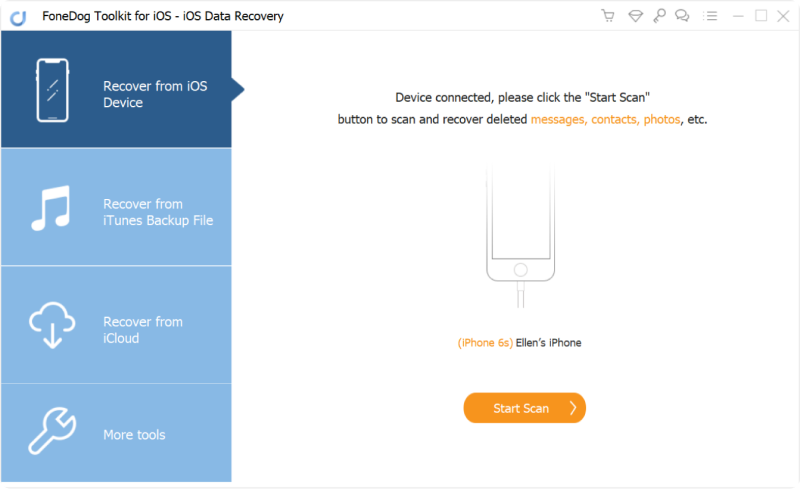 Step 2. Connect iPhone
When the program launches, click on "Recover from iOS Device" and connect the iPhone using an original USB cable to start the scan. We strongly recommend using the original cable to avoid other issues during the connection.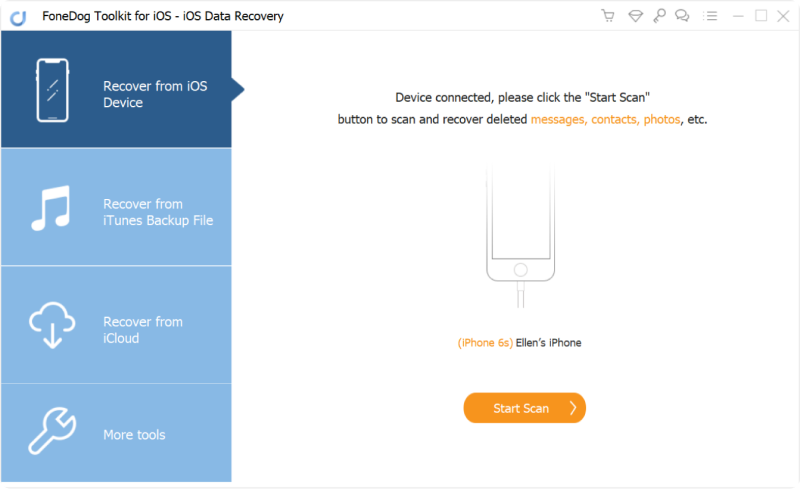 Step 3. Scan and Preview Photos
The scanning may take a while depending on a load of photos being recovered. You will see the progress on the navigation bar on the screen. It may take a couple more minutes before you can view the deleted photos. When the scanning is completed, the deleted photos are now recovered and displayed for you to preview and select.
Go over each deleted photos to make sure you have what you needed then select all or selectively choose only. Once you have everything needed, click "Recover". All photos recovered are the same high-quality photos taken by the device. It will then create a folder on your computer and you can set its file location for easier transfer.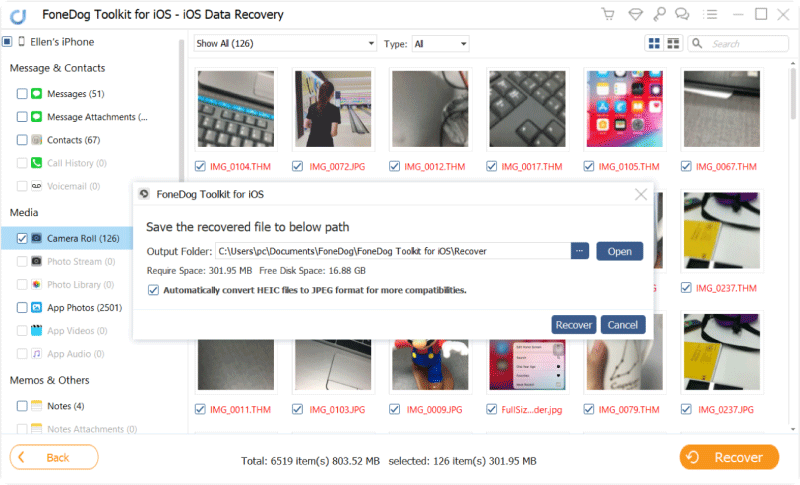 People Also ReadHow to Retrieve Deleted Videos without Backup on iPhone 7How to Recover Deleted Reminders on iPhoneHow to Recover Contacts on iPhone Without Backup
The steps are so simple and easy to do when you perform the recovery using FoneDog iOS Data Recovery. However, you have to consider that when your photos get deleted, you should avoid saving new photos or using the device to avoid data overwriting.
Once the device and the data are overwritten, it will be impossible to recover those memories back and there are no programs that can recover them. Make sure to look for the right recovery tool like FoneDog iOS Data Recovery, which will guide and help you recover them easier and faster.
Video Guide: Use FoneDog Toolkit - iOS Data Recovery restore deleted Photos from iTunes Backup
Part 3. Recover and View Deleted Photos from iTunes Backup Directly
If you have synced your iPhone device to iTunes before the incident happened, you can rest assure that those memorabilia will be recovered. All we need to do is connect your iPhone to your iTunes and extract the backup to the iOS device. You can refer to these steps:
Follow the Steps to Restore Photos from iTunes Backup
Step 1. Launch iTunes
From your computer, open iTunes. Update to the latest version of a new software upgrade is available.
Step 2. Connect iPhone
Using an original USB cable, connect the iPhone to the computer and look for the device icon on the upper left corner of iTunes. Right click on the device icon and click "Restore from Backup".
Step 3. Select recent backup
Among the lists of iTunes backup, choose the most recent one to be extracted on the iPhone in order to recover deleted photos again.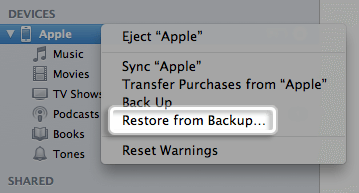 How to recover deleted contacts from iPhone devices?
First Verify if Contacts are Synced with iCloud, if done, you can get deleted contacts back from here, if not, it doesn't matter, you can also restore your needed contacts by the three-party application...
iTunes backup is so helpful when reformatting your device, however in cases like accidentally deleting a number of photos only will not be a good option because extracting the backup from iTunes will replace the entire phone apps and settings. This will cause more data loss especially on those new and existing apps you have downloaded and not yet backed up. So before doing this kind of recovery make sure you back up the newer apps and settings to avoid losing them.
The most convenient way so far to view and recover deleted photos on iTunes will be using third-party programs. These kinds of programs allow you to view those deleted files and make sure you can retrieve them easily. There are a lot of third-party tools available for iOS devices but not all of them are performing the tasks very well. Some may promise you easy to use the application but leave you hanging in between because of its complicated interface.
Part 4. FoneDog iOS Data Recovery Is A Better Choice
Based on the scenarios above, it is pretty clear that using FoneDog iOS Data Recovery is a better choice for unwanted data loss. This software provides a user-friendly interface perfect for non-technical people. You may also use the free trial version of this software to test its effectiveness and preview the deleted data first.
FoneDog iOS Data Recovery works well with Windows or Mac computers and supports all models of iPhone, iPad, and iPod touch. Remember that not all recovery programs provide the same experience like FoneDog iOS Data Recovery so choose wisely and don't just settle for anything less.