Is there a way to recover deleted videos on iPhone without backup? I want to get my videos back but I have no backups on iTunes or iCloud. What should I do? Please help me!
Part 1. Reasons for Deleted Videos in Smart PhonesPart 2. Retrieve Deleted Videos on Your iPhone without Any BackupPart 3. Video Guide: How to Recover Deleted Videos on iPhone without BackupPart 4. Tips to Avoid Deleted Videos Accidentally
Part 1. Reasons for Deleted Videos in Smart Phones
Capturing precious moments in a video is truly an amazing feeling especially when you look back and remember those happy times with the people that matter to you most. Often you see yourself watching those videos while killing some time alone. It can be a birthday, wedding or a great summer escapade.
However, there might be an instance that you left your phone with your toddler and he began to scroll over it. He began calling your contacts and sending special characters and emojis to your friends.
The worse part is he was watching the videos on your phone and accidentally hit "Delete" and all the memories are gone in seconds. Also another files like photos and music playlist.
What if you haven't set a backup on your iPhone? Things became worst. These cases are very annoying and frustrating at the same time. You are left with no other choices but to either let go or exhaust yourself in recovering the deleted videos.
iPhone generally has two types of videos stored inside: videos like movies you have downloaded or purchased via iTunes and videos you took via the phone camera. Videos in your iTunes are easier to recover by simply signing in with your Apple ID used during the purchased and from there; you can download the movies again.
Sometimes videos are deleted because of these common reasons: accidental deletion, hardware crashing, software failures, and jailbreaking. However, in this article, you will learn how to retrieve those deleted videos even without any backups.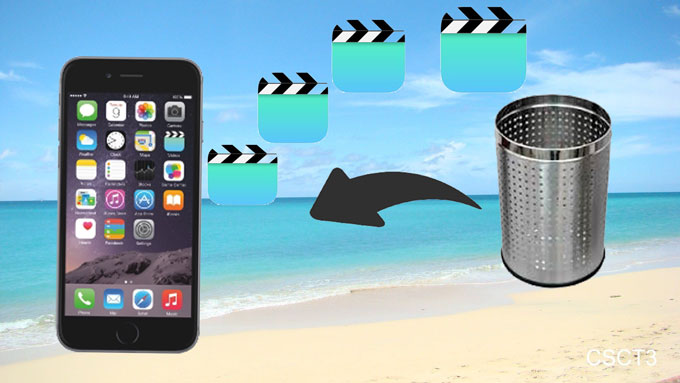 Recover Deleted Videos from iPhone
Part 2. Retrieve Deleted Videos on Your iPhone without Any Backup
It may sound a little weird but yes there is definitely a great way to recover those deleted videos back. Hold back those tears and get ready for in the next few seconds we will show you how to recover deleted videos in a very simple, fast and effective way.
Meet FoneDog toolkit - iOS data Recovery trusted third party software by millions of users worldwide for its guaranteed recovery process. This software supports all iPhone models including the latest iPhone11, iPad, and iPod touch devices.So you will wonder that: how do I recover permanently deleted videos from my iPhone? To begin the recovery, kindly refer to the following steps below:
Step 1. Launch the FoneDog toolkit - iOS Data Recovery software on computer
FoneDog toolkit - iOS Data Recovery has a free trial version that allows you to preview the device to make sure that the desired deleted video for recovery is there. This is actually one way of providing you an assurance that the program is very effective.
To use this software, download it from the website using your Windows or Mac computers, the steps are almost the same for both OS. Launch the program after successful download and installation. You may follow the onscreen instruction to avoid confusion.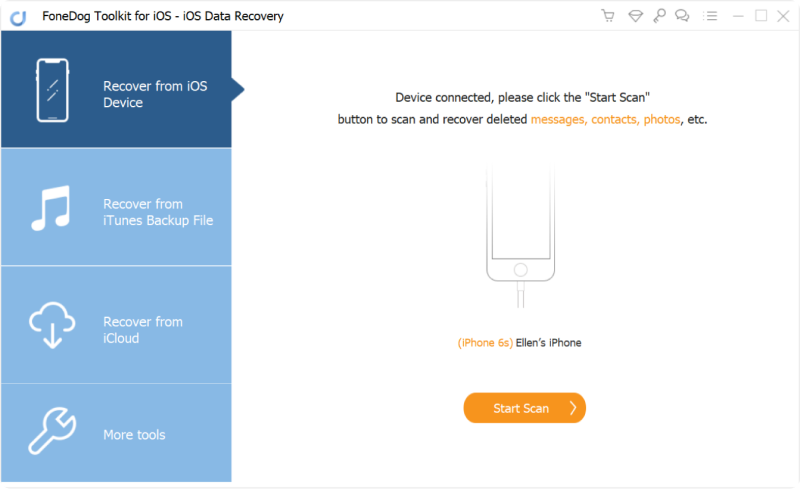 Step 2. Connect Your iPhone and Scan for Deleted Data
Once the program has launched you will be prompted to connect the device using the USB cable for scanning and data recovery. (Note: We strongly recommend that you use only original USB cable during the recovery to avoid other unwanted issues.)
After the connection is established you will see on the screen all the data categories of your iPhone divided into: "Deleted Data from Device" and "Existing Data from Device" and each of these categories have their own sub-categories like Messaging, Call History, Gallery, Documents and much more.
You may "Select All" or choose only the desired categories you want to recover by ticking the checkboxes beside each. Click "Start Scan" on your screen dashboard to proceed to the next process.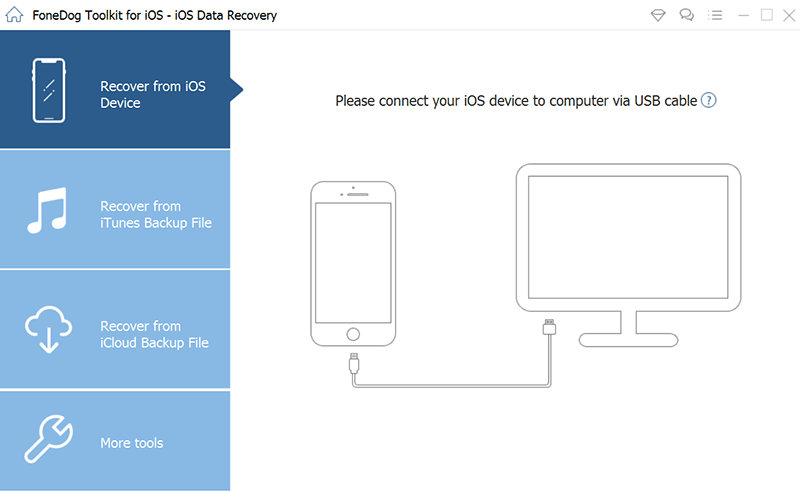 Step 3. Preview Scanned Data from Device
FoneDog toolkit - iOS Data Recovery will run a thorough scan on your device and it may take a while depending on the amount of data stored and the network connection. You will be able to see the scanning progress on the top right portion of the dashboard screen. Once the scanning is completed, you will see all the data from the device in a category list then you can easily preview each item to be sure that the desired deleted video for recovery is included.
Beside every item is a checkbox for you to selectively choose the desired data only. Once you have marked all deleted videos for recovery you may click on "Recover" and the program will process your request. However there is also an option for you to "Recover", wherein this will save a folder on your computer containing all the deleted videos you have just restored.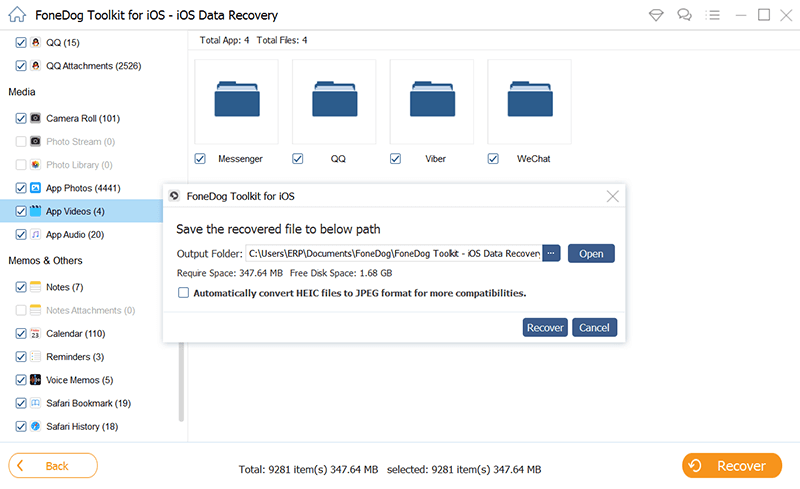 Part 3. Video Guide: How to Recover Deleted Videos on iPhone without Backup
Deleted videos and other data can really drive people crazy especially upon learning that they have not set any backup on their devices. FoneDog toolkit - iOS Data Recovery is an essential tool for every user who is experiencing data loss. However, to avoid hassles like this, you can learn on how to backup your device using iTunes or iCloud.
Part 4. Tips to Avoid Deleted Videos Accidentally
Apple does not actually delete your videos and photos instantly which is a good thing for situations like this. Inside your "Photos" app there is another folder for "Recently Deleted" media. This "Recently Deleted" folder is automatically deleted after 30 days so you have enough time to access the deleted videos and restore it before you can completely bid farewell to it.
The only worse scenario you can anticipate is if you have realized that the videos were deleted from your phone after the 30 days grace period. This is the time you need to look for your backups or use third party programs like FoneDog toolkit - iOS Data Recovery.
Transfer media files to your Mac using Image Capture
One of the quickest ways to avoid the risk of deleted videos on your iPhone is to import them all to your Mac. To begin the transfer you need to connect your device to your Mac and it should be able to recognize your phone right away.
You will then see a grid of all your photos and videos and from here you can import all the videos and other media for safe storage. Click on "Import All" button or selectively mark only those you want to import. The green checkmark prompts a successful import.
Now you have all the necessary options to work around with during tough times like this. You have all the reasons to enjoy your iPhone and maximize its full potential and phone experience. If in any cases you get stuck with any technical issues like recovery, you know what software to look for - FoneDog toolkit - iOS Data Recovery.