Many iPhone/iPod/iPad and Mac users have experienced getting stuck while doing an iOS update or restore process. "The iPhone/iOS device could not be restored. An unknown error occurred [14]" message will pop up if the update is not successful.
With the recent iOS 11, there have been many reports of iPhone users (iPhone 12/11/X/8/7/6/5, iPad, iPod) experiencing iTunes error 14 or iPhone error 14. So, here will tell you how to fix iPhone error 14 efficiently.、
Before We Fix iPhone Error 14:
Having concentrated on software development for many years, we have created an iOS tool that is able to solve your problems.
Here is a tip: Download FoneDog iOS System Recovery to quickly fix iPhone error 14, iTunes error 9, and any other iOS system issues. If you want to fix this error all by yourself, we have gathered some basic solutions below for you.
iOS System Recovery Fix with various iOS system issues like recovery mode, DFU mode, white screen looping on start, etc. Fix your iOS device to normal from white Apple logo, black screen, blue screen, red screen. Only fix your iOS to normal, no data loss at all. Fix iTunes Error 3600, Error 9, Error 14 and various iPhone Error codes Unfrozen your iPhone, iPad and iPod touch. Free Download Free Download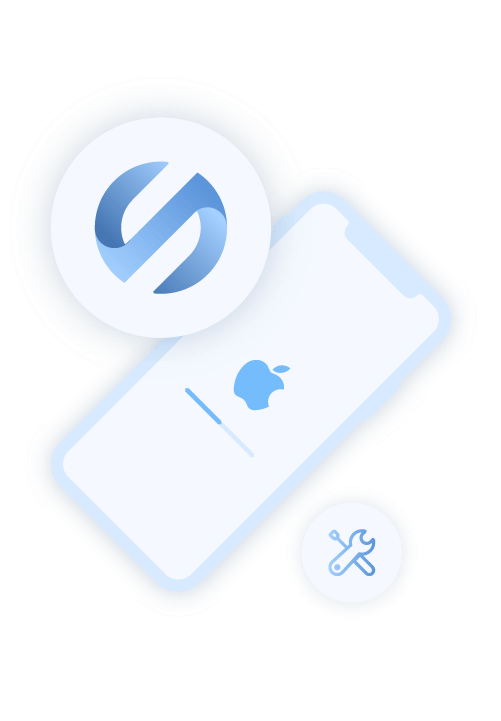 Part 1. An Introduction to The Causes of iTunes Error 14Part 2. How to fix iPhone Error 14 (Basic Troubleshooting Measures)Part 3. Advanced Troubleshooting Steps for iPhone Error 14Part 4. Fix iPhone Could Not Be Updated Error 14 without Data LossPart 5. Check out iOS 11 Cool FeaturesPart 6. How to Fix iOS System Errors
What Is iTunes Error 14?
iTunes Error 14 is an error usually happens during the process of updating the current iOS to the recent iOS version which is the iOS 11 and will eventually stop the whole process of updating and restoring your iPhone 6 or iPhone 6s.
Part 1. An Introduction to The Causes of iTunes Error 14
This error is happening when a user is updating the current iOS to the recent iOS version which is the iOS 11 and will eventually stop the whole process of updating and restoring your iPhone 6 or iPhone 6s. You will really need to have a working and effective solution to this problem or you will be left with no device to use at all.
So how and when does iPhone error 14 happen? Here are the possible causes of this error:
USB Cable - Most of the causes of error 14 are USB-related incidents. This will occur when the connection between the device and the computer is interrupted leading to a failed update or restore execution.
Storage Capacity – Whenever updating or restoring your iPhone, always consider to free some space on your device to accommodate the amounted firmware space.
Outdated Software – In most cases, iPhone error code 14 also happens when the iTunes is outdated.
Unstable Wireless Connection - Before updating your iOS to version 11, check all the required tools and connections first. Make sure you have a reliable internet connection to be able to complete the update without any issues in between.

Part 2. How to fix iPhone Error 14 (Basic Troubleshooting Measures)
Before having any major panic, you can assess the problem first by making sure that all areas are considered. iPhone error 14 is mostly caused by failed hardware or poor network connection that affects the software performance. Here is some basic troubleshooting that you can do:
Use Original Apple USB cable - This is why during any USB connection process; we strongly recommend using only the original Apple USB cable that came with the device otherwise use another Lightning USB cable available. You may also want to consider using a different USB port or use another computer.
Set correct iPhone/iPod/iPad Date and Time – On your iOS device, make sure you have set proper date and time at some point, incorrect date and time can lead to iPhone error 14 (iTunes error 14).
Computer and iOS device restart – If at first attempt the iPhone error 14 shows up, try restarting both devices, your iPhone or any iOS devices and the computer.
Disable Security Software – If you have installed security software on your computer, try to disable temporarily and retry the iOS 11 update. If iPhone error 14 still shows, uninstall the security software and redo the process.
Update Xcode 8 on Mac – If you are using Mac, you may consider installing the latest version of Xcode 8 by going to Apple's developer's site (https://developer.apple.com/xcode/)
Update iTunes before iOS update – Apple is working non-stop to give optimum performance on all iOS devices so every now and then they are releasing new software versions of iTunes. You can go to the App store and look for Updates then you will see all the available and latest iOS software versions.
iOS 11 Backup and Clean Restore – Doing a backup and clean restore will easily fix the iPhone error 14 (iTunes error 14). In order to do this process, you have to carefully create a backup. After making sure that there is a backup, restore iOS 10 version via iTunes and use the .ipsw file from Apple's developer's website to clean restore the iOS version 11 beta. Once the iOS 11 beta is installed, you can restore your personal data back.
Part 3. Advanced Troubleshooting Steps for iPhone Error 14
If the above basic troubleshooting guides do not work for your iOS device, you may want to proceed with the rest of the available fixes for iPhone error 14. However, we suggest that if your phone is still under 1 year Apple manufacturer warranty, you can visit any retail store and let them fix it for you or have it replaced. If not, proceed with the steps below:
Forced Hard Reset – iPhone error 14 or iTunes error 14 can be fixed easily by doing a hard reset on your device but this step can totally remove all the data stored on your iPhone/iPod/iPad. If you are confident that you have created a backup, then proceed with the reset. To properly hard reset your iPhone, press the "Sleep/Wake" and "Home" button at the same time for about 10 seconds until the phone screen is black and will restart. Once the device has restarted, it will ask for your phone security passcode. You can verify if the hard reset has fixed the iPhone error 14.
Delete or Remove.IPSW file on Mac and Windows – IPSW is an Apple device software update file on all Apple devices that are being used for new software and feature releases as well as fix all software vulnerabilities. This file can also be used to restore any Apple devices to its factory setups.
You can find the IPSW file location on the following OS:
On Mac: ~/Library/iTunes/iPhone Software Updates
On Windows 8/10: Users\Username\AppData\Roaming\Apple Computer\iTunes\iPhone Software Updates
For Win 7 below: Users\AppData\Roaming\AppleComputer\iTunes\iPhone Software Updates
After you have located the .IPSW file you can now restart the process:
Close and Re-launch iTunes
Delete .IPSW file
Go to System Drive>User>Username>AppData> Apple Com> iTunes>iPhone Software Updates
Restore and Upgrade your iPhone.
Part 4. Fix iPhone Could Not Be Updated Error 14 without Data Loss
We all don't want to lose our phone data and other important files as much as possible so this is the main reason why FoneDog – iOS system recovery software was developed. This third party software fixes all the known iPhone and iTunes errors and works conveniently to all Apple devices.
You can easily manage and handle all iPhone errors and issues without the fear of data losses. You can simply go to FoneDog website and download the iOS System Recovery software.
Check out the steps below on how to use FoneDog – iOS System Recovery software to help fix iPhone could not be updated Error 14 without data loss:
Download, install and launch FoneDog – iOS System Recovery.
Allow FoneDog iOS System Recovery scan and repair.
Repair, update and restore complete.
Step 1. Download, install and launch FoneDog – iOS System Recovery
On your computer, go to FoneDog website, and download the FoneDog - iOS System Recovery software. After the download, install the program and let it run. Once the program has launched, connect the iOS device using a USB cable to the computer. Again, we remind you to use only an original USB cable that came with the box or use another Apple USB cable.
After launching the program, check and confirm the connection in order to start the update and restore process. This is an important step in the recovery procedure.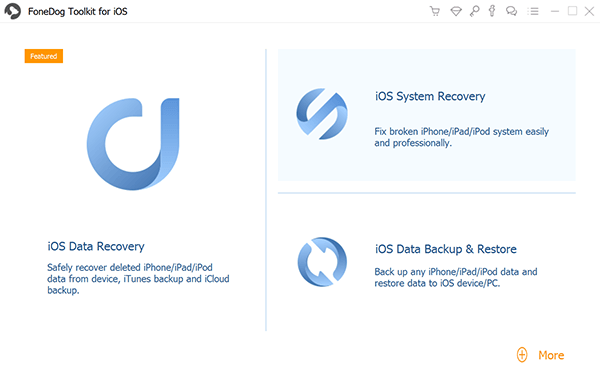 Step 2. FoneDog iOS System Recovery Scan and Repair
During the scan and repair process, make sure that there will be no interruptions in between the two devices that can affect the update and restore. Avoid using the iPhone as well while the process is on-going. The downloading, scanning and repairing can take up to 10 minutes depending on the network speed.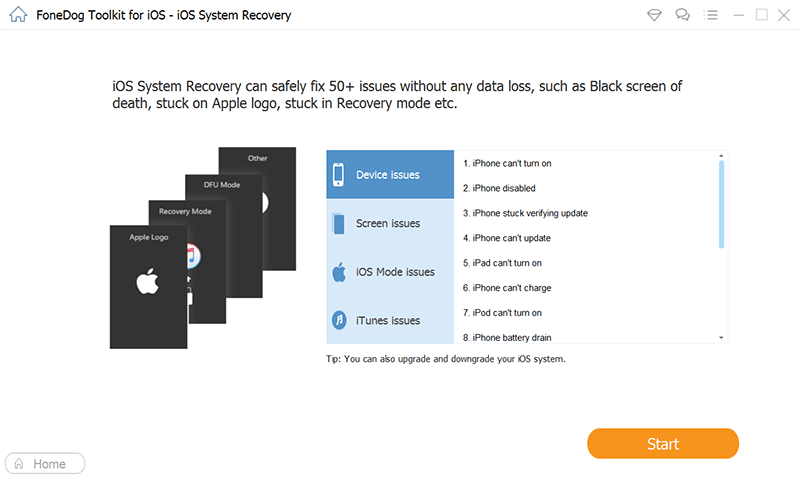 Step 3. Repair, Update and Restore Complete
If you see a message that says "Repair of the Operating system is complete" this means that the iPhone has been restored and updated without any data losses. iPhone error 14 will no longer pop up.
There are a lot of possible solutions to fix iPhone error 14 or iTunes 14. However, almost all free solutions have the same denominator which deletes all the data stored on the affected device. With FoneDog – iOS system recovery software, you can update, restore and repair any iOS device confidently.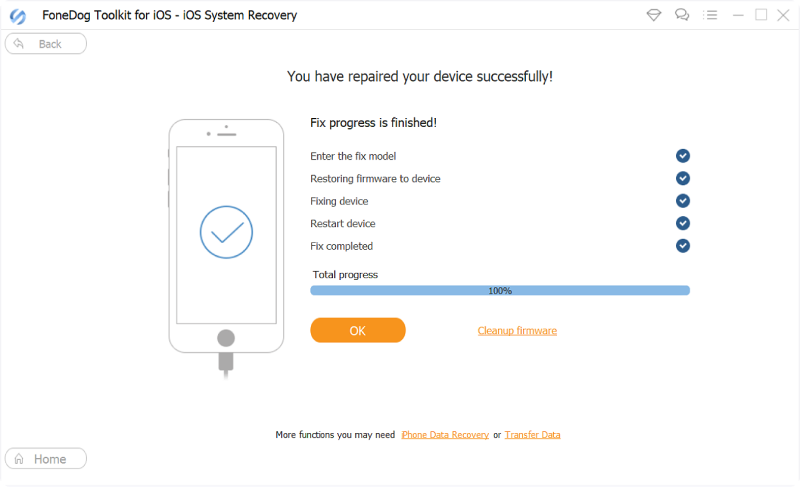 Video Guide: How to Fix iPhone/iTunes Error 14 after iOS Update
Part 5. Check out iOS 11 Cool Features
iOS 11 has added new features and upgraded current features in iPhones. In order for you to fully maximize and unlock your smart phone's potential, you need to understand how to use your device without causing too much strain on it. Here are few of the cool features you can get from iOS 11:
Better User Interface Design – iOS 11 gives a fresher look and convenient functions to iPhone. Developers have created new and manageable widgets that allow you to edit your screen easily.
Delete Default apps – If previous versions do not allow you to remove default apps like FaceTime, Calendar, etc… Now you can remove these stock apps from the iPhone so you can have the freedom to use whatever apps suit you.
Touch ID – iOS 11 allows you to unlock your iPhone with just a single click. There is no more "Slide to Unlock" feature with the use of fingerprint recognition.
Powerful Siri – In iOS 11, Siri was given more power to command apps even on 3rd party applications like WeChat, WhatsApp etc…
Part 6. How to Fix iOS System Errors
Having an essential troubleshooting partner is really a great advantage especially during the rough times when you do not understand the things happening on your device. FoneDog – iOS System Recovery is truly world-class software that you can rely on.
If you experience any freezing, black, red or white screens, error code issues, stuck on Apple icon, stuck in recovery mode and much more; you can trust FoneDog toolkit to work and repair your device.