How to Fix White Screen of Death on iPhone Devices
by Wian LJ | Lasted Updated 2018-05-10 07:22:58
Part1. When Sudden White Screen of Death Strikes
Does your iPhone meet white screen of death? Are you looking for a solution to fix iPhone White Screen of Death? Then you come to the right place. Let's read the following.
When you thought you handled all things smoothly during a busy day when suddenly your iPhone drops. You checked to see if there are scratches or whatever but there was none so you continue to use it in making calls and messages like the normal.
However before the day ends, when you checked on your phone to update your friends for tonight's dinner and get together that was planned a week ago, your phone got stuck on the loading screen. Now there is no way to let them know about it. You patiently waited for few minutes but the screen just turned white.
iPhone white screen or often called White Screen of Death (WSoD) is a common hardware or software problem of most iOS devices. This means that your iPhone got locked up because of many physical factors like severe dropping or there might be some loose physical parts inside the iPhone that lead to the white screen or stuck on the loading screen.
At some point, it can be also caused by failed software or application updates. Chances are there will be cases that can be fixed by a simple hard reset like holding the buttons "Sleep/Wake" and "Home" altogether to reboot the iPhone, however, there are worse cases that need to do system recovery that may lead to data losses. Here are the major reasons why white screen of death happens:
Hardware problems- dropping, too much sun or light exposure and many other physical factors can cause iPhone white screen issues.

Jailbreaking- Yes, this can severely affect your iPhone. Modifying the device's firmware without proper knowledge can lead to irreparable damages.

iOS updates- Failure to update your iPhone to the latest build can also cause white screen of death issue. Better to be safe and to update when the OTA (over the air) notice is received than feel sorry for yourself.
Part2. How to Fix White Screen of Death on iPhone X/8/7/6/5/4
Before you start panicking about your iPhone white screen, you may want to consider doing troubleshooting steps on your own. By following the basic troubleshooting guide, you will be able to learn the probable cause of the issue and the best possible solutions.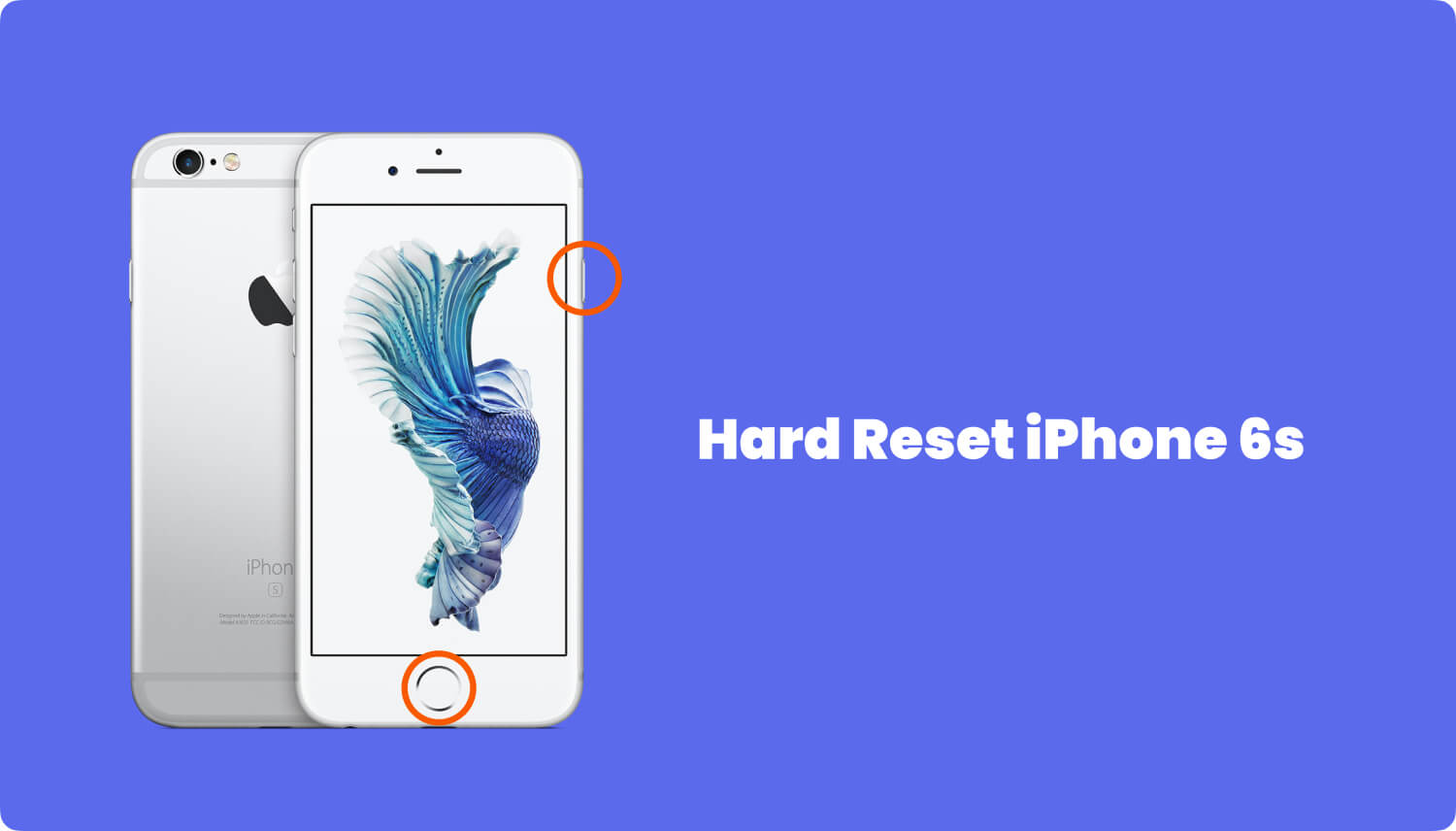 Option1. Forced Hard Reset to Fix White Screen of Death
Only perform the forced hard reset in iPhone white screen, freezing or not responding completely. Follow the basic steps on each iPhone model devices.
On iPhone X and iPhone 8, 8 Plus

Press and quickly release the

Volume Up

button.
Press and quickly release the

Volume Down

button.
Press and hold the

Side button

(aka power) until you see the Apple logo.
On iPhone 7 and 7 S Plus:
You need to Press and hold both the Sleep/Wake and Volume Down buttons for ten seconds until you see the Apple icon.
On other iOS devices:
Gently press and then hold both the Sleep/Wake and Home buttons for ten seconds until you see the Apple icon.
Option2. Restore via iTunes
Another way to fix iPhone white screen is restoring it via iTunes. However, this will clear the iPhone's settings back to default set-up. Here are the steps to do it:
Using the USB cable that came along with the iPhone, Open iTunes on your desktop and plug in the iPhone.

Gently press and hold the "Sleep/Wake" and "Home" buttons down for 10 seconds.

Release the "Sleep/Wake" button but keep holding the "Home" button if you see a message "iTunes has discovered a device in recovery mode, you must restore this before it can be used with iTunes" pops up.

On the left side panel, click on the icon and click on Summary. Under Backups section, look for the "Restore Backup" and choose the file you want to restore and click Restore when a pop-up dialog box shows the message of confirmation.

After the software download is complete, iTunes will then restore your iPhone.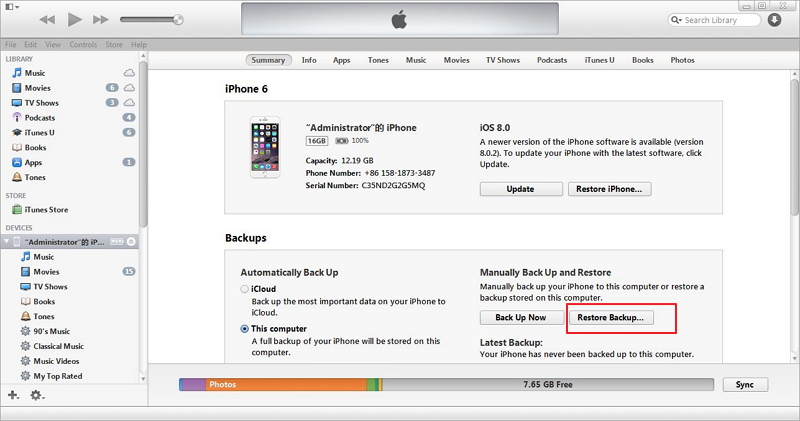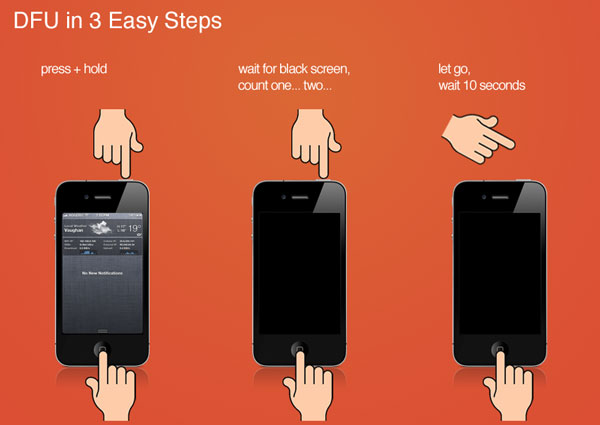 Option3. Fixing White Screen of Death by Restoring iPhone DFU mode
DFU or Device Firmware Upgrade will allow the iPhone to be restored to its original set up. This is done by modifying the firmware of the device and in most cases; this is how they perform a jailbreak. To enter DFU mode on iPhone, follow the steps below:
Using the USB cable that came in the box, connect your iPhone to the computer. The iPhone can be On or Off.

Press and hold the "Sleep/Wake" and 'Home" buttons for about 10 seconds

Release the "Sleep/Wake" button but keep on holding the Home button for 15 seconds more

You will be notified by iTunes that the iPhone has been detected in Recovery mode.

Release the "Home" button when the screen is completely black and restore the iPhone with iTunes.

However, if you encounter any error message that you failed to enter DFU mode, you need to repeat the steps from the beginning.
Option4. Use iOS System Recovery to Fix White Screen of Death
For this option, you need to download and install third-party software to help you with the iOS system recovery for iPhone white screen issue. FoneDog is the world's leading iPhone recovery software that is easy to use even for non-technical persons.
All you need is to run the software and in no time, you can have your phone back and everything in it. Follow these steps on how to use FoneDog iOS system recovery:
Download FoneDog iOS System recovery software and install.
Launch the software and when your iPhone has been detected click "Start" on the "iOS System Recovery" screen.
Click on "Repair" and allow FoneDog to repair the iPhone with the latest iOS firmware version.
After the firmware has been downloaded, FoneDog will finalize the repair process for the iPhone white screen
This process takes around 10 minutes to complete the recovery using FoneDog iOS System. The steps are so simple that anyone can do it and the best part is, all your photos, contacts, messages and all data are safe and sound on your iPhone.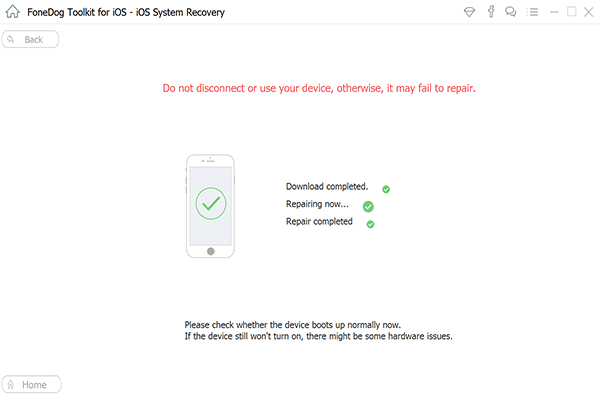 Part3. How to Avoid Getting Stuck in Loading Screen or White Screen
Suffering from the white screen of death is terrible especially is it may delete all your data inside. Luckily, there are helpful and effective tips on how to take care of your iPhone to avoid getting struck with this deadly white screen issue.
Use protective cases especially on the edges to prevent big impact and damage on the device when dropped.

Too much sun or heat exposure may cause white screen issues as well as mostly or damp environment. Dust can also be a factor, use a protective coat on the phone surface itself to avoid scratches and dust from getting in.

Reboot your iPhone every once in a while. Turning on and off for at least 5-10 seconds can refresh the phone. Make it a habit to set a reboot schedule.

Do not overuse the battery especially if it is about to die out. Do not prolong your phone usage when you know that the battery is getting low. Make sure to follow the proper way of charging your iPhone to avoid other issues in the future.

Always update your iPhone to the latest build or firmware to keep up with the bug fixes and other issues.

Update apps one by one to ensure that the update is truly done and completed. Do not use the Update All option.

Upon updating your firmware, avoid using the phone and allow the update to finish. Interrupting it may cause more harm on your iPhone.

Do not jailbreak your iPhone as much as possible unless there is a technical problem that needed to do so. Ask for assistance or research on how to do the process.

Create and update your iPhone backups every now and then. This will help you avoid getting those files lost and cry over spilled milk.
Part4: Video Guide - How to Fix iPhone Stuck on White Screen
Part5. The Amazing FoneDog iOS System Recovery to Fix iPhone Issues
Among those options mentioned above, using the FoneDog iOS System Recovery is the best way on how to troubleshoot your iOS devices. Everyone fears of losing their important data, files and other information stored on the iPhone that even just a small glitch makes everyone scared.
Some people think that they are using a defective phone so they usually send it back to the store if they are still on remorse period or under warranty and have it replaced but unknowingly, this kind of issue will still happen if not taken care of. Restoring backups from iTunes takes longer time compared to using third-party software.
Because of these technical issues, FoneDog iOS system recovery was developed to help iPhone users have worry-free smartphones. FoneDog iOS System Recovery is the perfect partner for iPhone white screen issues or stuck on loading screen which makes it the most recommended third party software.
This software is best for iPhone, iPad and iPod Touch guaranteed effective and 100% secure. Be kind on your devices and allow them to rest at some point, follow the right tips on how to handle and manage technical issues when something arises.
Remember, these devices perform better when cared better too. If all else fails when the troubleshooting is done and options are exhausted, try FoneDog iOS system recovery software, it will do the hard work for you.
How to Fix White Screen of Death on iPhone Devices
Tips & Trick to Fix Your iOS System
Fix iTunes and iPhone Error
iOS Update Failure & iTunes Error 3600