By Nathan E. Malpass, Last updated: January 4, 2023
What is the real story?
I have an iPhone 5C I have never dropped it nor does it have water damage, before I went to sleep I was working fine when I woke up the screen was completely black! I can still receive calls(it rings but I can't answer) and It playing my music(Through headphones). What do I need to do?
If you're seeing a black screen from your iPhone device and it's not turning on even after several long presses on the Sleep/Wake button, you can suspect that it's now suffering from the Black Screen of Death issue. Let's explore the reasons why this has happened and how you can fix such problem.
Part 1: Possible Reasons for Your iPhone's Black Screen of DeathPart 2: Fix Black Screen of Death Due To Hardware Damage of your iPhonePart 3: 2 Common Ways to Fix the iPhone Black Screen of DeathPart 4: Hard Reset Not Working? Fix Black Screen of Death Here(iPhone X/11/12/13/14 Supported)Video Guide: How to Fix Black Screen Death on iPhone
Before We Fix iPhone Black Screen of Death Issue:
After several years of researching and writing applications for iOS devices, we have now created a tool that can be used by everyone.
Check here: Download FoneDog iOS System Recovery to repair black screen iPhone and fix other system errors easily. If you don't want to use an automatic tool, we have also collected some information and solutions below so you could have a try.
iOS System Recovery Fix with various iOS system issues like recovery mode, DFU mode, white screen looping on start, etc. Fix your iOS device to normal from white Apple logo, black screen, blue screen, red screen. Only fix your iOS to normal, no data loss at all. Fix iTunes Error 3600, Error 9, Error 14 and various iPhone Error codes Unfrozen your iPhone, iPad and iPod touch. Free Download Free Download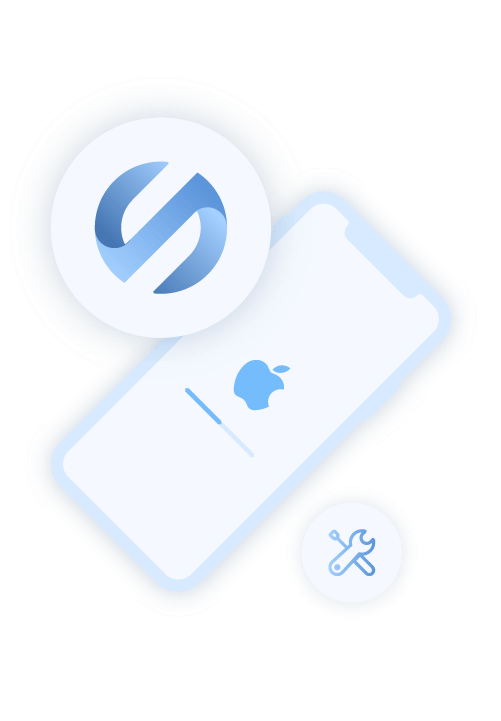 What Is iPhone Black Screen Issue?
The Black Screen Death issue is a widely-known issue in desktop computers and laptops wherein users are just seeing a black screen on the computer monitor. And now, this one is already happening on mobile devices too, especially iPhone devices.
The most common culprit to this problem is the hardware failure brought by device misusages or mishaps, an internal component getting damaged, or a recent update has failed and causing the system to get corrupted.
Part 1: Possible Reasons for Your iPhone's Black Screen of Death
If your phone is showing a black screen, it could be caused by hardware damage or failed software update. If the black screen issue has brought you some trouble, you'd better reset your iPhone to fix it.
A. Hardware Damage
A possible cause of the Black Screen of Death issue on iPhone devices is a hardware fault or damage, which can be due to accidentally dropping the device or getting it soaked in water for a long time.
Such events might have damaged the hardware components of your iPhone, which has led to the black screen and being unable to turn on your mobile device at all.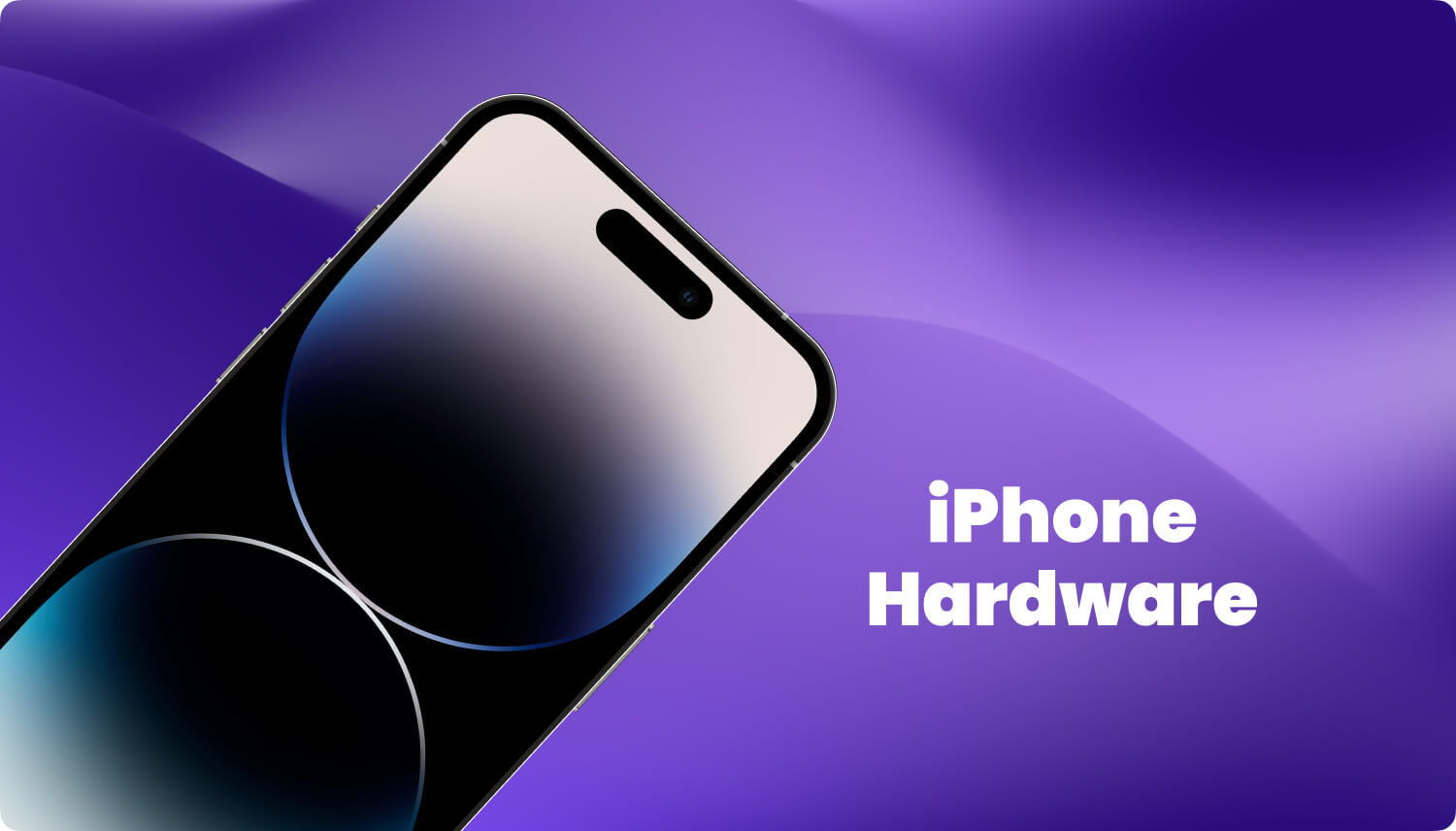 B. Failed Software Update
If you believe you're always very careful not to drop your iPhone on the ground or not even get it wet by water or sweat, then it's likely that the cause has originated from the software part.
If you did a recent update on your device but it failed to get completed, such event could have possibly got the phone system to be corrupted, leading to the black screen issue you're now encountering.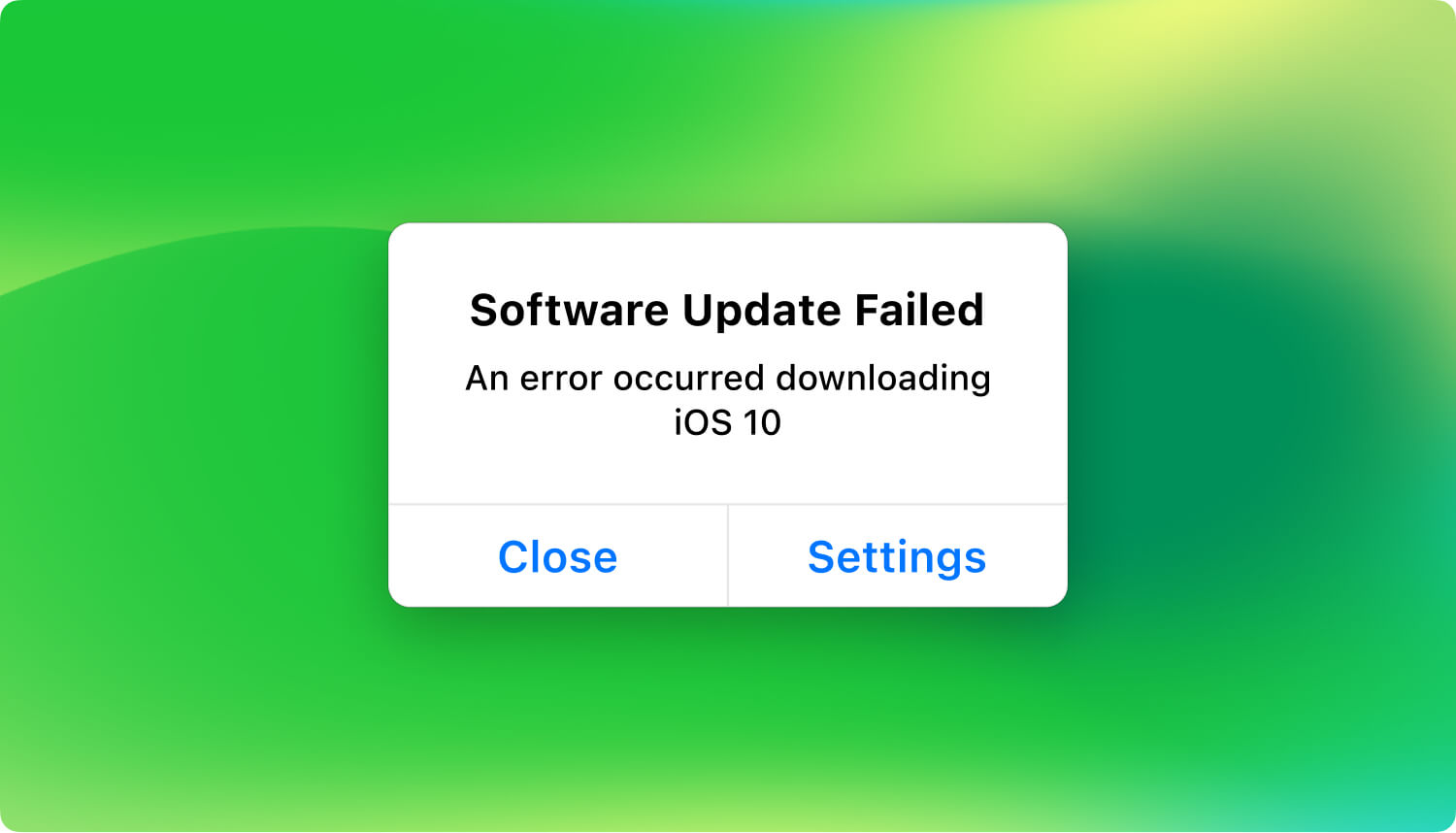 Tips:
More information about Fail Software Update:
Part 2: Fix Black Screen of Death Due To Hardware Damage of your iPhone
If it's a hardware damage that has caused your iPhone device to just show a black screen, the only thing you can do is to bring it to an authorized Apple service center and have it checked by mobile hardware specialists. By doing so, you can determine how such hardware issue has happened and how your phone can be fixed.
Bottom Line?
Keep Reading...
Part 3: 2 Common Ways to Fix the iPhone Black Screen of Death
The black screen issue is truly bothersome, but you can try fixing it through the common solutions that people mostly perform on their iPhone devices. Follow through on the solutions below and see if the black screen issue has been fixed from your phone.
A. Perform a Hard Reset on your iPhone
Forcing your iPhone device to restart can help the internal system to terminate all its ongoing processing (including those that might be causing the black screen issue to keep on showing) and re-initiate them correctly.
To do this, perform a long press on both the Sleep/Wake button and the Home button, and hold for several seconds until the Apple logo appears and the reboot takes place.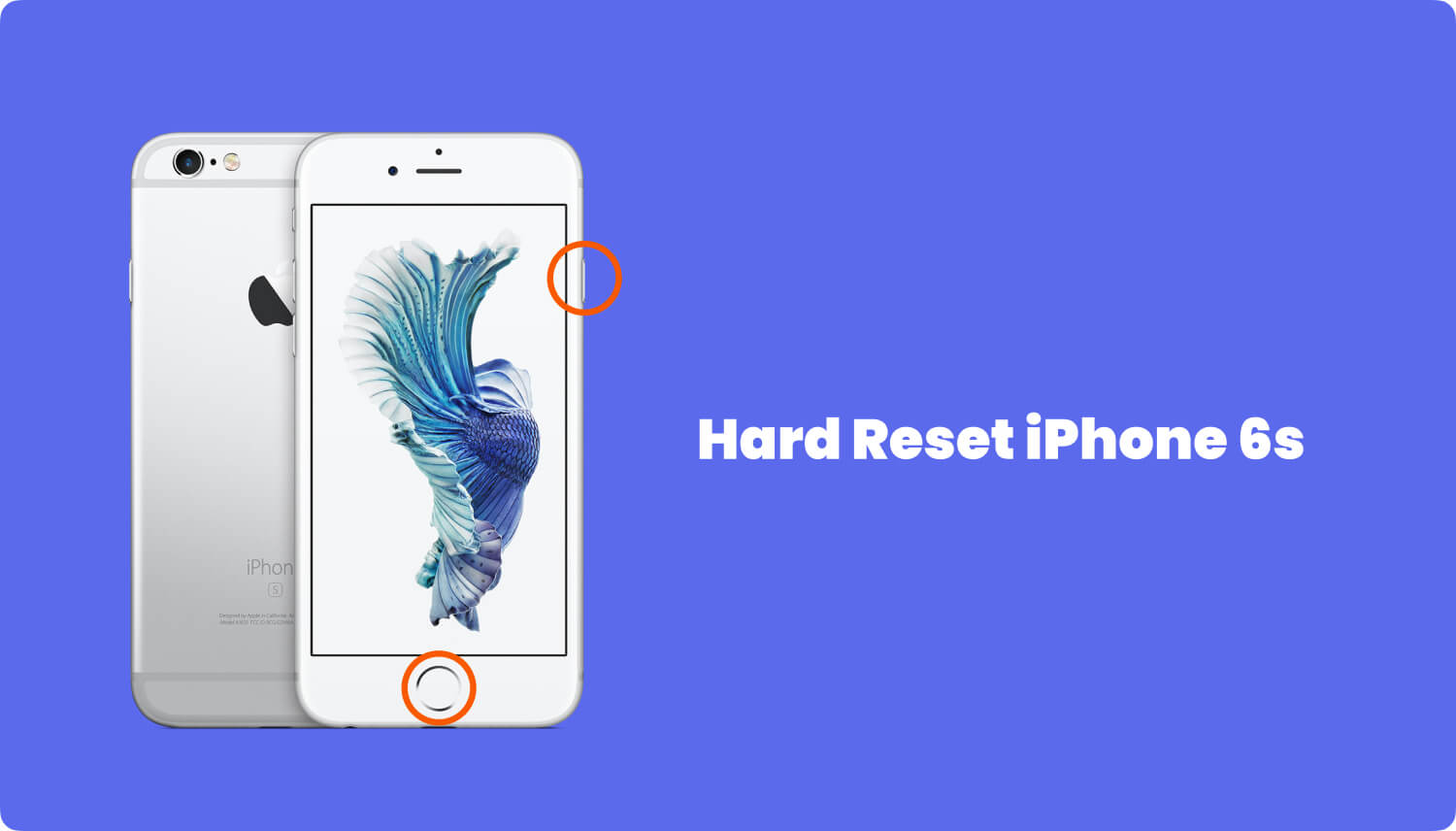 B. Restore Factory Settings using iTunes
If the force restart didn't work, you'll now need to restore the factory settings of your iPhone device. Take note that this should be your last option, as doing this approach will erase all your phone's current data.
But to stop you from getting concerned over this, we highly recommend that you perform a backup of your current phone data first before proceeding. If you're now ready to do this, follow the steps below:
Open your desktop computer or laptop and check if iTunes is already installed on it (if not yet installed, download iTunes and install it first; if you don't have a computer to use, you can go to your local Apple Store and ask their assistance).
While the iTunes is being installed or launched, connect your iPhone to the computer. And make sure that it will be detected by the program through finding the iPhone icon appearing on the menu row on the upper left corner.
Click the iPhone icon to view the settings and details of your phone.
From the Summary Panel, find the "Restore iPhone…" button and click it. A confirmation message will pop out that will tell you some reminders before proceeding. Click the "Restore" button if you're now ready for the restoration process of your phone's factory default settings.
Wait for the iTunes to finish the factory settings restore.
Once done, your phone will auto-reboot with the new settings applied to it by iTunes.
Once your phone has successfully turned on, you can now proceed in restoring the backup file you've previously made before the factory settings restore procedure.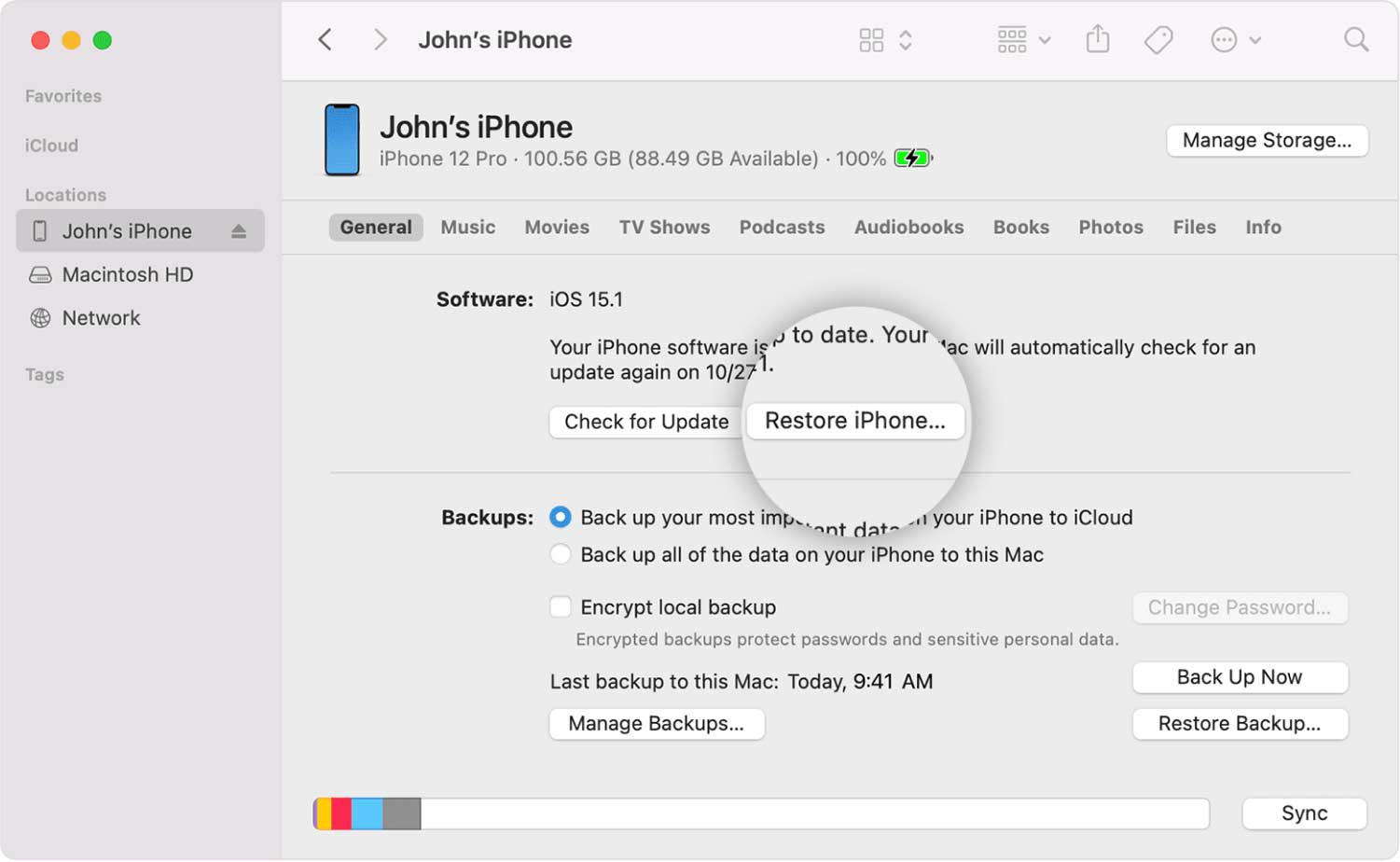 Tip:
If you are worried about the data on your iOS devices will be erased after choosing the Restore iPhone option, you can use FoneDog Phone Transfer to help you transfer the data backups from your PC to your iPhone later.
Part 4: Hard Reset Not Working? Fix Black Screen of Death Here(iPhone X/11/12/13/14 Supported)
If it's because of a recently failed software update that got your phone into showing the Black Screen of Death, you'll now need professional help on this matter. We introduce to you our FoneDog – iOS System Recovery.
This is a professional tool that offers easy and comprehensive instructions for resolving many pertinent iOS issues including the Black Screen of Death on different Apple devices such as your iPhone. It supports the latest iOS version and iPhone model. Get the free trial here:
To fix the iPhone black screen of death issue, here are the complete steps:
Launch FoneDog – iOS System Recovery.
Connect your iPhone and the computer
Click Start to proceed to the system recovery process.
Download the firmware.
Click "Repair" to fix the black screen iPhone.
Turn your iPhone after repair.
Step 1: Launch and Connect Your iPhone.
To begin, download our FoneDog – iOS System Recovery application and install it on your desktop computer or laptop. Once done, launch the program, and while waiting for it to run open, connect your iPhone device to the computer.
Step 2: Detect the Affected iPhone Device.
After launching FoneDog and connecting your iPhone to the computer, check the program if it has already detected your mobile device. If it has, you can proceed to the next step.
The FoneDog application features a lot of modules to use depending on the user's needs for his or her iOS device. For your case, locate the "iOS System Recovery" menu (represented by a gear icon with a wrench) from the main menu.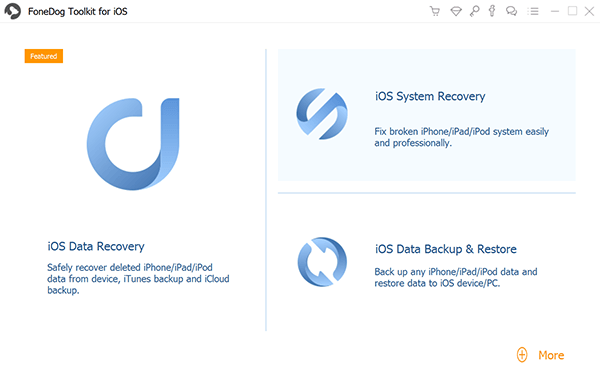 Step 3: Proceed to the System Recovery Process.
Read through the instructions shown on the home page of the System Recovery menu. A few important reminders before proceeding include (1) the system recovery process won't cause any files and data to be lost or erased from your phone, (2) your phone will be locked again if it has been unlocked (GPP or Factory Unlocked), and (3) it will be restored back to non-jailbreak status if you have successfully performed a jailbreak procedure on it previously. Once done, click "Start" button.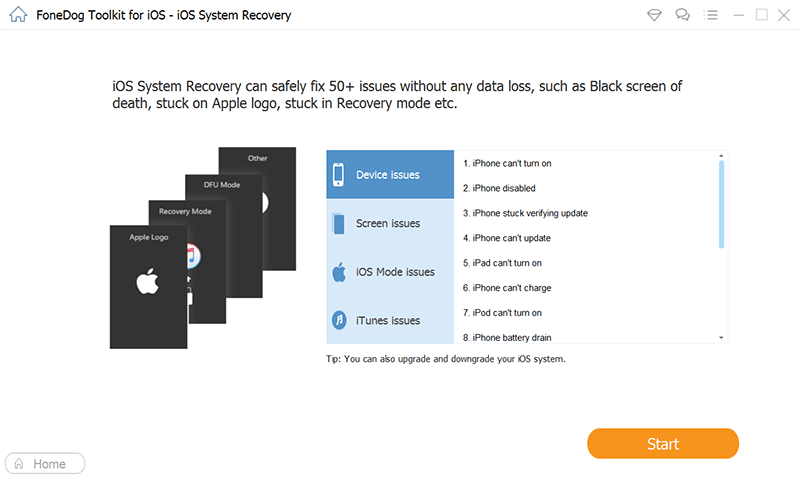 Step 4: Download the Firmware to Fix Black Screen of Death issue.
To recover the iOS system of your iPhone device, you'll need the firmware that corresponds to the model of your phone and the iOS version it currently has. Still, in the "iOS System Recovery" page, there are drop-down fields for you to select but only do so when FoneDog toolkit wasn't able to detect the correct specs of your iPhone device. Please take note that only the latest firmware is available for download, such as the ones for iOS 10 version. Click the "Repair" button to download the firmware. Once done, click the "Select" button to commence the system recovery and repair procedures.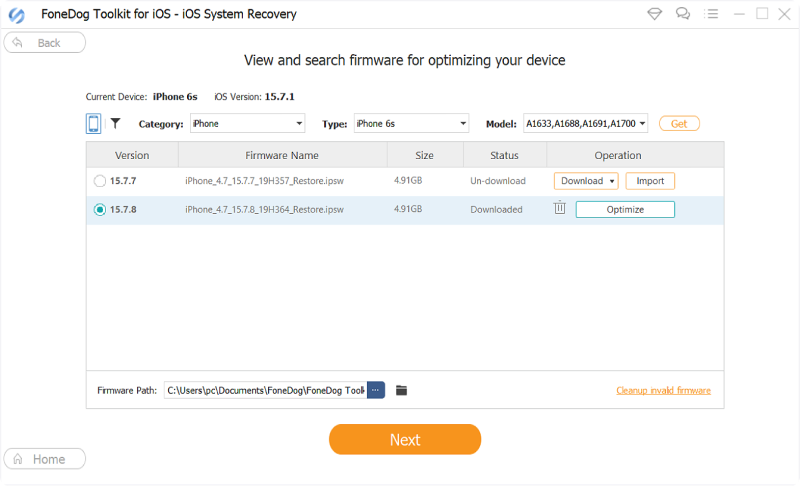 Step 5: Repair in Progress.
After downloading the firmware for your iPhone device, FoneDog will immediately start the repair process. To ensure that the system recovery and repair will be successful, make sure not to unplug your phone from the computer, and don't attempt to use it while this process is taking place to prevent having your device getting "bricked".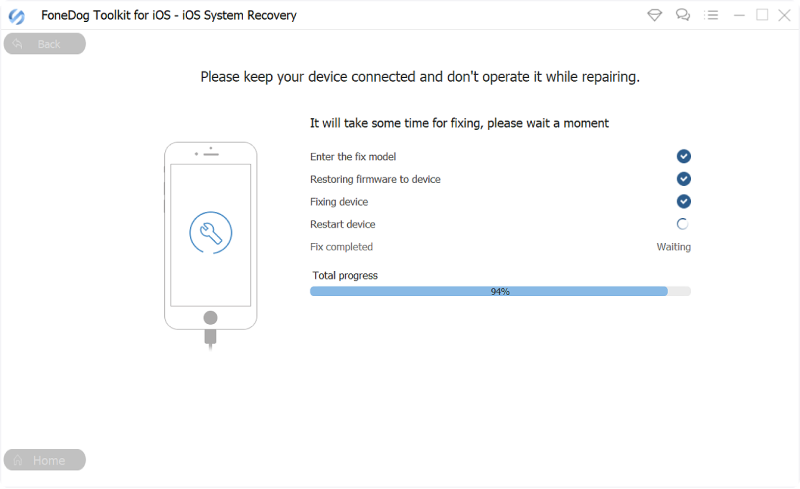 Step 6: Turn on the Device after Repair.
Once the system recovery and repair has completed, FoneDog toolkit will show you a confirmation message indicating that you can now reboot your phone. Turn it on and see if the black screen issue is solved.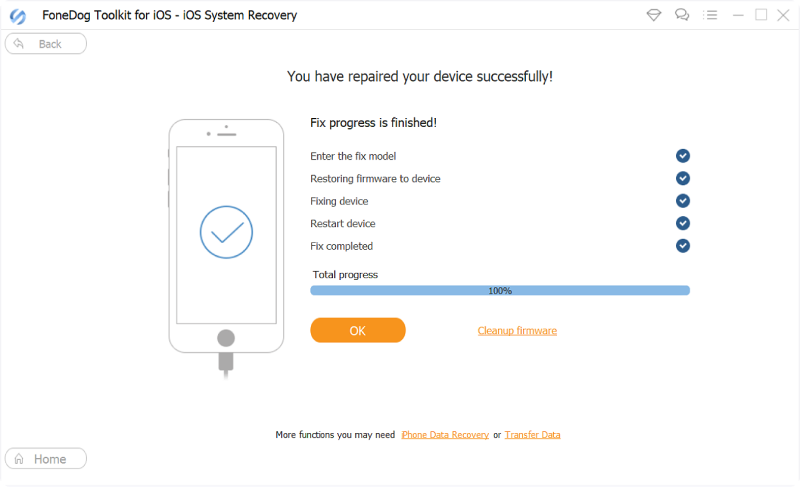 Video Guide: How to Fix Black Screen Death on iPhone
Resolving the Black Screen of Death issue of your iPhone device can be very infuriating, especially if it happened at a time where you needed your phone the most. If it's due to a hardware damage, there's nothing you can do about it except to bring it to a mobile repair specialist and have a complete check on its hardware components.
But if it's caused by a software update mishap, you can use the help of FoneDog – iOS System Recovery to fix the issue, and you can always do this if such a problem occurs again in the future.