"I cannot download apps from the AppStore on my iPhone; I usually get this error (Your request cannot be processed... Error Code 1009) which is already very inconvenient for me because even when I tried to purchase apps, the same error appears." ~Sofia
Before We Fix iPhone Error 1009:
Having concentrated on software development for several years, we have created a great tool that is powerful and easy to use for every iOS user.
Here is a tip for you: Download FoneDog iOS System Recovery to fix iPhone error 1009 or various iOS errors in the quickest way. In case you want to fix the error all by yourself, we have also collected some useful information and basic solutions below.
iOS System Recovery Fix with various iOS system issues like recovery mode, DFU mode, white screen looping on start, etc. Fix your iOS device to normal from white Apple logo, black screen, blue screen, red screen. Only fix your iOS to normal, no data loss at all. Fix iTunes Error 3600, Error 9, Error 14 and various iPhone Error codes Unfrozen your iPhone, iPad and iPod touch. Free Download Free Download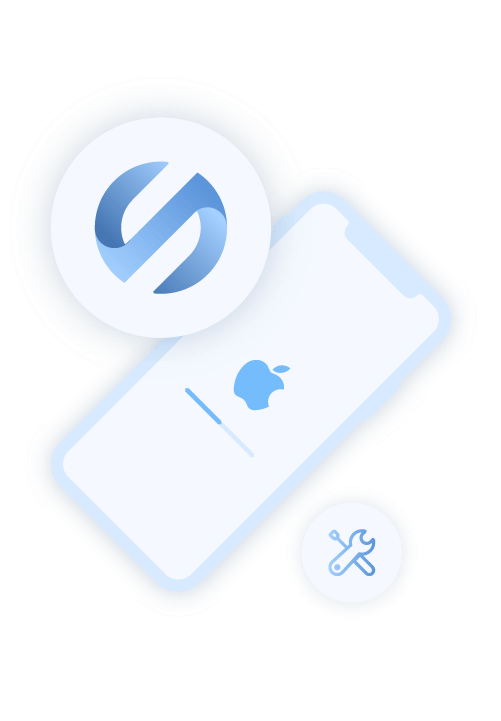 Part 1. What is the iPhone Error 1009 and What is its Happens Condition?Part 2. Quick Fix for Error 1009 iPhone (Error Code 1009)Part 3. Fix Error 1009 iPhone By Using FoneDog iOS System Recovery
Part 1. What is the iPhone Error 1009 and What is its Happens Condition?
What Is iPhone Error 1009?
iPhone Error 1009 usually happens when the IP address of the app you are trying to download or purchase on the iOS device was logged by Apple to an area that is not supported by their service. It also could be caused by the default proxy settings not applying to your device.
This isn't true all the time since of course IP addresses can be altered and changed purposely so it triggers a big confusion in communicating with Apple's servers.
All iOS devices like iPhone, iPad, and iPod Touch are assigned to the country or area where they were purchased or the point of sale. This means that all required information such as personal profile, accounts, and credit card details should actually match the origin or at least in an area supported.
The iPhone error 1009 (Error Code 1009) can be caused by the app or the account information in the app or even the network connection except for the hardware. Most iOS users usually get this error every time they download free apps from the AppStore or in the iTunes when their IP is assigned to a new address or have moved location. Some cases can be caused by the specific app that has been downloaded.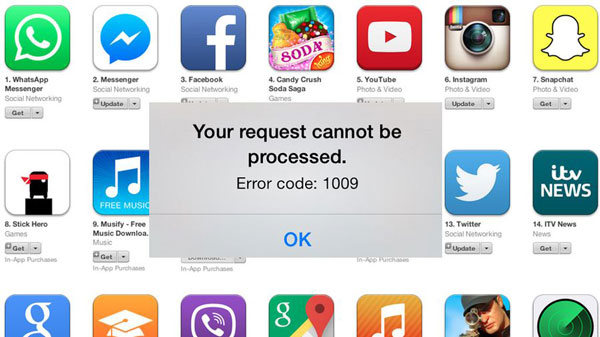 Part 2. Quick Fix for Error 1009 iPhone (Error Code 1009)
How to troubleshoot when you encounter Error Code 1009
Application- When you received the iPhone error 1009, you have determined the reason behind, for example, if you see the error on your favorite app on the iPhone, try to access the same application but using a different platform. Like if you see this error while watching videos, try watching videos on your browser to check if the error still appears. You can check for the latest app updates from the AppStore and if there is an available version, update the app that is causing this issue. Though almost all apps now are automatically updating, some still needed to be done manually from time to time. Remember that when you update your iPhone's iOS version, you need to keep your downloaded/purchased apps in sync with the device's software as well.
Network Connection – If the problem lies with the internet connection, you should be seeing iPhone error 1009 almost every time you try to connect or open an app.
Account Information – If this iPhone error 1009 appears during iTunes or AppStore download and purchase, try to review your personal details including your address and credit or debit card information.
What to do when you see Error Code 1009
Reboot – A quick reboot may help freshen up the iPhone and all the apps. Remember that in any kinds of troubles you are experiencing on your mobile device, let it rest for a while to regain its performance and then restart it after.
Uninstall/Reinstall – When the issue is app-specific and an update did not resolve the error, uninstall the app and then reinstall it afterward.
Reset Network – When you are seeing iTunes connections error, it can be caused by internet connection. Reset it to default connections or power off the Wi-Fi router for a while then turn it back on.
Set Automatic Proxy – Use automatic proxy configuration settings on your iPhone to avoid getting this error. Go to Settings > Network > Choose Network > Tap the arrow button to reveal other options > Scroll and find HTTP Proxy > Check if the Automatic Proxy Configuration file is on.
VPN Service – You can also configure the VPN service on the iPhone to get rid of this error when downloading. Go to Settings > General>enable VPN > Add configuration > choose your desired configuration by supplying details needed > Turn off Proxy. First, make sure you have downloaded a reliable VPN service either free or purchased. You can also download the VPN service to your iTunes account to let it sync.
Part 3. Fix Error 1009 iPhone By Using FoneDog iOS System Recovery
Understanding the cause of the Error code 1009 is very important before you go ahead and search for effective solutions. We need to determine first how and why did this error appear because this error is usually easy to fix depending on the root cause. Of course, there is no other easiest way to resolve this iPhone error 1009 unless you use third party recovery tool. FoneDog iOS System Recovery is simple and easy to use with flexible options.
It has click-through process that is very convenient for people who are non-technical and compatible with all iOS devices like iPhone, iPad, and iPod touch. FoneDog iOS System Recovery fixes various iOS errors like error 1009 iPhone, iPhone error 3014, iTunes Error 21, and much more. Apart from that, it can troubleshoot other iOS system issues like freezing, be crashing, be looping at the start, stuck on recovery mode, stuck on Apple logo, black screen of death, white screen of death, and more. It is also perfectly working with Windows and Mac computer so it allows more users to use this software. To learn about how this program works, follow these guides below:
Step 1. Download and Run FoneDog iOS System Recovery
The first step is to download the FoneDog iOS System Recovery on your computer (Win or Mac) and follow the installation instructions. After the installation is complete, you need to run the program and launch it afterward.
On the main menu, choose System Recovery among the tools by FoneDog iOS System Recovery. Click on the button and start to free trial.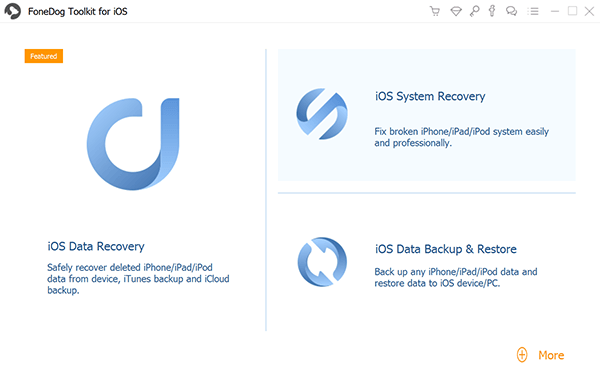 Step 2. Start Repair
Connect your iPhone X/8/7/6/5/4s. Then click on the Start button once you have set the right issue your device has. FoneDog iOS System Recovery will begin the repair process.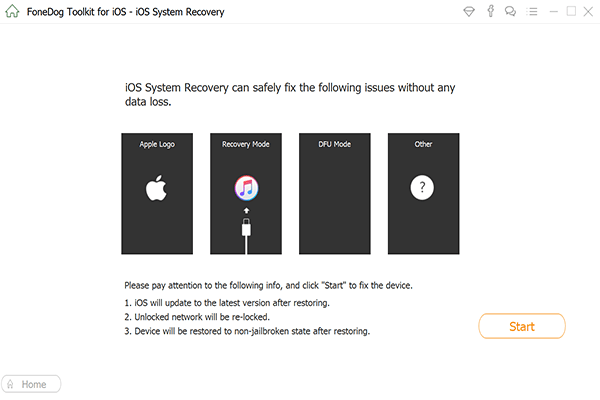 Step 3. Download the Firmware Package
You will need to enter the correct combination of the iPhone and its iOS version in order for the FoneDog iOS System Recovery software to download the firmware package and extract it on the device.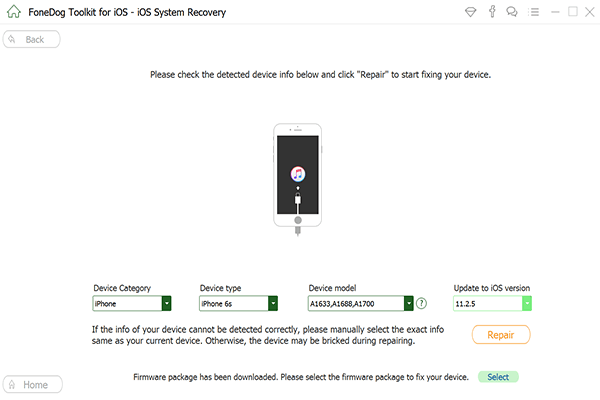 Step 4. Repair Completed
The total repair time may take about few minutes wherein you can see the progress on the screen as well. Once the process is successful, your iPhone will reboot and restarts like a normal iPhone. If the device did not boot up, you may need to redo the entire process.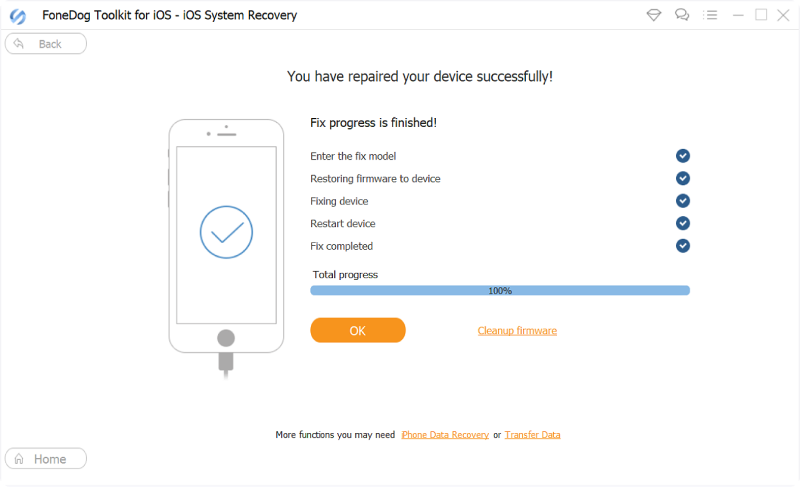 iPhone error 1009 (App Store Error 1009) is so easy to fix when you have the right program. Choose FoneDog iOS System Recovery to ensure safe, effective and guaranteed recovery for all iOS devices and errors.