"I cannot find the mobile number of my client that was sent to me by my friend last week. I have lots of text messages on my iPhone so I was wondering if there is a way to search text messages/iMessages on iPhone easily."
SMS is Short Messaging Service or more commonly known as Text Messages. This is the most abused and used phone feature since mobile phones were created. It is very convenient to use and works on all types of mobile phones whether basic or the iPhones. It is still the most popular way of communication even in today's modern era where instant messaging or IMs have emerged.
Like the issue mentioned above, we are all guilty of having too much text messages stored in our inboxes that we barely notice until we find something important. iPhone has anticipated this kind of event in their users' phone experience so they made it quite convenient for all of us to search iMessage or text messages. To do this, read through this article and discover amazing methods to how to search iMessage and even recover deleted SMS.
Step 3. Searching is over
The FoneDog iOS Data Recovery will search through the entire iPhone for you. All you need to do now is to sit back and wait. Once the scanning and searching are done, you can see all the files found on the iPhone.
Under Messages and Attachments, you can now see all the messages on your iPhone, narrow down the result by typing relevant keywords in the search bar.
Once you have found what you were looking for, tick the box of the given selection and click either "Recover".
Solution 2: Using spotlight to search iPhone messages.
The spotlight is a powerful built-in feature launched in iOS 11 that allows all iPhone users to search text messages/iMessages or even anything and anywhere from the device. It is a quick way to find any phone features like apps, contacts, messages, notes, and anything you can think of.
You may have an option to edit what will appear on the Spotlight Search by going to Settings> General> Spotlight Search> Tap slider control (3-lined key on the right) by either moving the order or uncheck the labels so they won't be included in the Spotlight search.
To search iMessages/text messages on iPhone using spotlight, follow these steps below:
Step 1. Tap and swipe going right to bring up the Spotlight Search from the Home screen.
Step 2. On the search bar, enter the information you are searching for by typing any relevant keywords.
Step 3. Swipe down and scroll through the list when you see the search results and locate the message section by tapping on the message contents.
Remember that when searching using Spotlight, the results matching your query will appear from all messages such as text messages, emails, instant messages, and other contents on the iPhone.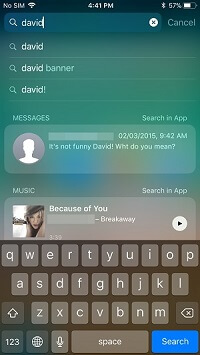 Search Text Messages/iMessages with Spotlight
Solution 3: Use Simple Search to Find Old Text Messages/iMessages on the iPhone.
Another built-in feature of iPhone devices is the search box option in the messaging application that will allow you to simply type in any relevant keyword. To search through iMessage using your messaging app, follow these:
Step 1. Open Messages.
Step 2. While viewing the inbox lists, swipe down to let the search box appear.
Step 3. Type in any keyword in the search box and the results will automatically update as you type. When you have finally found the message containing the text messages you were looking for, simply tap the message to open.
When iOS 10 or iOS 11 Spotlight Search not working, you can do the following steps shown as below:
Step 1: Open Settings > General > Language & Region
Step 2: Tap on iPhone Language.
Step 3: Choose the preferred Language.
Step 4: Tap Change to apply selections.
Some users have even weirder suggestions such as sending an email to your own iPhone device to let the Spotlight search working again. It may sound funny but there is no harm in trying though. These methods are just suggestions from other users as well so chances are; it may or may not work for everybody.
Apple has not yet fully resolved this kind of issue that affected most iOS 10 or iOS 11 versions. Eventually, iPhone will release another OTA that will resolve these issues but as of now, you can use FoneDog iOS Data Recovery for you to search iMessage/text messages and even recover deleted or missing files.