By Nathan E. Malpass, Last updated: September 21, 2020
Can I get back deleted contacts on my iPhone? And How do I retrieve deleted contacts?
Part 1. IntroductionPart 2. Recover Deleted Contacts Using FoneDog ToolkitPart 3. ConclusionPart 4. Video Guide: How to Recover Your Deleted Contacts from iPhone
Part 1. Introduction
According to BMO Capital Market Analyst Tim Long in the Fortune's Technology Letter, there are more than 700 million iPhone users worldwide, and this number is still growing. This estimated number only proves that iPhone basically was chosen by its consumers through its popular demand and it is also clear that the Apple brands prove to be successful in producing the high-quality smartphone. However, just like any other smartphones brand available in the market, iPhone users also experience the same problem regarding their devices. Whether it is a simple crashed and accidental deletions of important files, one must find a solution about it. For example, you had deleted all your contacts in your iPhone and all your relatives, friends, and clients' contact information was there, what will you do?
In the case of using an iPhone, a backup with iTunes is the most alternative way to keep it safe and secure, however, most of the time iPhone users forget this step and would leave them to look for a solution in restoring their important files. Good news! This article will introduce to you the possible alternatives and solutions in retrieving your deleted contacts from your iPhones with doable and easy steps.Let us begin with the question that is bothering your mind, "Is there a way to recover deleted contacts on iPhone without backup? Is it possible?" The thing is, it is possible to recover it so, don't worry and keep all your hopes high! But before anything is, just a friendly reminder for any smartphones user out there to keep all your important files secure by having a backup.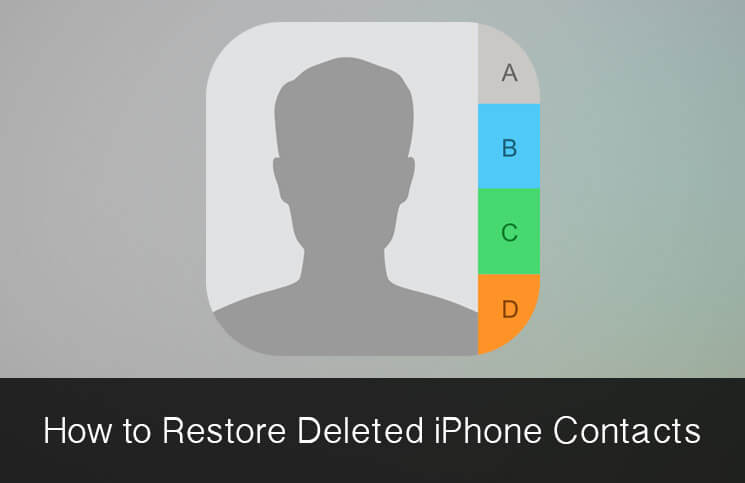 Introducing FoneDog Toolkit- iOS Data Recovery is the most trusted and highest iPhone data recovery rate in the IOS industry. FoneDog Toolkit- iOS Data Recovery can recover your data straight from your iPhone, iTunes or iCloud. This recovery software also is compatible with the latest iPhone 7 and iPhone 7 Plus and other supported devices of Apple such as iPod and iPad Touch. FoneDog Toolkit- iOS Data Recovery can recover the following supported files: Photos, WhatsApp Messages, Safari's bookmarks, Messages, Videos, Messenger, App's Photos, Call History, Calendar, Voice Memos, App's Video, Notes, Reminder, Voice Mail, App's Documents, and Contacts.
FoneDog Toolkit- iOS Data Recovery is the highest rate recovery system in the industry that is flexible, safe and reliable to use. All you need is to provide a generous amount of donation and of course, FoneDog Toolkit- iOS Data Recovery guarantees to grant you a free 7-day trial. So, what are you waiting for, assuming that you have already downloaded its software and just follow the steps provided below:
People Also ReadHow to Recover iOS 11 Deleted ContactsTop 3 Ways to Recover lost Contacts on iPhone 8/8Plus
Part 2. Recover Deleted Contacts Using FoneDog Toolkit
Step 1. Connect iOS Device with Computer
The first step that you will do is to launch FoneDog toolkit on your computer. Then connect your iPhone device to the computer using the USB cable. After that, Select "Recover from iOS Device" option.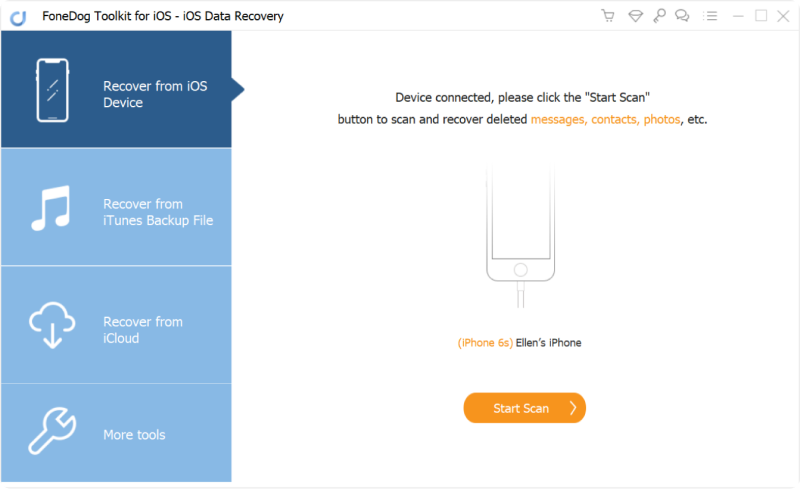 Helpful tips: You must first download the latest version of iTunes before running FoneDog toolkit. To avoid automatic syncing, always remember not to launch your iTunes every time you run dr. Fone toolkit, you must disable it by doing the following: launch iTunes > Preferences > Devices, check "Prevent iPods, iPhones, and iPads from syncing automatically".
Step 2. Scan Your Device for Lost Data on It
This step is all about scanning your files from your iOS device. To scan your lost or deleted data, just click the "Start Scan" button to enable this program to scan your iPhone, iPad or iPod touch device. The scanning process may take a few minutes depending on the amount of data that your device has. When you were able to see the data you were looking for such as Contacts, you can immediately click the "Pause" button to stop the process and proceed to recovering your deleted files.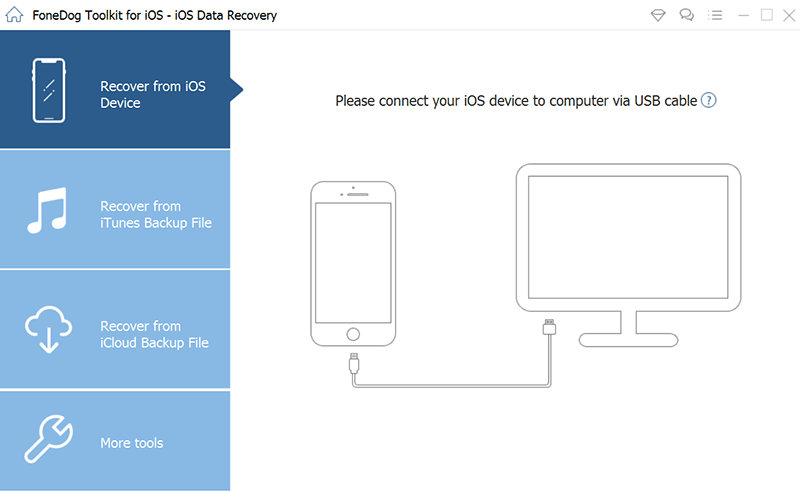 Step 3. Preview the Scanned Data
Although the scanning process will take you time once it is completed, you can now see your scanned files that both shows the lost and existing files of your device. To separate your deleted data on your iOS device, just swipe the "Only display the deleted items" option to ON. To preview the found data, click the file type on the left side. There, you can see a search box on the top right of the window where you can search for a specific file by typing the keyword (e.g. Contacts).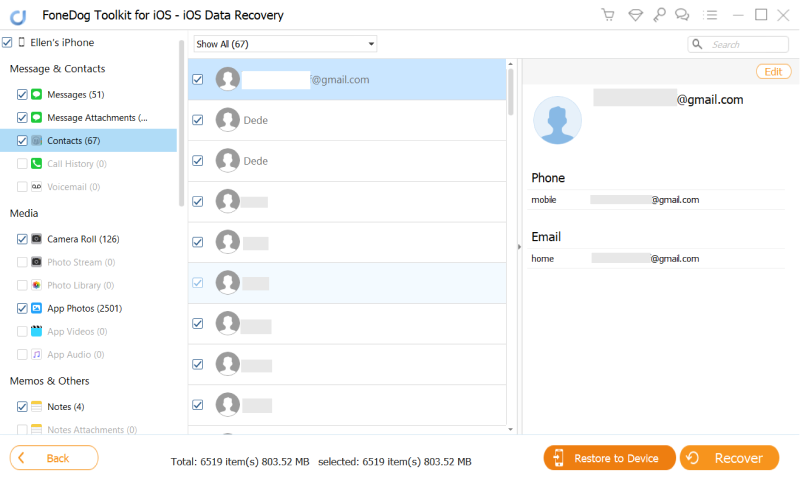 Step 4. Recover Deleted Contacts from Your iPhone/iPad/iPod touch
To select the data you need, just put the checkmark in front of the box. Then, click the "Recover" button located at the bottom right of the window. In this way, the recovered data will be automatically saved to your computer. However, in the case of text messages, iMessage, notes, and even the data you were looking for, the Contacts, you have an option where you can recover your data. A pop-up will show "Recover to Computer" and you can select a directory to restore your deleted contacts.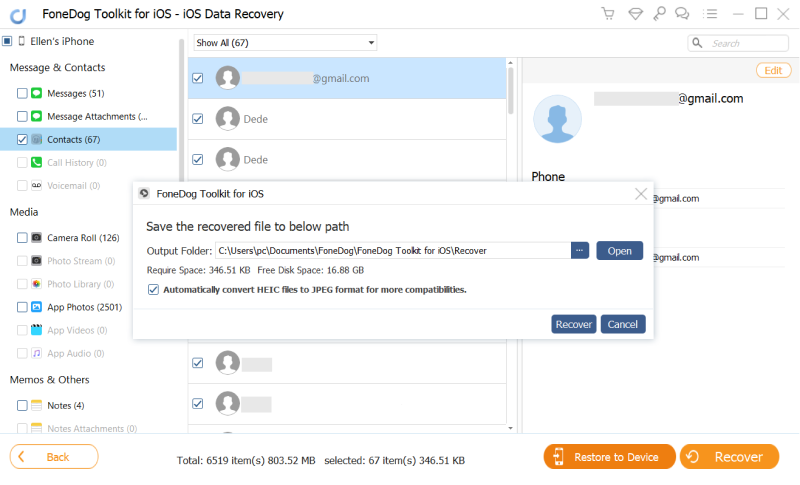 And there you have it! No more stressful and bothering questions in your head as you successfully retrieve your deleted contacts. I hope you have enjoyed this article and it provided you a solution. In every worse case scenarios involving problems concerning your iPhone devices due to lost data after factory reset, lost data due to IOS update, device stuck and not responding, data missing due to jailbreak or ROM flashing, device locked or forgotten password, unable to synchronize backup, or accidental deletions circumstances, FoneDog Toolkit- iOS Data Recovery software will provide you the safest and reliable solution. Do not forget to rate and provide a review for FoneDog Toolkit- iOS Data Recovery in their full website and tell us your experience with us.
Part 3. Conclusion
In the case of IOS users, backing up your files with iTunes or iCloud will always do good for you. Aside from that, another helpful and alternative tip do is to keep your important information through jotting down in a journal, memos, or even an old small notebook will do especially your contacts since it is very important to have your contacts written down in case of emergency. And yes, were on our way to solve your problem.
I know that you already browse the internet looking for a solution, however, you failed on backing up or write down your contacts to paper, and it did happen that you find your way here. And we suggest you must look for good recovery software. "Recovery software? Does it work with my iPhone?" Yes of course! We already did find one that truly does wonders for your smartphone devices. By just following the doable easy steps, this recovery program guarantees you to enable your deleted files and program to be recovered.
Part 4. Video Guide: How to Recover Your Deleted Contacts from iPhone