"I have relied mainly on my calendar for all my personal and business meetings, schedules and even occasions. Lately I discovered that I didn't have any schedules set for the following week and I realized that I lost all my calendar notes on my iPhone 6. Can somebody advices me on how to recover deleted calendar easily? I need easy and effective solutions because I'm not a technical person". ~Carolynn
It is a great convenience when you have all the things you needed for personal and work all in one, your mobile phone. You can easily store contacts, messages, calendars, apps and many other cool features without having to write down notes and memorize them. It makes our lives a lot easier than before.
There is no more excuse when you get late for work because you can set an alarm on your phone. No more reasons to forget your friend's birthday because you can set notes and events on your calendar. It will set an alarm for the given event and time.
Using calendars and reminders on your iPhone is also good if you are a business person where you can store all your meetings, appointments, and business events in one place. However, the only thing you will be concerned of is data loss. These are really unwanted events in our everyday lives. Just like the given scenario above, calendar schedules can also be deleted or lost.
The loss can either be a software update where it replaced even the calendar set up or a user-error which made an accidental deletion. Whichever happened, the most important thing now is how to recover deleted calendar on iPhone.
If you ask is there an option to recover that deleted calendar, yes, there is. In fact, you can actually back up all the data inside your iPhone even your calendar to keep them safe and handy. In this article, you will learn how to recover deleted calendar and how to make sure you get them backed up and restored easily in the future.
Part 1. Recover Accidentally Deleted Calendar on iPhone Settings via iCloud.comPart 2. Recover Deleted Calendar via FoneDog iOS Data Recovery (No Backups Needed)Part 3. Recover Deleted Calendar on iPhone via iTunes and iCloud BackupPart 4. Why Choose FoneDog iOS Data Recovery?Part 5.Video Guide: How to Restore Deleted Calendar from iPhone
Part 1. Recover Accidentally Deleted Calendar on iPhone Settings via iCloud.com
You can primarily recover deleted calendar from iPhone via iCloud if you have first enabled your iCloud automatic backup settings. If this is your first time to sync or use iCloud, you will need to create an iCloud account. This will be your user ID every time you log in with Apple apps.
If you are already registered with iCloud, go to Settings>iCloud>Tap on your Apple ID> Tap iCloud Drive On> under that will be the apps like calendars, notes, contacts, and many more that you can turn on for syncing and auto backup. This will automatically backup files whenever you are connected to the internet.
To recover accidentally deleted calendar on iPhone from iCloud, refer to these steps:
Open iCloud.com from any browser (Safari or Chrome)
Sign in with your Apple ID and password (if 2-step authentication is on, you need to enter code that will be sent to your phone before accessing iCloud)
Once logged in, go to Settings from the main menu
Click on Advanced Settings
From the given backup files, click Restore Calendar
Click Restore on the date before the incident happened
If needed, click Restore again and wait for the notification via icloud.com or an email will be sent regarding the restore process.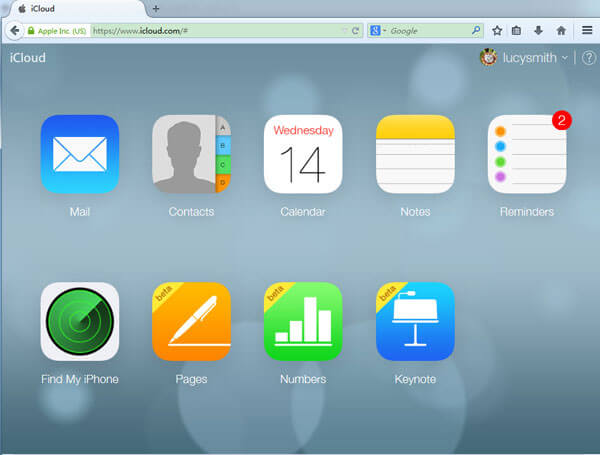 But what if you don't have those calendar notes in iCloud? Are the schedules, meetings, appointments and events gone? No. There are other possible options and so far the most convenient method to recover deleted calendar. This is by using third party apps to make the recovery faster and easier.
Part 2. Recover Deleted Calendar via FoneDog iOS Data Recovery (No Backups Needed)
Well sometimes restoring from backups mean the latest apps and other stuff recently made might be gone too. So to avoid further headaches and get straight to recover, why not consider using a recovery program instead?
Recovery software can directly recover deleted calendar on your iPhone device, hence there is no need to fear about losing other apps on the phone. In this way, you can have the peace of mind that all files are intact and no need to compromise.
FoneDog iOS Data Recovery has been in the market for quite some time already giving all iOS users worldwide the benefit to fully enjoy and maximize their devices without the technicalities of retrieving lost data. Can third party software really recover deleted the calendar? Of course, to find out how to check out these guides below:
Step1. Download, Install and Launch FoneDog iOS Data Recovery
Using a Mac or Windows computer, download the software FoneDog iOS Data Recovery from its respective website and install it on your system. Follow the onscreen guide for installation until you will launch the program. Upon launching, the software's main menu will show you 3 different options for recovery: "Recover from iOS Device", "Recover from iTunes backup" and "Recover from iCloud backup file". Choose the first option which is "Recover from iOS Device".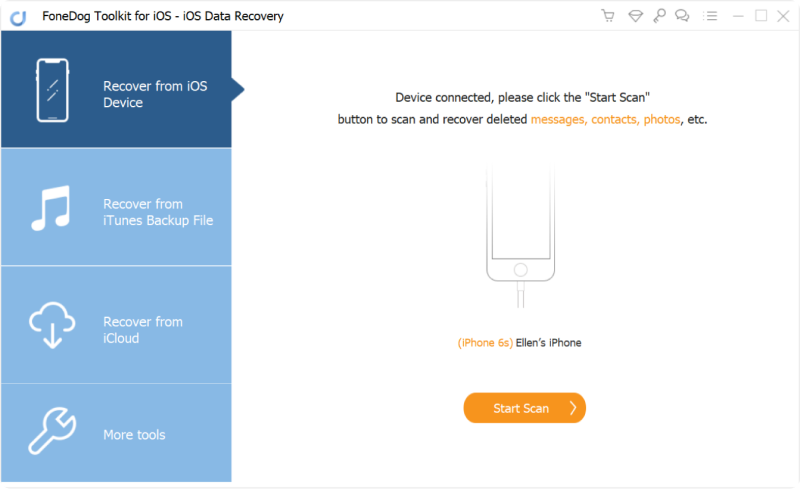 Step2. Connect iPhone to the Computer
After clicking on "Recover from iOS Device", you need to connect both devices: computer and iPhone using a USB cable. Then Click on "Start Scan".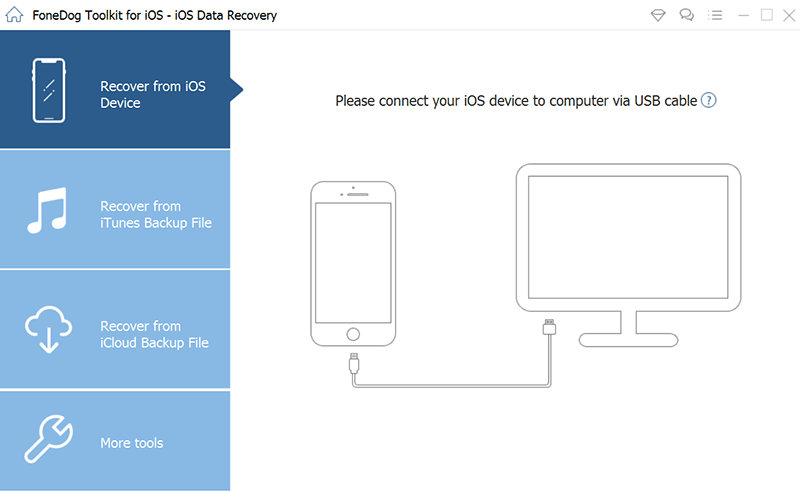 Step3. Preview and Recover Deleted Calendar
The scanning may take some time depending on a load of data stored on the iPhone. Once it is finished, all the chosen files for recovery will appear on your screen listed in categories. Carefully review each calendar item by using the preview option. Not all recovery programs allow previewing the recovered files; whereas FoneDog iOS Data Recovery perfectly understands the need to verify and confirm if the required files are really in there so they made an option that will allow the user to preview each item and selectively choose files for recovery. So go over each category and calendar item and check the boxes you only need to be recovered. Once done, click "Recover" to save the files on your desktop.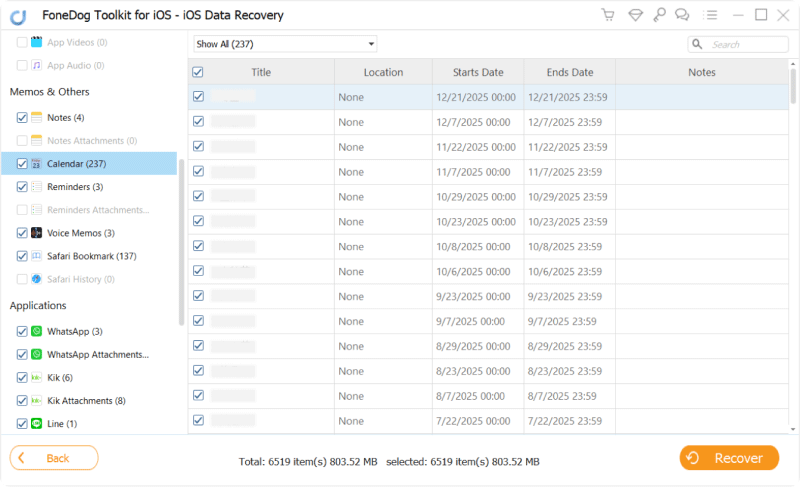 Remember to stop using the calendar on the iPhone once you discovered that the notes and schedules are gone. This is to avoid overwriting the data which may lead to permanent loss.
Part 3. Recover Deleted Calendar on iPhone via iTunes and iCloud Backup
With FoneDog iOS Data Recovery you can also use the other two options to recover deleted a calendar, using iTunes and iCloud backup. Of course, it should require a backup on your phone in order to recover them successfully. However, the downside of using the backup is it will reset to the date the backup was made which means including apps and other customized settings made after the backup date will be overwritten. In order to use the following backups, refer to the steps below:
Using iTunes Backup File
Launch FoneDog iOS Data Recovery and choose "Recover from iTunes backup file".
While the iPhone is connected to the computer using a USB Cable, the lists of backups available will show on the screen. Choose the most recent file and click "Start Scan".
Wait until the entire scanning process is finished then selectively choose the recovered iPhone calendar among the categories listed on the left side of the program screen. Preview and select then click "Recover" to save a copy on your desktop.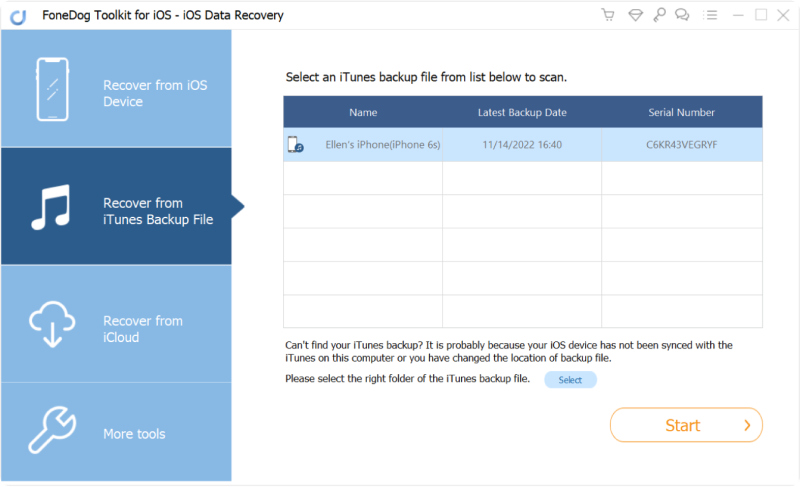 Using iCloud Backup File
If you are going to manually restore an iCloud backup from iCloud.com, it may take a while and a little technical. However, if you use FoneDog iOS Data Recovery, it will allow you to easily recover from your iCloud backup in just a few clicks. Check this out:
While the program FoneDog iOS Data Recovery is launched, choose "Recover from iCloud Backup File".
Sign in with the Apple ID and password used in the device.
Choose the latest backup file date among the options given on the screen then click "Start Scan".
Preview and recover deleted calendar with no sweat at all. Simply find the calendar from the recovered data then review each item by reviewing them and check each box manually or select all. Click "Recover" after to save the calendar files on a folder on the desktop.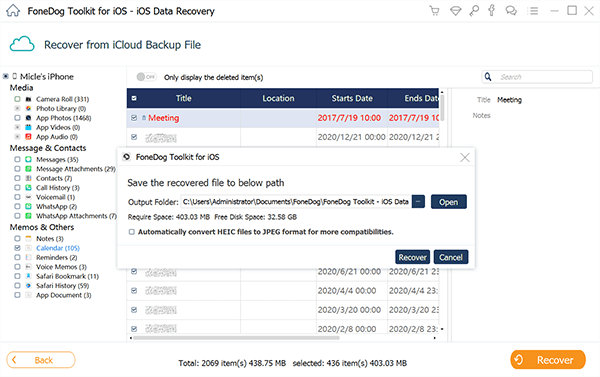 Part 4. Why Choose FoneDog iOS Data Recovery?
There are a lot of recovery programs available in the market today, some promises big time on marketing but fail on execution. With FoneDog iOS Data Recovery you will never go wrong. It gives optimum recovery that supports various iOS devices whether you need to recover deleted calendar and reminders, contacts, photos, messages, videos, etc…
The best thing about FoneDog iOS Data Recovery is its ability to perform the technicalities for you. You don't have to be an iOS expert to use this program, all you need is to just follow the simple guides and you are safe. Their customer service excels in giving support to all users who have issues while doing the recovery process and walk you through every step of the way. Everything you are looking for in a recovery software is all here with FoneDog iOS Data Recovery.
Part 5.Video Guide: How to Restore Deleted Calendar from iPhone