"What is Recovery Mode? And what should I do when I meet it. The thing is that I connected my iPhone to iTunes and a message popped up asking if I would like to update my phone so I clicked OK. And after waiting for a while I got a message saying that it was unable to download because an error had occurred. I am now unable to use my phone. When plugged into iTunes, it says that an iPhone in recovery mode has been detected. It also says that I must restore my iPhone. And what will be erased if I restore? I have all of my music and apps on my computer in iTunes." ~ A User comment from Apple forum
Part 1. What is Recovery Mode?Part 2. How to Enter & Exit Recovery Mode on iPhonePart 3. Fixing iPhone Recovery Mode without Data LossPart 4. Recommendation
Part 1. What is Recovery Mode?
Recovery Mode in all iOS devices is common but unknown to many users yet. We might have seen this before but just ignored what it is and how it is. Recovery mode on iPhone is a method where it needs to force a restart on the iOS device. To understand recovery mode better, you need to meet boot loader. A boot loader is a program that works on a single task: to check and scan the iOS for any errors. Apple named it to iBoot to make it more personalized, so iBoot acts as the security officer inside the iOS device where it will scan every tiny spec and parts of the iOS that does not work properly. Recovery mode on iPhone can occur because something has gone wrong with the current software you are using on your device and it hinders you to use it unless you do a recovery mode. When in recovery mode on iPhone, it will ask you to restore from your iTunes backup or restore from a brand new set up if there are issues with corrupted data.
How does Recovery mode on iPhone work?
Recovery mode on iPhone is a state wherein all the vital components of the iOS device are being restored from its previous version thus helping you repair any Smartphone issues using only the official iOS versions and updates. So if you notice, every time something happens like upgrading your iOS or encountered any damages, the iPhone goes into recovery mode. To make it clearer, Recovery mode on iPhone was developed to put a stop to further possible damages on the iOS device.
Pros of Recovery Mode on iPhone
One of the biggest Pros of recovery mode on iPhone is its ability to control further issues to happen that might damage the device. Once the iBoot detects issues with the iOS, it will then ask you to enter recovery mode.
It fixes other iOS issues like stuck on Apple logo, white screen, and a blank screen.
You can easily get rid of the annoying "Connect to iTunes" screen when you put your iPhone into recovery mode.
Cons of Recovery Mode on iPhone
Though 90% effective and accurate, data loss is the most common downside of putting your iPhone into recovery mode especially to non-iTunes contents like apps and music that you haven't bought from the App Store. This totally depends on how frequent you backup your iPhone to avoid such losses.
Once your iPhone is in recovery mode, you are left with a useless phone. Unless of course, you will find solutions to fix this kind of issue.
So how do you enter recovery mode on iPhone? There are simple steps you can do to force enter into recovery mode on iPhone.
Part 2. How to Enter & Exit Recovery Mode on iPhone
Regardless of what iOS device you are using and version it is running, the process is almost similar to each other to enter recovery mode on iPhone. You just need to be familiar with your iOS device version and understand how to navigate and do the basic troubleshooting. So if you are curious on how to enter into recovery mode on iPhone, you can refer to these steps below:
Before entering recovery mode on iPhone, make sure you have at least 50% battery life to support the entire process or better make it fully charged to avoid interruptions during the entire recovery mode.
Enter Recovery Mode on iPhone
Power off the iPhone by holding down the ON or OFF button on the right side for about 5 seconds
Slide right to Power OFF and hold the Volume Down (-) button.
Connect the iPhone to the computer and launch iTunes.
Release the Volume Down (-) when you see the "Connect to iTunes" screen.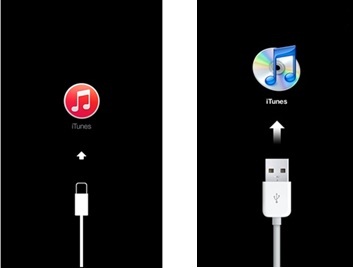 Exit Recovery Mode on iPhone
If for example your iPhone 7 is under Recovery Mode, disconnect the device from your computer
Hold down the Power key and the Volume Down (-) key until you see the Apple logo on the screen. Gently release the Power and Volume Down buttons and your device will start up normally.
But what if your iPhone gets stuck in Recovery Mode?
And that's it! You have just entered into recovery mode on iPhone. Remember that when you see the recovery screen with the iTunes color icon with the USB cable in the middle, you need to release the Volume Down button. iTunes will then automatically open with a pop-up message "iTunes has detected an iPhone in recovery mode. You must restore this iPhone before it can be used with iTunes" then another window with another message that says: "The software on iPhone needs to be restored to factory settings or updated." On this window, you are given three choices: to Cancel, Restore and Update. When you select 'Restore' all the apps, documents, games, data, and photos will be erased from the iPhone. You can always restore them from your backups if you do have. So better make sure you have backed everything up prior to entering into recovery mode.
Part 3. Fixing iPhone Recovery Mode without Data Loss
Sometimes fixing iOS on recovery mode can also face some unexpected errors like getting stuck. Since data loss is one big enemy in terms of smartphone troubleshooting, there are no other ways to fix stuck on recovery mode but to compromise your data. This can be a huge headache especially if you don't have any backups made. If your iPhone is stuck on Recovery Mode, you can easily fix this issue without losing any of your data at all. All you need is FoneDog iOS System Recovery. This recovery program easily fixes Recovery Mode back to normal, as well as other system issues like stuck on Apple logo, Looping on start, White Screen, Black Screen, Blue Screen and much more. To use this software, follow these guides below:
Step 1. Download FoneDog iOS System Recovery on Your Computer
Download FoneDog iOS System Recovery online or by using this link and install it on your computer by following the given instructions. After successful installation, launch the program and search for "System Recovery". Click on System Recovery to begin the process.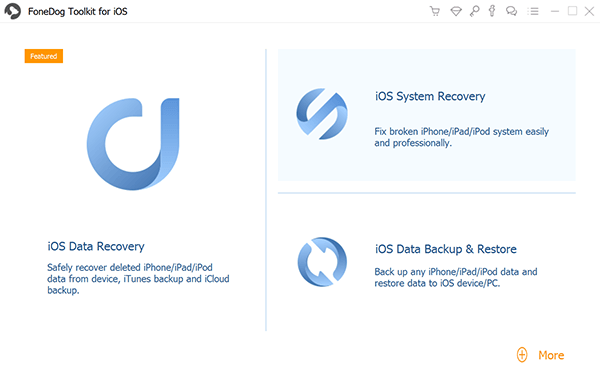 Step 2. Connect iPhone Device
Using an original USB cable, connect your iOS device to the computer and once the connection is detected and established, click Start.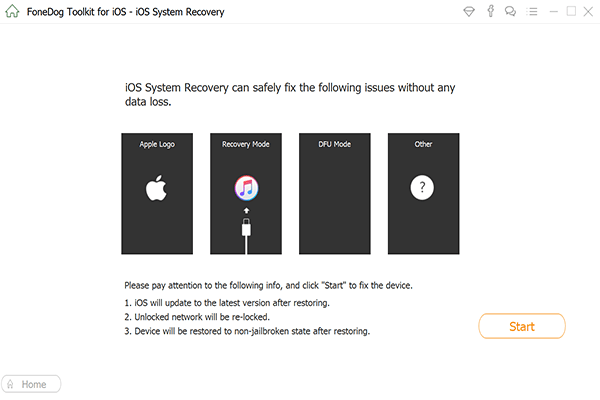 Step 3. Select the Firmware Package
On the next window, you will be asked to confirm the iPhone model and the firmware package you want to install on. You may refer to the drop down options for each given category. Click Download to continue.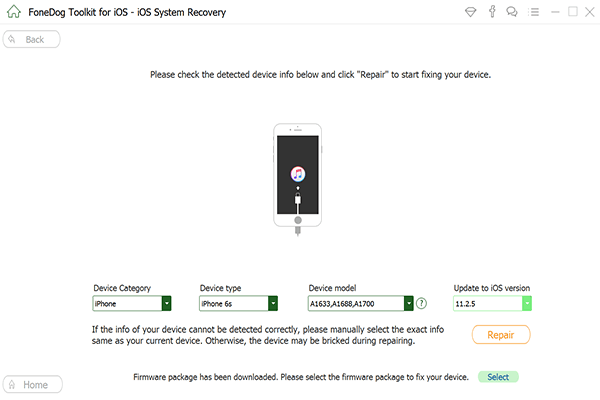 Step 4. Downloading Package
FoneDog iOS System Recovery will now download the firmware package that you have chosen from the last step. The download time depends upon the amount of data needed to be extracted. Since you are downloading a firmware, it may take a while before it will be completed. After successful download, it will now proceed to iPhone repair.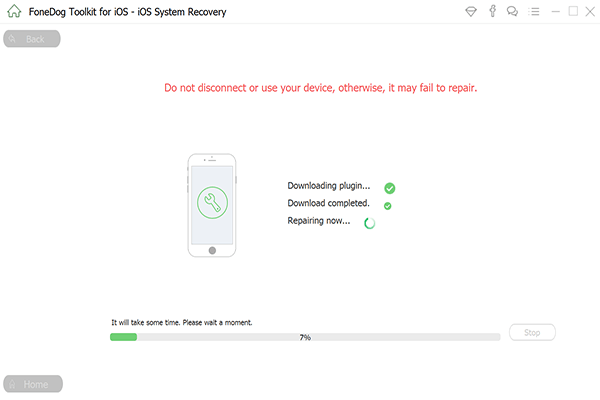 Step 5. Repair iOS Device
Right after the download is complete; the repairing of the iPhone will proceed and will notify you of its progress. If there might be some interruptions in between, you might need to restart the entire process by clicking Try Again.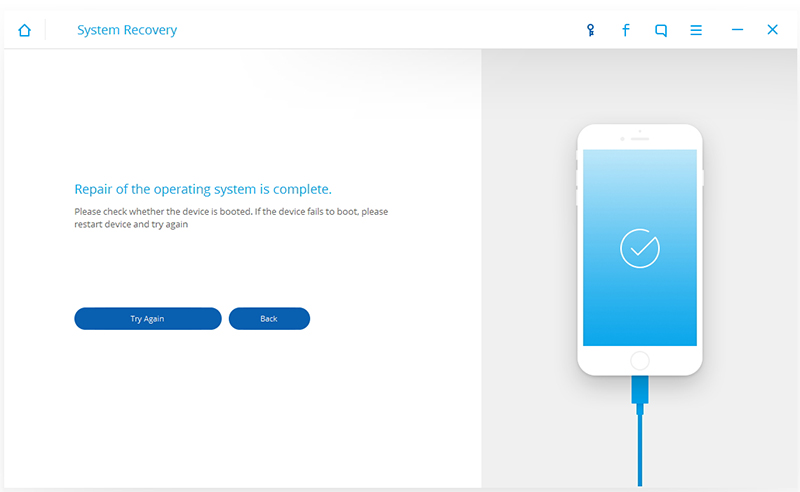 Part 4. Recommendation
It is a great advantage that you know what recovery mode on iPhone does and how it helps you in so many ways and how it can also affect your user experience. Apart from getting familiar with how recovery mode on iPhone does, it is also way better to understand how to resolve certain issues that you may face along the way like getting stuck in recovery mode and etc… There is an iOS recovery partner that will surely fix all possible issues for you. FoneDog iOS System Recovery is a professional recovery program that will always have your back when iOS fails. It simply returns the iOS back to normal without incurring data loss. This is safe to use even for non-technical persons. It has a user-friendly interface with a click-through design process that does not require any complicated methods. This software is compatible with all iOS models like iPhone, iPad, and iPod Touch.FoneDog iOS System Recovery also works perfectly with Mac and Windows PCwith a trial version you can test on. So how well do you know about recovery mode on iPhone so far? Tell us about it.