"I purchased an iPhone online and I can't complete my activation since it shows iCloud locked. My colleague said I could unlock it using iCloud bypass DNS. How am I going to do it? Thanks."
Apple is known for being too strict when it comes to mobile ownership. Most of the second-hand iOS devices are iCloud locked and the new owners are having the hassles of finding ways to unlock it.
It actually needs the original owner to provide the password for the iCloud and as expected, more than half of the previous owners don't even remember the passwords anymore.
Usually, the owner needs to contact Apple's customer support to get help unlock the device but Apple asks a lot of authentication and verification questions that the owner doesn't even recall. And so, they both end up deciding to use an iCloud bypass DNS method.
But, what is iCloud bypass DNS and how does it work? This is what we will learn in this new article.
Part 1. What is iCloud Bypass DNS?Part 2. How to Unlock iPhone with iCloud Bypass DNSPart 3. How to Unlock iPhone without iCloud Bypass DNSPart 4. Summary
Part 1. What is iCloud Bypass DNS?
An iCloud bypass DNS is a method used in unlocking Cloud locked iOS devices by redirecting or changing the activation path from the Apple server to a DNS server.
If you notice, every time you use your iOS device like an iPhone and once the 'Find My Phone' is turned on, there will be random pop-ups for iCloud activation that need you to enter the username and password. When this happens to an iCloud locked device, you may have a hard time using your iPhone and worse, you may not be able to use it at all because of the 'Activation Lock' screen.
You can easily change or redirect a DNS server on your iPhone's Wi-Fi settings, luckily, Apple allows manual changing of DNS.
Launch Settings on your iPhone and go to Wi-Fi
Find your Wi-Fi on the list and click on the arrow to open the DNS field
Remove the current DNS servers and enter the new DNS servers
Test the new DNS servers to see if they're working
I bet you are now wondering how you can iCloud bypass DNS, then read the next parts to find out.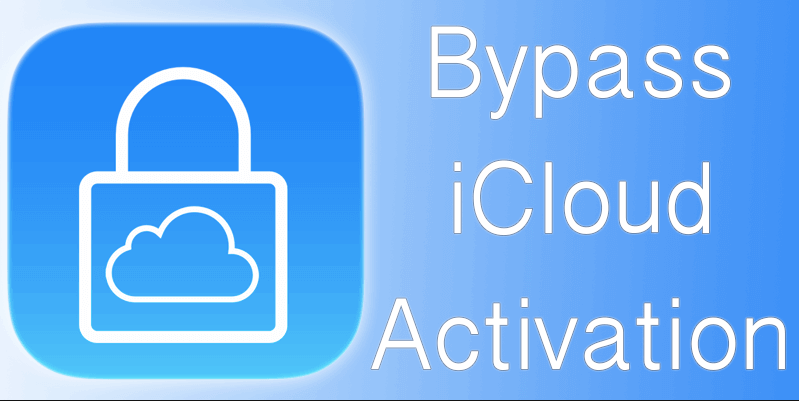 Part 2. How to Unlock iPhone with iCloud Bypass DNS
The Activation Lock error screen on an iPhone means that there was an iCloud account associated with the device and needs access from that account before you can use the device.
Otherwise, if you don't have the iCloud username and password, you need to remove the activation lock before you can freely access the iPhone.
Here's how to iCloud Bypass DNS your iPhone:
Make sure you have installed a SIM card inside the iPhone
Set up your iPhone normally; begin with choosing your language and country. If you have already passed this setup, just click the Home button and tap Start Over
On the Connect to Wi-Fi screen, tap the "i" icon beside the Wi-Fi network and click the Home button. Find and tap More Wi-Fi settings. Before doing this, you must not have any internet service. If you have, disconnect or forget the wireless network
Find the option to enter the DNS and enter one of the following:

Asia: 104.155.220.58
South America: 35.199.88.219
America: 104.154.51.7
Europe: 104.155.28.90
Others: 78.100.17.60

Tap 'Back' and connect to your Wi-Fi network. Your device will start to proceed to the next setup process, just tap 'Back'
Wait for the bypass screen to pop-up
Scroll to Menu and begin setting up your camera, apps, etc…
You can now use your iPhone without the activation lock error anymore. However, this might not be the final resort. This method was proven on iPhones running on iOS 8 and 10.
There is no guarantee however that your device will be totally unlocked. Your phone still has limited functions but better than the previous one!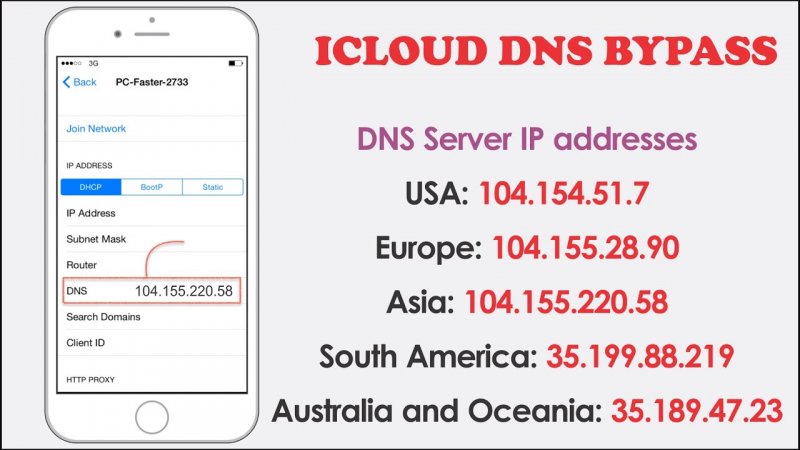 Part 3. How to Unlock iPhone without iCloud Bypass DNS
Another option to bypass the activation lock on your iPhone is to use iOS unlock software. These kinds of programs will perform unlocking if you purchase.
There are plenty of ways of you can remove the Activation lock and the next popular option after iCloud bypass DNS is IMEI unlock.
You can perform this by getting your device's IMEI number which you can get by dialing *#06# on your dial pad. After that, you need reliable software to do the unlocking for you.
Here are the top 4 iPhone unlock software you can choose:
iPhone Unlock Tool
fone- Unlock
DoctorSIM Unlock Service
Unlock Base
However, we cannot guarantee the result of the unlocking as well as the price of all the software mentioned. The unlocking price varies per software. You must be careful in dealing with websites that offer cheap or free unlocking service; they might not be secured enough.
If you have finally unlocked the iPhone using this method, you can now set up a new iCloud account. You are now able to use your iPhone without any limitations.
Part 4. Summary
We have just learned what is iCloud bypass DNS; how it is done on your device and other important details you need to know.
Apart from that, you also learned how to unlock an iPhone using iCloud bypass DNS so you can somehow use your phone that is activation locked. Performing a DNS bypass lets you use your iOS device but then, it cannot guarantee that you are able to fully maximize your iPhone's full potential.
On the other hand, there are programs out there that offer to unlock your iOS device at a certain price. All you have to do is provide the IMEI number of your device and these programs will remove the activation lock easily. They claim that it is safer and more secure to use this option, but we don't know which programs actually work!
Both methods actually helpful; it's all up to you on what method you think will work out based on your needs. Have you seen the activation lock on your iPhone? Perhaps you might need to unlock it to fully use its functions.