Almost every device can suffer from full storage. While you may have a very spacious and clean iPad now, it will accumulate files bit by bit and eventually become full. What matters most is that you're able to compensate for that as best as you can. One of the ways we do this is by cleaning your iPad.
However, it won't be as simple or as easy as you think. This is because cleaning your iPad may result in severe damages. Thus, it's important to look for the best iPad cleaner app out there. Fortunately, this article will talk about that, and many more. But before we go to the main point, let's first talk about why you will need to look for an iPad cleaner appin the first place.
Part 1: Why Do You Need to Clean Your iPad?Part 2: The Best iPad CleanerPart 2: Conclusion
Part 1: Why Do You Need to Clean Your iPad?
The first thing you will wonder about when talking about iPad cleaner appis if it's actually important to clean your iPad. The answer to this is pretty simple. Surely, you've noticed that there are times when your iPad is slow, or it may show signs like:
Slow start-up of your iPad.
Takes too long to run your apps.
iPad freezing up suddenly.
Crashing for unknown reasons.
The update can't be completed.
and more.
Although you may think that this is because it's natural, your storage space actually has a lot to do with it, and fixing it may resolve your problem. There are many aspects of your storage that affects your iPad's performance significantly like your browser data, app data, or system data.
Since such data are very delicate, especially the system data, you don't want to mess with it recklessly. And so, it's important to look for a reliable iPad cleaner appinstead of doing it yourself. As such, we proceed to our very first entry for the best iPad cleaner appin 2019.


Part 2: The Best iPad Cleaner
#1: Cisdem iPhoneCleaner
Cisdem iPhoneCleaner, as the name suggests, is a software made to clean iPhones, but there's more to it than a simple iPhone cleaner. Despite the name, Cisdem iPhoneCleaner is not limited to iPhones. It also caters to other iOS devices, including the iPad. So why would you want to use the Cisdem iPhoneCleaner?
Fast Cleaning. Compared to other tools, it can be said that it is relatively faster.
Accurate Scans. It also ensures accurate scanning of your files so no important files will be deleted and no useless files will be left.
Delete Large Files. The Cisdem iPhoneCleaner also has a section that shows you large files that you may want to delete immediately.
Restore Apps. Although you can restore apps manually in your Settings app, Cisdem iPhoneCleaner allows you to easily clean your apps to make them run faster.
Disk Management. Instead of manually managing the different file types, the tool allows you to manage music, videos, apps, and other files separately so you would be more organized.
Backup Phone. You are also given the option to create a full backup of your iPad before the cleaning process starts.
With these features, there's no wonder why Cisdem iPhoneCleaner made it to this list of the best iPad cleaner app. Now we go to the second entry which might be the opposite of Cisdem iPhoneCleaner.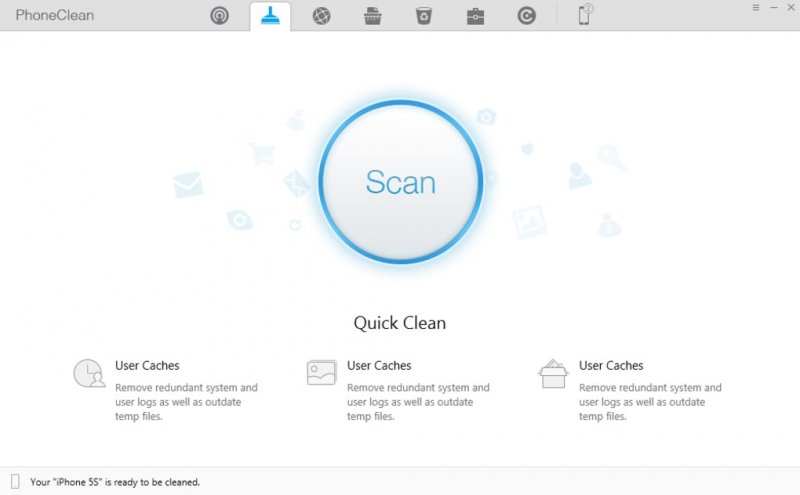 #2: iMyFone Umate Pro
iMyFone Umate Pro, just like Cisdem iPhoneCleaner, allows you to erase the files on your iPad without putting much effort into it. There are many things that are notable with iMyFone Umate Pro. Some of its features include:
Selective Cleaning. The tool displays different parts of your device, such as contacts, messages, call history, videos, photos, and more.
0% Recovery. For better or for worse. The tool won't allow the recovery of the cleaned files. We said that it is the opposite of Cisdem iPhoneCleaner, and this is exactly why.
Wipe Third-Party Apps. You can easily delete the files or cache of third-party apps such as Messenger, Facebook, YouTube, and even games. This would allow faster performance for your apps and iPad.
The tool makes sure that you don't delete the wrong files by allowing you to see a preview of the files that are to be cleaned.
By properly taking advantage of these features, you can easily say that iMyFone Umate Pro is one of the best iPad cleaner apps. Regardless, it would still be great to have more options.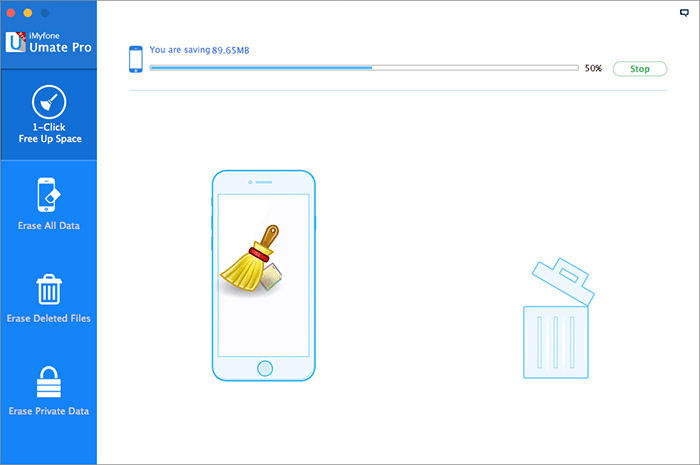 #3: Clean Doctor
The Clean Doctor tool is an app that was specially made for cleaning your iOS device. Its features all involve cleaning. Some examples of its notable features include:
Photo Cleaner. The app features a photo cleaner that allows you to remove needless or duplicate pictures. You also have the option to clean different types of photos such as burst photos, HDR photos, panorama photos, and even edited photos
Video Cleaner. Just like the photo cleaner, you will be shown duplicate videos so you can easily spot useless video files.
Contacts Cleaner. You can delete different types of information about your contacts such as contact name, email, phone number, and more.
Expired Files. Clean Doctor also shows you expired files such as Reminders and Calendar files.
Clear Clipboard. If you have recently copied a text or an image, you can delete the information on your clipboard with Clean Doctor.
System Information. In order to keep you informed of the status of your iPad, the Clean Doctor has an interface showing you information about your system software.
Clean Doctor can be considered as a very specific and accurate app when it comes to cleaning. To match the Clean Doctor, our next entry will involve an iPad cleaner app with a variety of options.
#4: iSkysoft Data Eraser
iSkysoft Data Eraser is just like your typical iPad cleaner app, except this time it allows you to clean your iPad in a variety of ways.
Erase All Files. Just as you would expect, this option allows you to instantly erase all the data on your iPad. This is preferable if you don't plan on using any files you currently have.
Erase Private Files. In case you have a lot of confidential data on your iPad, this option allows you to delete private files only. This might include your banking information, passwords, and such.
Erase Deleted Files. You might think that deleting your files manually is already good enough, but it's not. iSkysoft Data Eraser makes sure you don't leave any trace behind as it erases your supposedly deleted files.
Optimize the iPad. If you're deleting files mainly to improve your iPad's performance, then it might be better if you use this feature instead so you won't delete files recklessly.
Space Saver. On the other hand, if your main goal is to save storage space, then the Space Saver option will automatically compress without deleting files.
With iSkysoft Data Eraser, you will have more options to choose from rather than simply deleting all your data. With that said, our next iPad cleaner app will also have a variety of options to choose from, but in a more organized manner.
#5: iMobie PhoneClean
iMobie PhoneClean is an in-depth version of iSkysoft Data Eraser. This is because there are many specialized cleaning features in the app.
Silent Clean. With this option, you'll be able to optimize your device without causing problems such as deleting important files.
Quick Clean. Like Silent Clean, this was made to optimize your iPad, but this time there are recommendations on other files that you may delete.
Internet Clean. Internet Clean mainly involves the deletion of files that were accumulated through the use of the internet. This is mainly found in online games or browsers.
Privacy Clean. This would allow you to erase private files such as passwords and other credentials that you don't want to share with others.
System Clean. The System Clean feature helps you to make sure that your system software is optimized by deleting unnecessary data.
iMobie PhoneClean is indeed one of the best iPad cleaner apps out there. However, you must remember that the apps with the most features aren't always the best. So our next entry will involve an app that is quite simple but can deliver some impressive results on cleaning your iPad.
#6: Clean MyPhone
Clean MyPhone or iPhone Cleaner was made to clean files from your iOS device. There are many functions in this app as well, but the most important part about it is that the cleaning process is more than meets the eye.
App Management. You are able to manage the apps on your iPad by configuring or organizing the files so that you won't encounter any issues on the app.
File Detection. You will be notified if there are any large files that bring a significant change to your iPad's performance. You will then be given an option to keep them or clean them.
System Cleaner. Just like some of the apps in this list, Clean MyPhone has a System Cleaner that allows you to maximize the potential of your iPad by cleaning the system.
Privacy Cleaner. Not only can you clean private files, but the operation itself will also have no trace left that any information about it won't be left from the server of the app.
With a single click, you can create a backup of your iPad. This would allow you to have leeway on however you want to clean your iPad.
Clean MyPhone is, without a doubt, a great option for an iPad cleaner app. However, sometimes the simplest can be the best. If you're one of the people who feel comfortable having simple software, then the next option might suit your best.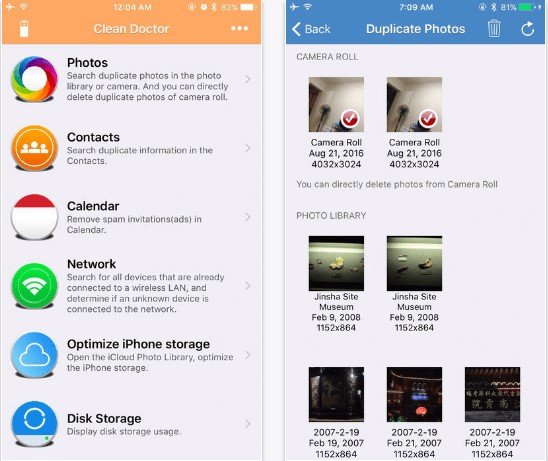 #7: iFreeup
iFreeup is one of the simplest iPad cleaner apps there is on the internet. Although there are still functional features, the interface is still simple enough as to not overwhelm any beginner in this kind of apps.
Clear Junk. For people whose main goal is to optimize their device, a single tap will suffice and all the junk on your iPad would be cleaned.
Transfer Files. If you're planning on switching from your iPad to another device, you're free to transfer your files easily with iFreeup.
Export or Import App Data. There are many things that you want to keep from your apps. As such, if you ever feel the need of cleaning your iPad, you can always export or import your files first.
Safe Deletion. Just like Clean MyPhone, any personal or private information that the app may find will remain private and won't be leaked to the outside.
With these features, you'll be able to do just about anything you want on your iPad, be it transferring files or cleaning files.
Part 2: Conclusion
With this, you now have seven iPad cleaner apps to choose from. This should keep you from looking for other unreliable apps out there on the internet. Regardless of your choice, remember that each of these has different specialties. While it may help you clean your iPad, remember to still be cautious while using these iPad cleaner apps. You will never know if you might accidentally delete important files.