iPhone is a pretty user-friendly device; however, over time, its system gets clogged by unwanted junks and memory hogs. This could greatly affect your iPhone's performance and slows your device down. Deleting junk files, unwanted junk, and cache on your iPhone is a great way to speed up its performance.
In this article, we are going to show you a step-by-step guide on how to clear caches on iPhone. This will help you and your device run faster than ever before. This also perfectly works especially for older versions and models to improve its performance and helps you get more out of it.
#1. Remove Cache on iPhone via Deleting The Safari Cache#2. How to Clear Cache on iPhone by Clearing App Cache#3. Clear Cache on iPhone with Clearing Out Your iPhone MemoryThe Bottom Line
#1. Remove Cache on iPhone via Deleting The Safari Cache
The first thing you need to inspect and go through is your Safari. Clearing out caches in your Safari is easy but this process will log you out from any sites you have signed into. This is how you do it:
Step One. Open the Settings app on your iPhone and look for Passwords and Accounts option on the top menu. Then tap Safari on the bottom of this group.
Step Two. Upon clicking on the Safari, scroll down and click on the Clear History and Website Data button.
Step Three. Then, proceed by clicking the Clear History Data for confirmation.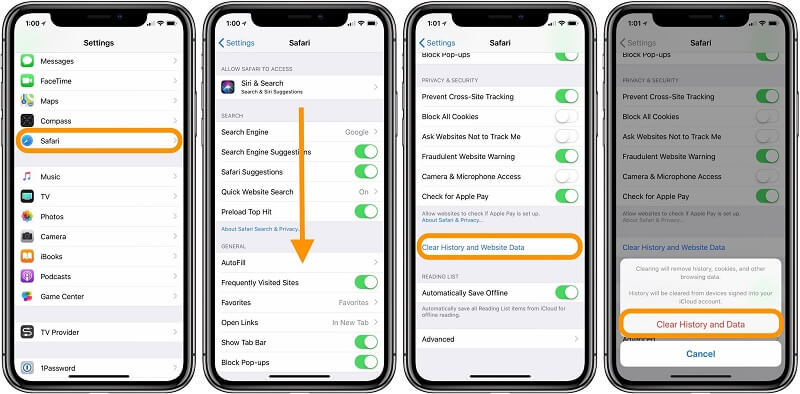 #2. How to Clear Cache on iPhone by Clearing App Cache
In clearing your app cache, there are two common ways on how to do it. Offloading and deleting apps are the two best way to clear app cache on your iPhone. However, the two methods have different benefits and advantages. Offloading reduces and frees up space on your iPhone storage while retaining user data associated with offloaded apps. On the other hand, deleting of apps completely removes data, documents, and often results in greater space savings.
1. Deleting Apps to Clear App Cache
Another simple way to get rid of caches on your iPhone is to simply delete apps. This way, it is much easier for you to remove it has a brand-new start. This works especially if you find an app which taking way too much of your storage space. However, if you truly need such an app, then better reinstall it later. This is how you properly do it:
Step One. To delete the app, all you need to do is tap the app you want to delete under the iPhone Storage page. Then hit the Delete App button on the bottom part of the page. This time, you have a cleaner app without any data and caches.
Step Two. To redownload the app, go to the App Store and find the app. You may search for it in the search bar or look it at the My Purchases list. If the said app is paid, you no longer have to repurchase it. If it is free, you can automatically install it back to your iPhone.
2. Manually Offloading Apps to Clear App Cache
The main benefit of offloading is that it saves your time from configuring the app to suit on your liking. It is because when offloading apps, it does not necessarily mean removing your data and documents associated with the app. Thus, unlike completely removing or deleting the app from your phone, you don't necessarily have to start from scratch.
Here is how you manually offload apps to clear your app cache:
Step One. Select Settings and click General then look for the iPhone Storage.
Step Two. As soon as you get to the iPhone Storage, you will see a list of all your apps. They are all arranged based on the amount of storage they take up. Click on the app which takes the most storage.
Step Three. Click the Offload App from the pop-up menu and confirm the action. If the listed app is marked as Never Used, you may permanently delete it to save more space on your storage.
Step Four. Then, re-install the offloaded apps. If you would like to make any recommendations, tab the Enable button to keep receiving recommendations.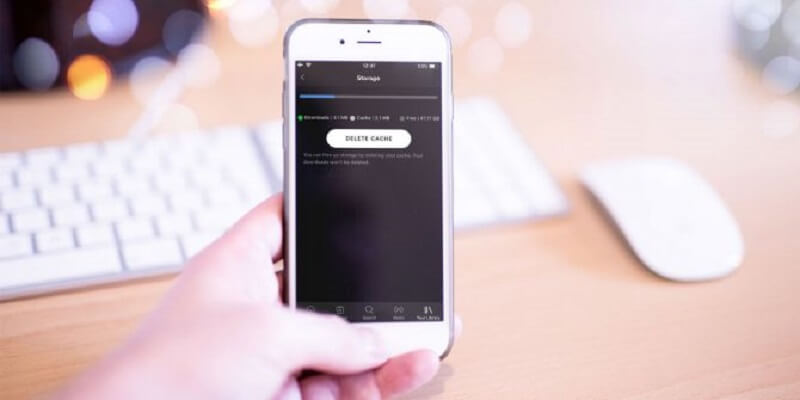 #3. Clear Cache on iPhone with Clearing Out Your iPhone Memory
Cached data encompass all the files and images or videos and music that your device hideaway in its memory. If your iPhone is full of videos, music files, apps, and other caches, this could be the reason why it's running slow. There is actually a trick in managing your iPhone memory without doing anything. Restarting your iPhone every now and then will clear its memory. At the same time, this also ensures you that all your important apps are still running effectively.
Step One. Press down the power button of your device until 'Slide to Power Off' appears to your screen. For X-series iPhone, you need to press down both the power and volume up button to do this.
Step Two. Swipe the power off as soon as it appears to your screen.
Step Three. Wait for a few seconds until your device has completely shut down.
Step Four. Then, press the power button once again to turn on your device. Doing this on a regular basis will significantly enhance your iPhone's performance. This technique is also beneficial for older versions of iPhones.
The Bottom Line
Clearing caches on your iPhone is an essential routine and maintenance which you should regularly practice. This should also be your priority as a user if you wanted to achieve a smooth and excellent experience. Cluttered caches found on your iPhone and other devices are just a few of the many reasons why your device runs slow. Understanding how to properly do it will help and save you from unnecessary troubles.
There are various ways and methods on how to perfectly and thoroughly clear caches on your iPhone. You can do it manually by getting hands on to the methods and step-by-step process of clearing it. Running through individual apps, inspecting your device's system, and other more are the few things you need to do. This will also include deleting and redownloading apps and clearing cache from third-party apps.
If you are looking for a more convenient way to get this done, there are cleaner apps which you can use. They are easier to use and requires lesser effort on your part. Furthermore, it also provides quicker results than manually going through each app and find a cache on it. Clearing your cache is a healthy habit you should adapt to keep your iPhone operating in its best and full capacity.