By Nathan E. Malpass, Last updated: November 19, 2019
Moving songs from your iPhone to that of the computer is possible through the use of iTunes. However, most people don't want to rely on the said application. It can be tedious to use and the syncing process can sometimes lead to data loss.
In addition, some people face issues where iTunes doesn't recognize their iPhones or iPads. This may be very frustrating. That's why third-party developers have taken the liberty to create software allowing you to transfer music from iPhones to Mac computers or Windows PCs.
In this article, we'll tell you the top third-party tools that help you transfer music from iPhone to computer without iTunes. We'll start with the clear winner in terms of functionality and performance. Then, we'll move to the runner-ups on the list. Let's get started.
Part 1: Top Software to Transfer Music from iPhone to Computer Without iTunesPart 2: Disadvantages of Using iTunes to Transfer Data from iPhone to ComputerPart 3: To Wrap It All Up
Part 1: Top Software to Transfer Music from iPhone to Computer Without iTunes
The Winning Tool #1: FoneDog Phone Transfer
This is the best tool in terms of overall performance. The software enables users to transfer data among Android, iOS, and computer devices. For instance, if you want to transfer music from iPhone to computer without iTunes, this is your best bet.
The same goes for other data types. Messages, contacts, images, and videos, can be easily transferred among different devices. It supports the transfer of data between two iOS devices, between two Android devices, between iOS and Android, between PC and Android, and between iOS and PC.
It has multiple features including, but not limited to, the following:
It allows you to transfer various data types between Android and iPhone.
It allows you to export data from mobile devices to that of computers.
It enables you to back up your contacts within Android or iOS devices. These contacts can be easily restored to other devices.
It scans your contact list for duplicates and removes them.
Creating ringtones is possible through the software. These ringtones can be transferred to Android and iOS devices.
Without compromising image quality, the tool has the ability to convert HEIC files to that of PNG or JPEG formats.
FoneDog Phone Transfer allows you to remove unnecessary files one by one or in batches.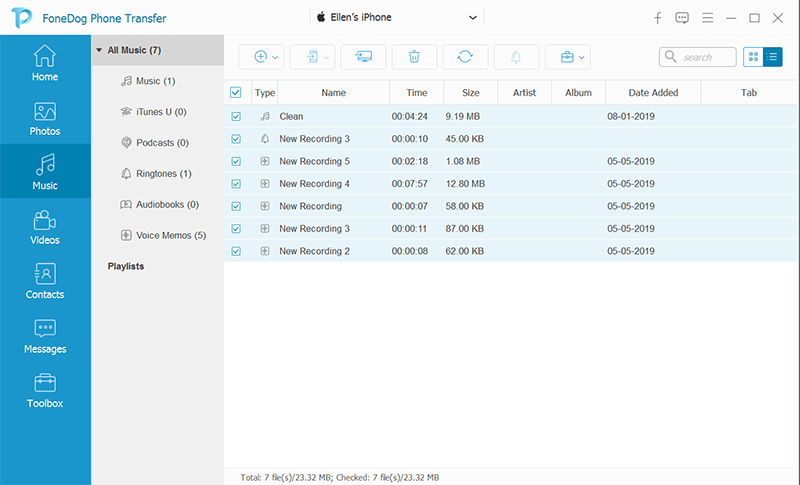 To help you transfer music from iPhone to a computer without iTunes, here are the steps you should follow with FoneDog Phone Transfer:
Step 01 - Download, install and launch FoneDog Phone Transfer on your computer.
Step 02 - Connect the iPhone to that of the computer using a USB cable.
Step 03 - Wait until FoneDog recognizes the iOS device (i.e., your iPhone).
Step 04 - Select the type of file you wish to transfer. In this case, select Music. Then, choose the specific music files you wish to move to your PC.
Step 05 - Click the button to Transfer to PC at the top of the interface. Wait until the transferring process is finished.
Step 06 - Safely eject your iPhone from your computer.
Runner-Up Tool #2: AnyTrans for iOS
This software allows you to transfer data from iPhone to computer. It has a simple interface that can be easily understood by anybody. With this tool, you are guaranteed that your data is kept safe and secure. In addition, all types of songs can be transferred whether they are purchased or not.
Runner-Up Tool #3: iMyFone TunesMate
iMyFone TunesMate is another tool to help you transfer music from iPhone to computer. With this tool, you don't need to use iTunes. It supports both Mac and Windows PCs. Plus, it allows flexible transfers among different devices. Data loss is avoided by using the tool and since you're not using iTunes, you can avoid most of the errors you experience with the said Apple software.
Runner-Up Tool #4: EaseUS MobiMover
This tool allows you to transfer different data types from iPhone devices to desktop or laptop computers. The interface is very basic and not that appealing. However, if you want the most basic functions of transferring, then this can help you move some files you might need on your computer.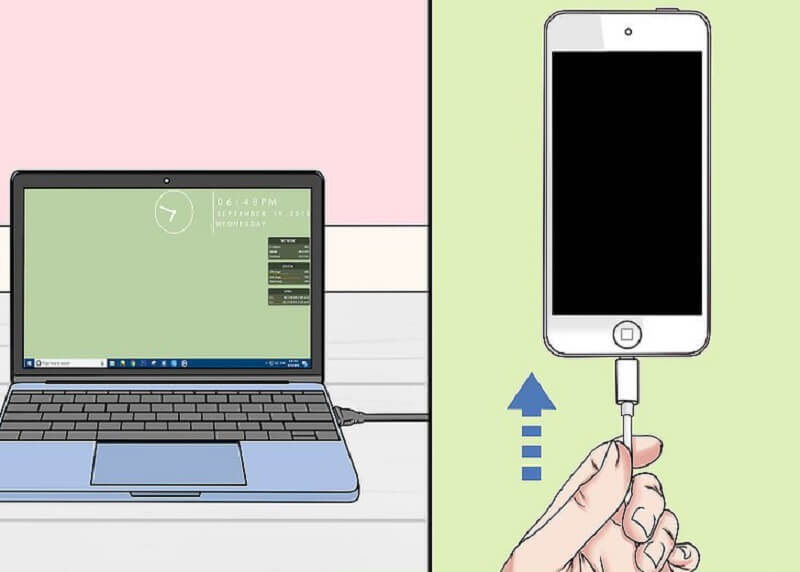 Part 2: Disadvantages of Using iTunes to Transfer Data from iPhone to Computer
Now that we've gone through the various tools to transfer music from iPhone to computer without iTunes, let's look at the cons of the said software developed by Apple. In this way, you'll realize why you need to use third-party software instead of iTunes.
iTunes has a very slow performance compared to FoneDog Phone Transfer (our clear winner) above. It is usually sluggish especially if you have a lot of data types within your iOS devices and your computer. The software also tends to slow down your computer because it is a heavyweight application. Thus, it consumes a lot of RAM on your Mac or Windows PC. iTunes doesn't give you the ability to merge varying accounts.
All purchases and downloads you made with one account are tied to that single account only. One iOS device cannot be synced with different libraries. This functionality can be done with third-party software if you want. Plus, iTunes only allows file transfer if you have a computer. It cannot be used on a mobile device. There are issues when it comes to the formatting of different files. And movies are even made smaller up to a certain size so you can view it.
All of these disadvantages make iTunes a bad option when it comes to managing your files and transferring data from one device to another. Thus, it is best to consider using FoneDog Phone Transfer in order to move files among multiple device types.
Part 3: To Wrap It All Up
This guide has given you the top tools you can use in order to transfer music from iPhone to computer without iTunes. The best tool we recommend is FoneDog Phone Transfer. This software is very fast and enables you to transfer files among different device types without resulting in data loss.
We have shown three different runner-up tools as well. Finally, we ended the article with reasons why iTunes is a big disadvantage especially when it comes to performance and transferring of data.
How about you? What's your take on the top tools above? Have you downloaded FoneDog Phone Transfer yet? If you haven't you should try to do it now. Plus, you can comment on your thoughts on the section below.