"Hi, I recently bought an iPhone 11 and this is my first iOS device. I have been using an Android phone and I would like to know if there are faster methods to transfer my data from Android down to iPhone 11. Thanks!"
Switching phones may sound exciting and worrying at the same time. With the fast-changing mobile industry, we have today, it's no news anymore that people are switching over.
Purchasing a new phone is the easiest part but it gets pretty uneasy when you start to set it up. It's more complicated when you are also switching phone versions like from Android to iPhone and you had no idea how, to begin with.
Although, both are actually good and competitive in terms of features, privacy, and functionality, moving your contents can be frustrating especially when you haven't done this before. iPhone 11 is the latest model released by Apple and it's packed with a lot of great features.
So, today, we will give you 2 ways to transfer data from an Android phone to an iPhone 11. Read along to find out!
Part 1. The Fastest Way to Transfer Data from Android to iPhone 11Part 2. Use Move to iOS Feature to Transfer Data from Android to iPhone 11Part 3. Bonus Tips on How to Transfer Other Files from Android to iPhone 11Part 4. Summary
Part 1. The Fastest Way to Transfer Data from Android to iPhone 11
The quickest way to transfer phone data from android phone to new iPhone 11 is through the help of third-party programs. Unless you want to manually move every file including your contacts, call logs, SMS, app messages, photos, and the rest of the important contents, and then it will take a lot of time before you can complete them all.
However, using third-party programs lets you perform the transfer in just a few clicks. Just like using FoneDog Phone Transfer, it helps you transfer almost all types of phone data from mobile to mobile, including iOS to iOS, Android to Android, iOS to Android and vice versa. You can also transfer files between PC to mobile and the other way around.
You'll definitely save time in transferring phone files and also avoid data loss that might trigger during the transfer.
FoneDog Phone Transfer is compatible with iPhone, iPad, and iPod Touch including the latest iOS 12 and Android versions running from 2.3 up to the most recent 9.0 Pie.
How Does FoneDog Phone Transfer Work?
Switch between iOS and Android easily
Transfer files from Computer to Mobile
Backup and Restore Contacts
One-click Data Export from Phone to PC
To learn more, follow this guide on how to transfer your data from an android phone to iPhone 11:
Open FoneDog Phone Transfer and connect both devices via USB cable
On the left toolbar, select the file types you want to transfer from the Android phone. Each file category is available for preview with complete details including the time, size, and name
Click Export to a device and select your iPhone 11
Wait until the transfer is finished. Avoid disconnecting the phones while the transfer is ongoing.
That's it! The transferring time is so quick that you can barely notice it!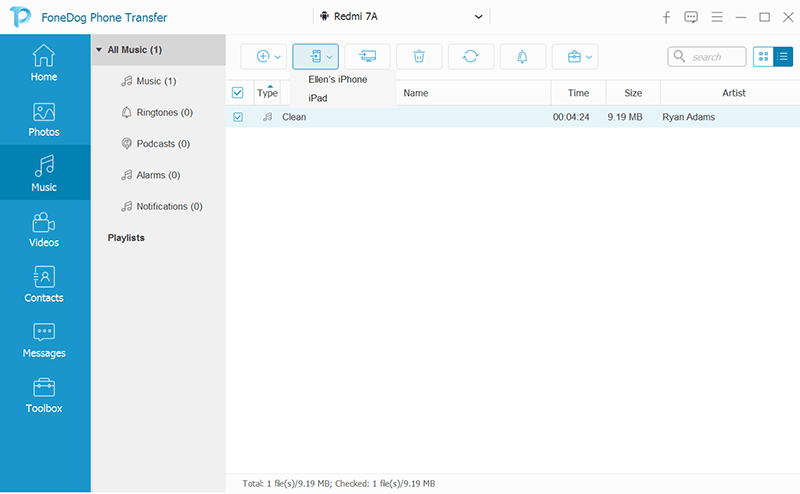 Part 2. Use Move to iOS Feature to Transfer Data from Android to iPhone 11
Apple created an Android application which will cater to the needs of android users who plan to switch to iOS. The app is called Move to iOS and it has been working smoothly on devices running on iOS 12.
This wise move by Apple has been applauded by a lot of users because it makes the transfer process a breeze. As of the moment, only devices with iOS 12 can enjoy this feature, so your iPhone 11 is included.
With Move to iOS app, you can basically transfer almost all important data such as email accounts, web bookmarks, contacts, messages, media files, and more.
Here's How Apple's Move to iOS works:
Tip: It is highly advised not to set up the iPhone yet before using the Move to iOS feature. If you already did, you need to erase the data from the iPhone and start over. Otherwise, you can manually move the data to your new phone.
Plugin both devices to a power source to avoid disconnection during transfer and make sure the Wi-Fi is turned on too. Turn off the mobile data on the android device
Download the Move to iOS app on the Android device via PlayStore
Follow the setup instructions on your iPhone until you go to the Apps & Data screen
Choose the Move Data from Android and launch the Move to iOS app on the Android phone and select Continue
Agree to the given Terms & Conditions and select Next on the upper right corner of the phone screen
Tap Continue on the iPhone 11 screen and wait for the 6 or 10-digit passcode
Type in the code on the android phone and wait for the transfer screen to show up
Choose the file types you want to transfer like contacts, messages, message history, photos and videos, email account and calendar. Your apps will be downloaded automatically as long as they are available from the AppStore and PlayStore
Select Next on the Android phone and wait for the transfer to finish and select done on the same phone
Choose the option Continue Setting Up iPhone on the iOS device and follow the onscreen prompts on how to complete the setup
The amount of transfer time depends on the data you are transferring from android to iOS so it is best if you do the transfer overnight or after you have used your Smartphone. Books, music, and other documents are not included in the transfer and you need to move them manually.
Part 3. Bonus Tips on How to Transfer Other Files from Android to iPhone 11
There are more ways to transfer phone contents but let's stick to what we have discussed in the first two parts of this article. Since Move to iOS does not include your music and documents, we added transfer steps as added bonuses.
How to Transfer Music and Videos from Android to iPhone 11
Music is not included in the Move to iOS app and it seems that you have to either use the first option which is FoneDog Phone Transfer or you can do it manually. iTunes will be of big help when you need to move your music files.
Here is how to transfer your music and videos from android to iPhone:
Plugin the android phone to the computer and copy all your music and video files to a new folder. Disconnect the android after copying those files
Install and launch iTunes on the computer and connect the iPhone 11 via USB cable
Once your device is detected, go to File and select Add Folder to Library. Open the folder you have created earlier where you saved your music and videos
Under Devices, select your iPhone 11 and click the Music tab from the upper right menu and tick the box for Sync Music. You can choose to sync the entire library or selectively choose the files
Click Apply to save the action performed. You can do the same with your movies and videos.
Transfer PDFs and Other Documents from Android to iPhone
Another file not included in the Move to iOS app is your documents such as PDFs. Luckily, Android is an open-source operating system and there are a lot of methods you can do to enable file transfer.
One of the easiest ways to move your PDF contents is through Dropbox upload. Dropbox supports all types of document format and has 2GB of free space to use. It also offers space upgrades if you need more.
Upload PDFs to Dropbox from Android:
Install Dropbox on your Android phone and tap the Plus sign or the Upload button.
Select the documents you want to upload
Download Documents from Dropbox to iPhone 11:
On your iPhone 11, install Dropbox app as well
Find and select the file/s you want to download and tap the download button
Part 4. Summary
There you have it; we have just covered the different steps on how to transfer data from android to iPhone 11. There were two main methods we used in this article to execute the file transfer, the first option is via FoneDog Phone Transfer, which is by far the most efficient way since you can transfer all your files in just a matter of few minutes.
The next main method we used was the Move to iOS app which was recently available in iOS 12. This app also highlights transferring main contents like contacts, messages, and more. However, this feature has limitations; it cannot move documents and music contents. You must find another transfer option to move them such as manually moving or finding other apps that would do.
And this is where we added bonus methods to transfer your music and documents such as PDFs. To sum it up, transferring phone contents between Android and iOS is not a complicated task anymore. Thanks to programs like FoneDog Phone Transfer and other dedicated apps.