When your Mac hard drive space is almost full cleaning files and folders one by one is a hassle. It will take up a lot of time and effort. Plus, browsing for cluttered, old, and unnecessary files will be difficult with all the numbers of files you may have on your Mac. So, the best solution to this is to do a factory reset. It will free up space from your Mac hard disk easily.
Cluttered files, old files, useless files, or whatever you want to label it are the reasons why you probably want to do a factory reset. Your Mac hard drive is about to get full and its performance starts to slow down.
So, how to reset Mac to factory setting? How would you maintain a high and smooth performing Mac at all times? How to prevent piling up files in your Mac hard drive?
These questions and other questions running on your mind right now will be answered. Read on and let us start cleaning up and boosting your Mac.
Section 1: How to manually reset your Mac to factory setting?
Doing a factory reset before selling, giving away your Mac or trying to boost and free space on your Mac hard disk is necessary. This would avoid identity theft if you have an account left logged in on your Mac. The reset will also free up space on your Mac hard disk. Making your Mac like brand new.
Follow the steps below to manually reset your Mac to factory setting.
Step 1: Reboot your Mac. Wait for the boot sound before pressing the COMMAND button and R key together. This will set your Mac into Recovery Mode.
Step 2: After setting your Mac to Recovery Mode, the screen will flash macOS Utilities or OS X Utilities. Click the Disk Utility.
Step 3: Select the Mac drive or the name of your Mac drive. Click the Erase button.
Step 4: Label the erased drive with your preference. For the format click and pull down the drop-down menu. Click the OS X Extended (Journaled) from the drop-down and then select Erase.
NOTE: After clicking the Erase button, it will delete everything from your Mac.
Another reminder, if the set-up is for yourself, you might want to install the Mac OS X. Just go back to the "Mac OS Utilities" then click the Install Mac OS X. Wait for a few minutes. After the installation, your Mac will automatically reboot.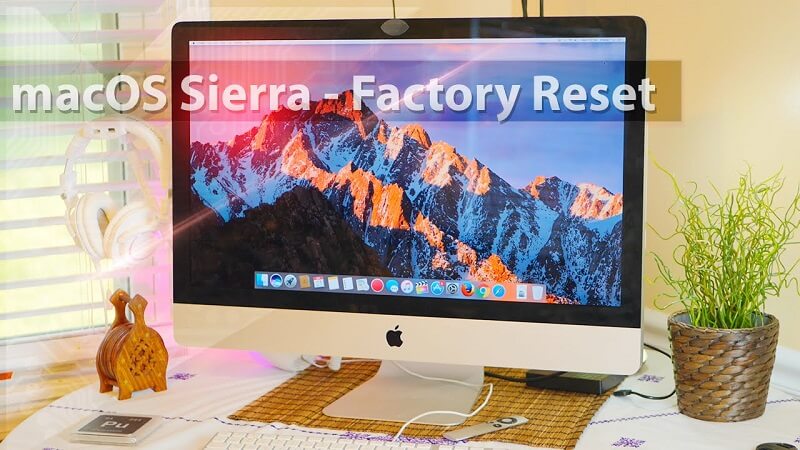 Section 2: How to maintain a high and smooth Mac performance at all times?
After doing a factory reset, your Mac will run now smoothly and faster just like brand new. But over the time of use, it will start to run sluggish again if you will not do a regular clean-up.
Cleaning up regularly and checking the status of your hard disk is very important to prevent the piling up of unwanted files. So, how would you do a regular clean-up? Would you need a long time for it?
For an easy clean-up and faster way to do the job, use PowerMyMac by FoneDog. With just a few clicks it will junk all cluttered, old, large, duplicated and other files that you do not need. Plus, this powerful tool is not only a cleaner. It can check your Mac status from CPU, Memory, and your hard disk.
PowerMyMac of FoneDog can also encrypt your files, hide files, and shred files. It also has a function to find and search for duplicated files and photos stored on your Mac.
Aside from these features, you can also use PowerMyMac to uninstall applications completely. Keep in mind that dragging application straight to your bins is not the right way to uninstall it. This dragging method will leave cluttered and associated files. But with PowerMyMac uninstaller feature, you can now completely remove an app with its associated files.
There are a lot more features that FoneDog PowerMyMac has. It is not just your ordinary cleaner tool to clean junks on your Mac. PowerMyMac is an all-in-one tool. You can clean, boost, set privacy, and even check the details and status of your Wi-Fi. YES, you read it right. You can test the speed of your Wi-Fi connection using the PowerMyMac of FoneDog.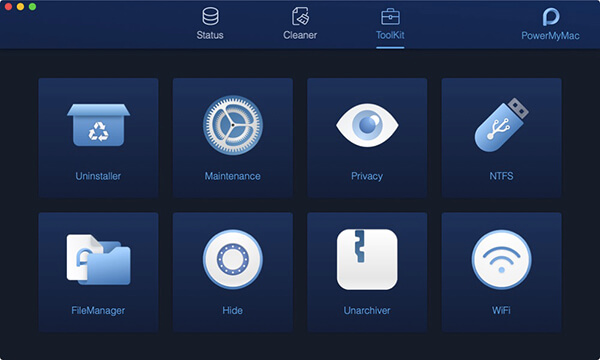 So, if you want to keep your Mac running smoothly and boost it faster, PowerMyMac is the solution to your problem. It will maintain the performance of your Mac just like brand new. With just a few clicks of its features, factory reset is not even an option to free up space and fix a sluggish performing Mac.
Section 3: Wrapping Up
Doing a factory reset should be your last resort to free-up space from your Mac hard disk. This process will wipe out entirely your Mac data. After a factory reset, it will leave you a blank Mac. So basically, you will be starting from scratches.
But if you are planning to sell or give it away then it is fine to perform a factory reset. However, if you're just trying to free space or repair a slow performing Mac then PowerMyMac can do the job.
Take Note doing a factory reset means deleting completely all the data stored on your Mac hard disk. So, you have to remember to back up important data or files before proceeding. But if you are going to sell or give away your Mac then backing up is not necessary.
Either of the two reasons factory reset would not be necessary if you have been cleaning up your Mac regularly. Regular clean-up of your Mac is essential to keep its performance smooth at all times. Allowing unneeded and useless files to pile up may lead to a sluggish and lag Mac performance. It will also easily fill your Mac hard disk space.
Additional fact, uninstalling applications by dragging each directly to the trash bin leaves cluttered and associated files. This dragging method may have contributed as well in filling up of your Mac hard drive space. If you have been doing this for quite a long time, cluttered files are surely stored in your Mac hard drive. Eating up space of your hard drive.