By Nathan E. Malpass, Last updated: September 3, 2021
Amazon Prime Video is a service that brings its subscribers with a huge collection of TV shows and movies. The tech giant invests in creating original series to a great degree. And with an enormous list of videos to watch, people are scrambling to subscribe to the streaming service.
Like other services, Amazon Prime Video also provides a history of recent movies or series you've watched. But a lot of people don't want their history to be seen or even recorded. That's why they want to know how to delete Amazon watch history.
Here, we will discuss a lot about Amazon Prime Video. We will also discuss how to remove the history of videos you've previously watched. In this way, you can make sure your viewing history is safe from prying eyes. Let's get started.
Part 1: An Overview of Amazon Prime VideoPart 2: How to Subscribe to Amazon Prime VideoPart 3: How Do You Watch Prime Video?Part 4: How to Delete Amazon Watch HistoryPart 5: To Wrap It All up
Part 1: An Overview of Amazon Prime Video
The said service is a video streaming platform that allows users to watch TV series, movies, and documentaries, among others. Prime Video is provided by the online shopping giant Amazon. With the service, you can watch TV on the Internet and you don't have to download the videos.
Still, users are allowed to download videos so they can watch it at a later point in time. This is handy for those who have a mobile device such as smartphones and tablets. With Amazon Prime Video, buying each and every movie you like is not necessary. All you have to do is to pay a monthly subscription and you can consume unlimited amounts of content provided by the service.
A lot of people confuse Amazon Prime Video with that of Amazon Video. The two are different in the sense that the latter is a video buying or rental service similar to that of iTunes. With Amazon Video, you pay for individual videos that you want. You can simply download them and keep them for an unlimited period. Or, you can rent them out for a certain timeframe.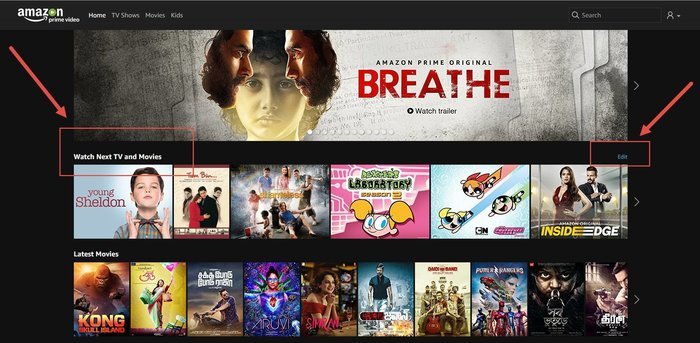 Part 2: How to Subscribe to Amazon Prime Video
If you are a member of Amazon Prime, you already have Prime Video in your subscription. You can simply search for various videos you may want to watch on the platform. However, if you're not a member of Amazon Prime, you can simply go to its official page.
After this, simply select a membership package that you want and input the required details. Before we delve on how to delete Amazon watch history, it is important to note that you can also opt for the free trial first before actually shelling out money to watch videos.
Amazon Prime Video gives you the ability to share your paid subscription package to that of friends and family members. When you connect various accounts on Amazon and place them on a list of the so-called "Amazon Household," benefits can be shared.
For instance, two linked accounts can share with free streaming and free delivery. Your personal account will stay separate from other accounts within the Household. Thus, you can still watch videos that you want at your own time. Still, the benefits (and costs) will be shared among members of that household.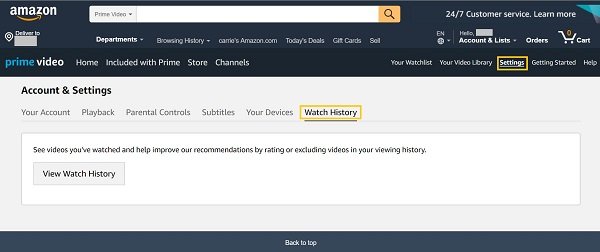 Part 3: How Do You Watch Prime Video?
Once you become a member of Prime Video, you can immediately start watching from a list of TV series and movies. You can do so on your computer (Windows/ Mac), tablet, phone, gaming console, and supported television. Simply go to the official page of Prime Video and sign in to your account.
You can also download the app for Prime Video especially if you watch videos while on-the-go. Amazon Prime Video was created to stream movies and TV shows. However, a lot of the videos can be downloaded as well. Once you do so, these can be watched offline. It comes in handy when you love to travel or when you commute to work.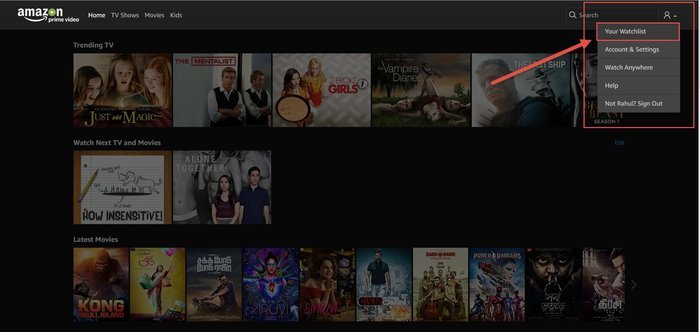 Part 4: How to Delete Amazon Watch History
Amazon will save a history of the different videos you watched on their platform. Your viewing history is used in order to make recommendations based on your preferences. Fortunately, you can still delete Amazon's watch history if you want.
In order to view the history of videos you have watched, you can head to the page (on Amazon Prime Video) named "Videos You've Watched." To do so, you must be signed in to your account. Thus, simply input your email and the corresponding password to be able to check your history.
The section on "Videos You've Watched" can also be seen by going to Amazon.com within your web browser. Then, place your mouse over the label "Account & Lists." This is located at the upper right part of Amazon's homepage. After this, press the option labeled "Your Prime Video."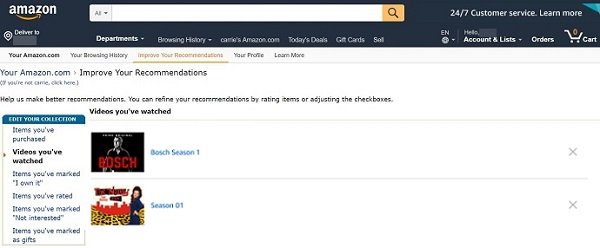 Now, once you're on the page for Amazon Prime Video, press "Settings." This is located at the upper right part of the interface. Then, press "Watch History" and then click the option that says "View Watch History."
This will show you a list of the different videos you have previously watched on Amazon. The most recent videos you've viewed will be seen in the topmost part. It is not limited to those that you've watched on your computer. Every device you used to watch Amazon Prime Video will have a history pulled into this single page.
In order to delete Amazon watch history, you must press the "Remove This From Watched Videos" text found under the video. Once you do this, Amazon will immediately remove it from the list and won't recommend it based on the deleted video. Plus, other people won't have the ability to see your history.
Repeat the steps on removing each video until you have deleted everything that you want from the watch history. To view the next page, simply scroll down and click "Next." It will show you the continuation of the videos you've watched.
Rating each video is possible as well. Towards the right of the video you can see "Rate This Item." You can rate the movie or series with five stars as the highest score. You can also click the option that tells Amazon to "not" use the video for recommending other content.
The drawback to doing this is that you have to delete each video from the history manually. There's no automatic button to clear up the entire history altogether. You have to do it one by one, which can be very tedious.
Part 5: To Wrap It All up
This guide has given you an overview of Amazon Prime Video and how to delete Amazon watch history. The information is given in complete detail so you don't have to worry about having another video on your history again.
What's your opinion on Amazon Prime Video? Do you approve of the platform saving a history of your watched videos? Do you also delete them if you want to? Let us know by placing your comments below.