"Which is the best mobile messages recovery software? I love my smartphone; my life pretty much revolves around it. Since I use it so much, it's fairly certain that my memory space is almost, always full! I take some time to delete some messages but immediately after deleting several files or even the attachments with it, I'm hit with "deleter's remorse" if that's even a real word. I've searched through several methods to return whatever messages I deleted but all I've come up across are some recovery software from around the internet. Are there any good? Any help?"
"Deleter's remorse," this might not be a real term, but we all pretty much know how it feels. As soon as you hit that delete button to remove some older messages, something inside of you almost screams to undo your decision however it's not something we can avoid altogether.
Our mobile phones crave more memory space. Assuming you are using a smartphone with an expandable SD card, you may not be as familiar with this problem as most, but you aren't exactly absolved of it either.
Sometimes you just need to make space and you just delete whatever message you can find only to obsess over getting it back somehow.

Part 1. How to Use A Mobile Messages Recovery SoftwarePart 2. Video Guide for Mobile Messages Recovery SoftwarePart 3. Conclusion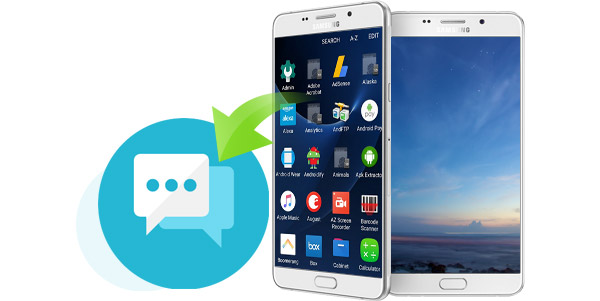 Part 1. How to Use A Mobile Messages Recovery Software
That's pretty much the reason you stumbled upon a ton of mobile phone message recovery software options. Now there are a ton of options at this point and you are taking the time to review each one and at this point in time, you're currently reviewing Fonedog Mobile Solutions Provider.
FoneDog Mobile Solutions Provider has a lot of potential for a number of mobile phones, ranging from Apple products, to Samsung to even Huawei and much more.
It has a strong compatibility with a number of phones; in fact, most mobile units are able to connect easily with Fonedog Mobile Solutions Provider.
Now how does it usually work? Well, there is a rather standard connecting method and can be used for most units, especially the Android units. Follow these simple steps to more or less connect most mobile phones to FoneDog Mobile Solutions Provider.
Step 1. Download and Install Mobile Messages Recovery Software
Download the right tool from FoneDog Mobile Solutions Provider, the options can be plenty such as the FoneDog Android Data Recovery program, FoneDog iOS Data Recovery program and so many other tools. Just choose the one that best suits your current needs for data recovery and download it to a computer or laptop.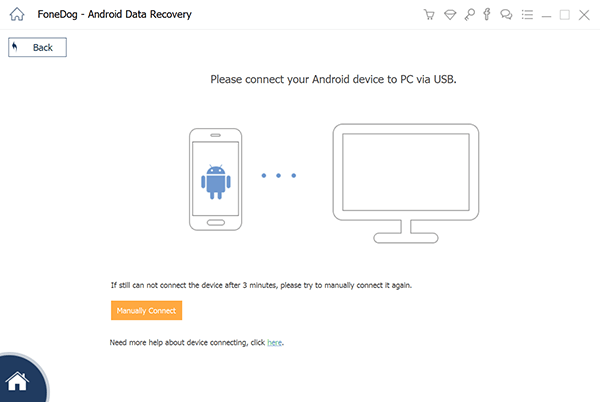 Step 2. Connect Mobile Phone and Enable USB Debugging
Connect the phone to the laptop or computer that has successfully downloaded and installed the Fonedog Mobile Solutions Provider program.
Here you either set an Android unit to a "Debugging Mode" or with an iOS phone, you'll have to switch off iTunes auto sync but there will be a prompt or such that will help you proceed anyhow.
Just follow the instructions and you can proceed to the next step of the FoneDog Mobile Solutions Provider program.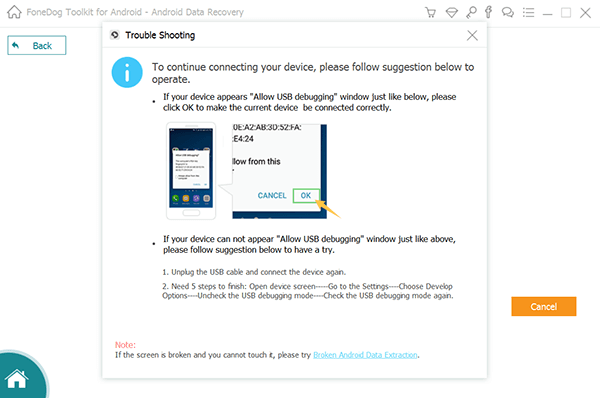 Step 3. Choose Messages Type to Scan on Your Mobile Phone
Choose the data that you want to recover, now there might be quite a bit so please see below for a quick overview of what you can possibly recover.Moving forward and choosing what you need to retrieve, which is messages right now, simply select it and press the "Next" button.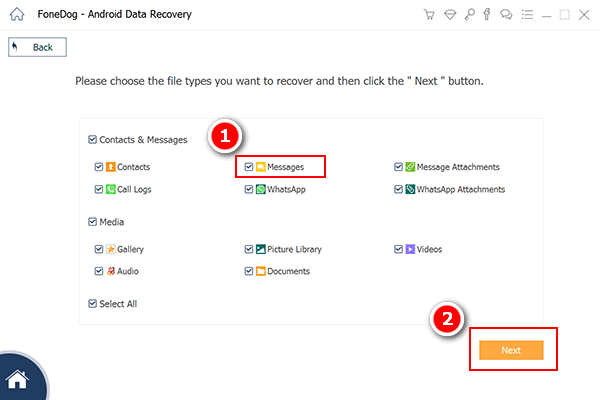 Messages – Quite possibly the reason why you are reading this in the first place, FoneDog Android Data Recovery can really find and recover any deleted messages you may have removed from your phone.
Photos – Nobody wants to have a missing picture. There can be a number of reasons why the picture has been deleted but whatever the reason maybe you need those photos back and with Fonedog Mobile Solutions Provider, you'll be able to regain those lost memories.
Contact list – Nothing ruins your day more than missing contact numbers. For some reason the phone has randomly deleted a contact number, nothing can be done at this point but retrieve it using one of the FoneDog Mobile Solutions Provider programs.

Call History – It might not be a big factor for most people, but this could mean a lot to others and missing call history can really have a dire effect on their businesses. Thankfully with the Fonedog Mobile Solutions Provider programs, business owners will no longer have to worry about this random occurrence.
Documents – Some phones have files such as excel files or word files, plus more and if you are using them for work, it is very worrisome to suddenly lose files as things progress. That can really cause you a lot of trouble before going back to the office but with Fonedog Mobile Solutions Provider you can downloads retrieve the files before any other problems arise.
There are tons of other stuff that Fonedog Mobile Solutions Provider programs can recover for you and it really depends on what you need at the moment that you need it.
Step 4. Start Scanning The Mobile Phone
FoneDog Mobile Solutions Provider program will then begin to scan your mobile phone, kindly make sure you have enough battery life on your unit as this may take some time depending on the amount of data that the program needs to sift through.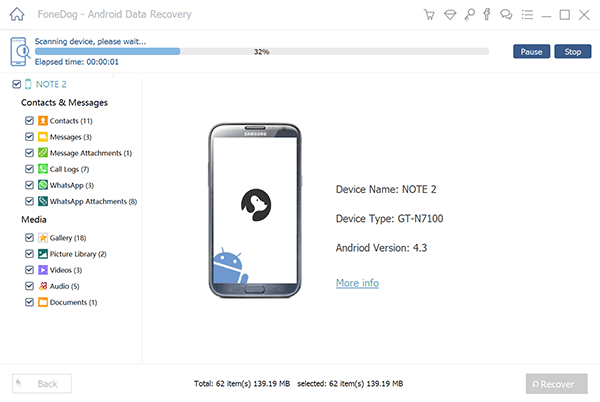 Step 5. Recover Deleted Text Messages from Mobile Phone
Choose from the recovered data and select the information you would like to recover. You can actually see each entry of whatever data you want to regain. Press the "Recover" button and move to the next step.

After complete mobile messages recovery, disconnect your mobile phone properly and you are good to go. Avoid suddenly yanking your phone and opening your chances of corrupting some data. And you are done.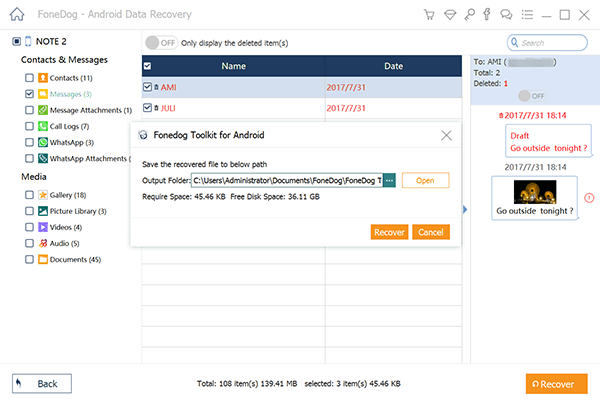 People Also ReadHow to Recover Lost Contacts from AndroidPhotos Recovery: Recover Deleted Photos without Backup from Android
Part 2. Video Guide for Mobile Messages Recovery Software
Part 3. Conclusion
These are the rough steps to retrieve lost data from most mobile phone units. It is ideal to check which program of FoneDog Mobile Solutions Provider best suits your current mobile phone.
The process is quite simple and relatively easy to handle. Now you can confidently move forward using your mobile phone knowing that you have FoneDog Mobile Solutions Provider as a way to recover pretty much most or all data you may have deleted by accident or manually, it's always good to know what options are available to you.