"Is it possible for me to recover deleted files from Blackberry phone? I left my blackberry phone at home the other day and I just found out that most of the files saved in it were gone. My mom told me my baby brother was playing around with my phone and may have touched something else. I had my job photos stored on my phone including some important files."~ Sean
Is it still possible to recover deleted files from Blackberry? Well, yes of course. As long as the files are not overwritten on your device, it will be an easy task to recover. Blackberry smartphones are the most used business phones worldwide because of its work and personal life balance, signature keyboard design, Blackberry Hub and much more.With its recent changing of the operating system to Android; it has gained more users as well and has widened their scope and strengthened their features and security.Like any other smartphones, there are incidents of data loss on Blackberry devices too.The most common of all is accidentally deleting files especially photos, videos, and other media.The good thing is that you can easily recover deleted files without too much work to do.If you experience this data loss, stop using the device as soon as possible to avoid overwriting the data. This means that all the files stored in the SD or memory card are not "permanently" deleted yet unless you save another file on to it. So in order to recover deleted files, you need a third-party software tool to extract them for you.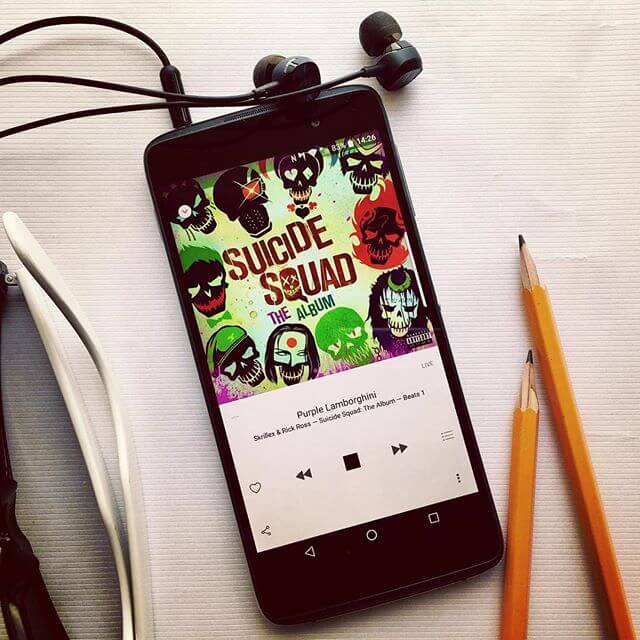 Recover Deleted Files from BlackBerry Phone
Part 1. 5 Steps to Restore Deleted Files from a Blackberry with FoneDog Android Data RecoveryPart 2. Backup Data Using Android Backup ServiceVideo Guide: How to Retrieve Deleted File from BlackBerry Devices?
Part 1. 5 Steps to Restore Deleted Files from a Blackberry with FoneDog Android Data Recovery
The easiest way to recover deleted files from a Blackberry is to use third party programs like FoneDog Android Data Recovery. This software is proven to be effective with easy to use features and has preview options to make sure your files are stored inside before you can recover them. It supports recovery for accidental deletion, formatted devices like smartphones, crashed mobile system and much more. It also supports both Windows and Mac computers to cater all users worldwide. FoneDog Android Data Recovery offers a free trial for you to download and test the program. For a better understanding of how to use the software, simply refer to this tutorial:
Step 1. Download, Install and Launch FoneDog Android Data Recovery
On your computer, download FoneDog Android Data Recovery online by following the onscreen guides. After successful download, complete the installation procedure and launch the software.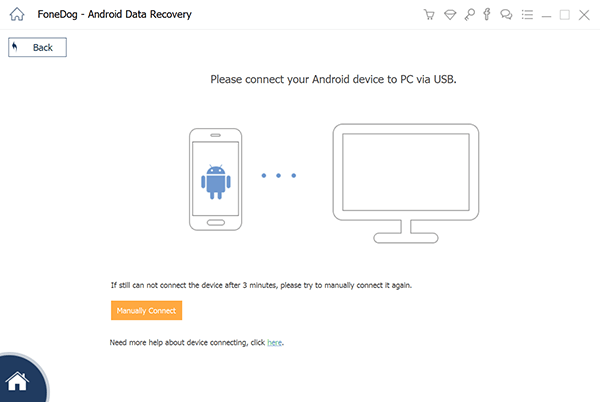 Step 2. Choose Data Recovery and Connect Blackberry
When you reach the main program window, connect the Blackberry device right after using a USB cable. Make sure you have enabled USB debugging on the handset before. A pop-up message will ask you to allow USB debugging, simply click OK to continue.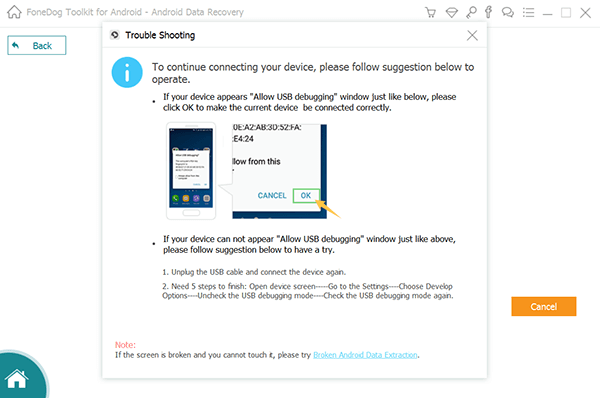 Step 3. Select Files for Recovery
Once the blackberry device is ready for debugging, you can now select the files you want to recover on the next window. For example, if you would like to recover deleted files like photos, messages, videos, and much more, simply tick the boxes beside each file type and click Next to begin the scanning and recovery.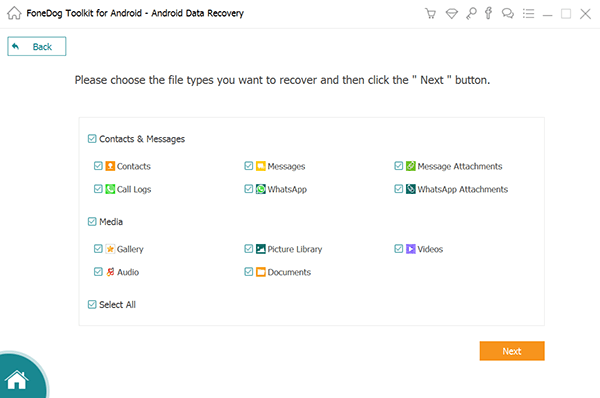 Step 4. Scanning Blackberry Device
After you click Next, the program will start to scan your BlackBerry Device to find your deleted data. This will cost a few moment, please wait for a while. Precious things always worth to wait.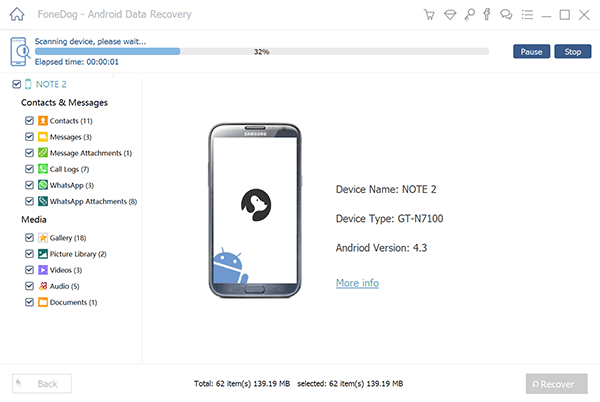 Step 5. Preview and Recover Deleted Files
Scanning may take some time depending on the files you selected for recovery and the network you are connected to. If there will be a Superuser Authorization pop-up during the scanning process, just click on Allow to continue the process. When the scan is complete, you will now see the entire files you have chosen for recovery in a categorical manner.
It will now allow you to choose those files you want to recover and download. You can preview each given file and tick on their respective boxes for selective recovery or you can also click on Select All. Click Recover to save those files on your computer's folder.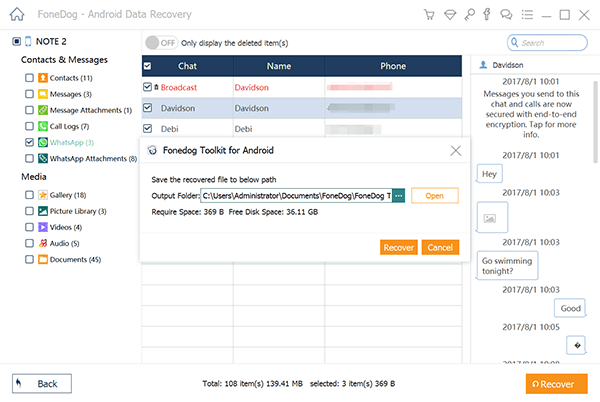 Recovering deleted files from a blackberry device seems pretty easy right? All you need to do is to simply download FoneDog Android Data Recovery and you are good to go. There is nothing more satisfying than seeing those precious and important files again.
Powerful Features of FoneDog Android Data Recovery
This software supports file recovery tool for photos, music, videos, text messages, WhatsApp messages and attachments, contacts, call logs and documents.
It is compatible with all Android big brands and devices, such as Blackberry, Samsung, HTC, and much more.
It enables users to recover lost data with keeping the original one intact.
Users have a great option to Preview files before recovery.
The software works perfectly on both Mac and Windows versions.
It is safe, effective, and easy to use.
Part 2. Backup Data Using Android Backup Service
If you are using Blackberry Prix or the most recent Blackberry Android, it will be more flexible for you to backup your files and data without ever losing them again. You can just simply restore from your backup and get the most from your device.
To backup Blackberry Android, follow these:
Open Settings
Scroll and tap on Backup & Reset
Turn Backup my data switch on.
In order to make sure what account you had set the backup on:
Go to Settings
Tap Backup & Reset
Scroll and Find Backup my Account
If you have not added any account such as Google, tap "Add my account" and follow the prompts to successfully add your email account.
These are the types of files that are backed up using Android Backup Service:
Google Calendar settings
Language and input settings
Date and time settings
Apps installed on Google Play
Display settings
Third-party app settings and data (depending on the app)
Wi-Fi networks and passwords
Home screen wallpapers
Gmail settings
So now you can breathe perfectly again after you have recovered those deleted files in a very convenient way possible. Share the good news with friends! Tell them about FoneDog Android Data Recovery
Video Guide: How to Retrieve Deleted File from BlackBerry Devices?