"I have a Samsung Galaxy S6 and recently I lost all my videos from the gallery. I tried using many programs already but nothing worked. Can you please recommend me the most effective Samsung video recovery software? Thanks!"
Part 1. FoneDog Toolkit- Android Data Recovery for Samsung - Highly RecommendedPart 2. How to use FoneDog Samsung Video RecoveryVideo Guide: How to Recover Deleted Video from SamsungPart 3. Recover from Samsung Kies BackupPart 4. Restore Videos from Google DrivePart 5. Conclusions
Part 1. FoneDog Toolkit- Android Data Recovery for Samsung - Highly Recommended
Videos and photos are probably the best gift technology have ever made. It has contributed a lot of things to our everyday living especially in making memories. Samsung Galaxy S6 is also a top-of-the-line phone which is able to capture candid shots perfect for the on-the-go people and even those who truly adore Android devices. When you deleted videos on your Samsung Galaxy S6 phone, you tend to overreact and think that those files are totally gone.
In reality, these videos are still inside the internal memory of the Galaxy device and are only hidden and unreadable. You need to use a professional Samsung video recovery programs to retrieve the videos. As mentioned above, not all programs are really doing well. Among the available programs in the market, FoneDog Toolkit- Android Data Recovery is the most effective and highly recommended software. FoneDog Toolkit- Android Data Recovery makes recovery way easier and faster especially for beginners. Here are its top features:
Compatible with almost 6000+ Android including the latest Samsung Galaxy S8
Finds videos with or without rooting Android
Recovers contacts, messages (just check the recovery process here), call logs, documents, videos, photos, and more...
Allows data preview before recovery
FoneDog Toolkit- Android Data Recovery offers 30 days free trial and 100% recovery rate.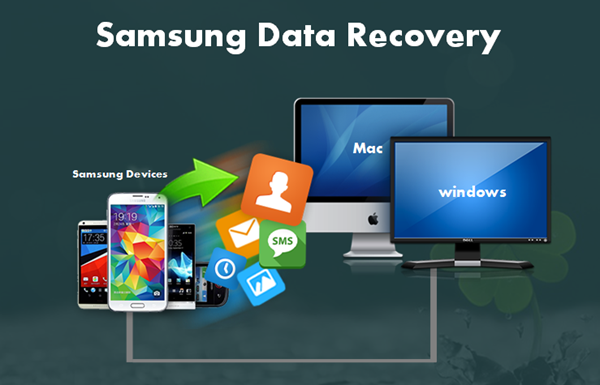 Part 2. How to use FoneDog Samsung Video Recovery
When you realize that you have lost your Samsung Galaxy S6 videos, stop using the mobile phone right away to avoid data overwriting. Data overwriting happens when you still continue using the phone that can possibly take up the space of the deleted videos and makes it harder for recovery. After that, make sure you have FoneDog Toolkit- Android Data Recovery software and follow the steps below on how to perform the recovery:
How to Recover Deleted Videos from Samsung Galaxy
Step 1. Launch Android Data Recovery and connect your Samsung device
Step 2. Enable debugging mode on Samsung Galaxy device
Step 3. Select files to scan the lost videos on the Samsung phone
Step 4. Scan and retrieve deleted videos from Samsung phone
Step 1. Launch program and connect Samsung device
On your computer, download, install, and then launch FoneDog Toolkit- Android Data Recovery. When the program is ready, connect the Samsung device to the computer using a USB cable and then wait for a few seconds for automatic connection.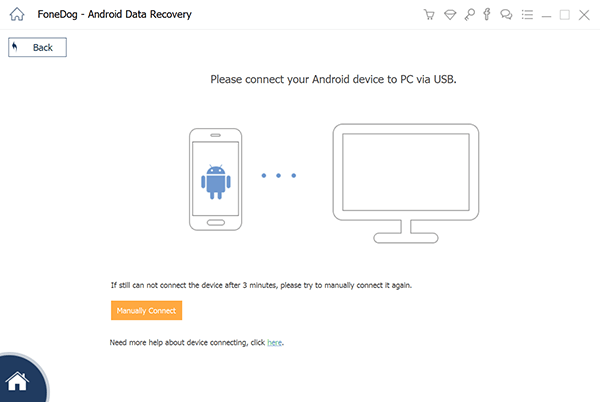 Connect Samsung Device -- Step1
Step 2. Enable debugging mode
The next thing to do is to enable USB debugging on the Android phone. USB debugging is a state of connection between the computer and the Android device and does not cause any danger. To enable the USB debugging, follow these steps:
Open Settings on the Samsung phone
Scroll down to the bottom page and then tap About Phone
Find Build Number and tap 7 times then a quick message appears "You are now on developer mode"
Tap back or go back to Settings
Scroll and tap Developer Options
Enable USB debugging
Click OK on the smartphone, and then click OK on the computer to continue to the next steps.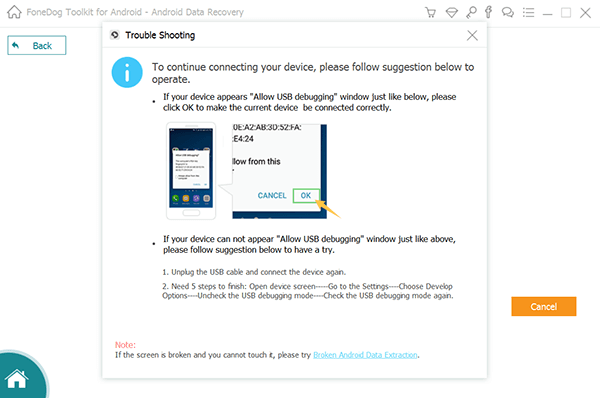 Allow USB Debugging on Samsung -- Step2
Step 3. Select Files to Scan and Recover
On the next screen, you will see all the files you can possibly scan and recover inside the Android. Mark the right categories (at this point Videos) and then click NEXT to continue.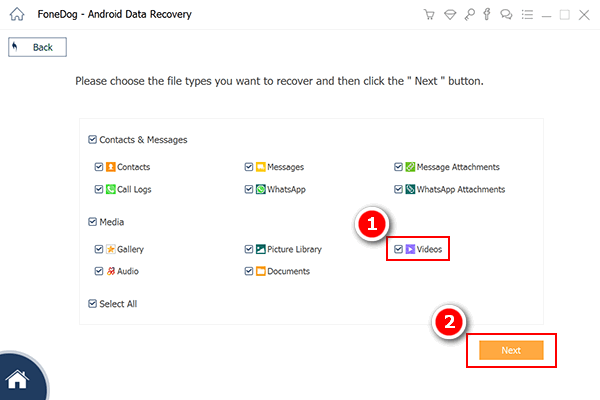 Select Video To Scan -- Step3
Step 4. Scan and Recover Deleted Videos from Samsung Phone
FoneDog Toolkit- Android Data Recovery will now begin to scan the entire Samsung Galaxy S6 phone. This process will take some time depending on the file size. When the scanning has stopped, the files recovered are displayed on the screen according to its category. Go to Videos under Media category and then find the exact files you have deleted. Mark them separately and then create a new folder on the desktop and click "Recover" at the end of the screen.
Besides videos, you can also recover other important files like messages, contacts, call logs, documents, and more.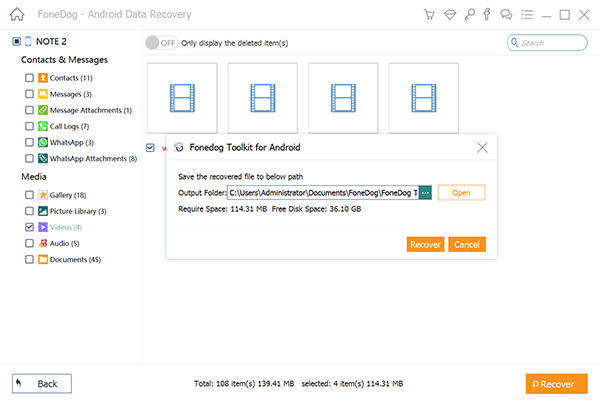 Complete Samsung Video Recovery -- Step4
Video Guide: How to Recover Deleted Video from Samsung
Part 3. Recover from Samsung Kies Backup
If you are the type of person who religiously backs up all the phone contents then you won't have any problem ion retrieving deleted videos back. Samsung Kies is the backup option for all Samsung phones and is working quite similar to the iTunes Apple. You can save all your phone data in one program and make it easier to restore in case of possible data loss. When you have backed up on Samsung Kies, it will be easier for you to recover the files at any time.
Step 1. Launch Samsung Kies and connect Samsung Galaxy device.
Step 2. Update to the latest version once you have reached the summary screen. (Remove the SD card is possible before the update).
Step 3. Click the Backup/Restore tab on the main screen.
Step 4. Choose the backup file you want to restore.
Step 5. Click 'Next' and then select the files for recovery.
Step 6. Click 'Next' to start the data transfer from backup to the Samsung device.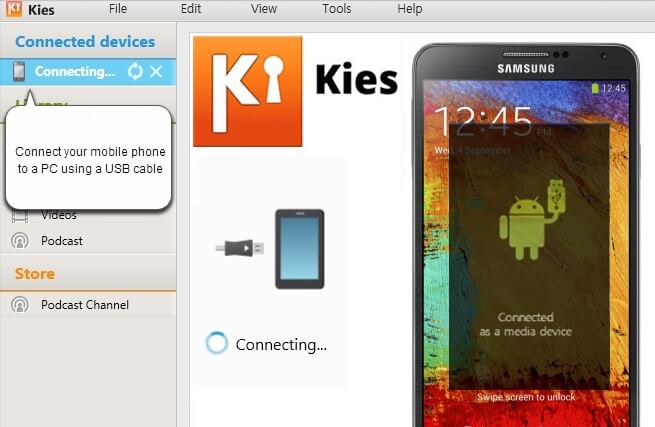 Part 4. Restore Videos from Google Drive
Another backup option is Google Drive, a default Android system app that provides 15GB of free space for all your media and phone contents.
Step 1. Open Google drive in the browser.
Step 2. Find the videos among the files or folders saved. You can also go to the trash bin if the files have been removed.
Step 3. Right-click on the videos and then click Restore.
The only drawback of using this option is actually the limited space wherein you have to divide the 15GB into all the Google apps you are using like Gmail and Google Photos.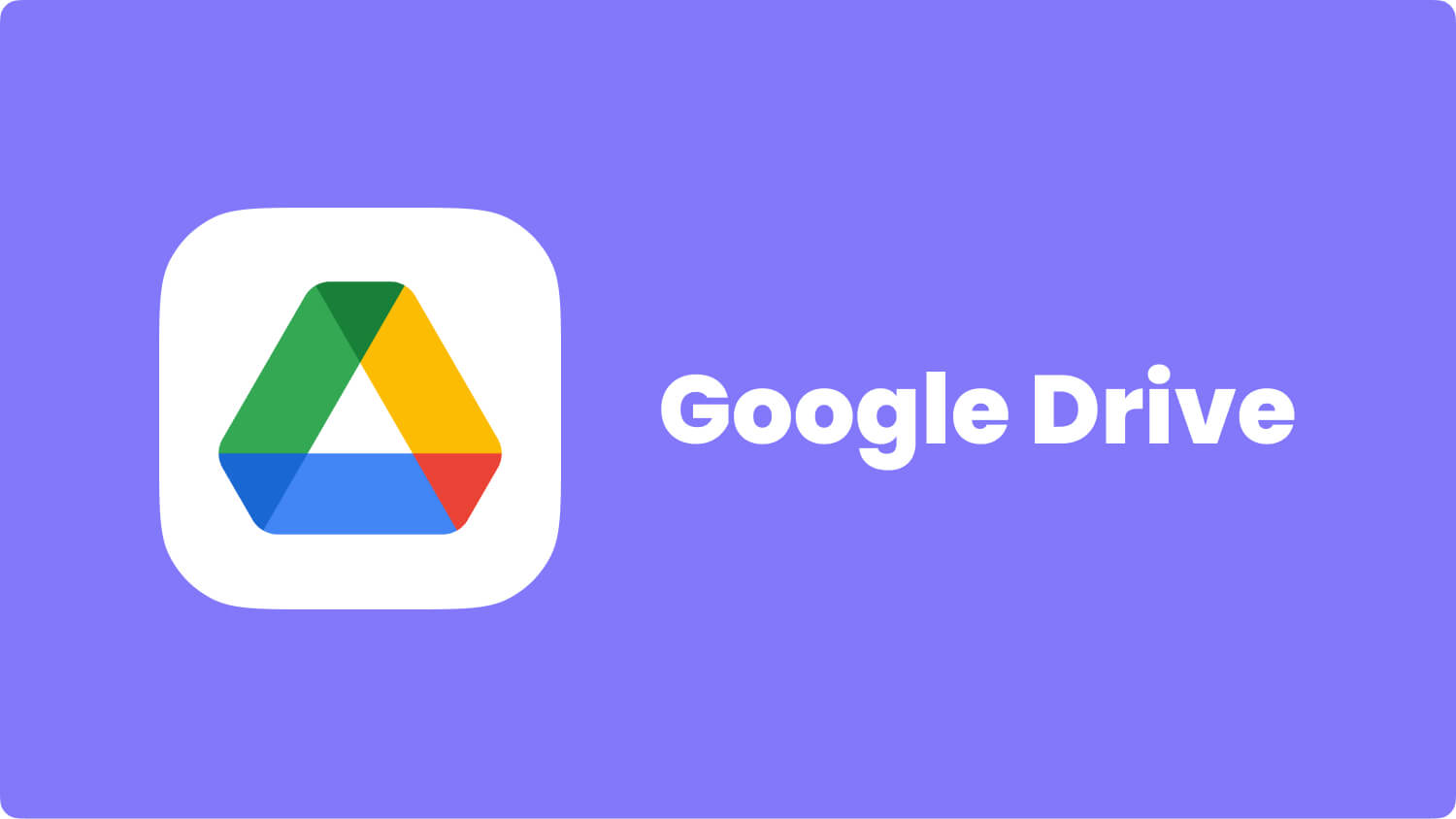 Part 5. Conclusions
Having backups is really a big help in times like this. However, if you have missed doing or creating backups on the phone then you will probably experience data loss which is a big headache. Good thing FoneDog Toolkit- Android Data Recovery is the most effective Samsung video recovery program that offers a complete solution for all types of data loss. This program is very easy to use as well even beginners can certainly navigate through the recovery process. Download your Free Trial today and start retrieving those important data again.