Except for saving your contacts directly on your Android phone, it is also convenient for you to save scores of contacts as an Excel CSV file on your computer first and then import the file from an EXCEL CSV (Comma Separated Value) document into your Android phone. In this way, it greatly reduces the number of abundant steps when you need to add plenty of contacts on your Android at a time. However, Android phones are not able to read CSV in a direct way. Take it easy. Follow the steps below. You can easily transfer the Excel CSV file to the document compatible on your Android phone.
If you have no Excel CSV file, please follow the steps in Part 1 below to create an Excel CSV file first. If you have had a CSV file, please go to Part 2 directly.
Part 1. Create An Excel CSV File
Create an Excel document on the desktop on your computer.
Click the Blank Workbook button and open a new sheet.
Then, you should type your contacts by rows in details in cells.
Column A - FirstName
Column B - LastName
Column C - Phone
Clolumn D - Email
For instance, you can type the contact called "John Smith" with phone number "11112222" and email address "11112222@gmail.com" as below: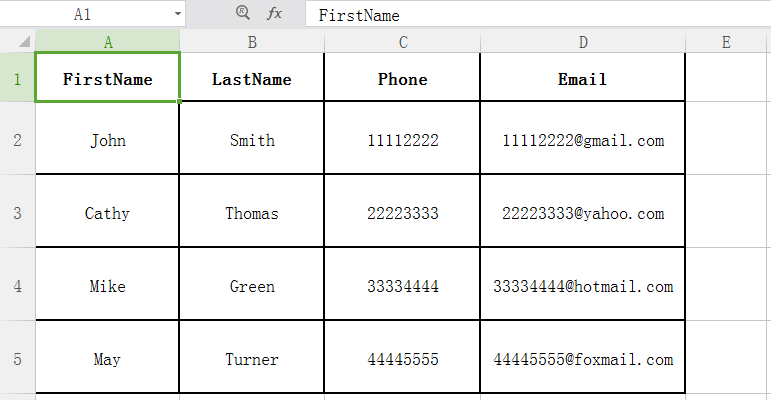 Click File> Save As to save the document.
Name the Excel document and save as CSV type:
For Windows system, please choose CSV UTF-8 (Comma delimited) (*.csv)in the drop-down list of the Save as type
For MacOS system, please choose CSV under Format.
Part 2. Convert An Excel CSV File to vCard File
Enter Google Contacts website in your browser. If you are logged in, the Google Contacts page will be opened. If not, there would be a notice to tell you to fill in your email address and password.

On the left side, click More> Import, and then select files: CSV or vCard file.
Click the file you choose and confirm with the Open button.
After selecting files, tap the Import button at the right bottom of the pop-up window.

Note: Until now, the Excel CSV. file has been sent into your Google account. You can view it on your Android phone if you log in the same Google account. Therefore, you are no need to create a vCard file unless you are willing to send the contact file directly to the hard drive on your Android phone.


Then, you can view your contacts in the list if your contact file is successfully imported.

Next, on the left side again, click the Export button, you can export the Excel CSV file to vCard file, which is the compatible contact file on your Android phone.

Part 3. Uploading vCard File to Google Drive
Enter Google Drive in your browser on your computer. Then, log in your Google account.
On the left column, click the + New and choose File upload


Add the vCard file exported in Part 2 and confirm with the Open button.

Part 4. Put vCard File on Your Android Phone
Download and run Google Drive app on your Android phone.
Log in your Google account.
Find out the vCard you uploaded just now.
Press the vCard file for a few seconds and choose Download until the menu list occurs.
The vCard file then will be downloaded in the Download folder on your Android phone.
Part 5. Import Contacts on Your Android Phone
Start the Contacts app on your Android phone.
Hit the Menu icon with three dots on the right-top corner of the screen.
Later, select Settings or Manage contacts on Samsung phones.
Choose Import/Export contacts> Import> Internal storage> Phone to choose the vCard file. If your Android phone is in the Samsung Galaxy series, the vCard file can be automatically selected since you choose the corresponding storage location.
After clicking the Import button, the contacts begin to be importing to your Android phone.

These are all the steps for you about how to import an Excel CSV file to your Android phone. Briefly speaking, there are five main processes: ①create an Excel CSV file; ②transfer to a vCard file; ③upload to Google Drive; ④download on Android phone; ⑤add to Contacts app.


If any question, please feel at ease to contact us!