By Nathan E. Malpass, Last updated: September 21, 2022
"My phone is now stuck with a blue screen, which I believe people call the screen of death. Can you help me fix that? Most importantly, can I still recover the files from my phone if I can't fix the problem?"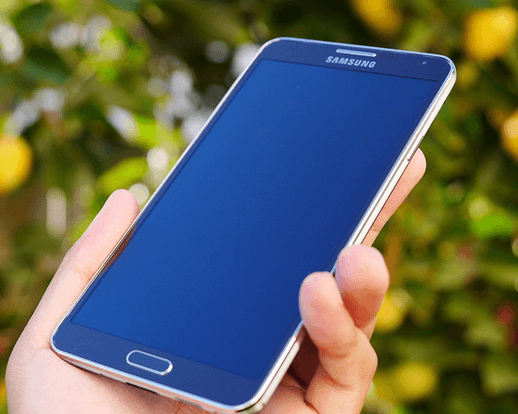 Part 1. The Screen of Death and What Causes ItPart 2. Troubleshooting Tips for Samsung Galaxy Phones with Death ScreenPart 3. Recover Data from Samsung Galaxy with Death ScreenPart 4. ConclusionVideo Guide: How to Retrieve Data from Death Samsung Galaxy
Part 1. The Screen of Death and What Causes It
It is undeniable that the Samsung Galaxy series is one of the top sellers on the market. It does not come as a surprise because of its user-friendly interface and powerful features. However, it also comes with its own share of bugs and glitches.
After all, smartphones are like any other piece of technology. They can malfunction. That is usually triggered by the daily wear and tear. One good example of a phone issue is the death screen. The screen of death can manifest itself in 2 ways.
Your device screen can turn blue, making your gadget unresponsive. Sometimes you even need to fix your Samsung phone for its black screen problem. It often happens when you turn your phone on and it fails to boot up normally. This leads to a blue screen without any error message flashing on the screen.
Other screens can turn into black and stay that way. They can be a symptom of hardware malfunctions or software issues. Whichever the case, these occurrences can be a cause of worry to any user.
If you're encountering the same problem, you're in luck. This article will provide you a rundown on how to get rid of the death screen without changing your screen. More importantly, we'll teach you how to recover your data from your damaged phone.
Part 2. Troubleshooting Tips for Samsung Galaxy Phones with Death Screen
Tip #1: Remove the Battery from Your Phone.
While this may seem exceedingly simple, this solution can fix almost any common Android issue. That includes the screen of death.
Remove the battery from your device.
Reinsert the battery after 5 minutes.
Turn on your phone. See if your phone boots normally and leads you to your home screen.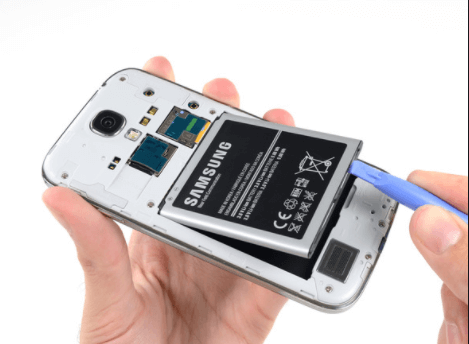 Remove the battery from the Samsung Phone--Tip1
If the death screen still stays on your Samsung Galaxy phone, you can try out our second tip.
Tip #2: Perform a factory reset on the Samsung
Doing a factory reset will allow your phone to go into recovery mode. This will enable you to reboot your phone. If all goes well, you will see the last of the death screen.
Here's how to carry out a factory reset without having to tap on your phone. Press and hold the Power button, Home key, and Volume Up key at the same time. Wait until your phone vibrates.
You will see your phone's Android Recovery System on the screen. Use the Volume Down button to scroll down and reach Wipe cache partition. Select it by pressing the Power key.
The device will start to reboot automatically. Check if your phone turns on by itself. If it does not, take out and reinsert the battery. Restart your phone and see if you have gotten rid of the death screen.
People also Read:
Restore Android Data after Factory Reset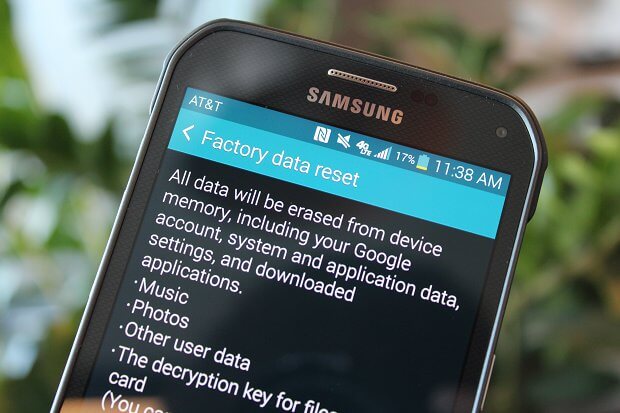 However, doing this will wipe out all data on your phone. The good thing is you can use FoneDog Android Data Recovery to retrieve all erased files after you perform the reset. If the screen of death still bugs your Samsung Galaxy Phone, then it is time to recover your data.
Part 3. Recover Data from Samsung Galaxy with Death Screen
With the death screen on, you don't have the ability to use the touchscreen and navigate through your phone's apps. You can't access your files too. But thanks to Broken Samsung Data Extraction, you now can. The software can extract files from damaged phones, even those that are bricked.
That includes both existing and deleted files. If you have data that you have accidentally deleted, this is the perfect opportunity to get them back. You can use the software as well if you performed a factory reset.The software would prove handy too if you're planning to replace your damaged phone with a new one.
With the software, you can retain a copy of your phone's data on your computer. You can then easily transfer them to your new gadget. Sounds neat, right? Let's move to the actual recovery, shall we? Why don't download the Free Version to have a try, here is for you.
Step 2. Choose the Device Issue that Matches A Samsung Situation.
To make data recovery more effective, the software will ask what issue you are currently experiencing with your device.
There are 2 options. The one on the left deals with issues on the phone's screen, while that on the right is focused on a system damage.
Since you are dealing with a death screen, click the Start button on the left side of the window.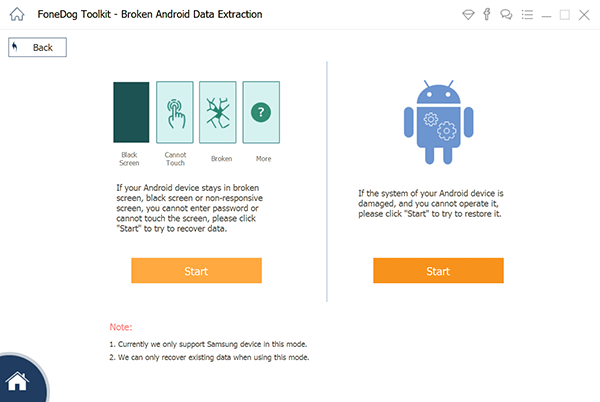 Step 3. Provide Your Device Details Include Name and Model
Select the applicable device name and model from the 2 drop-down boxes. This information will be used to download the correct recovery package for your device. Hit Confirm to proceed.
Don't Miss
How Can We Recover Data from Android Broken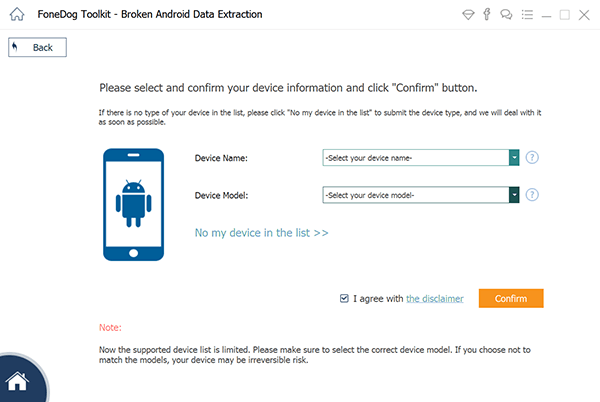 Step 4. Enter Download Mode for Samsung Phone.
The software needs to download a recovery package for your device to retrieve data from your phone. You will need to manually allow the operation.
To do this, follow the instructions below.Turn off your phone. Push and hold the Power button, Home key, and Volume Down key at the same time. Finally, push the Volume Up key.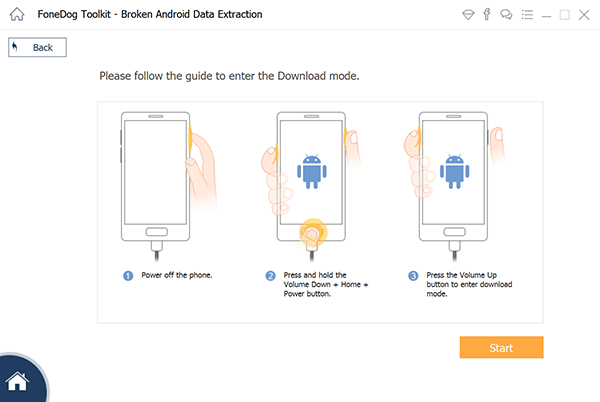 Step 5. Download the Recovery Package.
The software will start downloading the recovery package for your phone. Do not disconnect your device from the computer at any time.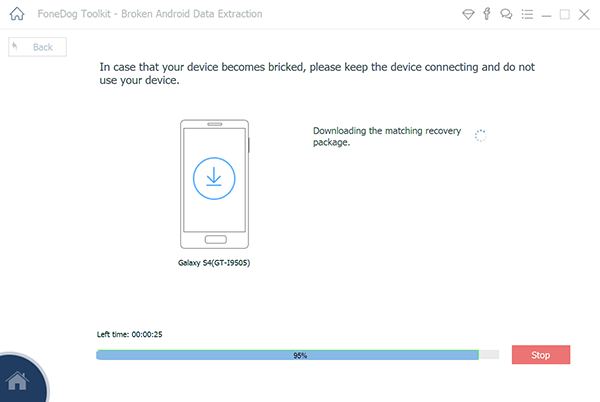 Step 6.Recover Data from Death Samsung Galaxy without Changing Screen
Once the software downloads the matching recovery package, it will start to scan your phone for data. The program will extract them. You will see the extracted files on the window.
Simply mark all file types so you can retrieve all of your phone's files. If you only need specific data, click on each data type and review its contents.
Tick the boxes of the items that you want to recover.Once you have made your choice.
Click the Recover button on the bottom-right corner of the window. This will prompt the software to download the files and save them to your PC.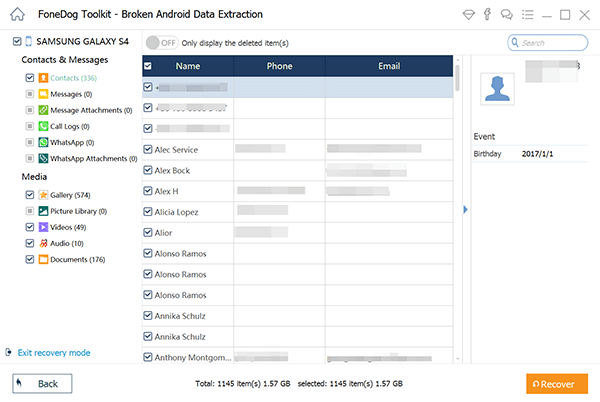 Part 4. Conclusion
The screen of death is one thing all Android users don't want to see. Sadly, changing into a new screen won't solve the problem. If you're unfortunate and you do encounter the death screen, our two tips would hopefully prove helpful to you
. If you just want to recover your data and get it over with, FoneDog Broken Android Data Extraction would do the trick. The software can help you retrieve files from your Samsung Galaxy phone in a quick and efficient way. What's more, the software comes with a 30-day free trial.
Download the program now and get your data back ASAP!
Video Guide: How to Retrieve Data from Death Samsung Galaxy
This is a video guide on how to restore data from death Samsung galaxy without changing screen, so why don't learn and restore data for yourself. Click the Video and watch.