User A: "I need to get my details off the phone but how to recover data from Samsung Galaxy S7 with broken screen device? "My Galaxy S7's phone screen is broken and I cannot do anything on the phone now, even the touch is not responding at all. Help me out, please. Thanks in advance!"
User B: "Which is the best android backup software for my pc? Please help me out."
Most Samsung Galaxy S-series users encounter such a situation that their devices are damaged with broken screens. Therefore, this article aims to provide Samsung Galaxy users a most efficient method to solve this problem.
Tips:
Part 1. What Causes Broken Screens of Samsung Galaxy S7?Part 2. What to Do When Meet A Samsung S7 Broken Screen?Part 3. How to Recover Data from Samsung Devices with Broken Screen?Part 4. Bonus Tips: Two Things Need to Do on Your Samsung Galaxy S7Video Guide: How to Do Galaxy Devices Broken Screen Data Recovery?
Part 1. What Causes Broken Screens of Samsung Galaxy S7?
The worst that can ever happen to our smartphones is breaking it and leave it useless. You cannot afford to see a beautiful device breaks so easily knowing that you spent a fortune to purchase the device and all of a sudden it just got broken. A broken screen phone is very common especially with those made with fragile glass screens.
Good thing, with the recent smartphones released in the market the glass screen, is one of the competitions that big brands are into. Just like the Samsung Galaxy S7 which is made with damage-resistant Corning Gorilla Glass 4 so it is quite a struggle to break the screen.
It has protective layers which can protect the phone from sudden drops. But there are reported cases though of most Samsung S7 that experience broken or cracked screen and needless to say, it is not safe to continue using the broken device. A Samsung Galaxy S7 can break due to the following possible scenarios:
The severity of the fall or drop - How bad the fall was or how high it got dropped from?
The surface area of where it got dropped - Did it fall into a smooth area or rough grounds?
The impact of the fall - Did it lay flat or did it flip over?
No matter how good the brand of the glass screen that these smartphones are using, these devices are still prone to breakage regardless.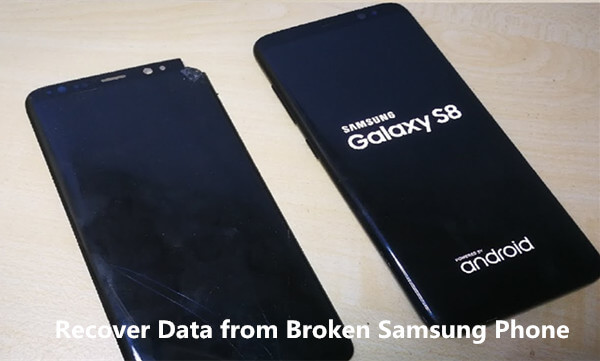 Part 2. What to Do When Meet A Samsung S7 Broken Screen?
Well, you cannot do anything much on the broken device unless you already have a replacement phone. However, getting a replacement from your manufacturer seems pretty complicated even if you are under warranty.
Broken devices automatically void the warranty of the handset but you are offered a repair or a refurbished replacement phone.
Here are a few of the things you can do when you meet Galaxy S7 broken screen.


Report to the manufacturer – If you are still under warranty, call your manufacturer and ask for possible repair options. You can expect that it may cost more than anywhere else but at least you got it fixed from the brand itself.
Send to Repair centers- If you are out of warranty or if you think it is expensive to a send for repair with the manufacturer, then better go to a reliable repair center that can easily fix the broken or cracked screen.
Do-it-Yourself- If you think you are confident enough to fix the broken screens then you can find and learn from online tutorials on how to repair your phone. Be extra careful about performing DIYs because if you are unfamiliar with the repair then it might lead to more serious issues.
When you think you have exhausted all the possible fixes to repair your broken phone then it is high time to find out how can we to recover data from Samsung S7 phone with broken screen device.
Tip: You need to wipe out all the data from your S7 before sending it to repair centers just to protect your personal information.
Part 3. How to Recover Data from Samsung Devices with Broken Screen?
Although quite complicated to navigate your broken phone, there is still an effective way to recover data from Samsung Galaxy with broken screen.
There is one program called FoneDog Toolkit- Broken Android Data Extraction that easily retrieves all the important details of the handset even if your screen is broken, unresponsive, black, and blank.
Broken Android Data Extraction has the highest retrieval rate among the other programs available in the market today. To better find out how to recover data from Samsung phone with the broken screen, then refer to these guides below:
Note: Before downloading Android Data Extraction, please check whether your model is supported in the list: https://www.fonedog.com/broken-android-data-extraction/reference.html.
Step 1. Launch the FoneDog and Connect Samsung Galaxy Device
On your computer launch the program FoneDog Toolkit- Broken Android Data Extraction and then using the USB cable, connect both devices.
Once the Galaxy phone has been detected by the program, go to the main menu and click on 'Broken Android Data Extraction'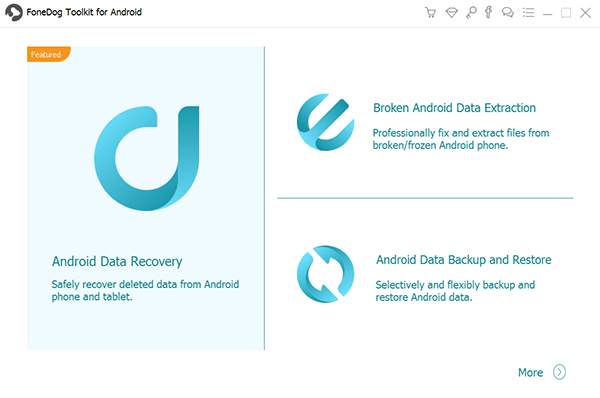 Step 2. Select Issue on Samsung Galaxy
The next thing you need to do is to inform the program of the real issue of your phone. Choose among the online issues presented by the program:


Broken screen
Black screen
Cannot Touch
And More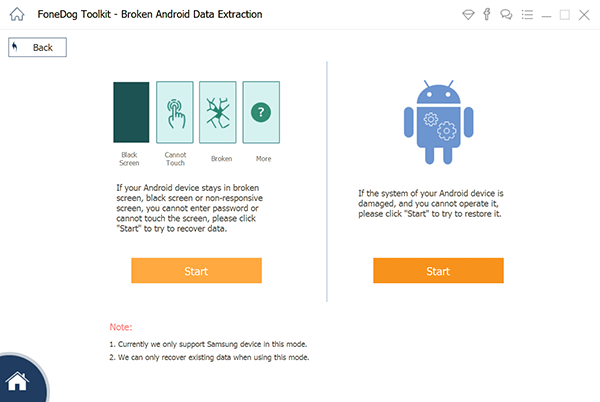 Step 3. Enter the Device Name and Model
Next, you need to enter the correct name and model of your Samsung Galaxy phone in order for the program to extract and install the right firmware package during the repair process.

Also Read:
How to Extract Messages from Broken Samsung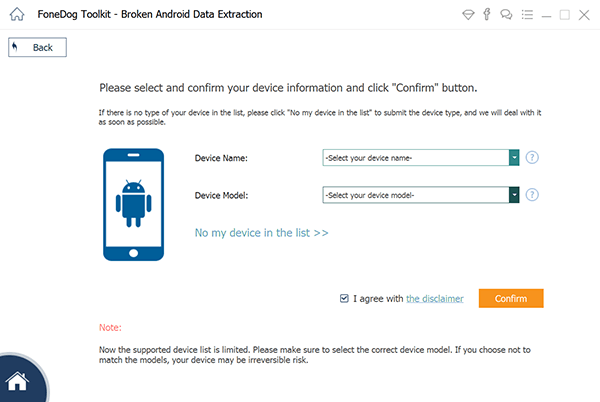 Step 4. Enter Download Mode
In order to fix the device, you need to enter into Download mode to flash the ROM of the Android. To do this, follow the steps below:
Turn Off the Phone
Press and Hold the following keys: Volume Down+ Power+ Home
Press Volume Up to enter into Download mode
The program FoneDog Toolkit- Broken Android Data Extraction will then download the correct firmware package and extract it on the Samsung Galaxy device. This may take a while but you can see its progress onscreen.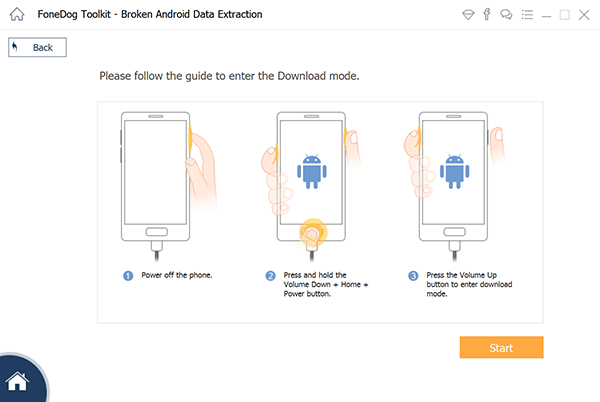 Step 5. Preview and Recover Data from Samsung Galaxy with Broken Screen
After extracting the right firmware package, FoneDog Toolkit- Broken Android Data Extraction will now scan the entire device and recover all the data stored inside.
The files are then set into different categories wherein you can preview them and recover individually. Click on the 'Recover' button once you have determined which files you need to recover.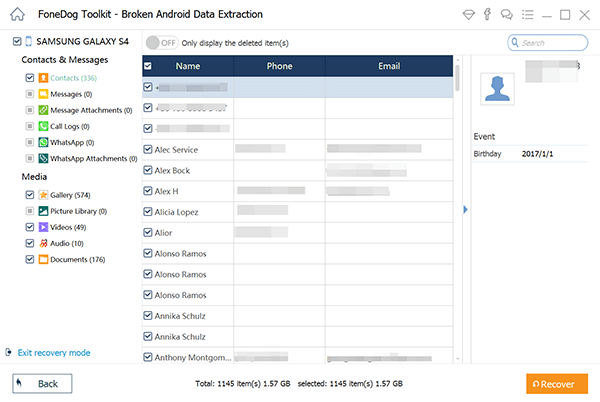 Part 4. Bonus Tips: Two Things Need to Do on Your Samsung Galaxy S7
Bonus Tip 1: How to Eraser Data to Keep Security and Privacy on Samsung Galaxy S7?
When you have already taken the entire information off the Samsung Galaxy S7 device then it is better to wipe out all data from it too just for security and privacy purposes as long as the device powers on. Since you are unable to use the touchscreen, you can hard reset the device using the hardware buttons. Follow below:


Press and hold the Volume Up plus the Home key, then press and hold the Power
When the Android logo displays, release all keys ('Installing system update' will show for about 30 - 60 seconds before the Android system recovery menu options appears).
Press the Volume down key several times to highlight "wipe data/factory reset".
Press Power button to select.
Press the Volume down key until 'Yes -- delete all user data' is highlighted.
Press Power button to select and start the master reset.
When the master reset is complete, "Reboot system now" is highlighted.
Press the Power key to restart the device.
Remember that hard resetting the phone erases all the information stored in the phone memory so make sure that you have backed up or recovered all the essential information prior to the master reset.
Bonus Tip 2: How to Avoid Galaxy s7 Broken Screen on Samsung?
Even though Samsung Galaxy S7 is made with quality glass screens, you can never avoid accidents that can break or damage the device.
As the cliché goes 'better to be safe than sorry', you can ensure that your smartphone has all the protection it needs. Here are few tips on how to avoid broken Samsung Galaxy S7 screens:


Invest in protective cases and screen protectors- There are a lot of available screen protectors that can manage all the scratches on the phone screen and protective cases too. It is better to use silicone protective cases so it can endure a few drops and falls.
Use Mobile sling bags- If you are using smartphone almost wherever you go, then you can invest in a good sling bag wherein it is easy to store the Galaxy S7 and avoid breakage and falls.
Make it a habit of putting the phone in a safe place at home- Usually, when we are at home we tend to leave our gadgets and mobiles almost anywhere we feel comfortable. This is one of the reasons why the screen cracks because we sometimes step and sit on it.
Train children on proper handling- If you have kids at home and want to use your Samsung Galaxy then train them on how to properly hold and use the device.
However, if your Samsung Galaxy S7 is unfortunately damaged, the best and quickest method for you to get the data is to recover the data from the data backup that you previously made.
Video Guide: How to Do Galaxy Devices Broken Screen Data Recovery?
Want to recover data from Samsung phone with the broken screen? You come to the right place. Learn more about all the things it does below by clicking on the videos.
When your phone gets cracked or broken, always check the severity of the issue and if it is worst that you are no longer able to use the phone and it doesn't respond at all, then it is time to get all the data off the Galaxy S7.
In this article, you have just learned how to get Samsung Galaxy S7 broken screen data recovery wherein the process is so easy that it does not require any technical skills and knowledge.
And you ever need is FoneDog Toolkit- Broken Android Data Extraction and you are on your way to retrieve data on some Samsung devices. We hope you have discovered amazing ways on how to retrieve data and how to avoid getting damaged devices in the future.