How to Extract Messages from Broken Samsung Device
by JV Suarez | Lasted Updated 2018-01-29 14:16:54
This post will show you how to extract SMS from broken Samsung devices.
"Oh no, oh gosh no, I didn't actually think that this could happen to me, there must be some sort of mistake... I was just using my phone and I looked away for one second as I was about to put it down on a table and... well, I missed the table! It was a stupid and it was a complete accident, I mean who misses an entire table? I immediately picked up my phone but that sickening thud made me realize that it was unlikely that my phone survived. The blinking screen that kept mocking me as I desperately touched the screen hoping to get a response kept blinking at me, unresponsive and I could tell, it hated me a little. I love my Samsung Android phone, but let's face it, even if I get this repaired it would only be a shadow of the phone it was before. I can give everything up, except my messages. I have some messages saved back from almost 2 years ago and I don't have any backup! Please tell me I can still somehow extract that information? It's not impossible, right? Right? Someone, please let me know!"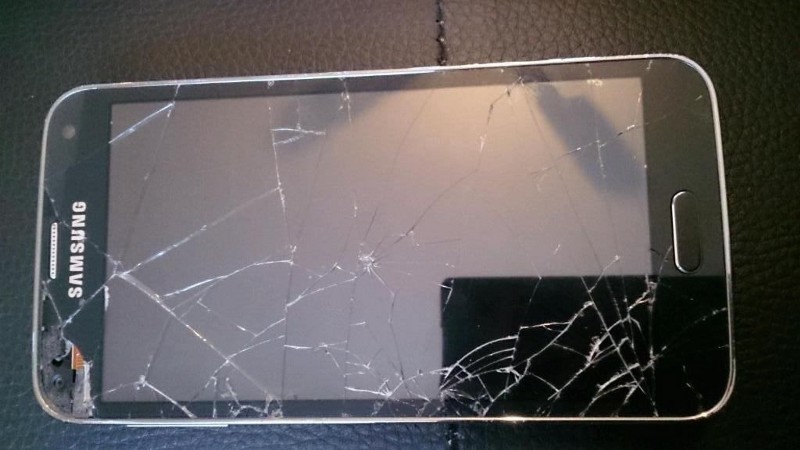 Recover messages from broken Samsung
Part 1. Right Way to Recover Broken Samsung Loss Messages
It can happen unexpectedly and it can happen to pretty much anyone, just one clumsy moment and we can say goodbye to our Samsung phones. There are a lot of people who have dropped their phones, let's all accept that reality but like most of us, most of the time our phones come out of it a little scratched, maybe even a little dented but usually none the worse for wear.There are the unfortunate moments, however, that even a fall from a short height is more than enough to crack the screen or cause some rather nasty damage to a number of phones, not only limited to Samsung units. Seeing as how we depend on our phones for quite a bit of daily tasks, we are clearly disarmed when we suddenly find ourselves in the precarious position of not having our trusty mobile phone by our side.Thankfully, with so much technology out there, most of the time we can have our phones repaired or replaced given any moment. While this will indeed cost some extra funds that we were not expecting to spend, the two options usually help any broken phone user. However, if you do repair your phone, it can suddenly cause some data loss or perhaps the data was already lost as soon as your phone fell? Perhaps they'll need to reformat your phone and any chance of recovering the previous information might go down the drain too. As for a replacement, unless you have everything backed up properly, you might be in a rather tough position to recover anything at all.
Part 2. Restore Messages from Broken Samsung Phone with FoneDog Tool
Most of us have some rather important information stored on our phones, it isn't a surprise that we would want to get whatever information back we want from broken units. Much like the user above, a number of our messages are dear or very important to us that we would move mountains to recover them. It is also good to know that there are programs that are dedicated to doing just that and FoneDog Toolkit is a program that can do just that. FoneDog Toolkit Broken Android Data Extraction is a program that can help you recover your messages through a few simple steps. Follow these steps in order to get your information back.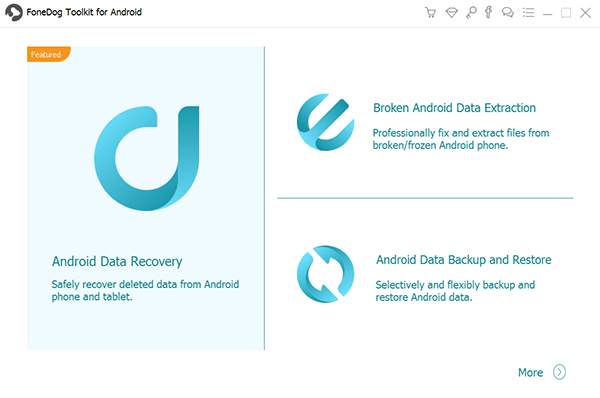 Download and Install FoneDog Toolkit--Step1
Step 1: Download and Install FoneDog Broken Android Data Extraction
Download and install FoneDog Toolkit to a computer or laptop. Please make sure that you do not have any connectivity issues with the computer or laptop and your Samsung unit. After successfully installing FoneDog Toolkit kindly launch it and then press the "Broken Android Data Extraction" after connecting your Samsung unit to the computer.
Step 2: Pick and Match Your Samsung Phone's Damage Status
You will be asked to provide some details on the damage, as you will notice a number of options, they are as followed:

Black Screen - This means that the display is not active, regardless if the unit still reacts or otherwise
Cannot touch - The touchscreen is unresponsive and won't do anything
Broken screen - The screen is cracked
More - Any other damage that is not among the items above

There is also an option to see if the operating system is having problems as well, that might be an option for other people. However, if you dropped or threw your phone, then the previous 4 options will likely what you are looking for. Click on the right one and then press the "Start" button.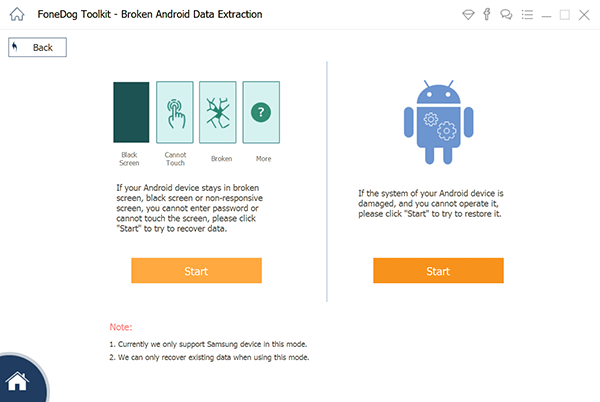 Pick and Match Your Samsung Device's Damage Status--Step2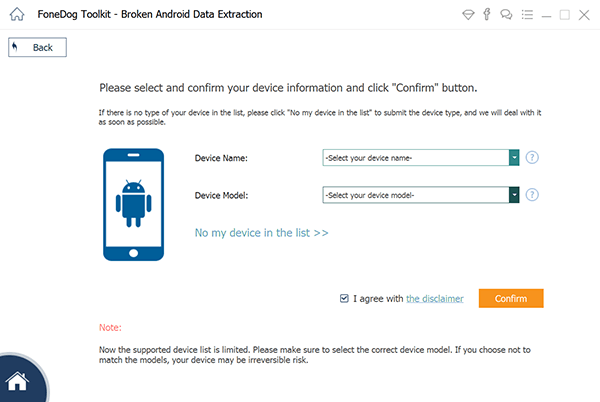 Select the Model of Your Samsung--Step3
Step 3: Choose the Model of Your Samsung
Please make sure that you choose the right one, if you are unsure please consult your phone's brand website or your service provider if it will help. You can also check online for the model of your Samsung online to make doubly sure. This is an important step because FoneDog Toolkit will then download the proper program to recover the information from your Samsung unit. When you are 100% of your phone's model, please click on "Next" to proceed.
Also Read:
How to Fix Bricked Android Devices
How to Access Android Phone with Broken Screen
Step 4: Enter Into Broken Samsung Download Mode
The next step is to set your phone to download mode. You will be given a guide but simply do the following steps and you should be able to set the download mode without a problem. First, switch off your Samsung mobile phone. Press and hold the following: the volume "-," the "home" button and finally the "power" button. After that press the volume "+" to finish the download mode.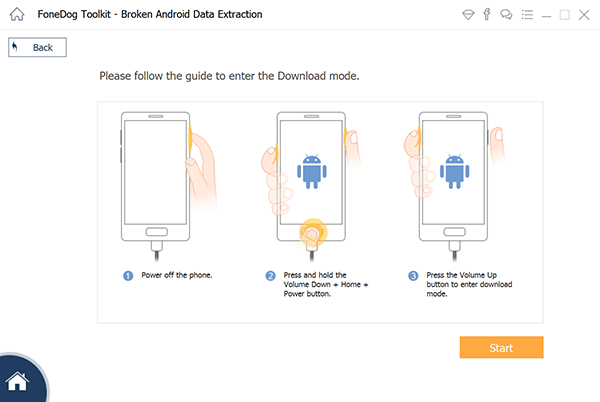 Enter Into Your Broken Samsung Download Mode--Step4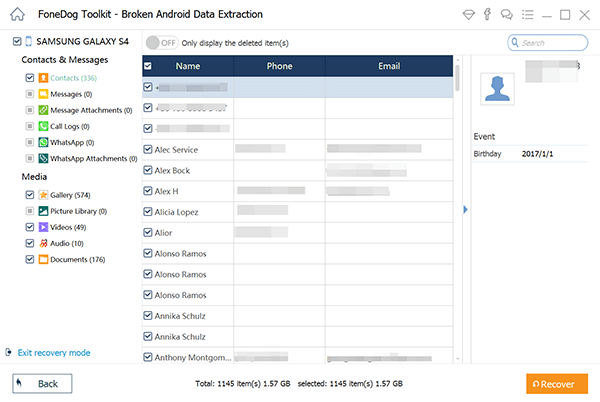 Preview and Retrieve Messages from Broken Samsung Phone--Step5
Step 5: Preview and Recover Messages from Broken Samsung Phone
From that point, FoneDog Toolkit will extract and start downloading the information you have on the broken Samsung unit, particularly the messages that you want to recover.
Finally, assuming all the previous steps went well, you can now preview and scan through the recovered data. You can even view the contents to make things easier for you to decide which messages you may want to save. Choose which messages you want to recover or click on all, then press the "Recover" button to finish the process. Disconnect the broken phone properly and you are done.
Part 3. Video Guide: How to Extract Information from Broken Samsung Device
With that being done, you have successfully recovered the messages that were trapped in your broken Samsung unit. Now you can have it repaired or upgrade to a newer Samsung unit without any problems, thanks to FoneDog Toolkit - Broken Android Data Extraction.
How to Extract Messages from Broken Samsung Device