Is there a way of how to recover WhatsApp from broken Android phones?
"Oh, my gosh... my Android phone is busted as anything. It was just another day and I was just going about my daily day, I was waiting for the elevator to go home from work and as always I was just checking out something on my phone.
When all of a sudden I tripped on the sliding metal part of the elevator, my phone fell to the ground due to the sudden jerk of my entire body. You could see the collective groan of all the people in the elevator when it slammed on the floor.
I was hoping that it sounded worse than it actually was, but as soon as I picked up my phone with a blank screen which only flickered on and off from one moment to another, I knew I was going to be in for it. I know I can have this repaired and I know I can even just change it, but what about all the information I have on my broken phone? I can't just abandon all those photos, text messages, contacts and so much more.
That's just asking me to pretty much wipe out a few years of memory on my phone and I just can't stomach that. Please tell me there's a way to get back the information before I change or have this repaired. Please, please, please!"
TIPS:
Part 1. Why We Still Use Our Broken Android Phone?Part 2. How to Recover Whatsapp from Broken Phone?Video Guide: How to Recover Data from Android Phone with Broken Screen?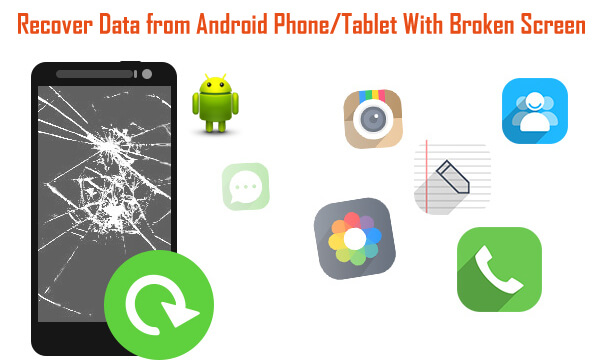 Part 1. Why We Still Use Our Broken Android Phone?
A broken Android phone is no laughing matter. Sure the damage can really differ depending on what happened to it and most of us have a fairly functional phone that works just as well as a brand new one, save for some knicks and bruises here and there.
On the other hand, there are others who can't change his or her mobile phone just yet and continues to 'use' his or her busted Android phone.
At some point or another, you must know someone who would continuously use a phone that has a cracked screen or couldn't properly use the touch function on his or her phone.
They either insist that the phone is still as good as it was when it was brand new or that an upgrade is either on the way or they are waiting for a newer model to come out, whatever their reason is, it is likely that they are struggling to use the phone because of the information that is still within their unit.
Nowadays, a mobile phone is an extension of who we are as a social person, it allows us to not only stay connected to our friends and family using text messages and calls, but we now have access to the internet on a 24/7 basis that has opened a world of communication to us.
Given how often we depend on our phones to stay in touch, we are always unnerved when we are suddenly without our phones and damaged, broken phones can really disarm you as quickly as you can pull a phone out of your pocket.While a broken phone can really ruin your day, it isn't the end of your mobile phone usage.
With how many mobile phones are available on the market today, getting a replacement is fairly easy but what isn't easy to replace is the information in each mobile phone. A lot of us tend to forget and ignore backups and even when we do the backup, it could be that the information is still outdated and hasn't been overwritten in a hile. When we meet an unfortunate accident that leads to a busted phone, we need a solution as quickly as our phones found their way with a broken screen or such.
Part 2. How to Recover Whatsapp from Broken Phone?
Thankfully there are programs out there that are dedicated to this problem and among them is FoneDog toolkit. FoneDog Toolkit - Broken Android Data Extraction can help you backup your Android phone, restore information to it and of course, help you recover the information of a busted Android phone. How? Well, that can be rather simple, just follow these steps and you will have your information back:
Note: Please ensure that your device model is supported by FoneDog Broken Android Data Extraction.
Step 1: Download the FoneDog Toolkit
Download, install and launch the FoneDog Toolkit -Broken Android Data Extraction after successfully installing it on your computer or laptop.
Please make sure that this computer or laptop is one that can easily connect to your Android phone, usually, it means that you should have connected your Android phone prior and did not experience any connectivity problems.
After running the program, please connect the Android phone, you will also immediately notice the "Broken Android Data Extraction" option, kindly click on that option.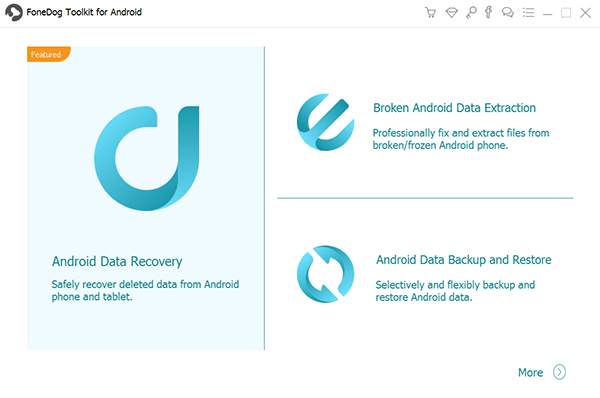 Download the FoneDog Toolkit- Broken Android Data Extraction--Step1
Step 2: Select the type that Matches Your Situation
You will then be brought to a newer screen where you can choose what type of damage or problems your phone has. A quick explanation would be as follows:
Black screen
- The display does not show up and no response no matter how often you restart the unit
Cannot touch
- The touch function does not respond
Broken - Busted and or cracked screen, that could have any of the other problems mixed in along with it
More - Current problem does not fall under the three categories aboveYou will also notice that there is a category for busted or problematic operating systems as well, that might also be something that you might be interested in but most users usually have one of the four issues above. Choose one of the topics above and click on "Start" to proceed.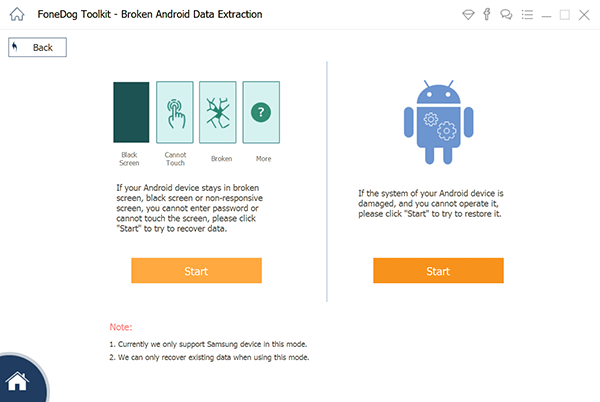 Choose the type that Matches Your Situation--Step2
Step 3: Choose Device Name and Model
In the next screen, you will be asked to give the "Device name" and the "Device model." Please check online or your provider's website in order to properly choose the details.
This will help FoneDog Toolkit - Broken Android Data Extraction to download the proper package for your broken mobile phone.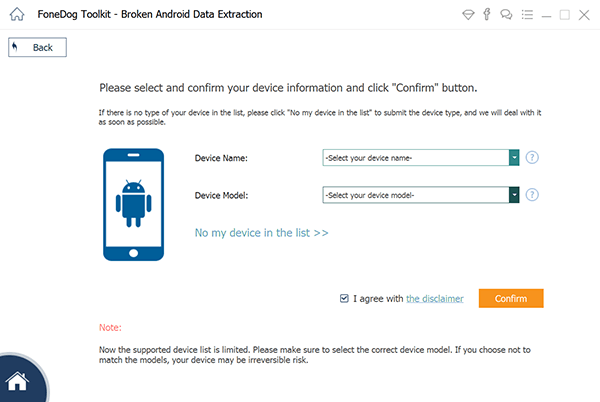 Select Device Name and Model for Recovery of WhatsApp--Step3
Step 4: Enter into Download Mode on Your Broken Android
You will be asked to place the unit into "Download Mode". This is a simple process, just follow these steps:
- Switch off your phone
- Press and hold the volume key, press the "-" along with "Home" and "Power" button on your phone
- Finally, press the volume key "+" to enter "Download Mode"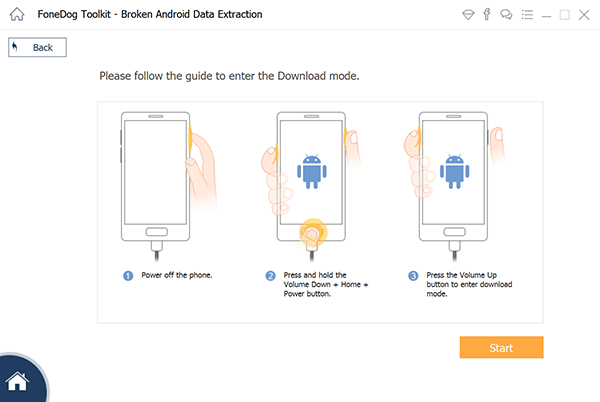 Enter into Download Mode--Step4
Step 5: Downloading Recovery Package
After doing the last few steps FoneDog Toolkit will use the information you placed and begin downloading recovery package into your busted Android phone.
Also Read:
Backup and Restore All Data on Android
How to Backup Android Data to PC Before Factory Reset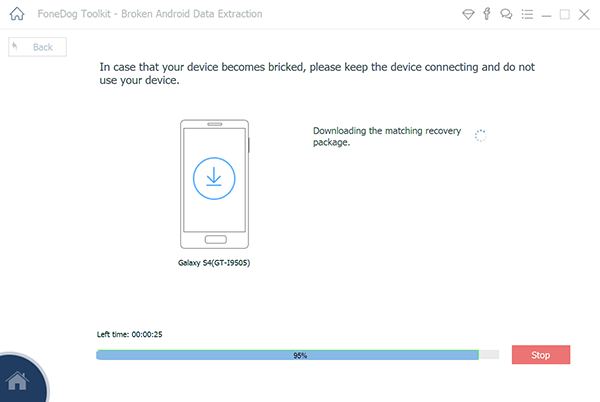 Download Recovery Package on Your Broken Android Phone--Step5
Step 6: Select, Preview, and Restore WhatsApp from Broken Android Phone
After scanning and extracting, you will now be able to view and scan through each entry that has been recovered. You can pick and choose the files you want to save, simply highlight them and click on "Recover" to make sure you save it to your computer or laptop.
Now, when you get a new mobile phone or even have this one repaired and reformatted, you can use Fonedog Toolkit to return any important information you needed from your previous unit.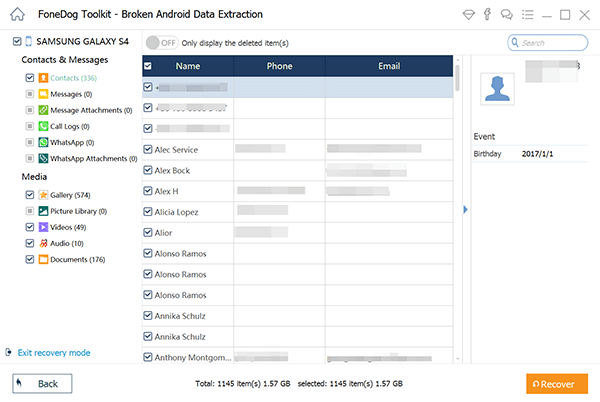 Restore WhatsApp from Broken Android Devices--Step6
Video Guide: How to Recover Data from Android Phone with Broken Screen?