Many times we use data such as photos, videos, audios, and documents and store them on multiple devices. A number of factors may cause these data to become deleted, missing, or corrupted in our devices. And the worse thing is that we do not have backups for these cherished files that we keep.
Hence, tools are designed and developed to address this kind of situation. We do not need to worry as there are applications that are built to recover the deleted files. In this article, the NTFS Undelete review is discussed to provide information if it is possible to restore deleted files.
Furthermore, a data recovery program is also introduced that is the FoneDog Data Recovery tool that can also help in data recovery in all devices and in all situations.
In addition, we can not only understand the NTFS undelete review, but also the reviews about Asoftech Data Recovery and Remo Recover.
Part 1. The Best Software To Restore FilesPart 2. Is It Possible to Undelete FilesPart 3. What is NTFS UndeletePart 4. NTFS Undelete ReviewPart 5. In Summary
Part 1. The Best Software To Restore Files
Here is another alternative to your data recovery needs which is a reliable and useful data recovery tool that helps you restore any sort of file types in any device. FoneDog Data Recovery is a professional data recovery wizard that allows you to quickly and safely recover your different files.
Its wizard feature is an easy and convenient to use interface that allows quick and deep scans of your files and returns faster results with the highest success rate and security of data. You can choose to preview your files before the data recovery process. You are perfectly assured that no data is lost during the recovery with this powerful data recovery application. With this FoneDog Data Recovery program, you can retrieve from any device and restore any file type in any kind of situation.

The application installer is available to download for free. And a 30-day money-back guarantee is offered should you wish to purchase it. Download the data recovery tool according to your computer's operating system (OS) such as Windows or Macintosh. Below you can read on the process on the usage of the FoneDog Data Recovery tool:
Data Recovery Recover deleted image, document, audio and more files. Get deleted data back from computer (including Recycle Bin) and hard drives. Recover loss data caused by disk accident, operation system crushes and other reasons. Free Download Free Download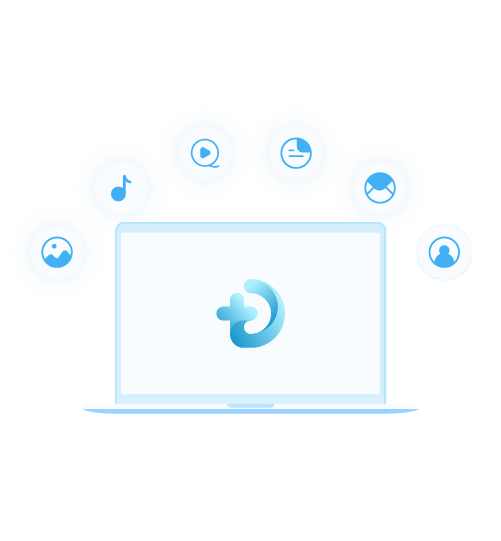 Step 1. Launch the FoneDog Data Recovery
When you have downloaded and installed the FoneDog data recovery tool, open the program. Double click its shortcut icon located on the desktop or click the pinned icon on your taskbar (if a shortcut is created or it is pinned to the taskbar). Alternatively, you can go to the Start menu and find the FoneDog Data Recovery from the Programs list.
Step 2. Select the File Types and Storage Devices
You can choose the different file types to restore and the drives (hard disk or removable) where you want to recover your files. You can restore any data type such as an image, video, audio, email, archive, application, and documents in any situation. You can also recover from any device in different supported file systems. Click on the "Scan" button to start the file scan in your selected device. Various types of files can be restored across all devices.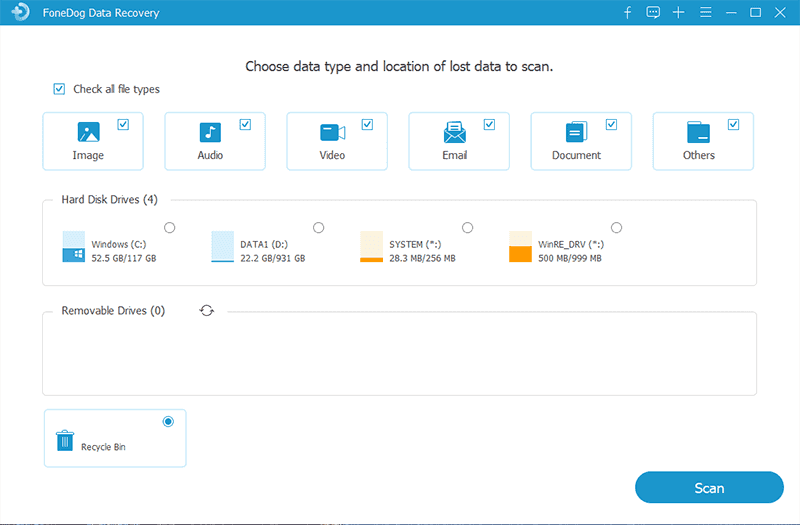 Step 3. Scan and Show the Deleted Files
There are two scans for you to choose from Quick Scan or Deep Scan. The quick scan works at a much faster speed and the latter one will display more files but takes longer to return the results. You can find easily the specific files by searching with filters. File results are shown based on the options you have provided after FoneDog Data Recovery completes the device scanning.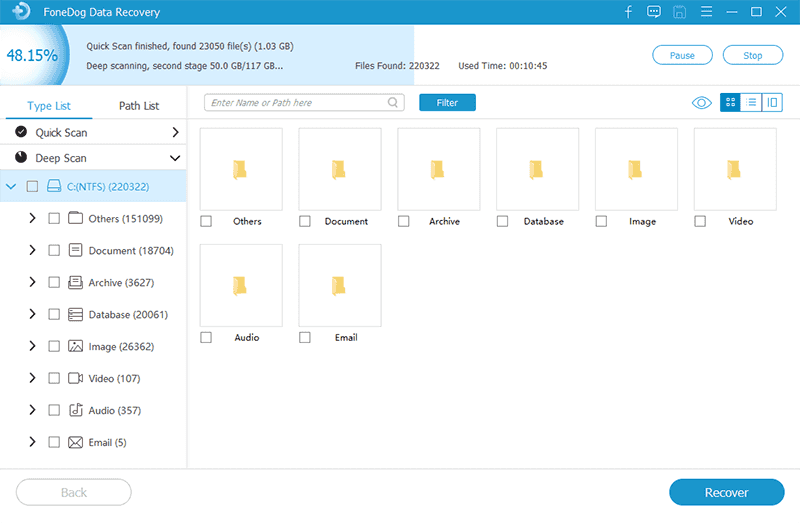 Step 4. Recover the Deleted Files
When the scan is complete, select the files that you want to recover. The file results are shown by type or path. Click on the Recover button to start recovering the files. Remember that you do not close the FoneDog Data Recovery wizard until the scan and file recovery process is finished. Make sure not to switch off or restart your computer unless told to do so in the wizard steps.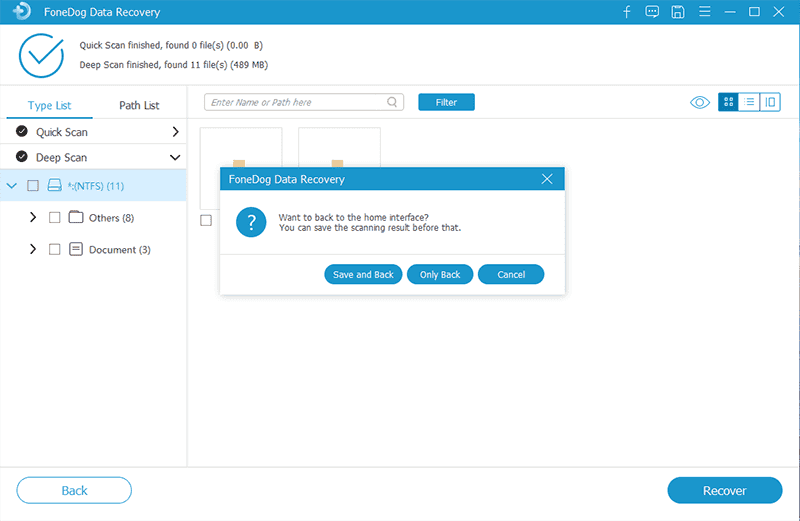 Part 2. Is It Possible to Undelete Files
Your important files suddenly get deleted, lost, or corrupted and you are very worried. It is upsetting to experience this kind of situation where you want to use your saved files but you cannot find them. Various factors may cause the files to become deleted or lost. It may happen when there is a sudden system crash, formatting errors, bad sectors, accidental or permanent deletion, application and system failures, or a malicious software attack. For any reason, this spells trouble but the query that you are thinking of is if it is possible to recover and undelete the files.
With the technology that we have, the answer is yes, it can be made possible with the tools that are developed for the data recovery process. These kinds of tools will scan your devices; return the results based on your search filters, then you can preview the files and let the tool perform the data recovery process, even for those files that are permanently deleted in your device. Below is a discussion on the NTFS Undelete review that can guide you. It lists down the pros and cons of using the tool and the useful features it offers.
Part 3. What is NTFS Undelete
NTFS Undelete is another data recovery software that lets you quickly and easily undelete files that are deleted or missing from your device. With just a few clicks, NTFS Undelete allows you to recover any sorts of data that are deleted or missing from any device that uses the NTFS or FAT file systems. You can also preview the files that you wish to do recovery. It safely scans data and works in all types of devices such as computers, memory cards, USB flash drives, digital cameras, external and internal hard drives, and other storage and removable devices.

The useful features and some disadvantages are presented in this guide to the NTFS Undelete review. The special price of the NTFS Undelete software starts at $59.95 for one computer with software updates for one year and can go high as $109.95 for 10 computers which includes software updates for one year.
Part 4. NTFS Undelete Review
The NTFS Undelete review provides information that it is possible to undelete files that are deleted on your devices. This article is a guide that will help give you more information on the NTFS Undelete review as to the pros and cons of the tool.
The Useful Features of NTFS Undelete
NTFS Undelete software is a reliable data recovery tool that offers secure file encryption, file protection, and security of data. It performs well, safely and quickly scans, and supports a large disk capacity of over 2 TB of data. It can also do data recovery in Windows operating system from Windows XP, Vista, 7, 8 to Windows 10 and other Server versions. With just a few clicks, NTFS Undelete allows you to recover, scan, and preview the files before the data recovery process is started. The tool can work on any device and undeletes your deleted or lost files quickly and securely. Along with it is an enhanced photo recovery feature with smart scan technology.
The Disadvantages of NTFS Undelete
The NTFS Undelete software does not support the Mac operating system but only works on Windows XP, 7, 8, and 10 versions. The wizard interface is a bit confusing and not much user friendly because of some functions that are disorganized and hard to find. You can preview the files but the viewing window is small and limited. The tool scans the whole partition drive but there is no way for you to select a specific file location or path to do the data scan. And unlike the other data recovery tools, NTFS Undelete does not offer a free trial version for you to download and use. You can purchase the software starting at $59.95 solely for a computer with software updates for one year.
People Also ReadTop 5 Memory Card Recovery Software ReviewsPhotoRec Full Review and Best Alternative
Part 5. In Summary
As discussed in this article of NTFS Undelete review, it is possible to undelete files that are deleted or missing due to a number of various factors that unexpectedly happen in your devices. It can be caused by a malicious attack on your computer systems such as a virus or malware threat, system crash, application errors, sudden deletion, permanent deletion pressing Shift and Delete keys, and formatting errors. This can work in NTFS and FAT file systems in Windows only.
If you also need data recovery in other systems such as Mac and want a free trial version to use, a highly recommended tool like FoneDog Data Recovery can be a useful and reliable data recovery program to help you restore and undelete your deleted files. It works in different file systems, across all devices for all sorts of types of data, and can support the data recovery process in any kind of situation.