Nothing is worse than losing your precious data. Whether it's your photo, video, document, there is surely a significant effect in losing such files. That's precisely why many companies created their own data recovery software.
A data recovery software is known for having the ability to restore files, regardless of the severity of the issue. One of the most popular software nowadays is Data Rescue 5 of Prosoft. So today, we're going to be giving our Prosoft Data Rescue 5 Review.
This will include an overview of the software, its features, alternatives, different factors, and even the disadvantages to the software. Let us start by defining what Data Rescue 5 is all about.
Part 1. An Overview of Prosoft Data Rescue 5Part 2. What is the Best Alternative to Prosoft Data Rescue Part 3. Conclusion
Part 1. An Overview of Prosoft Data Rescue 5
Many people know of the Data Rescue series of Prosoft. It's just one of the best set of tools there is for digital product users. In addition, the Data Rescue series has been known for its contribution to the digital world, recovering billions of files for users.
Prosoft Data Rescue 5, in particular, is the latest as well as the one considered as the best of the products developed by Prosoft Engineering. Due to its rich heritage, it's been very famous for a lot of users.
In addition to its history, the features available to the software are also top-notch. It supports most file types and file formats. There are also additional functions like cloning and creating backups.
Simply put, only with the basic description you can see that it's worth checking out. However, you still need to learn more than that to actually know if it's really worth it. For that reason, let's head to the first factor for this Prosoft Data Rescue 5 Review.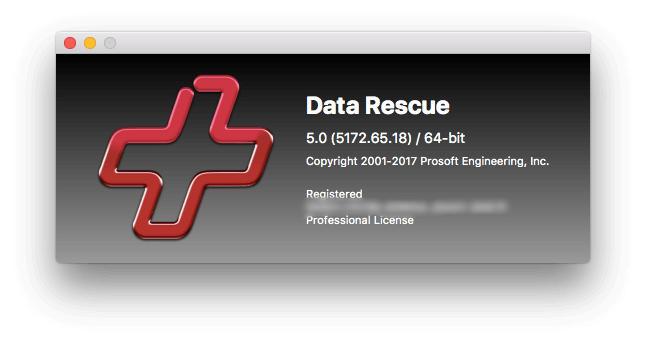 User Experience
First of all, the installation process for the software takes a very short time. You can manage to download the software from the website and install it on your system within a few minutes. Simply put, there aren't many data recovery software that can compare to its installation speed.
On top of that, the interface is very clean. It can somehow help beginners understand the countless features available to the software due to the simple design. This is very helpful since the use of the software is unlimited.
Most users also found the experience very comfortable since they know that they're in control. This is because the user through the software interface can control the file type and even the file size. This helps them make the process either more accurate or quicker.
Additionally, the way they display the files is straightforward. You don't have to go through the trouble of searching for your files since it's already displayed openly on the software.
Lastly, they are honest about the licenses that they currently have. This adds to the comfortability of users in operating the software.
Recovery Process
The recovery process can be considered as above average, seeing how easy it is for users to recover files as well as recognize the information about files. Although you can find files quite easily if you're used to the software, you might not find it to be the opposite when it's your first time.
This is due to the tree design for the selection of files. It might be tricky at first, but you'll find that this tree structure design will become helpful once you get used to it.
Fortunately, to get you started, there are categories from which you can choose to filter files such as their names, types, formats, sizes, and many more.
A very distinct feature in the recovery process is its ability to search files by extensions. On the other hand, the fact that the preview of files will show a huge logo of Prosoft is very disappointing.
Compatibility
Data Rescue, as previously said, has many versions. This Prosoft Data Rescue 5 Review is just an article for one of their many products. Fortunately, this particular product can be considered the best out of all of them.
When it comes to compatibility, you can say that Data Rescue 5 wins hats off. It supports both Mac and Windows, although there is a different version for each operating system.
Additionally, both versions have differences from each other, besides the fact that they work on different operating systems.
Regardless, there shouldn't be any issues about compatibility since both of the two most popular operating systems are supported. Now all you have to do is make sure you choose the right setup file.
Performance
In addition to the compatibility, you should also check out how the software will perform on your computer operating system. After all, you might opt for the software but figure out that you can't run the software smoothly.
The recovery process of Data Rescue 5 might be the same whatever the situation, you might find that the performance differs for each scenario. The load that it uses up depends on the file type and file size of the data being managed.
Fortunately, the difference between different scenarios is almost negligible, with less than 1% difference in the RAM used. Regardless, it doesn't put too much strain on your RAM.
Moreover, you can easily see the significant changes that the software can bring to your operating system, be it Mac or Windows.
If you're still not satisfied with the things we discussed until now, then it's time to head to the part of this Prosoft Data Rescue 5 Review where we talk about customer support.
Customer Support
Data Rescue 5 is best known for its features and comprehensive design. But we can't deny the fact that the software also offers great customer service. This includes their knowledge base, their email support, and lastly, the live chat.
If you think using email support takes too much time, then the knowledge base with lots of tutorials and FAQs will be a better option. However, if you want to get more familiar with the software, then the live chat would be your best bet. The only downside to this is the fact that it is "live".
This means this option will only be available if employees are available. For that reason, you have to stay awake during the business hours of the company, even if it's midnight in your time zone.
Fortunately, many people mention that it's very worth their time since they get to know things about the software that they wouldn't be able to in any other way.
Now we head to the summary of this Prosoft Data Rescue 5 Review that would get more into the benefits.
Features
As previously said, the software is compatible with both Windows and Mac operating systems. This is only one of the many features it has. It also supports file types and formats such as compressed documents, videos, audio files, ISO files, and many more.
In addition to the countless possibilities for data recovery, the software also boasts a simple user interface that allows beginners to navigate the software easily. Installation is also quick so you don't have to worry even if it's your first time using it.
You can also conduct unlimited scans, which you can configure by choosing the category of the file types to be scanned. There's also a feature on the software that allows you to connect your email account so you can be notified of any action was taken on the software. This is done through email confirmations.
Additional functions also exist, like the cloning feature and professional mode. Either way, you will get more than what you needed if you choose to trust in this Prosoft Data Rescue 5 Review and buy the software. Speaking of buying the software, how can you know if you can actually afford it?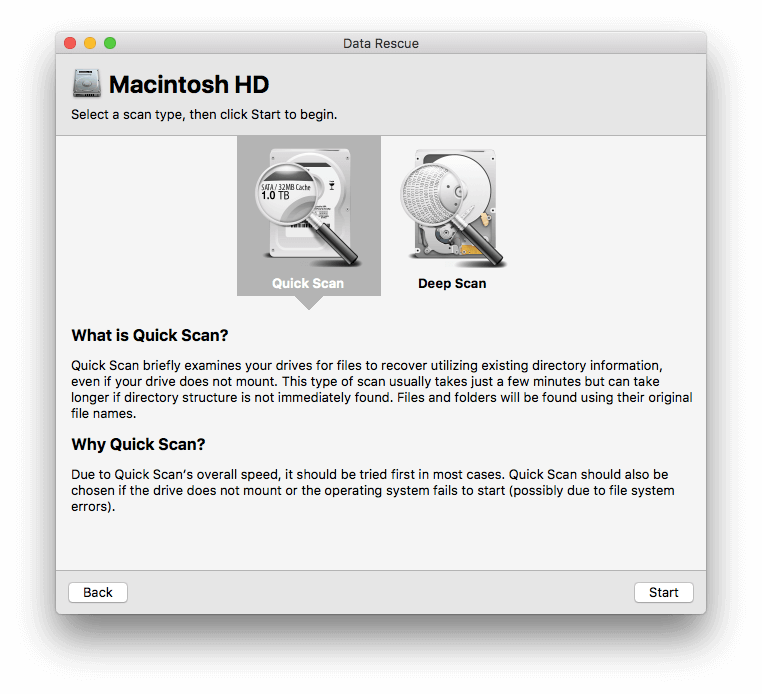 Pricing
Fortunately, the Data Rescue 5 is not that expensive compared to other software out there. There's also a demo version which you can try out first before purchasing the real deal. While some software has huge limitations for their free trial, you can easily recover 500 MB worth of files even with the demo.
If you are to opt for the full version, you can do so with just $99 and you'll be able to use the regular version for your entire life. For the premium version, you'll have to add another $200, but that's only for one year. Unfortunately, there's no lifetime license available for the premium software.
Overall, compared to other software, the pricing is very forgiving. For that reason, there are a lot of users that can afford the software. Unfortunately, there are disadvantages to the software as well. That's what we'll be talking about next in this Prosoft Data Rescue 5 Review.
Cons
Although Data Rescue 5 has its perks, there are also things that you'll find unsatisfying with the software. Here are some of the list of disadvantages we noticed:
Long Scan Times. Compared to other software, the scan time is above average. In short, we can name a lot of data recovery software that can do better in terms of speed.
No Pauses. One of the features that are important for such software is the pause button. However, there's not much software with such features so it's still not too bad.
Limited File Systems. Most file formats are supported as well as file types. Unfortunately, the limited number of file systems supported became its downfall.
While there may be benefits available to other software that you can't get from Data Rescue 5, it's still one of the best data recovery tools out there.
We believe that there's no point in saying otherwise. Regardless, let's head to the summary of this Prosoft Data Rescue 5 Review.
The Verdict
Simply put, Data Rescue 5 is one of the software that you'll spend a lot of time looking for. Despite the many features available on the software, users can easily take advantage of them due to the ease of navigation mainly because of the simple design.
Developers have thought of many useful features such as Cloning, Professional Mode, and Backup Creation. It can also be used on different operating systems which is a win-win for both PC and Mac users.
Although there are disadvantages to the software, it's still better than most of the tools out there. Considering the price for the installation, no one can complain about it either. Overall, it's software that really deserves the praise that it has been getting for 20 years since its founding.
If you find this Prosoft Data Rescue 5 Review helpful, that's great. However, if you think this software is not for you, here's an alternative that we think you'd like.
Part 2. What is the Best Alternative to Prosoft Data Rescue
While the Data Rescue 5 software is hard to beat, it still goes without saying that there are other tools out there that also deserve attention. One of that software is FoneDog Data Recovery.
FoneDog Data Recovery is a specialized data recovery software, just like Data Rescue 5. If we're going to compare the two, they have many similarities.
For one, FoneDog's product can recover most file formats and types. In addition, it also recovers most file systems such as hard drives, external drives, flash drives, etc. This is one of the differences between the two, and there are more.
An example of this is the option of users to recover files directly from the Recycle Bin. This allows them to restore files that are otherwise permanently deleted. Either way, if you can afford to try out new things, we recommend FoneDog Data Recovery.
People Also ReadData Rescue for Mac Full ReviewAsoftech Data Recovery Reviews
Part 3. Conclusion
That concludes this Prosoft Data Rescue 5 Review. That should have given you a general idea of what you'll be getting if you were to purchase the Data Rescue 5 software. We've also given you an alternative in case you weren't satisfied with the aforementioned software.
However, while there are a lot of tools out there, you should still remember to stay cautious. After all, if you had never lost your file, you won't even have to look for data recovery software in the first place.