"How do I restore lost contacts on my iPhone? Maybe I'm doing something wrong, anyhow is there a way I can get those contacts back? I'd really appreciate any feedback or help in getting them back. Maybe I can recover lost contacts on iPhone from iCloud?
I am a huge fan of Apple. I love the design and can't get enough of it. I'm one of those people who line up at the new launches for a new iPhone. I love the satisfaction of getting a new one out of the box and just having fun with the phone as things go along. I have noticed that when I change to a new phone, I have lost a few numbers here and there, I wonder why? "
Apple products are pretty great, the trademark design of an iPhone is pretty iconic and most people can identify a unit at a quick glance. There are in fact more and more fans of Apple and as the new iPhones continue to come out, the wait line to get a new model just gets crazy long on the first day. The minimalist design has won the heart of millions of people and it doesn't seem to be slowing down.
Of course, despite the number of apps and things you can do on your iPhone continues to grow, at the end of the day, most of us still use it to contact our friends, family, business associates and much more.
So lost contacts on your phone, you're in a bit of bind, that being the case. That's why most of us take some time to really place important numbers in our iPhones and continue to add more as the need arises, this can be a slow and arduous job.
On the other hand, however, you can just as easily lose a number or all of your contacts for that matter if something goes wrong. What could go wrong? Choose any of the following and you could be scratching your head.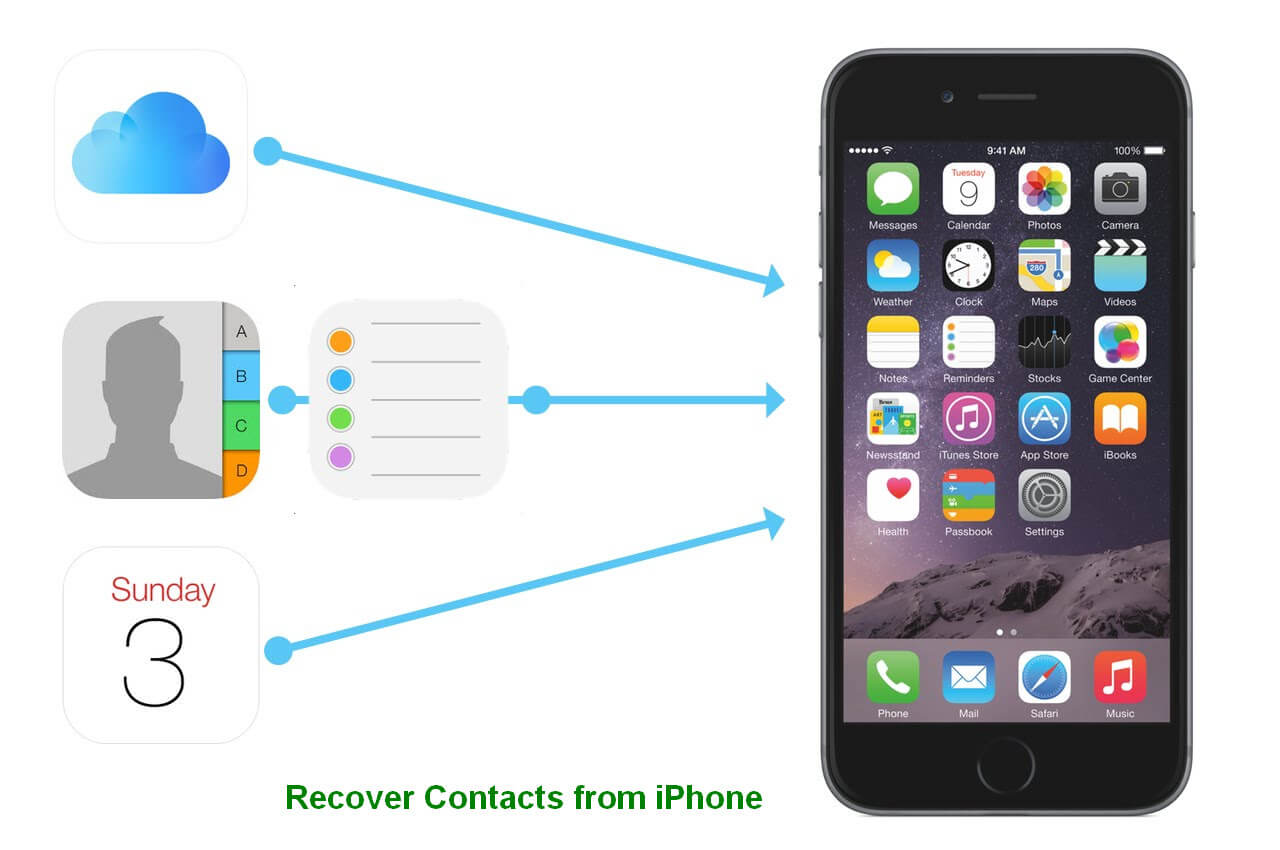 Recover lost or deleted contacts from iPhone Devices
Part 1. Some Reasons Why We Lost Contacts on iPhone Part 2. Backing Up Contacts Using the iCloud Part 3. Recover Lost Contacts from iPhone Via FoneDog iOS Data RecoveryPart 4. Restore Deleted Contacts from iCloud Backup FilePart 5. Video Guide: How to Recover Lost Contacts on iPhone
Part 1. Why Did my iPhone Contacts Disappear?
There are several ways you will lose your contacts on iPhone
Deleting by accident - Maybe you have kids playing with an app on your iPhone and there's nothing wrong with that.
You look away for a second and come back to them on a screen outside of the game, with the prompt "Delete All?" as you rush to stop them, they press the "Yes" button and you see if you can cancel the process but it's too late. You no longer have any contacts on your phone.
Changing the iOS- It's great that Apple continues to improve their operating system and the new iOS continues to get better and better.
Unfortunately though, sometimes when you haven't been able to back up and you experience an error, you could suddenly end up with some lost data. This rarely happens but it's not entirely impossible either.
Upgrading phone As mentioned earlier, some people like getting the new iPhone as it arrives and they move on to the next iPhone and use back up data to make sure their contact details are there, the photos, etc.
I mean who wouldn't want that right? However you realize a little later that you're missing a few contacts here and there, maybe you did something wrong?
Stolen or lost phone- It happens to everyone, sometimes things get stolen. And sadly you are someone who had his or her phone stolen.
Busted iPhone- Nothing makes an Apple fun more sad than a busted iPhone.
I mean you wouldn't think it would happen to you, right? But it did and now you are the unlucky owner of a broken iPhone.
You still really need to call someone before you start upgrading to a newer model... but how?
The above causes are the most common, perhaps you have a unique reason, but in the end, you all have one thing in common: you need to get some data back. And at the very least your search has yielded some results.
Intersting Tips:
How to find Maybe contacts on your iPhone? Maybe contact is a suggestion from Siri when it has gathered enough information to tell who is calling. To turn on this feature, Simply go to Settings > Siri & Search > Contacts > Show Siri Suggestions for Contacts and you will be able to see the Maybe contacts.
Part 2. Backing Up Contacts Using the iCloud
Like most iPhone users, you created an iCloud to backup your information. Now you have a place to put all your photos, messages, contact numbers and more. To retrieve your information, all you need to do is follow these steps:
1: Click on "Settings" on your iPhone, usually it is found on the very first screen but perhaps you moved it, either way, you should know where it is.
2: You can proceed by searching for the iCloud option in the settings menu, press the "iCloud" option to proceed to the next screen.
3: Scroll down to look for "Contacts" which is your current problem.
4: You will notice that "Contact" is currently switched on, please switch it off and then you will be sent a message to either "Keep on my phone," "Delete from my phone," and "Cancel." Choose "Delete from my phone." This will help you avoid any double entries after you recover all your contact numbers from your backup otherwise you'll have to manually delete them.
5: After choosing "Delete from my phone" you will see a loading screen that says "Turning off Contacts," the iPhone is just finishing the progress of deleting the old entries.
6: When finished just switch on the "Contacts" option once more and you will be greeted by another loading screen that says "Turning on Contacts" and move on to the next step.
7: Check your contacts to see if they are there, and you are done.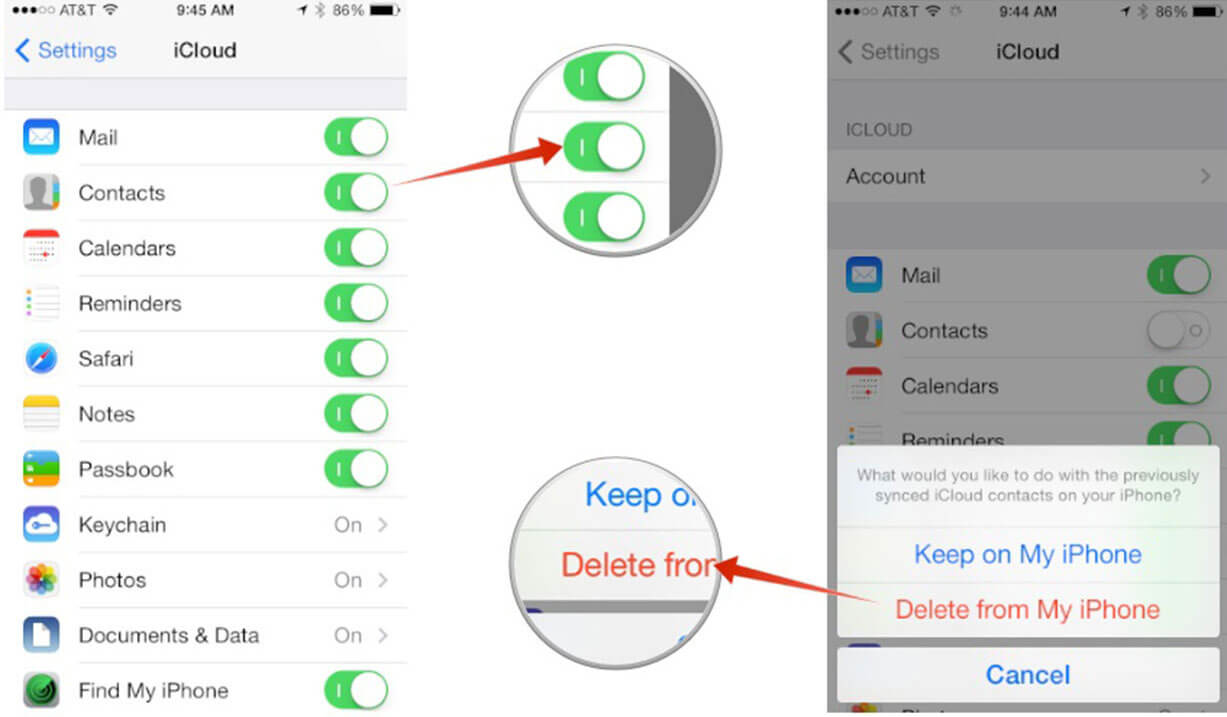 This is ideal if you know for a fact that all your contact numbers have been backed up on iCloud, otherwise you can proceed to the next option.
Seeing as you don't have much backup, perhaps the only other option is to download the FoneDog iOS Data Recovery program.
The FoneDog iOS Data Recovery program was created to be able to quickly and efficiently recover any information that you may need to get back despite not having a proper backup. How does FoneDog iOS Data Recovery program do this you may ask?
Simple, just follow the steps below to recover lost contacts on iPhone.
Part 3. Recover Lost Contacts on iPhone Via FoneDog iOS Data Recovery
Step 1: Download FoneDog iOS Data Recovery and Connect a PC
Download FoneDog iOS Data Recovery to a computer or laptop which you have connected to your iPhone before, this way it will be easier to continue the process.
And then Plug the iPhone into the computer or laptop, it is strongly advised to use the original cord that came with your iPhone in order to avoid any problems.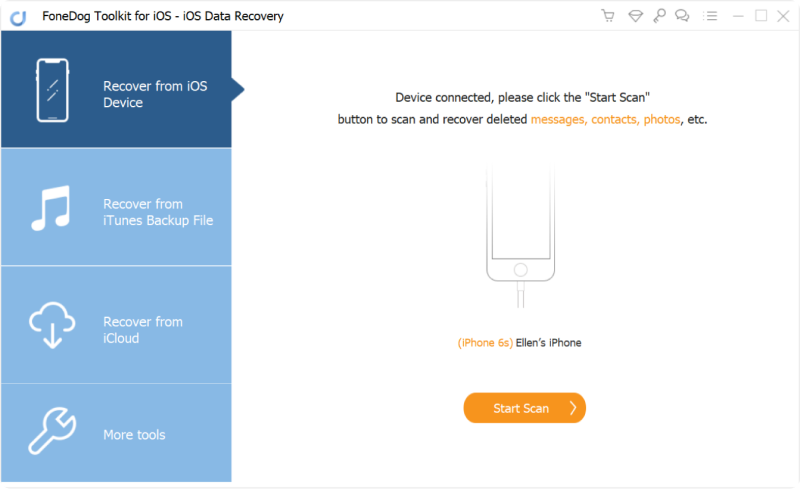 Run FoneDog iOS Data Recovery and Connect Your Computer--Step1
Step 2: Scan Your Device
Run the FoneDog iOS Data Recovery and click on the first option titled "Recover from iOS Device," and press the "Start Scan" option.
This may take some time as it depends on how much information FoneDog iOS Data Recovery has to sift through in order to find the data.
Please make sure not to suddenly detach the computer in order to avoid any unforeseen errors that may occur during the scanning.
Please wait a few minutes before moving forward.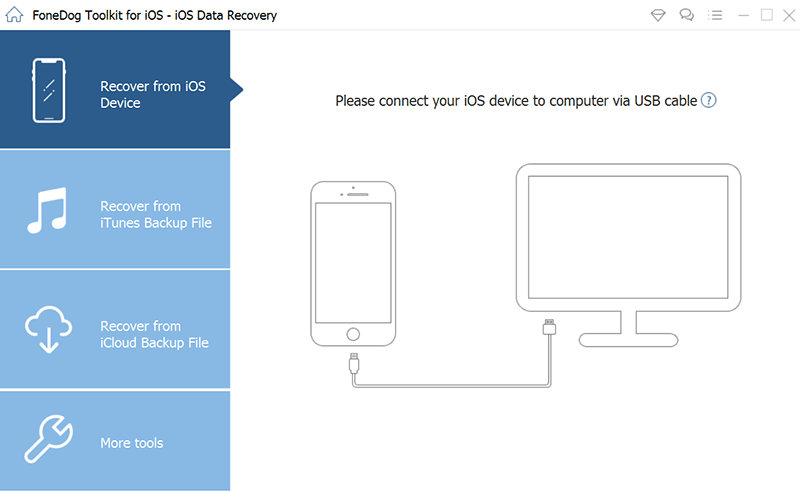 Scan Your Device--Step2
Step 3: Recover Lost Contacts on iPhone Device
Now you will be given quite a few options to choose from. Please note that you can choose from messages, pictures, and so much more.
For now, let's focus on "Contacts" as that is the main reason as to why you downloaded FoneDog iOS Data Recovery.
Search through the "Contacts" you now have the option to read through, choose which one you want to retrieve and click on "Recover."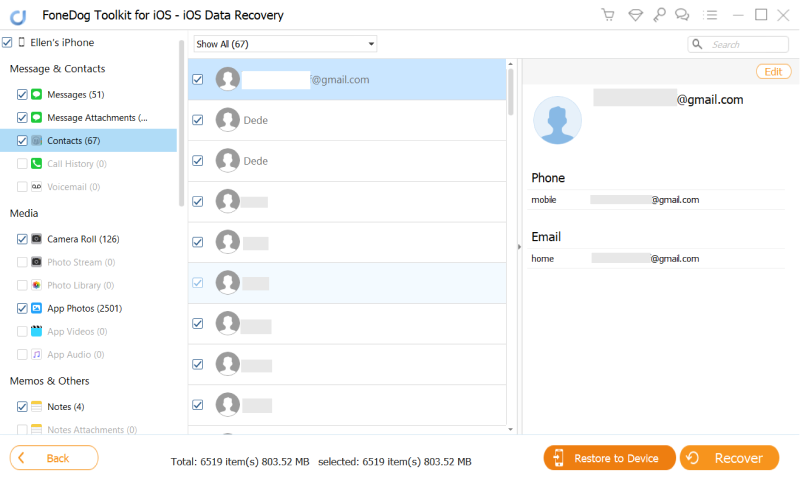 Retrieve Lost Contacts from iPhone Devices--Step3
Safely disconnect your iPhone from the computer or laptop.And you are done with getting your missing contacts back. It wasn't too hard and you can actively continue using your iPhone without having to worry about losing any contacts randomly.
You may have noticed that there are a few more options on FoneDog iOS Data Recovery and the final option is a mix of the mentioned items above.
Part 4. Recover Lost Contacts on iPhone from iCloud Backup File
1: Select Recover from iCloud Backup File and Login into iCloud
Same as above, make sure to download and install FoneDog iOS Data Recovery to the right computer or laptop.
A strong tip will be to use the previous computer or laptop that you used before so it actually has interacted with your iPhone before, and won't have many issues.
Select "Recover from iCloud Backup" which is the second option. You will be brought to a new screen that will allow you to sign in to your iCloud account.
Simply input your username and password and you should be golden.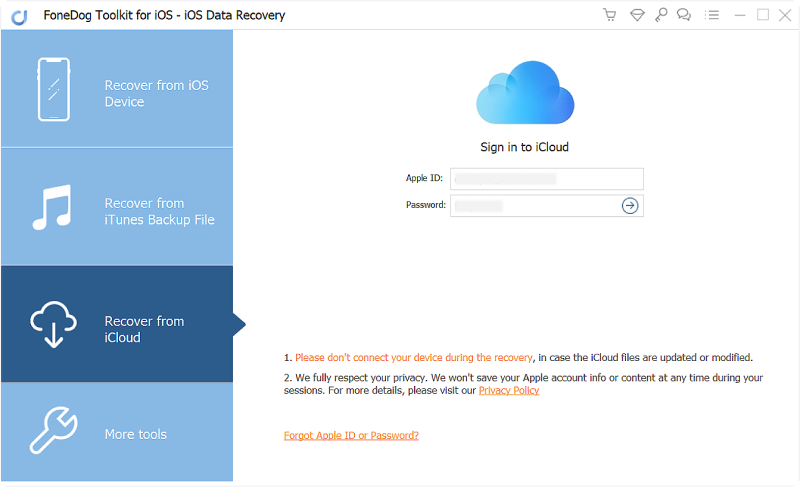 Sign into iCloud and Select Recover from iCloud Backup File--1
2: Download Lost Contacts You Want to Recover
As soon as you enter you will need some time for the scan to finish, give it a few seconds or minutes to look for the backup iCloud details.
You will now have the option to choose which iCloud backup you want to Download. Ideally, it should be the latest, as that should be the one with most of your details or at least the most recent information that you may have.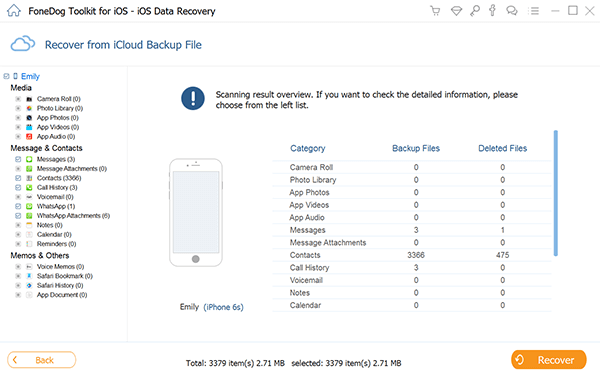 Download Lost Contacts You Like to Retrieve--2
3: Extract Lost Contacts from iPhone and Click Recover to Computer
Choose which of the items you want to recover, again let's focus on: "Contacts" and then wait for the scanning process to finish once more.
Go through the data and you can now decide which of the contacts you may want to recover back.
Choose which of the contacts you want to recover and click Recover. Choose what location on your computer or laptop you want to save that information in.
And now you are done with being able to recover your contact details thanks to FoneDog Toolkit iOS Data Recovery.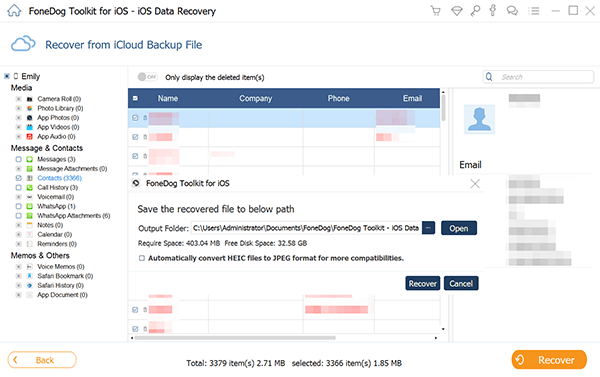 Restore Lost Contacts from iPhone and Click Recover to PC--3
Related Guide:
iPhone Recovery Without Losing Data – Not a Problem
How to Recover Lost Photos after Latest iOS Update
Part 5. Video Guide: How to Recover Lost Contacts on iPhone