3 Top Ways to Get Back Lost Contacts after iOS 11 Update
by Wian LJ | Lasted Updated 2018-05-17 10:42:34
"My contacts are disappeared after iOS 11 update, can I still get them back?" OK, the thing is that. I just updated my iPhone to the new iOS 11.0.3 and then I installed it , but a moment later, I lost my contacts list , can I still get them back?Please tell me how to deal with it, please~~~
As big fans of Apple, we are all excited to see the newest features that iOS 11 have in store for all of us. Apple gave a huge preview of it and it seemed pretty interesting to try out.
Since the launch of iOS 11, we can anticipate a good number of iOS device users to experience data loss such as contacts disappeared after iOS 11 update and many more arising issues. So if in any case, you are one of those who can't wait to use iOS 11, you have to keep in mind that you need to practice precautions before doing the update to avoid data loss.
Always and always have backups readily available. You can keep your backups on iCloud, transfer to Mac and iTunes for convenience. Install iOS 11 to help improve and give feedback to Apple to make the final version better and stable. You can also bear in mind these reminders below: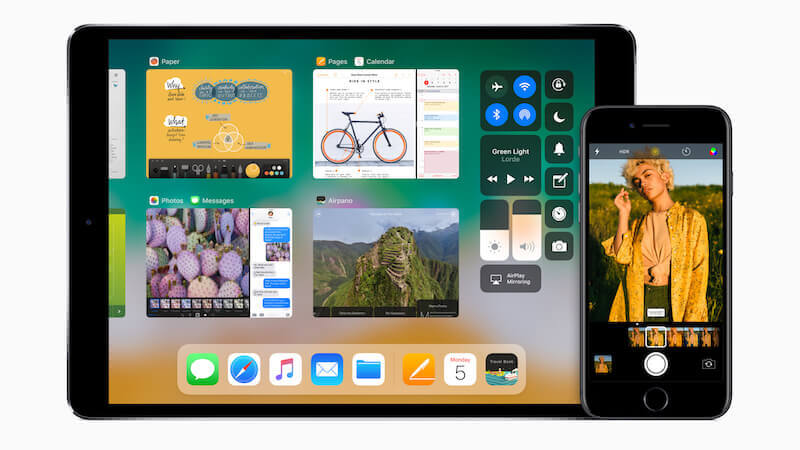 What to do before update to iOS 11
Part 1. What to do before the Update to iOS 11
Newer iOS versions help improve our overall mobile experience that is why Apple allows users to have a glimpse of the newest features before it comes out publicly. During the process, there could be instances of technical problems like the phone was stuck on Apple logo while updating, contacts are disappeared after iOS 11 update, freezing, white screen, black or blank screen and much more.
These issues can cause terrible hassle so we strongly advise remembering these important things below before you click that update button.
Backup
You have all the reasons to test and experience the all new iOS 11 but of course, you have to make sure that you have set the backup to all your data especially to messages, contacts, photos, documents, and much more. If you have backups ready, you are confident that you can just restore from them if in case you might lose data in the middle of the process.
Cleanup
Before updating to iOS 11.0.3, make sure to give enough space for the new iOS 11. It may take around 1GB of space so better prepare the device to be used and to avoid update failures due to storage concerns.
Limit
Once you have installed the new iOS 11, your downgrade options are limited. You cannot downgrade to older or earlier OS versions. You can just play around with the newer versions of iOS 10. Apple will not use iOS 9 or 8 for downgrade options. But what if all of a sudden, you lost all the contacts right after the update and you forgot to take backups? That is the most frustrating feeling you can ever experience.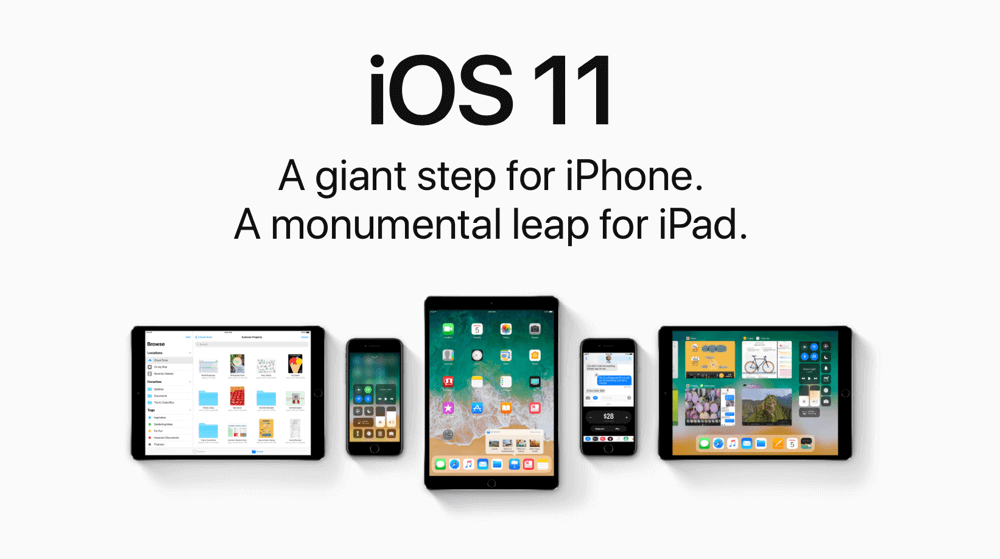 Recover Lost Contacts after iOS 11 Update
Part 2. Recover Lost Contacts after iOS 11 Update Without Backup
Yes, you read it right. There is a way to recover contacts disappeared after the iOS 11 update even without any backups made. However, you need to use third-party recovery tools in order for you to restore them.
You might have come across about recovery programs online and might have been curious about how it works. FoneDog iOS Data Recovery is one of the most effective recovery programs in the market today. It is compatible with all iOS devices such as Mac, iPhone, iPad, and iPod Touch. Using FoneDog iOS Data Recovery, you can recover data like contacts, call history, messages, photos, videos, and much more even without backup.
All you need to do is to make sure that no data is overwritten. Once you discovered that you have lost your contacts, stop adding new ones to avoid the replacement or overwriting and look for ways to recover them as soon as possible.
Those deleted items are stored or hidden somewhere in the internal memory of the device and can only be retrieved by using recovery software. To learn how to use FoneDog iOS Data Recovery, read the guides below:
Video Guide: How to Extract Lost Contacts after iOS 11 Update?
The video shows 3 easy and safe ways to recover lost contacts in few minutes. Click on the video to learn.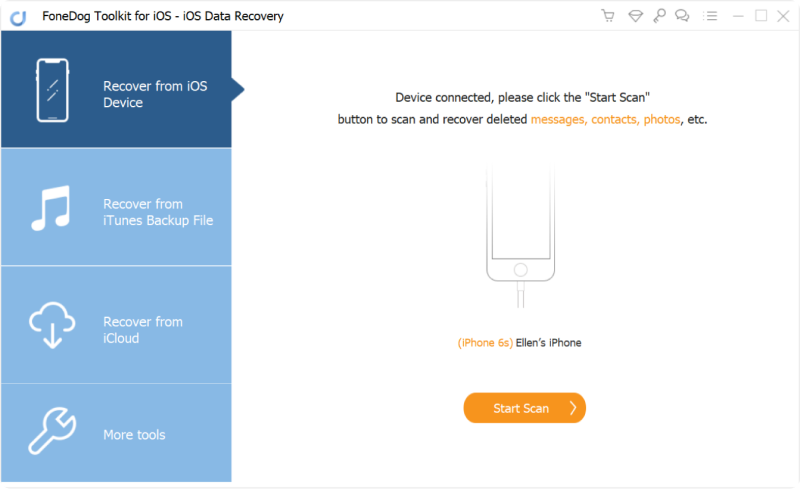 Step1. Install FoneDog iOS Recovery Software
On your computer, launch the program FoneDog iOS Data Recovery. If you have not yet installed it, first you need to download the software online or by using the link given. Then install the software by referring to the onscreen guides.
Try It Free
Try It Free
Step2. Connect iOS Device to the Computer
To begin the restore process, connect your iPhone to a computer is needed. Connect your iPhone to the computer using a valid or original USB cable and wait until the connection has been detected.
Once the connection is ready, click the "Start Scan>>" button to start scanning your iPhone.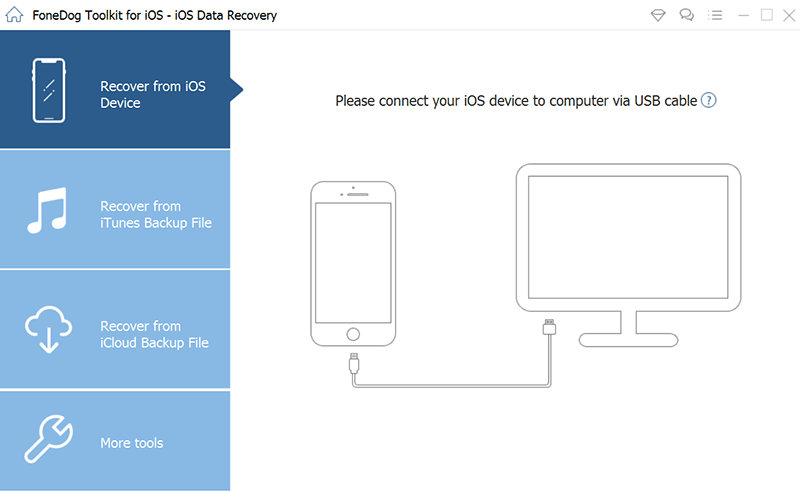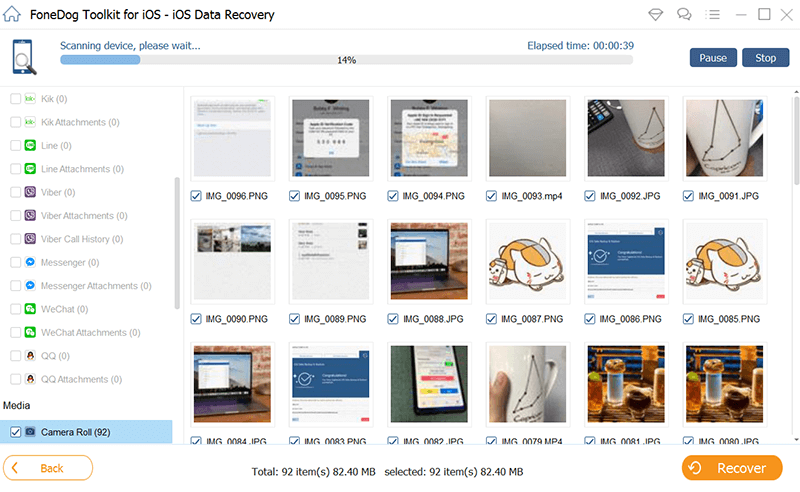 Step3. Start Scanning and Preview Files
You will see all the file types you can recover using FoneDog iOS Data Recovery. You can tick the boxes among the given file types that you need to recover.
Step4. Restore Lost Contact Lists
Scanning may take about a minute or two before it will show all the recovered contact lists on your screen.
When all the contacts appear, you can go over each one of them and selectively restore all contacts gone after iOS 11 update.
Click on the Recover button at the bottom of the program screen to save the contacts to the desktop folder.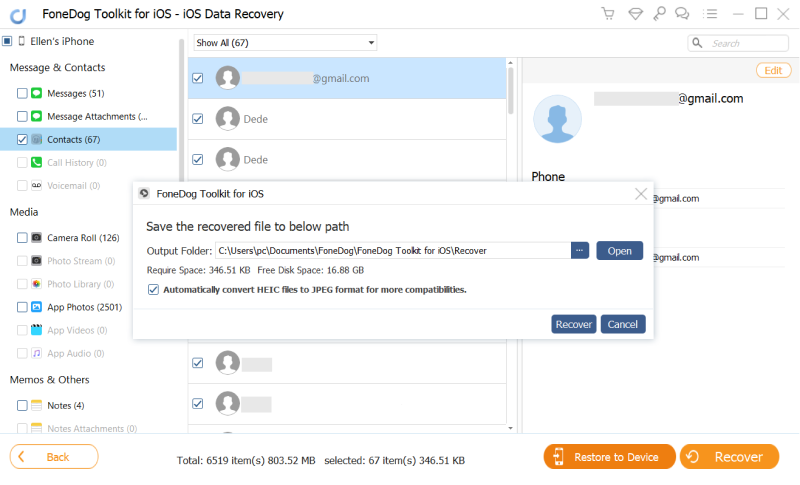 Within just a few steps and clicks you have finally recovered contacts gone after iOS 11 update without having a backup and without putting too much pressure on yourself. FoneDog iOS Data Recovery works seamlessly effective to all iOS devices.
Part 3. Restore Lost Contacts via iTunes
When your contacts are missing after the iOS 11 update and you got a backup from iTunes but you don't want to mess up with the whole backup content, you can also use 'Recover from iTunes backup file' option from FoneDog iOS Data Recovery program. This will allow you to selectively recover only those data you needed and not the whole backup file.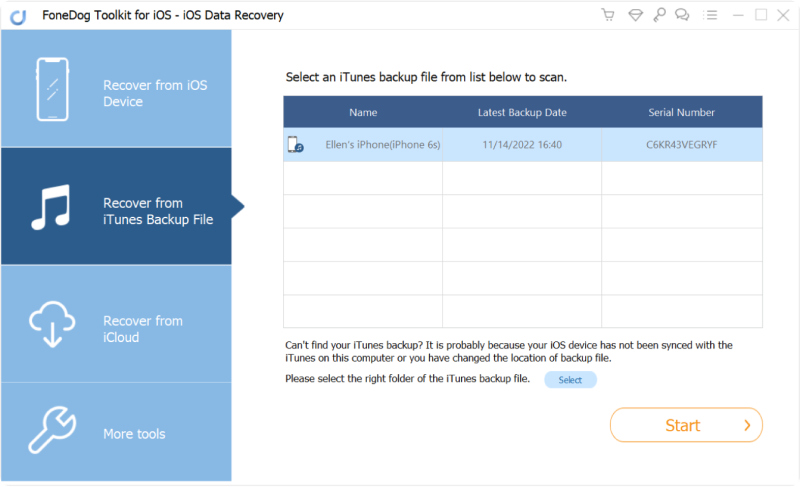 Step1. Launch FoneDog Toolkit
On the main program menu, click on 'Recover from iTunes backup file' and choose among the lists of backups made via iTunes and then click start scan.
Step2. Preview and Selectively Retrieve Contacts
The scanning can take a while or faster depending on the total size of the backup file on iTunes.
But once the scan is completed, you can now see the entire backup content arranged per category. You can go to the contacts category and choose those contacts gone after the iOS 11 update.
After you have completed your contact lists, click Recover to restore your lost contacts to computer.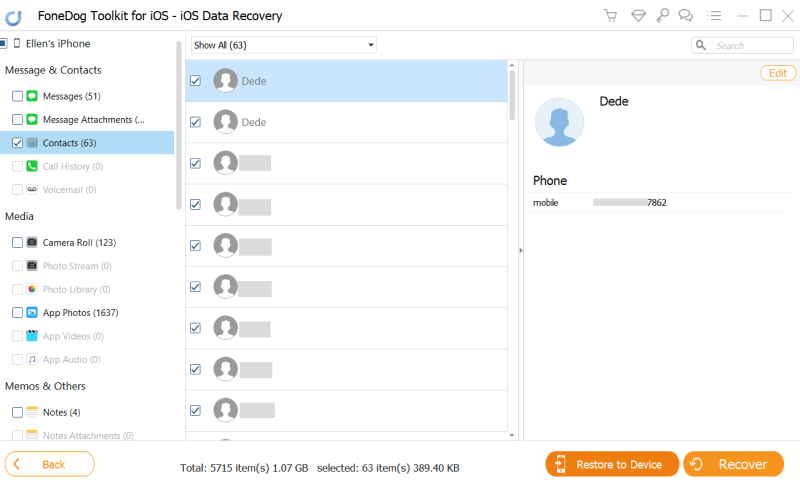 That's it. You have finally recovered contacts gone after iOS 11 update using iTunes backup files without messing up the whole contents. FoneDog iOS Data Recovery allows you to recover from iTunes backup Selectively.
Part 4. Retrieve Lost Contacts via iCloud
The third and last option using FoneDog iOS Data Recovery is using iCloud backup files. When you have backed up your contacts to iCloud, you can as well recover them easily and selectively without compromising other data from the backup file and the phone.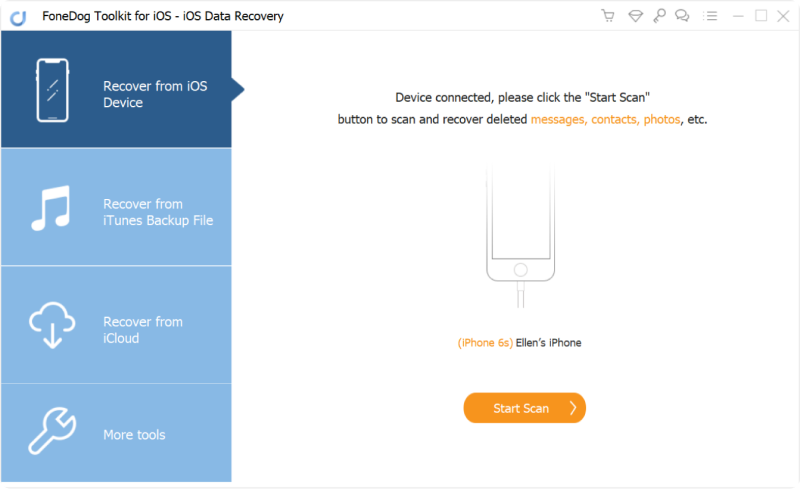 Step1. Launch FoneDog iOS Tool
Using the same program, FoneDog iOS Data Recovery, you can click on "Recover from iCloud Backup File" among the recovery tool options.
Step2. Sign In
In order to get the backup files, you need to log in to your iCloud account by entering the username and password. FoneDog iOS Data Recovery does not store your personal details so it is safe to use.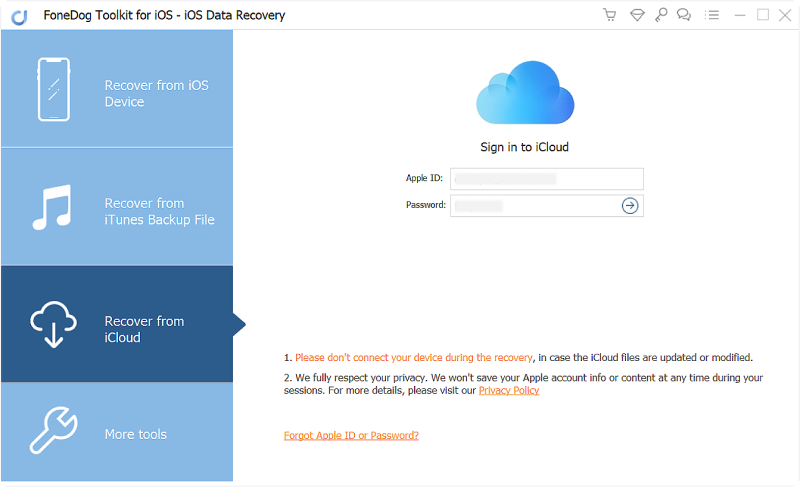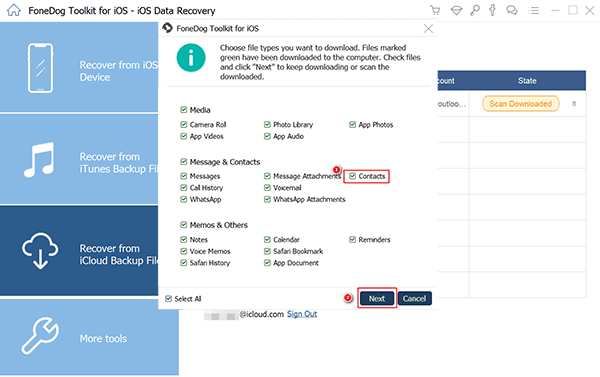 Step3. Download Backup File
Once you have logged in, you can download the recent backup file among the lists of backups available inside iCloud.
After you have chosen the iCloud backup file, you will then choose the file types you want to recover, this time you can select contacts and then click Next. This will save you some time by simply scan the contacts file.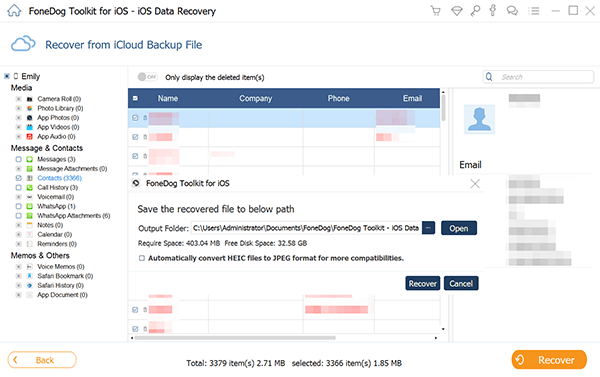 Step4. Preview and Recover Lost Contacts
FoneDog iOS Data Recovery will scan the backup file which may take less than a minute.
It will then show you the entire contact lists with the preview option and the selective restore option.
Verify all the contacts gone after iOS 11 update and then click "Recover".
Data recovery has never been this easy and user-friendly like FoneDog iOS Data Recovery. It gave users without any technical skills confidence that they can do the recovery themselves. So if you also experience contacts disappeared after iOS 11 update, choose among the recovery tools by FoneDog iOS Data Recovery and you will surely have them back in no time.
Always remember to practice safety and protect your data by setting backups and keeping FoneDog iOS Data Recovery ready in case something might mess up along the process. You can now enjoy the features in store for you by the newest iOS 11.
3 Top Ways to Get Back Lost Contacts after iOS 11 Update